News
2 Brilliant 'Do Anywhere' Workout Programs For You To Try!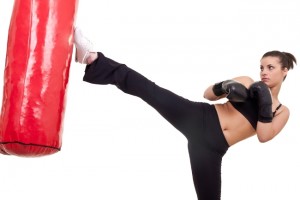 This post is a guest post by Robbin Gray, who writes for the MMA Zone. The initial title of the post was "How To Get Fit With MMA", MMA being Mixed Martial Arts. After reading the post I realised that whether or not you're considering MMA (personally I love kickboxing), Robbin has provided 2 awesome workouts for you to try. Between the 2 you will blast your lower and upper body AND your core.
How's that for effective?!

How To Get Fit With MMA
With the explosion of MMA there have been a huge influx of fans that love to watch the sport.
However, a major contributor to its exponential growth has been the effectiveness of the training in helping people lose weight and staying fit. When the health and fitness benefits of MMA training was discovered there were many gyms and programs that jumped in with their own MMA training style workout. Since MMA training can be found in just about any local gym a lot of people were exposed to it as a way to stay fit and healthy. Many people that get started in MMA training have no intention of every stepping foot inside a cage. They are training in MMA simply for the health and fitness benefits. Since MMA and the training is focused on the body as a whole it is a fantastic workout for your cardiovascular system as well as your overall health.
One of the best training techniques that MMA athletes use to improve their cardio, strength, and power is through the use of plyometrics. Plyometric drills used to be considered off the wall, cutting edge drills that many martial artists and fighters occasionally used as a part of their workout. In the past you would only find the crazy, hard core guys doing box jumps or lifting awkward pieces of equipment to get strength gains.
Today, these drills are pretty much common place in the MMA world and you won't find a professional fighter out there that doesn't use them in some form or another during their workouts.
The general consensus is that plyometric drills are extremely efficient and help to develop speed, power, and explosive strength. If you are serious about being an amazing fighter or jiu-jitsu guy or girl then plyometric exercises need to be a part of your daily training.
These drills can be broken down into three main classifications: upper body, lower body, and core.
All three areas are critical factors in staying fit as well as if your objective is to become an MMA fighter. If you want to be well rounded and balanced then you need to incorporate exercises within each of these areas.
Core & Upper Body Drills
Core training is key in MMA because it has a tremendous impact on kicks and punches. Everything you do can be linked back to your core so it is imperative that you train it hard.
Clap Push up – This drill works both your upper body as well as your core. It takes some arm strength to be able to push up and perform that clap, however if you have weak abdominal muscles then the exercise will be more difficult since the core muscles hold everything in place keeping you in the proper position for optimal kicks and punches.
Kneeling Med Ball Toss – To perform this drill you will need to begin on your knees with a medicine ball in hand. Face your right and have your partner face his right too. You should be standing across from each other but not facing each other (your shoulders should be facing each other). Now take the medicine ball and toss it in a lateral fashion using your core muscles to twist and generate power. Continue to pass the ball back and forth with your partner and when you have reached your desired reps face the other direction and go again.
Lower Body Drills
Leg strength is key in kicking as well as being able to take kicks in mixed martial arts matches.
The more you work your legs, the more developed they become, and the stronger your kicks will be. It pretty simple to see why plyometrics for you lower body are so important.
Box Jumps – This is the most basic plyometric exercise for developing leg strength and stamina. All you need are some different sized boxes, depending upon your level of jumping, and you should know the proper fundamentals as well.
Lateral Hops – Lateral hops are a beneficial drill to do because the work on the stabilizer muscles that are going to have you landing devastating leg kicks in no time.
So, whether you are just training in MMA to get and stay fit or your goal is to one day step inside the cage you can take it to the next level by including these plyometric drills within your next training session.
Robbin Gray is a writer for the MMA Zone. She has studied and written about various martial art styles such as; Taekwondo, Karate, Judo, and Brazilian Jiu Jitsu. The MMA Zone is an online martial arts supplies store where you can get the high quality gear at the lowest prices.
PS
Expansion.
10 Days of Live Soul Transmissions, to Help You Find and Follow the Messages Within
Day 1) Trust
Day 2) Certainty
Day 3) Self-Belief
Day 4) Empire Creation
Day 5) Your Deepest Message
Day 6) Following Soul Guidance in All Areas
Day 7) Faith vs Fear
Day 8) Accessing Flow, and Superflow
Day 9) Expanding Time
Day 10) Expanding Money
Every day will be a LIVE soul led transmission.
This will take place on Facebook video, held at a variety of times in order to account for varying time zones, and scheduled only once we have begun. Our daily soul transmissions will be guided from MY higher self and directed from and for YOURS, to help you find and FOLLOW the messages within. The messages of your spirit, your consciousness, of the who you've always been and yet have managed quite well to cover up a lot of the time.
This is about stripping away –
And getting back to the CORE.
We'll dive day by day into the above mentioned areas –
And you'll receive all content and bonuses to keep for life.
There will be daily spirit prompts which you'll receive after each training.
And plenty of time opportunity connect with me throughout, receive transmissions direct to YOUR questions, and absorb more even than what comes through on the trainings, via the energy we'll create in this collective!
It's very rare for me to know in advance exactly what is coming through day to day.
I certainly don't have the details of each day's content. But I know that these areas have been on my heart to talk about, in particular around belief, around certainty, around living from FAITH.
We know that exactly what is meant to come through for you WILL, and then some. And that if you intend and allow for it to, it will change, most likely before we even begin, due to your energetic commitment, the direction of your LIFE!
Meaning: direct it back to absolute soul alignment.
*** NEVER Seen Before Bonus! ***
As part of this, I've been guided to offer a NEVER before seen bonus … one I feel super vulnerable about sharing!
It's the exact journaling I did to allow the download of THIS offer through. How I allowed the idea to bubble up. You'll see my doubt, uncertainty, annoyance. You'll see what I discarded. How I went through the layers. And how I KNEW, this was the one.
I'll ALSO add in copies (screenshots) of my conversation with my COO Ash, where I was talking through the idea and allowing it to come to life.
I want to show you the exact Idea to Launch process!
This bonus alone is EASILY worth the cost of this program, particularly when you hear the mindset side of it, in terms of STAYING THE COURSE and refusing to back away from my self until the idea showed up!
I refuse not to create!!
AND, when you register for EXPANSION today (and how could you not?!) you'll also receive early access to the Pre-Work. This is ALSO never seen before, and brand new just for you – and it's a guided meditation on remembrance, to help you connect back to deepest self and the most certain truth of your destiny, before we even begin.
Perfect priming, for when we expand RAPIDLY into all that is coming through in this work!
Of course I could now go on and on here, about what I could or should have charged for this, and what it's actually going to be …
Or about all my accomplishments on line and off, with money, with purpose, with passion, with flow …
I think you know all this anyway. Even if you just me! Your soul feels what matters. And that's ALL that matters.
But I will say this:
You've always known it's supposed to be about ALL that is inside of you. That it's meant to COME from a place of purpose, passion, and SUPER super flow. And that if you just.freaking.trusted, and showed up FULLY from that place, you'd be living in a different reality already.
THE ONE INSIDE OF YOU.
If that's true for you right now, then LET'S GO CREATE THAT REALITY.
Right now
Press play for regular, (super fuck yes!!) upfront or payment plan
OR
Press play like a VIP, and receive the full course, plus 10 days direct photos or screenshots of my ACTUAL personal journaling, so you can see how I create and expand my life, PLUS a VIP only follow-on live Hotseat, where you'll receive a personal transmission just for you, if you'd like one! Payment plan also available.
>>> https://thekatrinaruthshow.com/expansion
We start Monday 17 December, US time!