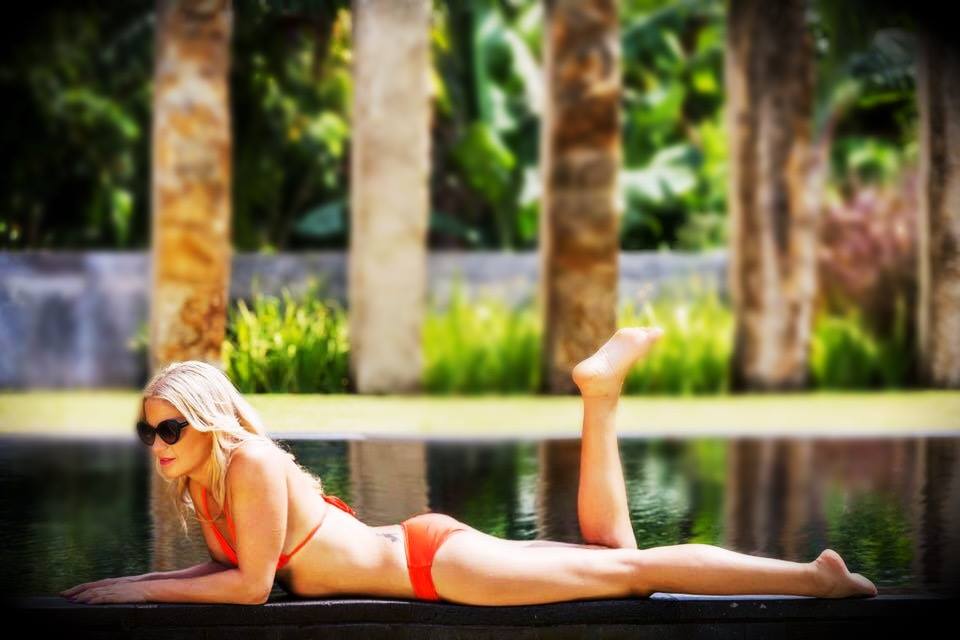 Sometimes I find myself wondering when everybody is going to figure out that I'm just making everything up as I go.
I think about the fact that people know I'm "rich", "successful", a TOTAL go-getter, a fit and confident and UNSTOPPABLE person, and even a star, and in my head, I put those terms in quotation marks, almost as though I'm reminding myself that it's not really true.
Me? Rich? Really?! But I struggled my whole adult life! I grew up conscious of financial struggle in many ways. And I spent over my first decade as an adult running as fast as I could just to keep my head above water enough to breathe.
Always telling myself that one day I'd get there, that I KNEW I would make it, and that everything I dreamed was possible, but deep down, still –
Fighting.
FLAILING, much of the time.
And at times almost even losing my faith.
"You're not rich!", my mind says to me. "IT'S ALL JUST A MADE UP FANTASY AND ONE DAY YOU'RE GONNA GET CAUGHT WITH YOUR PANTS DOWN, AND THEN WHAT?!"
I was walking down the street this morning, on the way to sit here for my coffee and journaling as I had this thought. I was thinking about how I'd had to put my income down in applying this week to rent a new #Hustleoffice for my team, and how the figure I'd put down, which represents my personal drawings, is more than most people make in MONTHS.
Per week.
The earlier version of me could be heard inside my head, wondering how it must feel to have SO MUCH MONEY, while the current version of me simultaneously taunted me with the fact that – don't forget! – you're just making this shit UP Kat!
Same story applies with everything that could be pointed at about me, or even by me, as proof I am SUCCESSFUL, CONFIDENT, I've DONE it and I HAVE IT GOING ON. Baby, I'm a star, just LOOK AT THE EVIDENCE!
"YOU?!" says my mind …"haha! That's cute. I wonder if you can sustain this little world you've made for yourself?!"
Can I tell you?
As a person you don't feel different having more money, more success, finally knowing you've pressed play on your true life dreams and also ACHIEVED them.
You still experience the same emotional ups and downs and if anything MORE resistance as the stakes get higher!
However there is this:
The process you had to go through to GET here has carved you into tenacious and resilient MOTHERFUCKER, and the fact that you DID IN FACT FOLLOW THE FUCK THROUGH has afforded you a sense of pride, self-belief, and the deepset knowledge that if you really make up your mind about something, if YOU say you will?
It's a done fucking deal, baby, and no matter which way the cards are flung each day it IS going to happen because YOU DECIDED IT WOULD.
The thing is, I KNOW I was born for more, I've ALWAYS known I was born for more, I came here to impact millions, make millions, and change the fucking world.
BABY I'M A STAR, and also I will do WHAT it takes, no MATTER what it takes, UNTIL it takes, and THEN I'LL KEEP GOING.
I don't take no for an answer, the truth is that when something matters to me I never HAVE, and just in case all of that weren't enough, I am self-aware enough to acknowledge that my CALLING, my purpose, yes my WORK is the thing in my life that is MOST important to me and I will LAY MYSELF ON THE LINE FOR IT no matter what I must endure in order to be able to do so.
Every.
Damn.
Day.
Forever.
And ever.
Amen.
Which is kinda how I ended up here, if you think about it.
And the thing is, the thing with being RICH, or SUCCESSFUL, or a STAR; the thing with having it all and genuinely getting to live in a way most people can't even begin to dream of, because you DID THE FUCKING WORK, the inner work (the real work!) and also the action work, is that it ONLY HAPPENED FOR ONE REASON.
The shit I did to get here? IRRELEVANT, if you're talking about the ACTION side of it. It doesn't fucking matter, don't ask me, don't WORRY about it, the truth is I don't even remember most of it anyway!
But I do know this:
There was a point –
For everything I've achieved in my life –
Whether a single point in time –
Or the gradual evolution of a DEEP fucking truth finally developed into certainty –
Where I did one.simple.thing.
ONE thing which, when I stop and remind myself of it, created ALL of this.
One thing which, when my mind tries to laugh and me and say –
"YOU! You're just shy, unsure, 'school square' Katrina, you're not cool enough and you're a person who STRUGGLES, so do you really think you can keep all of this going?!"
– says ACTUALLY motherfucker, YES.
I do.
I DO fucking think, no I KNOW that I'll keep all of this going and what's more GROWING, so THANK YOU FOR THE REMINDER OF WHERE I CAME FROM AND THAT DEEP DOWN I'M STILL JUST A GIRL, FIGHTING FOR HER DREAMS, BUT GUESS WHAT?
I came here to lead and rule baby, to be a fucking star, and ain't NOTHING gonna stop me from living my purpose.
Not even the devil on my OWN shoulder, and if I can beat that bitch then trust me – nothing anybody can try to throw at me online or in the 'real world' stands a fucking chance 🙂
But also, I am GRATEFUL for that voice inside my head reminding me that I just made all of this up, it's all just a FANTASY, in theory it could GO AWAY ANY TIME!
Because it REMINDS me of the ONE thing which is EVERYTHING about success.
The one thing which no matter HOW crazy ass big my dreams may be from here on out (and BOY are they crazy! and big! and fucking EPIC!!) I KNOW I will get there, because EVERY God damn time I've done that ONE THING I have GOT there.
No matter how high the stakes.
No matter how INSANELY awesome the fantasy.
Want to know what the one thing is?
The thing that will CREATE YOUR ENTIRE LIFE?
The thing which already HAS dictated your entire life, no matter what you might think about THAT?!
One day, I woke up –
And I realised I was tired of the struggle –
And I reminded myself of who I am, what I was born for, what I've ALWAYS known to be true –
And then I just decided to get rich.