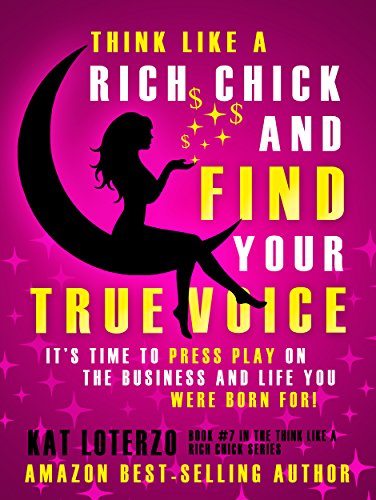 THINK LIKE A RICH CHICK AND FIND YOUR TRUE VOICE: IT'S TIME TO PRESS PLAY ON THE BUSINESS AND LIFE YOU WERE BORN FOR! 
I F*cking LOVE My Business!!
Success is an attitude and it's one that many entrepreneurs, leaders, fame and wealth HOPEFULS would be well to get in check.
I know what it's like to spend day after day after day doing stuff you don't want to do, for people you really don't even LIKE that much (clients!!), and in a way that COMPLETELY doesn't suit you, because hey – you don't have a choice, right? Gotta hustle. Gotta get the MONEY in the bank. Gotta suck it up bitch, whether or not you FEEL like it. And your lack of certain confidence and belief in yourself means that the WAY you've opted to do this is by moving ever more off purpose, out of alignment, into being a teacher not a leader, into doing things FOR people because you decided that the VALUE OF WHAT YOU CAN TEACH IS MORE THAN THE VALUE OF YOU.
I know what it's like.
I know what it's like to be so damn TIRED of it all, to be so fucking OVER it, to feel angry and bad and mad and downright SAD that you can't get to just sleep in. That you can't finish that fucking LIST. That WHY DO PEOPLE KEEP WANTING A PIECE OF YOU? That you just want to be left ALONE. And also, PLEASE give me money.
I know what it's like.
I know what it's like to feel the saddest and baddest and make you the maddest thing of all.
To feel that despite all your hard work, all your efforts, and all of the pushing and the NEVER stopping and the really, REALLY quite disciplined approach to making it to the top – the truth is?
You're barely any further along than when you started.
Oh sure, you know something about internet marketing and you've made some money and even a name, of sorts, for yourself. You've escaped the 9-5, avoided the norm, you're an entrepreNEUR, bitch!
But if you're honest with yourself, the truth is: this was not what the dream was.
To have a pretty website …
A product or program that looks just right …
All of the 'right' social media stuff going on …
And you're DOING the stuff, you're FOLLOWING the rules, you're not TRYING to be just like the others either! You KNOW you're different, that you have a true message, that you seriously have something POWERFUL inside of you and that you were born for more.
Once upon a time –
When you saw yourself on that stage, speaking to millions, impacting millions, MAKING millions, changing the world.
You were born for MORE and to fucking run this thing.
And yet here you are, fighting with the MASSES, for a dollar, a like, a nod.
I know what it's like.
I know ALL of your pains and ALL of your struggles and the WORST things you tell yourself
about yourself and also about your clients your business, others who grate on you, the WORLD.
I KNOW WHAT GOES ON IN THERE.
I've BEEN there.
I've BLED there.
I've LIVED there.
I know.
But here is what else I know:
I know that every single fucking thing that is NOT working, that DOESN'T FEEL great, that is STOPPING you from living into your calling, that is NOT you creating your life on purpose is completely –
And fully –
Your choice.
Because despite all that I know about what it's LIKE here is what I know for SURE:
We are the creators of our reality.
Success is a fucking ATTITUDE and a choice.
In Think Like a Rich Chick and Find Your True Voice I cover:-
– I F*cking Love My Life
– It's Easier Than You Think
– Let's Talk About What the Heart Wants
– It's When You Can't Not
– How to Uncover Your Purpose
– If You Really F*cking Want It It's Yours
– Energy is a Choice
– Break Free
– What Are You Waiting For, Really?
– Alignment, Asskickery, Pressing the F*ck Play!
PS
I'm calling in my next intake of driven badass LEADER women who want to work with me 1:1 to FOLLOW SOUL and achieve ALIGNED AF fame, income growth, more.
Yeahhhhhh … this is about unapologetically claiming your place as one who is MEANT to be seen and heard by everyone!!
Next Level Empire baby!
Multi 7-Figure Empire Expansion For Unapologetically Badass & Driven Women Who Are Ready to Be Seen By the WHOLE Damn World
6 weeks.
1:1
You and me
This is for the women who already have a message, an audience, and are making money online and who are now ready to put some damn WHEELS on the thing.
We will be going deeper into message clarity
We WILL be nailing down what you're selling, and how you're selling it, for maximum conversion and flow
We WILL be getting you fully connected to the badass leader within who KNOWS she is meant to run the damn thing
But these things are just the warm-up, because let's face it –
You already message
You already show up
You already sell
You're already ROCKING what you're doing right now
So what you're here for, and what I'm here for with you?
Is to blow the damn thing up.
MAXIMUM reach.
RAPID growth of audience
MASS visibility
MEDIA TAKEOVER
NEXT level leadership status, and being the one who is KNOWN as the Queen
And sales EXPLOSION
I'm taking what I'm doing in my business to CONTINUALLY claim my place at the top, and to take my message to the masses whilst also RAPIDLY growing following and income,
And showing it all to you
Exactly how we do it
What precisely is in place
What we had to have in place for it to work
What we do day to day to elevate fame, income, purpose, ALL of it
And then I'm going to work with you personally to roll it out
Next Level Empire baby:
For the women who were born for more,
And who are done with circling repeatedly around the same damn pond and kidding themselves they're gonna find it there.
Ready, and know it's time? It just might be 😉
PM me now for the full overview. x