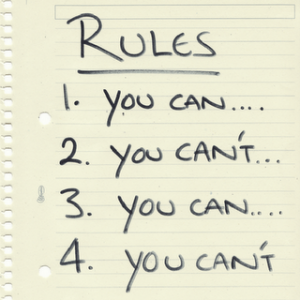 Do you have rules about how you live your life? I do. Or at least, I have had a lot of the time.
Eat this
Don't eat that
Follow set workout nutrition rules
Go to bed or get up at a certain time
Identify your top priority for the day, and do it first
Follow a set program for training
Eat at set times
Clear out your inbox daily, or at least get it below 10 emails
I'm kind of sick of it all. I guess rules have their place in a busy life; help us to maintain some order amongst the chaos of trying to be, do and have it all. But seriously – when every single day of every single week starts to become automated, haven't we actually lost the quest for balanced and happy living and just found ourselves victims of some kind of robot-like quest to never have to think for ourselves or in the moment?
And correct me if I'm wrong, but isn't the point of it all, well, to be able to enjoy our lives and live with freedom? I don't know about you, but freedom to me does NOT denote the daily prioritisation and planning of every element of my life.
How do you break the rules and stay in control?
Here is what I think life – and getting/staying in shape – should be about:
Learning new things; trying new things – but not doing them or continuing with them purely because you 'should'
Listening to your body about what to eat, and when to eat.

Never

assuming that what works for someone else will work for you, no matter who said so. Never assuming that you 'have to' follow any given rule. Not being afraid to eat real food – yes even fats – but also not being afraid to skip a meal here and there.
Eating food that makes you feel good psychologically as well as physically
Doing training that makes you feel strong, powerful, alive. Recognising that sometimes you do have to just start in order to get into that feeling but also recognising that if you're continually doing workouts that you feel you should be doing rather than that make you feel amazing then perhaps it's time to try something new
Not missing sleep to do things you 'should', unless through experience you learn that the way you feel from doing these things is worth it
Never doing anything unless it is worth it to YOU. This doesn't mean being selfish. But find the reason for your actions; don't do things just because you should
It really all comes back to that nasty little 's' word, doesn't it.
If, like me, you've found yourself caught up in living the life you should live and a little off track from living the life you'd love to live than I urge you to stop and remember that life is NOW. This is it; this is your chance to be, do and have what you dream of. And if what you're doing right now isn't working for you, if it isn't making you happy, if it doesn't fit in with your values, your ideals, if it's not what you really and truly consider important.
Then for heavens sake stop. And think about what does matter. What does make you feel most alive. Most yourself. Most on fire.
And do more of that. Today. Even for just a few minutes.
And remember –
Life is Now. Press Play.
Kat
Don't forget –
Life is Now. Press Play.
Kat x
PS
I HAVE SOME BIG NEWS TO SHARE!
As of today, I'm opening up the doors to my Inner Circle, my 12 month private client mastermind.
This is THE most badass high level mastermind in the world for women who want it all – and are prepared to do what it takes to get it! Really what we're talking about is being prepared to be the PERSON.
And that's what I do. I help you remember ALL that you were, and then become it. ALL Of it.
This is my highest level private mentoring circle. The exact place where I have personally mentored dozens of this industry's most elite female entrepreneurs to break income barriers ranging from 10k months to multiple 7 FIGURE months, and everything in between. But more importantly than that – to become who and what they always were.
But know that this is not only (obviously) not just for the masses, this is also not just for someone who can afford to invest in a high level private coach. Being willing to throw money down is something which has absolutely zero correlation to being somebody who has what it takes to TRULY go next level as a leader.
If anything, in this industry, investing in a high level coach such as myself, is a rite of passage which veers just a little too much on the side of 'trend'. It's become something which 'everybody does', almost as a way of proving they play business and life a certain way.
Maybe even of trying to prove it to themselves.
Here is the reality which those who I am truly here to personally mentor and lead KNOW, the reality which my clients and all women like me as well as of course me personally have ALWAYS known:
We are VERY VERY DIFFERENT.
We are simply, smarter, faster, and have more presence. We can do more in our minds before breakfast than what most people can do in a freakin' WEEK, a month, a year.
We are not basic ass coaches trying to heave ho our way up a few extra thou a month.
We are the ones who have ALWAYS known we are 1% within the 1% within the 1% in terms of how we think, create, operate, how and WHAT we are tapped in too.
This is not arrogance, this is fact.
And there has NEVER been any question but that we will go all the way.
My clients are high level badasses who do the work, who have a proven track record BEFORE coming to me, and a BEING-ness which unquestionably separates them from the rest. They don't come to me to save them or lean down and hold my hand out so they can clamber up. They come because they are, quite simply, ready to go to the next level, already absolutely on their WAY there, and see in me something which they recognise because it is in them.
That 'can't stop won't stop' fire, and a level of 'unapologeticness' which, when truly understood and applied, can literally be the difference between 5-figure or low 6-figure and 7 or multi-7-figure entrepreneur.
So if you know who you are and it is THAT –
And you feel certain that you are ALREADY well on your way to to precisely where you're meant to be, but that being in MY energy could help you to drop in and get there even faster, and that with a couple of simple tweaks your current revenue could be doubling, tripling, heck QUADRUPLING and beyond in months, as it has done with numerous of my clients previously, well then –
PM me here http://m.me/katrinaruthofficial and we'll see if it's a fit. I'm excited to talk to you, and maybe – do biz and life with you.