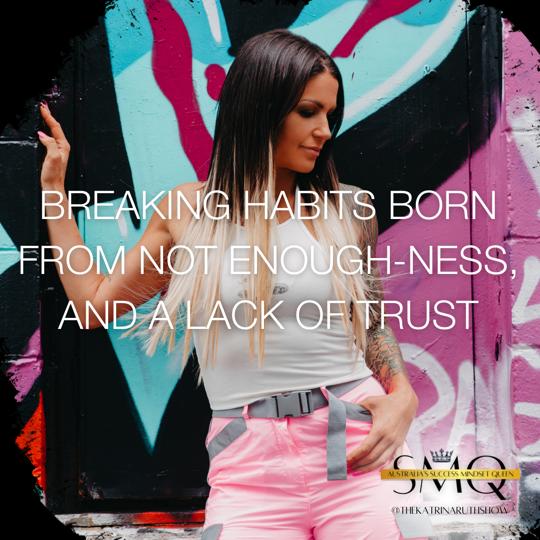 Success Mindset
BREAKING HABITS BORN FROM NOT ENOUGH-NESS, AND A LACK OF TRUST
One of the toughest and yet most important journeys you can embark upon, is the journey of leaning into the fullness of who you NOW get to be,
since you have broken up with not enough-ness.
Yes –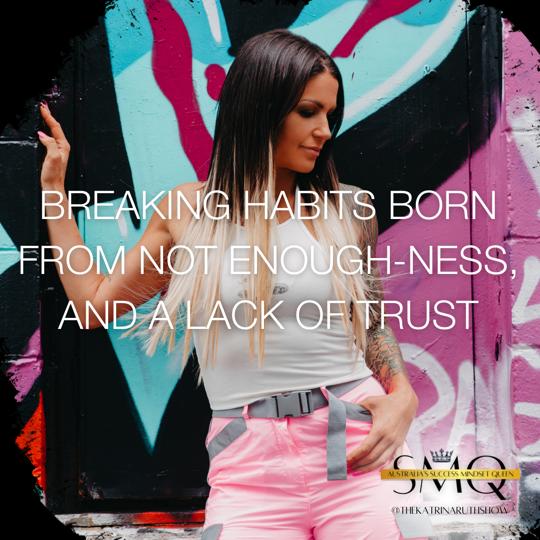 I'm assuming that you've done this, and I'm assuming that if that is somehow not the case then you are making that decision right now!
Good.
Of course it goes without saying that breaking up with the idea that you are not enough goes hand in hand with the fact that you have now ALSO decided to step into full trust. And, therefore, to instantaneously surrender lack of trust.
Boom! It's gone.
NICE.
Hm, well, PRETTY nice. Except for that creeping what the fuck even IS that feeling oh shit –
it's that pesky old VOID again.
Ahhhhhh, the void. That place we love so much to hate to love! LET'S JUST REMEMBER RIGHT NOW WE ACTUALLY LOVE IT. EMBRACE IT. CRAVE IT. KNOW WHAT IS ON THE OTHER SIDE OF IT AKA ALLLLLL THE GOOD THINGS. AMEN!
Besides, it can be kinda peaceful in the void if you decide that that's your void-vibe!
And here is what happens in the void.
Who you get to be.
How you get to show up.
Choose.
You GET to be but baby girl you also MUST be –
SURRENDERED TO BEING DONE WITH THE HABITS AND THE WAY OF BEING THAT CAME FROM YOUR NOT ENOUGH-NESS.
Ohhhhhhhhhhh yes, and wanna know what else?
It GETS,
to be instantaneous.
It GETS,
to be because you just decided.
It GETS,
to be because it is required.
And it GETS,
to be replaced by WHATEVER GOD SHOWS YOU TO REPLACE IT WITH INSTEAD, which means?
You maybe just wander round in that void for a little bit til you find out what that is.
THAT DOES NOT MEAN FILL THE SPACE WITH THE WAY OF BEING YOU HAVE CHOSEN TO LEAVE BEHIND.
The literal of this could look like:
– no longer texting / sexting / reaching out for flirty intimacy in places it's not meant to be
– no longer gossiping / chit-chatting / filling your time with examining every element of every thing with your friends
– no longer scrolling endlessly on the socials in case somebody posted the meaning of life and you missed it
– no longer concerning yourself with all the should-dos or even could-dos of business and instead just going within, and seeing what you find there
– no longer reactively reaching here and there and everywhere for stimulation, or an idea, or to imagine yourself busy when in fact you're not BEING
– dropping habits or IDEAS even of busyness, overwhelm, 'not having enough'
– leaning BACK on your hustle or action-taking because you know the next level looks like way more intention which just flows from you, and way less trying to keep up or do
– cutting an addiction or unhelpful behaviour
– checking your THOUGHTS, and asking God for help to rewire 'em
– anything else which comes to mind for you!
What it does NOT look like is changing your actions but allowing your thoughts to keep running rampant. This is critical! And YES you can discipline, rewire, and also receive Godly assistance to think new thoughts.
You KNOW it's who you're becoming!
Now here is a prayer which may help you –
when you feel trapped
stuck
or as though you just can't seem to stop the old
"GOD THANK YOU FOR HELPING ME TO SEE THAT THIS IS JUST A HABIT WHICH CAME FROM MY NOT ENOUGH-NESS, AND MY LACK OF TRUST. IT LITERALLY IS NOT A MATCH FOR WHO I HAVE NOW CHOSEN TO BE. IT HAS NO SPACE HERE. IT CAN NOT LIVE HERE. IT WILL NOT BE FED HERE, IT CAN NOT FLOURISH. IT MUST THEREFORE DIE! AND I NOW LOOK TO, WAIT ON, AND CHOOSE HABITS AND THOUGHTS OF WHO IT IS NOW TIME FOR ME TO BE! IN JESUS NAME,
AMEN!"
It really does get to be this simple.