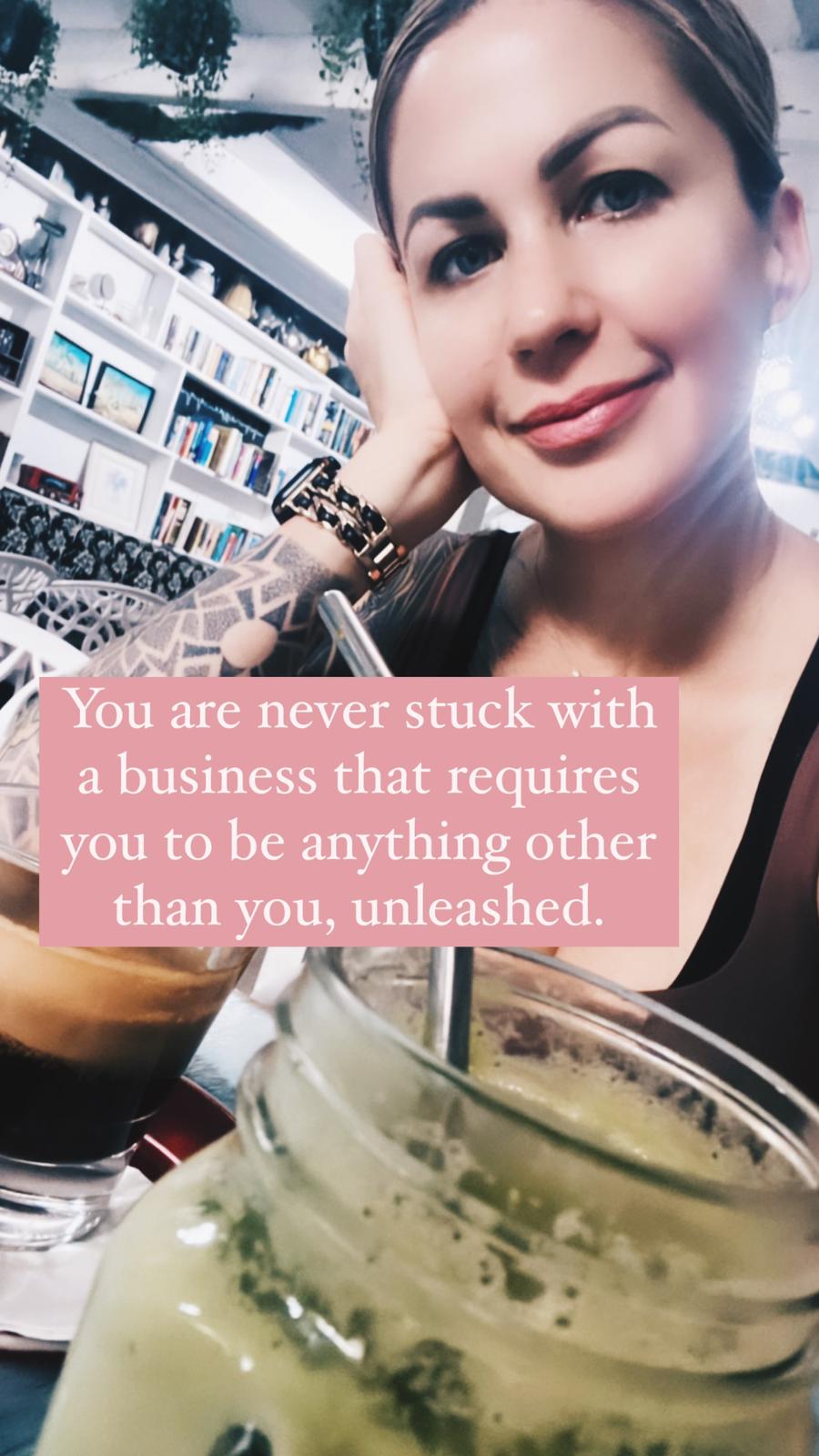 The thing which makes you one of a kind, the person who will NEVER blend into the crowd, NEVER end up marketing or churning out the same same bullshit that makes you yourself vom in your own mouth, NEVER end up stuck in total limbo feeling like you've no idea where to start or what to do, is the fact that you operate from pure.fucking.consciousness, you download and transmit directly what is true for right now, and you by DEFINITION are always unleashing precisely what is needed and desired.
Oh, what's that now?
You ARE stuck in a rut, your marketing DOES feel like a lame ass version of half the rest of the worlds, you seem to keep getting waylaid by all the things you think you need to do or get on top of?
Yeah babe, obviously. You're still every bit a human with every bit of your human tendencies and one of 'em, if you're in business, is VERY likely to be some version of 'what should I be doing right now to get to that next outcome'?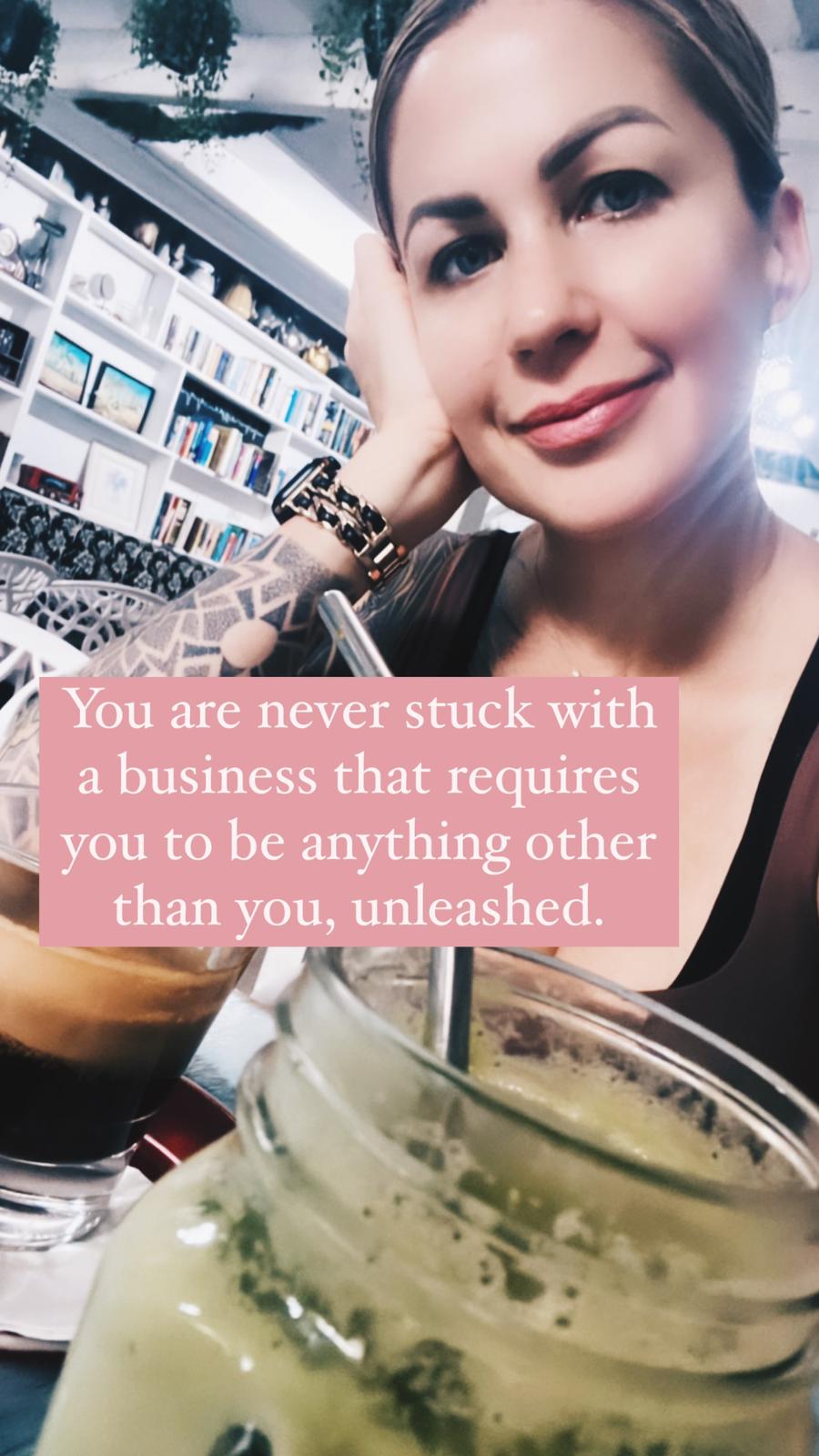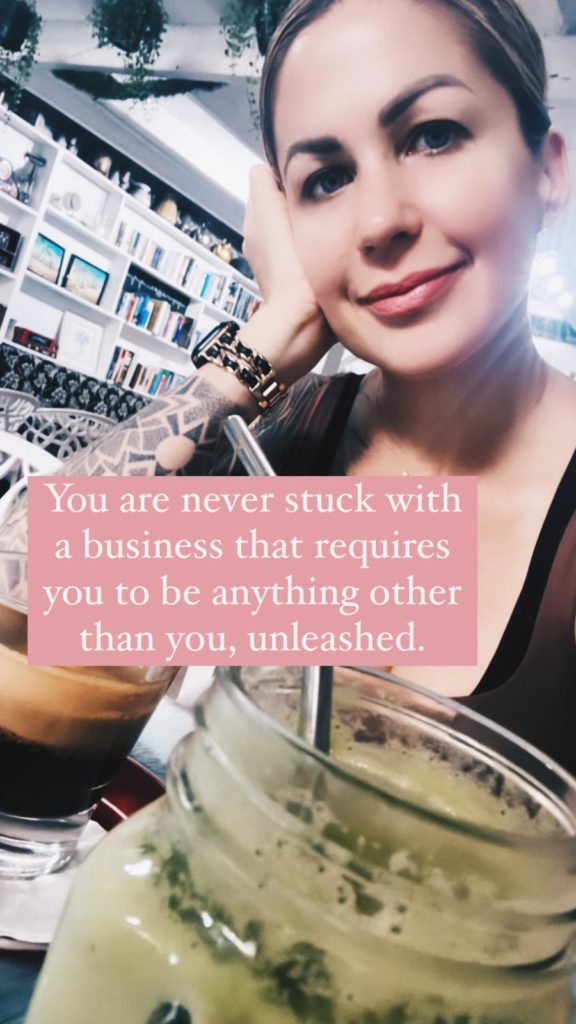 Unless you are EXTREMELY disciplined to listen first and foremost and almost solely to God and your own soul and to then be accountable to OPERATING from such, your answer to that question may end up being some version of 'maybe I SHOULD …. 'insert absolute fuckery which you absolutely should not be doing, not today or ever, but which perhaps most of the rest of the world DOES have to do because let's face it –
they're not you'.
I know you know what I'm talking about.
I know you do actually know that fundamentally, what comes through you and just who you ARE is pure MAGIC, FIYAH, GOLD. It is an actual criminal GRIEVANCE of the highest kind to NOT let the world have it. Mother-fucking-daily.
What this requires though, is that YOU – mother.freaking.daily. – get that ass tapped in.
To soul.
To truth.
To the cosmos.
To what is REQUIRED today.
Because it is fucking required. Not because it has ANYTHING to do with any sort of business momentum, or outcome, or task, or growth.
This means:
Harness the fucking power of you being you, do it daily, do it as your highest priority, do it no matter what, do it until it is done, do it even and ESPECIALLY at the cost of doing anything else, oh and also?
Do it firstly from a place of 'because I need to for me'. Because THAT is some soul truth which won't go away. And every day you don't show up and just harness YOU, is a day your supernatural AND physical energy runs a little lower. Making it that little bit harder to back yourself with ANYTHING else. And that little bit more out of habit of doing it REGARDLESS. All of which leads to a horrible horrible cycle of you finding yourself once more wondering what you SHOULD do or what you HAVE to do or simply staring glumly and worriedly down the barrel of everything that is NOT you, which you've somehow co-signed your soul into thinking it's stuck with!
Listen to me:
YOU ARE NEVER STUCK WITH A BUSINESS THAT REQUIRES YOU TO BE ANYTHING OTHER THAN YOU, UNLEASHED.
But you do have to consciously CHOOSE to opt out of that shit now and then.
So let's SCREAM IT TO THE HEAVENS TOGETHER:
I opt out of the fuckery which tells me I need to be anything other than me, unleashed.
I give myself permission to harness the FULLNESS of me being me, for its OWN sake.
I remind myself today that EVERYTHING I want and am EVER trying to get to exists ALREADY and is mine. And becomes physically true on the other side of when I do what I am ACTUALLY meant to do.
I HARNESS THE FUCKING POWER OF ME BEING ME TODAY.
I AM MAGIC AND FIYAH AND FLOW ALL IN ONE, AND MY JOB IS NOT AND NEVER WILL BE TO MAKE THINGS SELL BETTER, OR TO GROW OR BUILD A THING! My job is to know that the things DO sell and grow and build, because that is what exists in the place where I am all of me, and so…
lemme go and fucking be all of me!
TODAYS VERSION.
For the sake of TODAY.
For the sake of – I came here to pour forth. I came here to be the damn vessel. I came here to share a MESSAGE. So why in the name of all that is good and powerful would I invest a single 'nother MOMENT concerning myself with what an effective MARKETING or BUSINESS move would be, if I am looking through ANY other lens then:
Be fully fucking me.
With bells on.
Repeat.
Let me ask you something:
If you trusted yourself
to be yourself
and knew it was your highest gift but also your highest responsibility
would you actually be doing what you were about to do today?
And if no,
what would tearing your TRUE soul work right outta your flesh look like instead?
THE WAY THE WORLD HAS BEEN WAITING FOR YOU TO LET IT BE.
And frankly,
the only way you're gonna ever get paid the way you damn well should.