News
Have You Had Your Essential Carbs Today?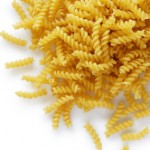 If there's one thing that tends to upset people who come to see me more than anything it's the idea of reducing carbohydrate intake. I don't ask everybody to back off the carbs, but it's safe to say that a vast majority get (at the very least) a short-term low-carb bootcamp. And while some take it with a sigh that indicates they kinda knew it was coming, and some are so keen and determined to change that they're prepared to suck it up and do what it takes others look at me as though I'd asked them to slice'n'stirfry their dog (not saying you'd be one of these people of course).
The objections come in all shapes and sizes –
"I've tried that before and I just couldn't do it. I felt too awful" (Detoxification hurts. But then you feel amazing. And you realize that what you thought your body 'needed' was actually the worst thing you could eat)
"Last time I gave up starch all my bloating went away, but it's just not sustainable, is it?" (Um, yes. What would you have done if you lived in an era where processed grains did not abound? And don't even get me started on the bizarre logic of those who admit it worked for them previously but yet still aren't quite prepared to do it again)
"But what about fiber?" (Eat green vegetables. The stalky ones in particular are very fibrous, and excellent for detoxifying excess estrogen, otherwise known as butt and hip lard)
"It's too expensive" (So is illness. Or the myriad of things you flash your cash for in an effort to feel better about yourself when you can't commit to doing what it takes for optimal health and physique)
"It's not practical. I work long hours – I don't even have time for breakfast, let alone to prepare anything for during the day! And I don't get home until after 7!" (Um, next time you complain about working late, don't do it to your Personal Trainer – they hardly ever make it home before 9 or 10, and still find time to cook dinner PLUS their food for the next day. Long story short? Real food is for fuel, not fun or convenience. Only if you want results of course.)
"There's not enough variety" (That's just a fear-based perception. I've heard it said that the average Westerner eats only 18 different foods per year – sure, you might mix'n'match your grains so it looks like more, but grains and sugars – however they appear, and disregarding the fact that they're actually the same thing – are grains and sugars. There's only so many ways that cookie crumbles. You want real food; real variety? Beef, lamb, 'roo, rabbit, pork, venison, duck, any game meat, buffalo, organ meats, eggs, fish, crustaceans, raw cacao, super-foods, green veg of at least 20 different varieties each season, real salt, and pepper, and full-fat dairy, and spices, and herbs, and coconut oil and coconut milk, and olive oil, avocado, beef – okay I said that but it's just so good, and oh! olives, and so much more I've left off. Now that's variety.
"It just sounds too tough. I don't know if I can do it" –
And that's what it comes down to, isn't it? It's the same with any great challenge we face in life. Invariably and most particularly with anything that threatens to actually make life better. It's tough. It takes effort. Sacrifice. Commitment. And you don't always know if you've got what it takes. You're scared of what might happen if you try and find out. So you rely on vaguely remembered 'evidence' that eating low-carb is not healthy. Like that old chestnut about protein causing kidney problems. An idea based on a study in which participants with existing kidney failure were found to improve when they avoided sugar-based and processed proteins. So let me ask you this – and thanks to whoever it was I stole this analogy from, I can't remember – just because going for a jog with a broken ankle is a terrible idea does it also stand to reason that jogging will cause your ankle to break? Do you see what I'm saying? And if you don't then there are a myriad of resources just chock full of peer-reviewed studies proving conclusively that at least 75% of us can't tolerate carbohydrate in any significant amount. Same just can't be said about proteins and fats.
Essential carbohydrates? There ain't no such thang.
Chew on that for a while.
Don't forget –
Life is Now. Press Play.
Kat x

PS
We've been waiting for you, not the somewhat you, not the nearly there you, not the 'pretty unapologetic' you, the you who takes her place with such CERTAINTY that we will instantly wonder how it is that she was never just there the whole time.
The you who is brighter, stronger, more turned on and turns the WORLD on with her magnetism, beyond what we even knew was possible.
The you who moves with grace, with calm, with soul certainty of who and what she is, what she gets to do in the world, how she WILL and DOES now play life, and also –
how life plays with her.
The you who has it all on her terms, and that's REALLY just how it is, there's no aggression around that, nothing to prove or 'make' happen, it truly now finally just IS.
The you who stopped trying,
and realised that the whole damn time she could go straight to the end zone, and now –
here she is
and so it is
and such is life, a life which delivers the ALL of everything she always dreamed of and always knew there WAS a way to just snap her fingers at,
and allow.
Are you ready?
Is it time?
I thought so 🙂
6 months gorgeous, you and me. Unlimited 1:1, because that is the only way that is fun and flow for me with the women who I support at this level. Mastermind alongside private mentoring. In person badassery and adventure. So much more besides.
The Born For More Mastermind sister: open now for application, details via private conversation only. What are you waiting for, YOU DID THAT BIT ALREADY. PM now to talk. x