News
Have You Had Your Essential Carbs Today?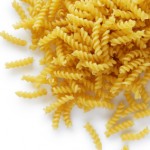 If there's one thing that tends to upset people who come to see me more than anything it's the idea of reducing carbohydrate intake. I don't ask everybody to back off the carbs, but it's safe to say that a vast majority get (at the very least) a short-term low-carb bootcamp. And while some take it with a sigh that indicates they kinda knew it was coming, and some are so keen and determined to change that they're prepared to suck it up and do what it takes others look at me as though I'd asked them to slice'n'stirfry their dog (not saying you'd be one of these people of course).
The objections come in all shapes and sizes –
"I've tried that before and I just couldn't do it. I felt too awful" (Detoxification hurts. But then you feel amazing. And you realize that what you thought your body 'needed' was actually the worst thing you could eat)
"Last time I gave up starch all my bloating went away, but it's just not sustainable, is it?" (Um, yes. What would you have done if you lived in an era where processed grains did not abound? And don't even get me started on the bizarre logic of those who admit it worked for them previously but yet still aren't quite prepared to do it again)
"But what about fiber?" (Eat green vegetables. The stalky ones in particular are very fibrous, and excellent for detoxifying excess estrogen, otherwise known as butt and hip lard)
"It's too expensive" (So is illness. Or the myriad of things you flash your cash for in an effort to feel better about yourself when you can't commit to doing what it takes for optimal health and physique)
"It's not practical. I work long hours – I don't even have time for breakfast, let alone to prepare anything for during the day! And I don't get home until after 7!" (Um, next time you complain about working late, don't do it to your Personal Trainer – they hardly ever make it home before 9 or 10, and still find time to cook dinner PLUS their food for the next day. Long story short? Real food is for fuel, not fun or convenience. Only if you want results of course.)
"There's not enough variety" (That's just a fear-based perception. I've heard it said that the average Westerner eats only 18 different foods per year – sure, you might mix'n'match your grains so it looks like more, but grains and sugars – however they appear, and disregarding the fact that they're actually the same thing – are grains and sugars. There's only so many ways that cookie crumbles. You want real food; real variety? Beef, lamb, 'roo, rabbit, pork, venison, duck, any game meat, buffalo, organ meats, eggs, fish, crustaceans, raw cacao, super-foods, green veg of at least 20 different varieties each season, real salt, and pepper, and full-fat dairy, and spices, and herbs, and coconut oil and coconut milk, and olive oil, avocado, beef – okay I said that but it's just so good, and oh! olives, and so much more I've left off. Now that's variety.
"It just sounds too tough. I don't know if I can do it" –
And that's what it comes down to, isn't it? It's the same with any great challenge we face in life. Invariably and most particularly with anything that threatens to actually make life better. It's tough. It takes effort. Sacrifice. Commitment. And you don't always know if you've got what it takes. You're scared of what might happen if you try and find out. So you rely on vaguely remembered 'evidence' that eating low-carb is not healthy. Like that old chestnut about protein causing kidney problems. An idea based on a study in which participants with existing kidney failure were found to improve when they avoided sugar-based and processed proteins. So let me ask you this – and thanks to whoever it was I stole this analogy from, I can't remember – just because going for a jog with a broken ankle is a terrible idea does it also stand to reason that jogging will cause your ankle to break? Do you see what I'm saying? And if you don't then there are a myriad of resources just chock full of peer-reviewed studies proving conclusively that at least 75% of us can't tolerate carbohydrate in any significant amount. Same just can't be said about proteins and fats.
Essential carbohydrates? There ain't no such thang.
Chew on that for a while.
Life is Now. Press Play.
Kat
PS – It's not all about cutting carbs. If you take something out, you've gotta put something back in. Check out this article on low-carb dieting, the right way, or contact me to find out more about having a BioSignature assessment to determine your unique hormonal profile and nutritional needs. But here's a tip – if love handles are yours no matter how much you love to hate 'em, then it's high time to cut that starch and start balancing your insulin. Or you most certainly will pay the price in more ways than you care to imagine. That's my two cents worth, anyway.
PPS – I've just started another 14-day low-carb bootcamp myself. I like to do one at least every 6 weeks. I'm only a few days in and would love some camraderie so drop me a note in the comments if you're willing to commit to changing your own eating habits for at least the next 2 weeks.

If you liked this post please tweet it below. Thankyou!
If you're a regular reader and haven't been active in the BodyIncredible community then now is the time – I want your involvement, your feedback, and your questions! So why not make this the day to leave a comment before you go – if you're reading from RSS or email you'll have to enter the blog to do this. You can do that by clicking on the title of this piece. 'Post a comment' is at the article end, right under the 'share this' and 'related posts' options.
If you haven't yet subscribed to this feed, what are you waiting for? Do it now. You can choose either email or RSS by clicking here. If you enjoyed this article please forward to your friends. Thank-you!
PS
Expansion.
10 Days of Live Soul Transmissions, to Help You Find and Follow the Messages Within
Day 1) Trust
Day 2) Certainty
Day 3) Self-Belief
Day 4) Empire Creation
Day 5) Your Deepest Message
Day 6) Following Soul Guidance in All Areas
Day 7) Faith vs Fear
Day 8) Accessing Flow, and Superflow
Day 9) Expanding Time
Day 10) Expanding Money
Every day will be a LIVE soul led transmission.
This will take place on Facebook video, held at a variety of times in order to account for varying time zones, and scheduled only once we have begun. Our daily soul transmissions will be guided from MY higher self and directed from and for YOURS, to help you find and FOLLOW the messages within. The messages of your spirit, your consciousness, of the who you've always been and yet have managed quite well to cover up a lot of the time.
This is about stripping away –
And getting back to the CORE.
We'll dive day by day into the above mentioned areas –
And you'll receive all content and bonuses to keep for life.
There will be daily spirit prompts which you'll receive after each training.
And plenty of time opportunity connect with me throughout, receive transmissions direct to YOUR questions, and absorb more even than what comes through on the trainings, via the energy we'll create in this collective!
It's very rare for me to know in advance exactly what is coming through day to day.
I certainly don't have the details of each day's content. But I know that these areas have been on my heart to talk about, in particular around belief, around certainty, around living from FAITH.
We know that exactly what is meant to come through for you WILL, and then some. And that if you intend and allow for it to, it will change, most likely before we even begin, due to your energetic commitment, the direction of your LIFE!
Meaning: direct it back to absolute soul alignment.
*** NEVER Seen Before Bonus! ***
As part of this, I've been guided to offer a NEVER before seen bonus … one I feel super vulnerable about sharing!
It's the exact journaling I did to allow the download of THIS offer through. How I allowed the idea to bubble up. You'll see my doubt, uncertainty, annoyance. You'll see what I discarded. How I went through the layers. And how I KNEW, this was the one.
I'll ALSO add in copies (screenshots) of my conversation with my COO Ash, where I was talking through the idea and allowing it to come to life.
I want to show you the exact Idea to Launch process!
This bonus alone is EASILY worth the cost of this program, particularly when you hear the mindset side of it, in terms of STAYING THE COURSE and refusing to back away from my self until the idea showed up!
I refuse not to create!!
AND, when you register for EXPANSION today (and how could you not?!) you'll also receive early access to the Pre-Work. This is ALSO never seen before, and brand new just for you – and it's a guided meditation on remembrance, to help you connect back to deepest self and the most certain truth of your destiny, before we even begin.
Perfect priming, for when we expand RAPIDLY into all that is coming through in this work!
Of course I could now go on and on here, about what I could or should have charged for this, and what it's actually going to be …
Or about all my accomplishments on line and off, with money, with purpose, with passion, with flow …
I think you know all this anyway. Even if you just me! Your soul feels what matters. And that's ALL that matters.
But I will say this:
You've always known it's supposed to be about ALL that is inside of you. That it's meant to COME from a place of purpose, passion, and SUPER super flow. And that if you just.freaking.trusted, and showed up FULLY from that place, you'd be living in a different reality already.
THE ONE INSIDE OF YOU.
If that's true for you right now, then LET'S GO CREATE THAT REALITY.
Right now
Press play for regular, (super fuck yes!!) upfront or payment plan
OR
Press play like a VIP, and receive the full course, plus 10 days direct photos or screenshots of my ACTUAL personal journaling, so you can see how I create and expand my life, PLUS a VIP only follow-on live Hotseat, where you'll receive a personal transmission just for you, if you'd like one! Payment plan also available.
>>> https://thekatrinaruthshow.com/expansion
We start Monday 17 December, US time!