News
Healthy Chocolate Fudge Recipe – Yes, Really!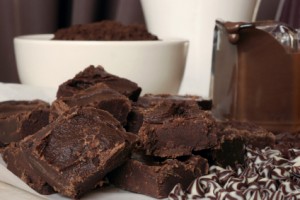 When I was growing up, I absolutely loved to bake. Chocolate cake, apple and rhubarb crumble, choc-chip cookies, double choc-chip cookies, triple choc-chip cookies, choc-fudge bars … is it just me, or is there a theme here?
Anyway, as a very health-conscious adult I'm a little more wary of frequent baking. I've found it can lead to frequent over-eating, and – as I seem to have zero self-control in matters of the kitchen – it's safer to steer clear altogether. At least it was, until a friend passed on this fantastic healthy choc-nut fudge recipe, and I made a few changes to make it even better! A new favorite of mine, and I'm sure it will be yours too.
Super-Healthy Chocolate Fudge Recipe – The Mix
1 cup full-fat organic coconut milk
150 grams raw dark chocolate (or 70%+ organic dark chocolate). Click here to read about the health benefits of chocolate.
A few hefty tablespoons (depending on taste) of your preferred nut butter. Keep in mind that nut butters don't often come organically, so you may prefer to blend your own nuts, or leave out altogether if you're not a huge nut fan.
1 cup dried goji berries (available from any health food store). Dried cranberries or sultanas are okay, although not quite as health-affirming.
5 flat tablespoons non-wheat flour. I like to use chickpea flour from the health-food store, but spelt or buckwheat (a member of the rhubarb family) is okay.
2 rounded tablespoons almond or hazelnut meal (use rice bran if you're allergic to nuts)
A dash of vanilla essence
Stevia powder to sweeten (a herb with up to several hundred times the sweetness of sugar, and with no effect on your blood sugar levels – find it in any health food/organic store)
Putting It Together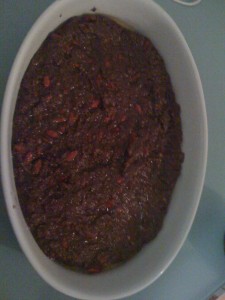 Add the coconut milk and vanilla essence to a small saucepan. Keep the heat low, and stir frequently. Gradually add the chocolate (broken up into small-medium pieces), and keep stirring as you add the nut butter and stevia.
Once you have a smooth mixture, add the remainder of the ingredients, and stir until they are well mixed through. Hey presto, you're done! Now, simply spoon the mixture onto a platter (use waxed paper over the platter), and pop it in the fridge until cool. Keep covered to avoid fudge-thieves, and also to stop it drying out.
And don't forget to let me know what you think!
Life is Now. Press Play.
Kat
Don't forget –
Life is Now. Press Play.
Kat x
PS
Aligning to Your New Money Normal is coming!
I am so excited!!
For the first time ever I am bringing together over 13 years of soul-led multi-million $$ biz creating money ENERGY shiz, and teaching it to you all in one brand new live 6 week course!
Piece by piece and bit by bit EVERYTHING I got to learn, tap into, download, and figure out around COMPLETELY rewiring money beliefs, and then upleveling financial reality on repeat.
This course will include all the practical things I do to continually grow real wealth (boy oh boy was that a minefield for me to wade through, and find soul alignment with, at first!),
my personal daily and weekly money routines and practices,
also what I get my team to do / the behind the scenes of how we create and also manage cashflow in my biz,
the quantum side of it, the energetics of the thing,
everything you ACTUALLY need to know about clearing shit, and how to know when there IS action to take on that, what it is, how to take it,
how to know when it IS time to align to your next money goal, what that goal is, how I myself would know (and then what to do about it),
how I do my money energy work, my own feelings and relationship with money, and how I created that
as well as a literal 'what to do and how to do it' process to align YOU to your next money goal, right there and then together in that course. Yep, you will actually be implementing and shifting shit with me there right by your side kicking your hot ass as needed (gettin' you soul aligned baby!)
and a whole bunch more which you is gonna have to wait to see 🙂
Be sure to drop a comment here on Facebook if you'd like to be one of the first people to know when it goes live!
PPS
I HAVE SOME BIG NEWS TO SHARE!
As of today, I'm opening up the doors to my Inner Circle, my private client mastermind.
This is THE most badass high level mastermind in the world for women who want it all – and are prepared to do what it takes to get it! Really what we're talking about is being prepared to be the PERSON.
And that's what I do. I help you remember ALL that you were, and then become it. ALL Of it.
This is my highest level private mentoring circle. The exact place where I have personally mentored dozens of this industry's most elite female entrepreneurs to break income barriers ranging from 10k months to multiple 7 FIGURE months, and everything in between. But more importantly than that – to become who and what they always were.
But know that this is not only (obviously) not just for the masses, this is also not just for someone who can afford to invest in a high level private coach. Being willing to throw money down is something which has absolutely zero correlation to being somebody who has what it takes to TRULY go next level as a leader.
If anything, in this industry, investing in a high level coach such as myself, is a rite of passage which veers just a little too much on the side of 'trend'. It's become something which 'everybody does', almost as a way of proving they play business and life a certain way.
Maybe even of trying to prove it to themselves.
Here is the reality which those who I am truly here to personally mentor and lead KNOW, the reality which my clients and all women like me as well as of course me personally have ALWAYS known:
We are VERY VERY DIFFERENT.
We are simply, smarter, faster, and have more presence. We can do more in our minds before breakfast than what most people can do in a freakin' WEEK, a month, a year.
We are not basic ass coaches trying to heave ho our way up a few extra thou a month.
We are the ones who have ALWAYS known we are 1% within the 1% within the 1% in terms of how we think, create, operate, how and WHAT we are tapped in too.
This is not arrogance, this is fact.
And there has NEVER been any question but that we will go all the way.
My clients are high level badasses who do the work, who have a proven track record BEFORE coming to me, and a BEING-ness which unquestionably separates them from the rest. They don't come to me to save them or lean down and hold my hand out so they can clamber up. They come because they are, quite simply, ready to go to the next level, already absolutely on their WAY there, and see in me something which they recognise because it is in them.
That 'can't stop won't stop' fire, and a level of 'unapologeticness' which, when truly understood and applied, can literally be the difference between 5-figure or low 6-figure and 7 or multi-7-figure entrepreneur.
So if you know who you are and it is THAT –
And you feel certain that you are ALREADY well on your way to to precisely where you're meant to be, but that being in MY energy could help you to drop in and get there even faster, and that with a couple of simple tweaks your current revenue could be doubling, tripling, heck QUADRUPLING and beyond in months, as it has done with numerous of my clients previously, well then –
PM me here http://m.me/katrinaruthofficial and we'll see if it's a fit. I'm excited to talk to you, and maybe – do biz and life with you.