News
Healthy Chocolate Fudge Recipe – Yes, Really!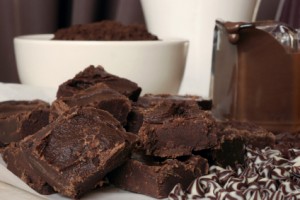 When I was growing up, I absolutely loved to bake. Chocolate cake, apple and rhubarb crumble, choc-chip cookies, double choc-chip cookies, triple choc-chip cookies, choc-fudge bars … is it just me, or is there a theme here?
Anyway, as a very health-conscious adult I'm a little more wary of frequent baking. I've found it can lead to frequent over-eating, and – as I seem to have zero self-control in matters of the kitchen – it's safer to steer clear altogether. At least it was, until a friend passed on this fantastic healthy choc-nut fudge recipe, and I made a few changes to make it even better! A new favorite of mine, and I'm sure it will be yours too.
Super-Healthy Chocolate Fudge Recipe – The Mix
1 cup full-fat organic coconut milk
150 grams raw dark chocolate (or 70%+ organic dark chocolate). Click here to read about the health benefits of chocolate.
A few hefty tablespoons (depending on taste) of your preferred nut butter. Keep in mind that nut butters don't often come organically, so you may prefer to blend your own nuts, or leave out altogether if you're not a huge nut fan.
1 cup dried goji berries (available from any health food store). Dried cranberries or sultanas are okay, although not quite as health-affirming.
5 flat tablespoons non-wheat flour. I like to use chickpea flour from the health-food store, but spelt or buckwheat (a member of the rhubarb family) is okay.
2 rounded tablespoons almond or hazelnut meal (use rice bran if you're allergic to nuts)
A dash of vanilla essence
Stevia powder to sweeten (a herb with up to several hundred times the sweetness of sugar, and with no effect on your blood sugar levels – find it in any health food/organic store)
Putting It Together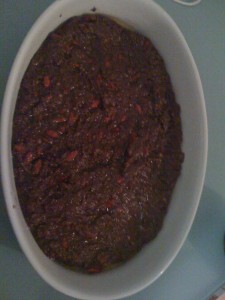 Add the coconut milk and vanilla essence to a small saucepan. Keep the heat low, and stir frequently. Gradually add the chocolate (broken up into small-medium pieces), and keep stirring as you add the nut butter and stevia.
Once you have a smooth mixture, add the remainder of the ingredients, and stir until they are well mixed through. Hey presto, you're done! Now, simply spoon the mixture onto a platter (use waxed paper over the platter), and pop it in the fridge until cool. Keep covered to avoid fudge-thieves, and also to stop it drying out.
And don't forget to let me know what you think!
Life is Now. Press Play.
Kat
PS – Remember that no matter how healthy it is, fudge is still a treat! Restrict yourself to one small square each day, maybe two if you've been super-active!
If you're a regular reader and haven't been active in the BodyIncredible community then now is the time – I want your involvement, your feedback, and your questions! So why not make this the day to leave a comment before you go – if you're reading from RSS or email you'll have to enter the blog to do this. You can do that by clicking on the title of this piece. 'Post a comment' is at the article end, right under the 'share this' and 'related posts' options.
If you haven't yet subscribed to this feed, what are you waiting for? Do it now. You can choose either email or RSS by clicking here. If you enjoyed this article please forward to your friends. Thank-you!
PS
Expansion.
10 Days of Live Soul Transmissions, to Help You Find and Follow the Messages Within
Day 1) Trust
Day 2) Certainty
Day 3) Self-Belief
Day 4) Empire Creation
Day 5) Your Deepest Message
Day 6) Following Soul Guidance in All Areas
Day 7) Faith vs Fear
Day 8) Accessing Flow, and Superflow
Day 9) Expanding Time
Day 10) Expanding Money
Every day will be a LIVE soul led transmission.
This will take place on Facebook video, held at a variety of times in order to account for varying time zones, and scheduled only once we have begun. Our daily soul transmissions will be guided from MY higher self and directed from and for YOURS, to help you find and FOLLOW the messages within. The messages of your spirit, your consciousness, of the who you've always been and yet have managed quite well to cover up a lot of the time.
This is about stripping away –
And getting back to the CORE.
We'll dive day by day into the above mentioned areas –
And you'll receive all content and bonuses to keep for life.
There will be daily spirit prompts which you'll receive after each training.
And plenty of time opportunity connect with me throughout, receive transmissions direct to YOUR questions, and absorb more even than what comes through on the trainings, via the energy we'll create in this collective!
It's very rare for me to know in advance exactly what is coming through day to day.
I certainly don't have the details of each day's content. But I know that these areas have been on my heart to talk about, in particular around belief, around certainty, around living from FAITH.
We know that exactly what is meant to come through for you WILL, and then some. And that if you intend and allow for it to, it will change, most likely before we even begin, due to your energetic commitment, the direction of your LIFE!
Meaning: direct it back to absolute soul alignment.
*** NEVER Seen Before Bonus! ***
As part of this, I've been guided to offer a NEVER before seen bonus … one I feel super vulnerable about sharing!
It's the exact journaling I did to allow the download of THIS offer through. How I allowed the idea to bubble up. You'll see my doubt, uncertainty, annoyance. You'll see what I discarded. How I went through the layers. And how I KNEW, this was the one.
I'll ALSO add in copies (screenshots) of my conversation with my COO Ash, where I was talking through the idea and allowing it to come to life.
I want to show you the exact Idea to Launch process!
This bonus alone is EASILY worth the cost of this program, particularly when you hear the mindset side of it, in terms of STAYING THE COURSE and refusing to back away from my self until the idea showed up!
I refuse not to create!!
AND, when you register for EXPANSION today (and how could you not?!) you'll also receive early access to the Pre-Work. This is ALSO never seen before, and brand new just for you – and it's a guided meditation on remembrance, to help you connect back to deepest self and the most certain truth of your destiny, before we even begin.
Perfect priming, for when we expand RAPIDLY into all that is coming through in this work!
Of course I could now go on and on here, about what I could or should have charged for this, and what it's actually going to be …
Or about all my accomplishments on line and off, with money, with purpose, with passion, with flow …
I think you know all this anyway. Even if you just me! Your soul feels what matters. And that's ALL that matters.
But I will say this:
You've always known it's supposed to be about ALL that is inside of you. That it's meant to COME from a place of purpose, passion, and SUPER super flow. And that if you just.freaking.trusted, and showed up FULLY from that place, you'd be living in a different reality already.
THE ONE INSIDE OF YOU.
If that's true for you right now, then LET'S GO CREATE THAT REALITY.
Right now
Press play for regular, (super fuck yes!!) upfront or payment plan
OR
Press play like a VIP, and receive the full course, plus 10 days direct photos or screenshots of my ACTUAL personal journaling, so you can see how I create and expand my life, PLUS a VIP only follow-on live Hotseat, where you'll receive a personal transmission just for you, if you'd like one! Payment plan also available.
>>> https://thekatrinaruthshow.com/expansion
We start Monday 17 December, US time!