News
Healthy Portion Sizes: A Failproof Guide
Earlier this week I posted my 10 Tried And Tested Rules For A Healthy Breakfast. One of the points I discussed was calories, and why you shouldn't count them. But I don't think it's enough to leave the conversation there.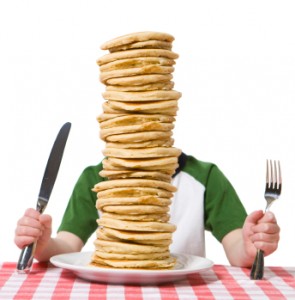 When it comes to eating right, feeling great, and reaching your ideal body shape, how do you know when enough's enough? Just because you eat good food you can't assume that you're going to reach ideal health and/or lose body fat. In fact, I've seen more than a few people (many of them personal trainers!) actually put on a significant amount of weight eating an all-organic and perfectly balanced diet. Now that's gotta hurt!
Never assume that quality eating means you can eat pretty much whatever portion size you feel like. In my experience at least 80% of us eat too much, and that's regardless of how healthy the food might be. If you're struggling to slim down, are low on energy, or just feel a bit sluggish, you need to keep reading.
It's not necessarily your fault that you eat too much. The truth is that most of our over-eating habits stem from 1 or more of the following 3 issues –
We learn how to eat from our parents. It's likely that at some point, either your parents or grandparents struggled to make ends meet and put food on the table. The obvious backlash is that once this time passed it became a point of pride to be able to weigh the dining table down every evening. We learn how to eat from our parents.
Restaurants over-feed us. Unless you go only to the really really fancy ones. A restaurant portion is NOT a guide to take home and implement in your home-serving routine. Especially not if it includes entree, main, dessert and bread!
Television over-feeds us. Have you ever watched the way people eat on TV shows? And don't even get me started on commercials! It's out of control. An ideal portion size is simply not that big.
So let's get down to the nitty gritty – how much should you be eating?
Protein
Things are real simple when it comes to your protein needs. If you're female, you need 0.9 grams of protein per pound of body weight. Guys, you need 1.5 grams of protein per pound of body weight. To calculate your weight in pounds, simply multiply kilos times 2.2.
There is one catch here – these numbers are based on you exercising 3-4 times per week, at least partially with weights. But hey, if you're a regular reader here, I know you won't have a problem there! For ideas, check out some of my posts in the 'Functional Fitness' category on the right-hand side of this page.
I'd suggest you split your protein intake over 3-5 meals. Try not to think in terms of meals and snacks, but just meals and smaller meals. Typical snack food is not healthy and will not energize you – and that includes fruit or low-fat yogurt based snacks.
One last point – remember that 100grams of protein does not equal 100 grams of meat. A typical 100 gram steak has 22 grams of protein. So a 60kg woman (132 pounds), who needs 119 grams of protein, would need to eat around 500 grams of animal protein throughout the day, or consume some in the form of a quality protein shake post-workout.
Carbohydrates
Carbs are a little trickier. I can't give you a formula, but what I can tell you is that eating starchy carbs even once per day is too much if your goal is health and optimal weight. Our bodies simply are not designed to eat grains in any form, and if you're not convinced then simply take a 2 week break from these nasties. Believe me, you'll know all about it when you re-introduce them. Check out this article to learn why you should be careful with carbs.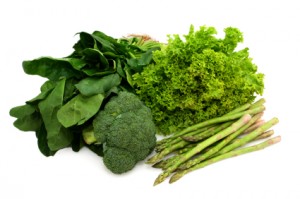 Green veg is another story entirely. This is one area of eating where you really can can go nuts. That's right! The only rule is – there are no rules! Eat as much as you like, preferably with at least 3 of your meals. Just be sure not to add loads of rubbish such as cheap oil or bleached salt, but you can freely add organic sea salt.
Any carbs not covered by these two areas would be either fruit, or sugar-based foods, and I'd put these on an equal standing. In both cases, take it very very easy. Did you know that half an apple contains 15 grams of fructose, and that this is the maximum that a typical person can utilize before they start storing fat? Even a high-level athlete burns through only 30 grams of fructose per day!
Fats
With every passing day more and more information is popping up to prove what many of us have been saying for years – if you want to lose fat then you need to eat fat.
At each meal or mini-meal, be sure to include some smart fats like Omega 3's (make sure it's a quality brand), organic coconut oil, avocado, or organic extra virgin olive oil (EVO). Full fat dairy, as well as raw nuts and seeds are also ideal sources of fat, so long as they're organic.
As to how much – again, pretty simple. Cook all your meat in coconut oil (or EVO if you're out of coconut oil), and then simply add either an additional 1-3 teaspoons of oil over the meal (1-2 for females, 2-3 for males), or 1-3 tablespoons worth if it's something more solid such as whole olives or avocado. You can freely eat up to an entire avocado across the course of the day, and up to 60 raw nuts.
Stay tuned for the follow-up to this post, where I'll dicuss just how many sneaky extras and how much 'junk' you can get away with and still get into great shape.
In the meantime, if you'd like to know precisely what is right for your body, if you're keen to learn how to truly achieve optimal health, weight and energy, and if you're ready to seriously transform your body, then BioSignature is the program for you. Contact me today to register your interest in a complimentary 15-minute assessment over the phone or in person.
And no matter what you eat, always remember –
Life is Now. Press Play.
Kat
Life is Now. Press Play.
Kat x

PS
I want to help you to build a business you LOVE, and that meets your every want and desire, in a real and true way, whilst also resulting in you making a LOT of money, fast, and impacting a lot of people, also fast, in the way you know you were born for!
My most transformative 1:1 intensive EVER … shifting people into EPIC income and success since 2016 is back, for the first time in 2019! I'm so excited to bring this signature transformative work back!
Rich Hot Empire!
Work With Me for 6-Weeks Personally to Grow Your Perfect Cult Tribe, Create and Launch Your Low-High End EMPIRE, and Set Up Multiple Recurring Income Streams to Take You to Multiple 7-Figures and Beyond, Doing What You Love!
This round is even more special as I will be re-recording all original content, with you there live with me and alongside me AND you will also receive all original content; the exact trainings which has made this program my most successful ever, with clients repeatedly saying they achieved more in 6 weeks with me than they had in 2 YEARS beforehand! This work is for entrepreneurs at ANY starting point, as it's about who you are as a person not where you're at. I've had clients anywhere from total start-up, to already doing 500k+ / year go through Rich Hot Empire and all who have done this work have gone to a level of income as well as alignment and FLOW which they couldn't previously even imagine!
6-week personalised intensive high level mastermind
Weekly group training and support; multi-media training: visual + audio
'Done for You' Templates and Step-by-Step Worksheets
Personalised 1:1 coaching included, plus DAILY unlimited 1:1 access
My personal hand on your business success
Weekly group coaching call and hotseat with my other private clients
24/7 mastermind forum, networking and support
Very limited spaces
Results guaranteed
Not for everyone
STARTS THIS MONTH!
I'm so excited to do this work with a small group of badasses who are willing to SHOW UP FOR THEIR SOUL no matter what. To walk away from all that is not serving, not actually working, not FILLING you. And to all yourself to bring your truest desires to life. If that's you, or you've felt the call to work with me at this level, PM me now. Bonuses and fast action-taker investments apply to all successful applicants, but for the first 5 to say yes there is a very special $2000+ bonus specific around Soul Shifts & Money Makin', and which, in and of itself even before we begin RHE will have shit changing for you FAST.
Apply via PM only. I can't wait to speak with you!
PPS
HAVE YOU JOINED PURPOSE PASSION FLOW ACADEMY?
My 'Going Fully Quantum' training will break down ALL of what we've discussed today, and teach you the finer details and finesse of it, as well as exactly what needs to be true for you to APPLY it, not only into the practical actions you need to create THAT money flow and THOSE results, but also in terms of ALL the energetics of it, especially the 'being and non-being' around dropping in to superflow so you can be shown, create, receive, AND of course the being around not being one of those people who just can't seem to choose faith and are ruled by fear. We'll also talk about creating and integrating the exact wording, beliefs, emotions, energies YOU need for all of this to switch effortlessly for you, as you've always known it would.
In other words: EVERYTHING you need to know to go fully quantum, and double your income in 30 days or less, or whatever else you choose!
Where will you find this training?
Why, it's one of the very first training in 'Remembering Who You Always Were', which. is our June intensive for Purpose Passion Flow Academy, my SUPER low-cost monthly membership mastermind!
And this training?
Will change your freaking reality. Well – it will REMEMBER it.
It's all available to you gorgeous.
You know this already.,In the quantum it is DONE. And in Purpose Passion Flow Academy, and especially our June intensive 'Remembering Who You Always Were'? We gon' done do it.