News
HIIT Training: Lose Weight Like Magic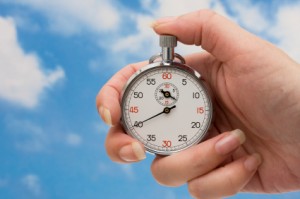 You know by now that intervals training is the key to truly successful cardio. If you want to burn fat, that is, as opposed to end up with chunky fat aerobics instructor syndrome. And perhaps you've seen my latest article in the Fitness First magazine and want to know more about ideal cardio for fat loss. Either way, I'm guessing that if you've been around the traps for even a little while then you can smugly pat yourself on the back, safe in the knowledge that you use intervals to take your workouts to the next level at every chance you get. One minute hard, one minute recovery right? Well, yes, but also – no. As with anything training and fat loss related, true success comes from keeping your body on it's toes. Mixing things up. And while 'minute-on, minute-off' style cardio is certainly far better than endurance if you want to get lean it really is just a starting point. And if you're doing it over and over it's a cert your body is sick of it. Which means it ain't gonna be working as well as it once did.
So let's take a look at exactly what ideal interval training is. Well, for starters, true interval training is officially known as HIIT training – High Intensity Interval Training. And this sure isn't just any old back and forth on the treadmill while you change tunes on your iPod and check out the latest night-time talent. This stuff is guaranteed to supercharge your cardio and help you burn fat like magic.
Here's How It Works
There are a few key elements that make HIIT training stand out from regular intervals, and the reason for that is the end goal (to maintain an anaerobic state for as much total cumulative time as possible). A typical HIIT workout would contain the following elements:
Time – HIIT training must last absolutely no longer than 20 minutes (extra time for warming up and cooling down is okay)
A beginner HIIT workout might have as little as 4-6 minutes total 'work' time, and an advanced might have up to a 50/50 ratio or beyond
Muscle groups – HIIT training uses as many muscle groups as possible, which is why sprinting is preferable to a 'legs only' cross trainer (for example)
When you really give these workouts your all, you should absolutely not be doing consecutive days. You need at least one day in between.
Only repeat a certain HIIT program (see below) for a maximum of 6 weeks. Any longer and you'll start to adapt, so take a week or so off from this style of cardio, and then come back with a fresh HIIT program.
Putting It Together
If the end goal is to perform as much total anaerobic exercise as possible then it stands to reason that your rest times will be increasingly reduced as you advance through your HIIT training programs. As a beginner, you might start out with 6-8 repetitions of 30-second sprints, with up to 90 seconds rest in between. After a week or so you'll notice you don't really need that much rest, and you can gradually reduce down to a 50/50 ratio. If you've never really worked hard at your intervals before, then this is the ideal place to start for your first 6 week block and will also massively boost your fitness.
Taking things to the next level will obviously further increase your fitness, but it's also the point at which you'll really start to chow through the body fat. You'll be completely burning out your energy with this style of training, so be sure to give yourself adequate rest between workouts. Try starting out with 60-second work periods and at least 2 minutes rest time. As before, gradually reduce your rest time until it's a 50/50 ratio. Remember not to go beyond 20 minutes total work time, but also be sure to warm up and stretch it out afterwards. The sky is really the limit here, as you can obviously increase your work intensity even once you've dropped the rest time as far as possible.
The third and (usually!) final stage is where things get really interesting – we actually start to drop your rest time lower than your work time. Yep, it's intense, it's a little bit scary, it's bound to get your lungs screaming, but it really does blast away the fitness cobwebs like nothing on earth. And – as you can imagine – you'll be burning fat like sausages on Australia Day. When you come to this stage it's wise to reduce your total work time to as low as 10 minutes until you gradually become accustomed to the higher intensity – or you just might find yourself wiping the floor with, well, yourself. Try starting with 60 seconds work time and 40 seconds rest, and gradually increase the intensity as you drop first the work time, and then the rest. Don't forget your gym towel – you're gonna need it!
Have you tried HIIT training before? What's your preferred approach or where do you think you could make some changes to maximize your results?
Life is Now. Press Play.
Kat
If you liked this post please tweet it. Thankyou!
If you're a regular reader and haven't been active in the BodyIncredible community then now is the time – I want your involvement, your feedback, and your questions! So why not make this the day to leave a comment before you go – if you're reading from RSS or email you'll have to enter the blog to do this. You can do that by clicking on the title of this piece. 'Post a comment' is at the article end, right under the 'share this' and 'related posts' options.
If you haven't yet subscribed to this feed, what are you waiting for? Do it now. You can choose either email or RSS by clicking here. If you enjoyed this article please forward to your friends. Thank-you!
Want To Know The Secrets That Got Me From This…To This?
I'm significantly leaner now than I used to be. Healthier too. It took me a good 4-5 years to really learn all of this and then to gradually streamline my knowledge so that I knew how to make it work for others as well. That's when I decided to create Secrets Of Lasting Weight Loss Revealed. You won't find any magic one-trick-wonder but you will find a detailed manual not just for weight loss, but for improved digestion, energy, sleep patterns, stress management, and ultimately for ideal health and happiness.
Find out more & grab your copy HERE.
PS
I'm calling in my next intake of driven badass LEADER women who want to work with me 1:1 to FOLLOW SOUL and achieve ALIGNED AF fame, income growth, more.
Yeahhhhhh … this is about unapologetically claiming your place as one who is MEANT to be seen and heard by everyone!!
Next Level Empire baby!
Multi 7-Figure Empire Expansion For Unapologetically Badass & Driven Women Who Are Ready to Be Seen By the WHOLE Damn World
6 weeks.
1:1
You and me
This is for the women who already have a message, an audience, and are making money online and who are now ready to put some damn WHEELS on the thing.
We will be going deeper into message clarity
We WILL be nailing down what you're selling, and how you're selling it, for maximum conversion and flow
We WILL be getting you fully connected to the badass leader within who KNOWS she is meant to run the damn thing
But these things are just the warm-up, because let's face it –
You already message
You already show up
You already sell
You're already ROCKING what you're doing right now
So what you're here for, and what I'm here for with you?
Is to blow the damn thing up.
MAXIMUM reach.
RAPID growth of audience
MASS visibility
MEDIA TAKEOVER
NEXT level leadership status, and being the one who is KNOWN as the Queen
And sales EXPLOSION
I'm taking what I'm doing in my business to CONTINUALLY claim my place at the top, and to take my message to the masses whilst also RAPIDLY growing following and income,
And showing it all to you
Exactly how we do it
What precisely is in place
What we had to have in place for it to work
What we do day to day to elevate fame, income, purpose, ALL of it
And then I'm going to work with you personally to roll it out
Next Level Empire baby:
For the women who were born for more,
And who are done with circling repeatedly around the same damn pond and kidding themselves they're gonna find it there.
Ready, and know it's time? It just might be 😉
PM me now for the full overview. x