News
How Hot Are Your Friends? And Why You Should Care.
Read time: 2-3 minutes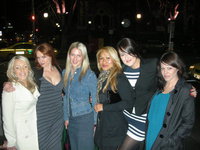 One of the (many) snippets of wisdom I've learned from Coach Poliquin is that you are the average of the 5 people you spend the most time with. I don't think Charles came up with this concept; I know I've heard it a few times. It's kind of one of those things you 'get' the idea of, and maybe even agree with a little and yet still roll your eyes at and don't think about again.
I have a theory on this. I think it's human nature to turn a bit of a blind eye to things that require some measure of change. Usually, this change involves (perceived) pain. In this case, if you decide to take seriously the 'rule of 5', you either have to accept that you may not be reaching your potential due in part to the things and people you surround yourself with, OR you have to get serious about changing your environment. Ouch.
According to Johnny B Truant, writing here for Copyblogger,
"Your weight is destined to become the average of the five people you're around most. Your habits (smoking, drinking, etc.) will correlate with those folks. Your level of marital satisfaction, of outside friendship, of ability to play the 1990s video game Street Fighter? All are tied to some degree to those of your peers."
What's your take on this? Do you agree? Disagree? Not sure? Before you make up your mind, let's consider something slightly less painful than linking your physical shape and fitness to that of your friends or associates. How about your moods? Your motivation? Your determination to create your dream career – or life? In my experience it's true that the most powerful element in any group tends to prevail. For example, if you spend much of your time surrounded with people who talk negatively about money, your perception (and therefore reality) will likely end up inline with theirs. I know that when I hang out with people whose businesses are at more of a starting point than mine I find it tougher to motivate myself toward new goals. This is one reason I make an effort to attend training days and networking days with big-name bloggers (for example). It forces me to question myself and rise above.
I'll give you another example. A couple of weeks ago, one of my telecoaching clients popped in to pick up something from me. We were chatting a little about motivation, and how tough it can be to apply everything I talk about in the telecoaching program. My advice to her was to focus only on progress, not on doing everything overnight. The main thing, I said, is that you can look back over the past 6 months, or even the past few weeks, and know that you've made positive change. No-one said it's meant to be easy to do everything it takes to be in great shape, right?
Well. Her response was that it is for me. But here's the thing. It's not necessarily that it's easy for me to follow my own advice, although I do so most of the time. I put that partly down to years of habit, and certainly I'm highly motivated by maintaining my physical fitness and appearance, but there's also the fact that I work with 30+ personal trainers, most of whom are in great shape, and all of whom can be found sitting around at 7am in the staff room on one day or another eating meat and green veg for breakfast. All of whom workout every day, sometimes twice a day. And yes, we party hard when we party, but 80% or more of the time we are walking the talk. I can't even begin to imagine how tough I would find it to eat well and be healthy if everyone I worked with or spent most of my time with, was sitting around living on a diet of junkfood/grains and maybe hitting the gym once or twice a week. Peer pressure affects me as much as it does anyone else; I'm just lucky enough to have some great peers!
In the article I linked to above, Johnny goes on to say this:
"The truth is that we humans are pack animals, and the need for acceptance and love is hard-wired deep in our brains. People like people that they resemble, so getting that acceptance and love almost always means practicing some degree — at least on a subconscious level — of conformity."
So tell me this. Who is your pack? And be brutally honest? Are you sinking to their level, or are you working together (deliberately or not) as a group to create the lives you'd love to live? And do you care enough to change anything?
PS – yes, I think my gang is pretty hot! I admit it 🙂
PS
Expansion.
10 Days of Live Soul Transmissions, to Help You Find and Follow the Messages Within
Day 1) Trust
Day 2) Certainty
Day 3) Self-Belief
Day 4) Empire Creation
Day 5) Your Deepest Message
Day 6) Following Soul Guidance in All Areas
Day 7) Faith vs Fear
Day 8) Accessing Flow, and Superflow
Day 9) Expanding Time
Day 10) Expanding Money
Every day will be a LIVE soul led transmission.
This will take place on Facebook video, held at a variety of times in order to account for varying time zones, and scheduled only once we have begun. Our daily soul transmissions will be guided from MY higher self and directed from and for YOURS, to help you find and FOLLOW the messages within. The messages of your spirit, your consciousness, of the who you've always been and yet have managed quite well to cover up a lot of the time.
This is about stripping away –
And getting back to the CORE.
We'll dive day by day into the above mentioned areas –
And you'll receive all content and bonuses to keep for life.
There will be daily spirit prompts which you'll receive after each training.
And plenty of time opportunity connect with me throughout, receive transmissions direct to YOUR questions, and absorb more even than what comes through on the trainings, via the energy we'll create in this collective!
It's very rare for me to know in advance exactly what is coming through day to day.
I certainly don't have the details of each day's content. But I know that these areas have been on my heart to talk about, in particular around belief, around certainty, around living from FAITH.
We know that exactly what is meant to come through for you WILL, and then some. And that if you intend and allow for it to, it will change, most likely before we even begin, due to your energetic commitment, the direction of your LIFE!
Meaning: direct it back to absolute soul alignment.
*** NEVER Seen Before Bonus! ***
As part of this, I've been guided to offer a NEVER before seen bonus … one I feel super vulnerable about sharing!
It's the exact journaling I did to allow the download of THIS offer through. How I allowed the idea to bubble up. You'll see my doubt, uncertainty, annoyance. You'll see what I discarded. How I went through the layers. And how I KNEW, this was the one.
I'll ALSO add in copies (screenshots) of my conversation with my COO Ash, where I was talking through the idea and allowing it to come to life.
I want to show you the exact Idea to Launch process!
This bonus alone is EASILY worth the cost of this program, particularly when you hear the mindset side of it, in terms of STAYING THE COURSE and refusing to back away from my self until the idea showed up!
I refuse not to create!!
AND, when you register for EXPANSION today (and how could you not?!) you'll also receive early access to the Pre-Work. This is ALSO never seen before, and brand new just for you – and it's a guided meditation on remembrance, to help you connect back to deepest self and the most certain truth of your destiny, before we even begin.
Perfect priming, for when we expand RAPIDLY into all that is coming through in this work!
Of course I could now go on and on here, about what I could or should have charged for this, and what it's actually going to be …
Or about all my accomplishments on line and off, with money, with purpose, with passion, with flow …
I think you know all this anyway. Even if you just me! Your soul feels what matters. And that's ALL that matters.
But I will say this:
You've always known it's supposed to be about ALL that is inside of you. That it's meant to COME from a place of purpose, passion, and SUPER super flow. And that if you just.freaking.trusted, and showed up FULLY from that place, you'd be living in a different reality already.
THE ONE INSIDE OF YOU.
If that's true for you right now, then LET'S GO CREATE THAT REALITY.
Right now
Press play for regular, (super fuck yes!!) upfront or payment plan
OR
Press play like a VIP, and receive the full course, plus 10 days direct photos or screenshots of my ACTUAL personal journaling, so you can see how I create and expand my life, PLUS a VIP only follow-on live Hotseat, where you'll receive a personal transmission just for you, if you'd like one! Payment plan also available.
>>> https://thekatrinaruthshow.com/expansion
We start Monday 17 December, US time!