News
How Many Times Will YOU Try Before You Admit Failure?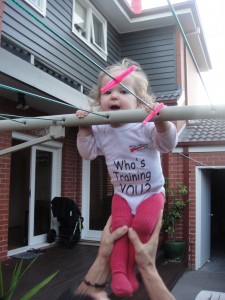 How many goes does a parent give the average baby when it's learning to walk? I think 5 is a reasonable number, don't you? Maybe a couple more if they seem to be a slow learner. What would you say?
You'd probably tell me to stop being ridiculous.
Obviously a baby is allowed to – and will – keep trying until they can walk, right? They might fall down hundreds of times first, often hurting themselves in the process! But still they get up again, and usually right away. Interestingly, no-one is scoffing at them or telling them they clearly aren't cut out for this stuff.
To the contrary, right? When we see a child trying to move from one stage to the next, we focus exclusively on the positive aspects – on the fact that they're trying, on how far they did go, on how clever they are, and we tell them to keep trying. If you've ever watched a baby trying to do or achieve something – be it crawl or walk, or simply get to the object they want – you'll know that the term 'steel-eyed focus' doesn't apply only to adults. In fact, it probably applies less so to adults.
Babies never give up.
so why do you?
At what point do you think you and I lose this sense of pure determination to do with something we want to do or be? Think about it – how many times do you typically try to do something before you admit failure?
Perhaps you might think you're accepting reality. "I gave it all I could", you might say. Or – "But I really tried everything".
NO.
If you'd tried everything then you would have been successful.
You might think I'm being an unrealistic dreamer. You might be jumping at the bit to point out tons of examples of people who definitely cannot achieve or be 'a', 'b', or 'c'. Should you do so, I could, of course, respond by listing tons of counter-arguments; of people who've achieved an impossible dream despite all odds.
But why argue over it? Wouldn't you simply rather use these people as your inspiration and driving force?
it's easy to justify
You can always find something or someone to help you justify giving up. That's easy. The positive encouragement that we so willingly heap on babies seems to drift away after a sad few years in many cases. By the time kinder hits there seems to be at least an even mix of can'ts and cans in terms of what the child might expect to achieve.
Think back over your own life. At what age do you think you stopped believing you were invincible? At what age did your childhood dreams become silly fantasies that you'd turn your nose up at? How many times in your life have you decided that it's better to 'just be realistic' or 'accept that you're never going to do or be 'x'?
Are you doing it now?
if colonel sanders can do it then why can't you?!
Yesterday I listened to an old podcast I have from Tony Robbins. I LOVE this man. I love everything about him, most especially his somewhat OTT voice. I used to listen to his audios when I walked to walk at 6am – what an energising way to start the day!
Aside from the point on letting babies try to walk until they actually can walk, there was one other story Tony told which really stood out –
Colonel Sanders tried to get his chicken into 1009 different stores before he was successful. This was while he was in his mid-sixties! And let's be honest. There are simply countless similar stories of perseverance. Some of the greatest inventions of our time are built on such stories. These are not extraordinary people by nature! These are simply people who have a goal, who are focused, and who do not give up. They are consistent in their actions, and persistent in the dreams.
When I started Body Incredible, one thing that I remember saying to myself is that even though I didn't really know anything about blogging, I believed in my writing abilities. I made myself a promise to just keep going with this blog; to consistently put up content. I remember thinking that if I was consistent with it would eventually get somewhere. It would have to. And I'm happy to say it has 🙂
Sure, there are loads of bloggers who have more readers than I in a shorter period of time. Just as there are loads of people out there who get in shape or achieve their dreams much faster than you.
So what? Does that mean you'll never get there?
could there be an extraordinary person lurking inside YOU?

So be honest now. Could you be one of those ordinary people who just keeps going until they achieve something extraordinary? Or have you told yourself that this is your last attempt to lose weight/get fit/run a marathon/eat healthy/find love/follow your passion/deal with your issues?
Don't you think that allowing even the possibility of failure into your mind could be preventing you from ever truly reaching your dreams? If you wouldn't tell a baby to just give up and deal with the fact that they're going to have to crawl forever, then why on earth would you accept anything less for yourself?
let's get personal

Do you have a dream that you'd like to brush off and take up again? Or perhaps something that you were wondering if you should just give up on and now think maybe you'd rather believe in after all? Please share!
Life is Now. Press Play.
Kat x

PS
I want to help you to build a business you LOVE, and that meets your every want and desire, in a real and true way, whilst also resulting in you making a LOT of money, fast, and impacting a lot of people, also fast, in the way you know you were born for!
My most transformative 1:1 intensive EVER … shifting people into EPIC income and success since 2016 is back, for the first time in 2019! I'm so excited to bring this signature transformative work back!
Rich Hot Empire!
Work With Me for 6-Weeks Personally to Grow Your Perfect Cult Tribe, Create and Launch Your Low-High End EMPIRE, and Set Up Multiple Recurring Income Streams to Take You to Multiple 7-Figures and Beyond, Doing What You Love!
This round is even more special as I will be re-recording all original content, with you there live with me and alongside me AND you will also receive all original content; the exact trainings which has made this program my most successful ever, with clients repeatedly saying they achieved more in 6 weeks with me than they had in 2 YEARS beforehand! This work is for entrepreneurs at ANY starting point, as it's about who you are as a person not where you're at. I've had clients anywhere from total start-up, to already doing 500k+ / year go through Rich Hot Empire and all who have done this work have gone to a level of income as well as alignment and FLOW which they couldn't previously even imagine!
6-week personalised intensive high level mastermind
Weekly group training and support; multi-media training: visual + audio
'Done for You' Templates and Step-by-Step Worksheets
Personalised 1:1 coaching included, plus DAILY unlimited 1:1 access
My personal hand on your business success
Weekly group coaching call and hotseat with my other private clients
24/7 mastermind forum, networking and support
Very limited spaces
Results guaranteed
Not for everyone
STARTS THIS MONTH!
I'm so excited to do this work with a small group of badasses who are willing to SHOW UP FOR THEIR SOUL no matter what. To walk away from all that is not serving, not actually working, not FILLING you. And to all yourself to bring your truest desires to life. If that's you, or you've felt the call to work with me at this level, PM me now. Bonuses and fast action-taker investments apply to all successful applicants, but for the first 5 to say yes there is a very special $2000+ bonus specific around Soul Shifts & Money Makin', and which, in and of itself even before we begin RHE will have shit changing for you FAST.
Apply via PM only. I can't wait to speak with you!
PPS
HAVE YOU JOINED PURPOSE PASSION FLOW ACADEMY?
My 'Going Fully Quantum' training will break down ALL of what we've discussed today, and teach you the finer details and finesse of it, as well as exactly what needs to be true for you to APPLY it, not only into the practical actions you need to create THAT money flow and THOSE results, but also in terms of ALL the energetics of it, especially the 'being and non-being' around dropping in to superflow so you can be shown, create, receive, AND of course the being around not being one of those people who just can't seem to choose faith and are ruled by fear. We'll also talk about creating and integrating the exact wording, beliefs, emotions, energies YOU need for all of this to switch effortlessly for you, as you've always known it would.
In other words: EVERYTHING you need to know to go fully quantum, and double your income in 30 days or less, or whatever else you choose!
Where will you find this training?
Why, it's one of the very first training in 'Remembering Who You Always Were', which. is our June intensive for Purpose Passion Flow Academy, my SUPER low-cost monthly membership mastermind!
And this training?
Will change your freaking reality. Well – it will REMEMBER it.
It's all available to you gorgeous.
You know this already.,In the quantum it is DONE. And in Purpose Passion Flow Academy, and especially our June intensive 'Remembering Who You Always Were'? We gon' done do it.