News
How To Be In Great Shape Over The Holidays – Part One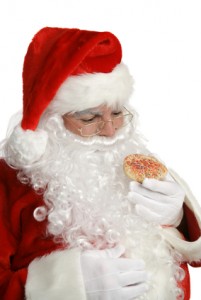 Avoid creating a Santa jelly-belly this Christmas
It's the department store windows that give it away at first. The masses of people on the streets are another sure sign. But when every city street is decorated with baubles and balls we know that it's upon us.
That there's no turning back.

Yep, it's that time of year again, and you've no chance of escaping. The city is full of tourists and children, retail windows are a disturbing if pretty mix of green and red, and bells are almost a'ringing. It's Christmas. The season of perpetual hope, of merriment, of gift-giving and receiving, and – like it or not – of almost inevitable weight gain. I sometimes wonder why we've kept the OTT celebrations going all these years, what with the crazy spending, uncontrollable drinking and eating, and the inevitable guilty aftermath that hits before the last New Year's hurrah fades away.
I guess it's because the holidays are such a special time for family, friends, hopefully a trip to a sunnier place, and certainly the eating, drinking and merry making that follows is part of all that. Despite all this, you don't want to walk away from the festive season feeling as though you've completely undone an entire year's work on your Body Incredible journey. Nor do you want to enter the new year feeling bad, sad or mad at your own inability to stay on track over that four or five week period.
Good news? There is a way you can have it all.
Yes, it's about staying on track with your exercise, and about eating well when you can, and certainly about preparation, but it's about so much more than that. If you want to wake up and feel fabulous and proud of yourself in the new year then you need to consider the holiday season a war of sorts. And you need to approach that war day by day – battle by battle. It won't necessarily be easy, but it will be worth it. The best part? With the right knowledge, support, and accountability, you'll not only stay motivated throughout December/January, but you'll also discover how to enjoy the festivities while still creating success.
Now I'd say that's a darn sight better than entering December at full-party-steam ahead and just quietly keeping your fingers crossed that it will somehow work out. Wouldn't you?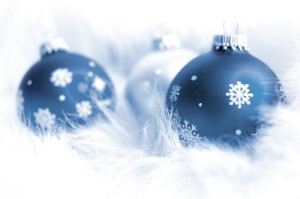 How To Stay In Great Shape And Still Enjoy The Holidays – Part One
Know Your Enemy: Late November
The first step to staying in shape over Christmas is realistically acknowledging where you are now. Warning: this could be brutally eye-opening, but your honesty with yourself will definitely pay off.
I've created a detailed yet simple self-assessment for just this purpose.
In it, I've covered the following points:
The 'what' and 'why' of your holiday goals
Your current weight and measurements
Physical and emotional energy
Appetite, food and cravings
Alcohol, smoking and party habits
Digestion
Sleep and mental focus
If you'd like a free copy of the BodyIncredible.com self-assessment file simply contact me with your email address.
If all this seems just a little too much like hard work and overwhelming planning, then, well, tough. If you want to stay in shape, that is. And hey – even if you're not worried about holiday weight gain, do it anyway. You just might learn something about your overall health and vitality. Don't be an ostrich!
But before you become too disheartened, know this – when it comes down to it, the truth is that you're unlikely to actually gain masses of weight over Christmas. In fact, a study released in the New England Journal of Medicine shows that Americans gain only around a pound during the festive season, even though they perceived their Chrissie weight gain to be much greater than this.
Sounds good, huh? Maybe it is okay to indulge your way through December. But here's the kicker –
This (quite small) amount of added weight tends to accumulate over the years and is considered a major contributor to obesity in later years. According to study co-author Susan Z. Yanovski, M.D., Executive Director of NIDDK's National Task Force on the Treatment and Prevention of Obesity:
"Because losing weight is so difficult, it is important to learn when and why people gain weight so that effective strategies to prevent obesity can be developed"
The study went on to show that you are most likely to gain weight during the six-week holiday period that comprises December through to mid-January. Duh, right. The main thing to take away from this is that it's up to you what happens to your body over Christmas. Just because most people gain weight throughout the holidays (and also compromise their health) does not have to mean you become one of them. Success is a choice to an extent, but – more importantly – it's a habit.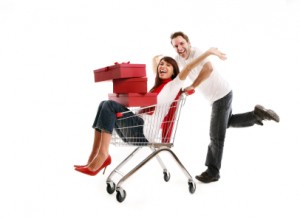 Plan for a happy and healthy Christmas this holiday season
Now is the time to decide – what are the habits which will dictate how you emerge from the holidays? Are you going to stick with the healthy and uplifting habits you've already worked so hard to create this year? Maybe even improve upon your current physical state? Or create new habits of excess that will surely only leave you miserable come the new year – not to mention with an extra pound or two that is oh-so-hard-to-lose. The choice is yours, and the habit will dictate your success.
In Part 2 of this series I'll show you how to make sense out of all that information, and how to use it as a basis for your holiday action plan. Make up your mind now that you have already won the holiday battle of the bulge – that this Christmas you will eat, drink and be merry, but do it with a little bit of forethought and the knowledge that you are still in control of your body both inside and out! And remember –
Life is Now. Press Play.
Kat
Don't forget –
Life is Now. Press Play.
Kat x
PS
Ready to create business AND life in a way that allows you to ONLY be more of you, expanded and lifted and lit up from the SOUL?
I wanna show you how to take what's inside of you –
Unleash it to the world –
Monetise the FRICK out of it –
And then automate that shit like a MOFO so that you too can build your biz to multiple 7-figures and beyond, with multiple streams of recurring revenue from low through to high end ALL the things so that you can just do YOU every day,
Being EVER more of who and what you always were,
As the $$$ roll in!
This is the precise work I wish somebody had taught me when I first got started! And which took me about 6-7 years to start figuring out (largely 'cause I was scared of how tricky I thought it would be and didn't even try),
And which has now allowed me to create consistent automated income as high as 90k+ per WEEK!
We start Monday.
Full details and EVERYTHING we cover on the page!
All new live course!
Plus immediate access to my funnel and sales email swipe files (plus explanations on how to copy-write from soul for MAXIMUM result), as soon you sign up!
Time to stop one daying the biz you're here to create and the life you're meant to live and oh oh by the way also this –
The damn ease and flow it gets to be.
Come play with me, here: