News
How To Build Mental Strength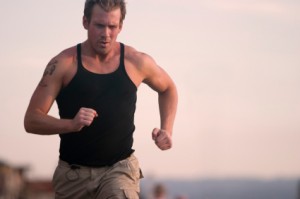 This morning I hit the treadmill for a decently grueling 30-minute hill climb. Nothing so special about that of course, except that I had absolutely no, actually make that I had negative desire to do so. Having averaged 5-6 hours sleep per night since my daughter was born 2 1/2 weeks ago (and that's 5-6 hours broken sleep), my willpower to workout in the early mornings is at an all time low. And in theory, what does it matter? Nobody expects me to be in perfect shape anytime so soon after having a baby and there's always the option of going to the gym in the evening when my partner returns from work.
Of course there's just a couple of teensie problems with those theories. Firstly, nobody else might expect me to whip myself back into shape at warp speed, but I certainly do. And physical stuff aside I definitely feel better equipped to handle the day once I've revved up that dusty old thing I used to call my metabolism. What's more, there's nothing so effective at boosting confidence than getting the day's exercise done first thing. And as for evening gym? Yeah right. Not after a day of being on-call to a 4 kilo person who has already figured out I'm her slave for at least the foreseeable future.
Willpower's a funny thing, isn't it? If you're anything like me you will have noticed that once you get on a roll with something, even if it's a task you were studiously avoiding for some time, it seems to become increasingly easier to carry said task out with each passing day. They say it takes 21 days to form a new habit, but maybe it's more of a case of 21 days to build enough mental strength to fight even the most convincing case of the 'can't be bothered's. And it stands to reason that once you've forced yourself through those first painful steps toward change, it can only get easier to persuade yourself to do so again.
The truth is that building mental strength needs to be approached in much the same way as you'd go about training any muscle. It takes dedication, it takes variety, and it takes at least some basic knowledge of how best to achieve great results and what sort of pitfalls you need to avoid along the way.
A while back I read a great article which explains a little of the science behind willpower and also gives you a basic rundown of how best to build it. According to the authors you only have a limited amount of willpower each day, so once you've used some of it up you'll have less left over for the next hurdle you have to face. With that in mind, in stands to reason that the more tasks you set for yourself to achieve each day, the more you'll drain your mental resources. And let's face it – how often do you force yourself to overcome the smaller and less important tasks before you tackle the big ones? Like any muscle in your body, your mental strength will be at it's best when you focus on quality of exertion rather than quantity. And whether or not you take the time to read the full article, at least take a moment now to stop and be honest with yourself about those areas of your life you'd like to be able to face with at least a little more oomph. If you don't start now, when will you?
Life is Now. Press Play.
Kat
Life is Now. Press Play.
Kat x

PS
I want to help you to build a business you LOVE, and that meets your every want and desire, in a real and true way, whilst also resulting in you making a LOT of money, fast, and impacting a lot of people, also fast, in the way you know you were born for!
My most transformative 1:1 intensive EVER … shifting people into EPIC income and success since 2016 is back, for the first time in 2019! I'm so excited to bring this signature transformative work back!
Rich Hot Empire!
Work With Me for 6-Weeks Personally to Grow Your Perfect Cult Tribe, Create and Launch Your Low-High End EMPIRE, and Set Up Multiple Recurring Income Streams to Take You to Multiple 7-Figures and Beyond, Doing What You Love!
This round is even more special as I will be re-recording all original content, with you there live with me and alongside me AND you will also receive all original content; the exact trainings which has made this program my most successful ever, with clients repeatedly saying they achieved more in 6 weeks with me than they had in 2 YEARS beforehand! This work is for entrepreneurs at ANY starting point, as it's about who you are as a person not where you're at. I've had clients anywhere from total start-up, to already doing 500k+ / year go through Rich Hot Empire and all who have done this work have gone to a level of income as well as alignment and FLOW which they couldn't previously even imagine!
6-week personalised intensive high level mastermind
Weekly group training and support; multi-media training: visual + audio
'Done for You' Templates and Step-by-Step Worksheets
Personalised 1:1 coaching included, plus DAILY unlimited 1:1 access
My personal hand on your business success
Weekly group coaching call and hotseat with my other private clients
24/7 mastermind forum, networking and support
Very limited spaces
Results guaranteed
Not for everyone
STARTS THIS MONTH!
I'm so excited to do this work with a small group of badasses who are willing to SHOW UP FOR THEIR SOUL no matter what. To walk away from all that is not serving, not actually working, not FILLING you. And to all yourself to bring your truest desires to life. If that's you, or you've felt the call to work with me at this level, PM me now. Bonuses and fast action-taker investments apply to all successful applicants, but for the first 5 to say yes there is a very special $2000+ bonus specific around Soul Shifts & Money Makin', and which, in and of itself even before we begin RHE will have shit changing for you FAST.
Apply via PM only. I can't wait to speak with you!
PPS
HAVE YOU JOINED PURPOSE PASSION FLOW ACADEMY?
My 'Going Fully Quantum' training will break down ALL of what we've discussed today, and teach you the finer details and finesse of it, as well as exactly what needs to be true for you to APPLY it, not only into the practical actions you need to create THAT money flow and THOSE results, but also in terms of ALL the energetics of it, especially the 'being and non-being' around dropping in to superflow so you can be shown, create, receive, AND of course the being around not being one of those people who just can't seem to choose faith and are ruled by fear. We'll also talk about creating and integrating the exact wording, beliefs, emotions, energies YOU need for all of this to switch effortlessly for you, as you've always known it would.
In other words: EVERYTHING you need to know to go fully quantum, and double your income in 30 days or less, or whatever else you choose!
Where will you find this training?
Why, it's one of the very first training in 'Remembering Who You Always Were', which. is our June intensive for Purpose Passion Flow Academy, my SUPER low-cost monthly membership mastermind!
And this training?
Will change your freaking reality. Well – it will REMEMBER it.
It's all available to you gorgeous.
You know this already.,In the quantum it is DONE. And in Purpose Passion Flow Academy, and especially our June intensive 'Remembering Who You Always Were'? We gon' done do it.