News
How To Build Mental Strength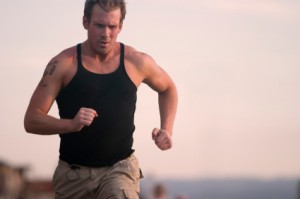 This morning I hit the treadmill for a decently grueling 30-minute hill climb. Nothing so special about that of course, except that I had absolutely no, actually make that I had negative desire to do so. Having averaged 5-6 hours sleep per night since my daughter was born 2 1/2 weeks ago (and that's 5-6 hours broken sleep), my willpower to workout in the early mornings is at an all time low. And in theory, what does it matter? Nobody expects me to be in perfect shape anytime so soon after having a baby and there's always the option of going to the gym in the evening when my partner returns from work.
Of course there's just a couple of teensie problems with those theories. Firstly, nobody else might expect me to whip myself back into shape at warp speed, but I certainly do. And physical stuff aside I definitely feel better equipped to handle the day once I've revved up that dusty old thing I used to call my metabolism. What's more, there's nothing so effective at boosting confidence than getting the day's exercise done first thing. And as for evening gym? Yeah right. Not after a day of being on-call to a 4 kilo person who has already figured out I'm her slave for at least the foreseeable future.
Willpower's a funny thing, isn't it? If you're anything like me you will have noticed that once you get on a roll with something, even if it's a task you were studiously avoiding for some time, it seems to become increasingly easier to carry said task out with each passing day. They say it takes 21 days to form a new habit, but maybe it's more of a case of 21 days to build enough mental strength to fight even the most convincing case of the 'can't be bothered's. And it stands to reason that once you've forced yourself through those first painful steps toward change, it can only get easier to persuade yourself to do so again.
The truth is that building mental strength needs to be approached in much the same way as you'd go about training any muscle. It takes dedication, it takes variety, and it takes at least some basic knowledge of how best to achieve great results and what sort of pitfalls you need to avoid along the way.
A while back I read a great article which explains a little of the science behind willpower and also gives you a basic rundown of how best to build it. According to the authors you only have a limited amount of willpower each day, so once you've used some of it up you'll have less left over for the next hurdle you have to face. With that in mind, in stands to reason that the more tasks you set for yourself to achieve each day, the more you'll drain your mental resources. And let's face it – how often do you force yourself to overcome the smaller and less important tasks before you tackle the big ones? Like any muscle in your body, your mental strength will be at it's best when you focus on quality of exertion rather than quantity. And whether or not you take the time to read the full article, at least take a moment now to stop and be honest with yourself about those areas of your life you'd like to be able to face with at least a little more oomph. If you don't start now, when will you?
Life is Now. Press Play.
Kat
PS
#KATFESSSION, eeeeekkkkkk
Sooooo …
I kinda sorta did something REALLY not ideal! I made a mistake 😞
I then found about that mistake a day or so ago, when one of my amazing clients let me know!
I then fixed it of course, but since then something has been nigglin' away at me telling me that maybe the mistake was a SIGN and a DIRECTION and I shoulda fixed it the other way!!
What am I talking about? My Easter Extravaganza Instant Manifestation Bundle, which is supposed to close TODAY in just a few hours, and contains 4 of my BEST money and manifestation courses, over 85% off!
As we do, we threw this thing together last minute like usual (aka KAT style) – and somehow managed to put THE WRONG PRICE on the sales page!!! ‍♀️
– Correct price on order form, when you actually click the buttons.
– Incorrect price on sales page. Doh.
The one on the SALES page was lower, about 25-30% lower than the already reduced 85% off! I think what happened is we copy and pasted off an old previous bundle sales page and so the old price just carried over.
Anyway, a few people pointed it out and obviously we honoured the mistaken lower price while fixing the page for future peeps.
BUTTT … I just felt ugh about it, y'know? Even though the lower price was a mistake! And even though the actual price was literally already 85% off for this offer!
It wouldn't stop bugging me.
So, long story short, I'm changing it!
My Easter Extravaganza Bundle is now over NINETY PERCENT reduced … for anyone who already bought and paid full we will honour the lower price for you as well of course (watch out for an email later today!) and for everyone who has NOT yet, the price has now been adjusted on the sales page, DOWN!
And, because of the muck around and confusion, I'm extending my bundle sale for one more day into Easter Tuesday 🐣
Yep,
Jump on now and grab four of my best Money and Manifestation courses now at 90% off, next 24 hours ONLY!!! 💥
https://thekatrinaruthshow.com/katrina-ruths-easter-bundle/
PPS
Literally just as I finished writing this my brother walked in to my room with my (fixed!) phone. OF COURSE. Everything always works out in my favour. Just like I told ya. And just in time to snap a quick pic for this blog.
PPPS
Get it! One more day! Lessssgooooo, now 90% off! https://thekatrinaruthshow.com/katrina-ruths-easter-bundle/ —> this price is CRAZY! Extra crazy!!
PPPPS
I wrote half of that with my eyes closed while having makeup done. #ninjaAF