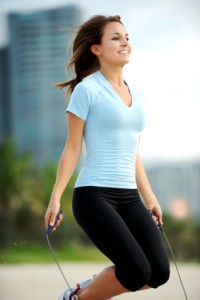 I've been meaning to write another post about cardio for a while now, in large part because I think some of the things I've said may have been mis-interpreted to imply I don't believe in any cardio, ever. This is most definitely not true, so I want to cover the 'rules' of cardio once and for all.
The first rule of cardio is that in its traditional (meaning 1980s) sense at least it absolutely does not rule. Not if lasting fat loss and lean muscle are important to you. We'll talk about why, and I'll explain what type of cardio I am a fan of, but first let me give you a little background.
i'm a cardio queen from way back
I haven't always been anti-cardio. In fact, I'm still not completely anti-cardio, although you could be forgiven for thinking so the longer you spend on this blog. The truth is I've spent years as a cardio queen, and the (less frequently admitted to) truth is that there's something about a major lung-burning sweat session that still really empowers me. I don't know if this is because (apparently) running activates endorphins from the same centre of your brain that near-death does, or if it's the perception of achievement and calories burnt drummed into me from years back, or if it's as simple as I love pushing myself to the max. Probably a bit of all three.
But whatever the reason, these days I prioritise results above doing regular bouts of endurance cardio or even too-regular bouts of interval cardio.
could your cardio routine be making your butt bigger?
According to an ever-growing group of health experts, cardio exercise as a fix-all for fat loss and even for cardiovascular health has been far overrated. In fact, strength coach Charles Poliquin, who is arguably one of the world's leading fat loss experts, talks about the adaptation process your body goes through when you repeatedly perform cardio exercise as a primary reason for over-exercisers struggling to lose fat, and possibly even increasing it (as I controversially wrote about over here).
The most recent reference I have seen to the concept of exercise not aiding fat loss was actually in a call-out from Cleo magazine – they were asking just yesterday for experts to comment on new research indicating that exercise does not help you lose weight.
And that's just the tip of the ice-berg. You can, of course, find anything you like to support any possible argument or theory on the internet, but certainly not always from reputable clinical sources such as these –
So. The long and short of it is not to trust everything you read on the internet, but simply to consider that perhaps recent 'wisdom' on health and fat loss is not all it's cracked up to be. You only have to look around to see that!
When it comes to working out, to eating well, to anything really I am a big believer in hormonal response and doing what nature intended, rather than simply calories in versus calories out. It works for me!
the rules on cardio
So let's talk about the rules on cardio, because I do want to make it very very clear that I am absolutely not against ALL cardio and in fact I DO think you should be including sweat sessions as well as pure strength sessions (on a side note, a proper strength session should definitely also BE a sweat session!).
Confused much? Keep reading.
1. Keep it short most of the time – I'm talking under 30 minutes short. The maximum amount of pure cardio I allow my clients to perform on a regular basis is 20 minutes of interval work. An ideal breakdown for this is 30 seconds of intensity followed by 90 seconds of recovery. Repeat 10 times. I'd recommend doing this no more than 3 times a week, and only as a supplement to your weight training program.
2. Keep it shorter – as you start to focus increasingly on ideal nutrition and weight training you'll slowly be able to let go of the 'need' to do cardio. That guilty itch may never go away – sometimes I still have a little freak out moment about not doing any 'real' cardio despite the fact that I easily maintain a size 8 lean body without it – whereas I used to battle to be size 10 or even 12 when cardio was the bread and butter of my training. There are mixed reviews on training such as Tabata (8 rounds of 20 second work plus 10 second rest; 4 minutes total), but I've found that this sort of structured interval training can be enough to really finish off a weights session with a bang.
3. Mix it up. Outdoor activities such as hill climbing, hiking, playing sports, and even some indoor activties such as well-instructed kickboxing or muay thai are all great forms of 'real' cardio. By real I mean that whilst they may certainly go for over 20-30 minutes, they involve movement variety and can be considered (IMO) more natural than repetitive steady-state cardio on gym equipment. Using gym cardio equipment, by the way, has been shown in Canada-based research to increase insulin resistance by up to 46%! Due to the dirty electricity.
4. Break the rules once in a while. Yes, even my rules! Going for a massive ride, or run, or walk now and then (gasp, steady state cardio!) is FINE. Especially if you love to do it, but even just to give your body a change now and then. My point with all of my posts on cardio is largely that people take it too far thinking the answer is 40+ minutes of endurance cardio every time they workout. I do not mean you should be scared of or avoid ever doing this style. If you love to do spin, by all means do it once in a while, but don't do it 4-5 times per week because you think it will get you lean. I hope all of that makes sense?!
5. Get creative! For more ideas on how to makeover your cardio routine and finally get lean, check out this earlier post.
cool stuff to maximise your training success!
For a daily insight into how I eat and train be sure to 'like' the Woman Incredible Facebook page!
Will you take the Skins challenge with me? All week this week I am training and recording my recovery (wearing normal gym gear), and then next week I am going to use Skins compression pants and compare the difference. I've never tried compression gear before so I think it's time to see what all the fuss is about!
PS
Expansion.
10 Days of Live Soul Transmissions, to Help You Find and Follow the Messages Within
Day 1) Trust
Day 2) Certainty
Day 3) Self-Belief
Day 4) Empire Creation
Day 5) Your Deepest Message
Day 6) Following Soul Guidance in All Areas
Day 7) Faith vs Fear
Day 8) Accessing Flow, and Superflow
Day 9) Expanding Time
Day 10) Expanding Money
Every day will be a LIVE soul led transmission.
This will take place on Facebook video, held at a variety of times in order to account for varying time zones, and scheduled only once we have begun. Our daily soul transmissions will be guided from MY higher self and directed from and for YOURS, to help you find and FOLLOW the messages within. The messages of your spirit, your consciousness, of the who you've always been and yet have managed quite well to cover up a lot of the time.
This is about stripping away –
And getting back to the CORE.
We'll dive day by day into the above mentioned areas –
And you'll receive all content and bonuses to keep for life.
There will be daily spirit prompts which you'll receive after each training.
And plenty of time opportunity connect with me throughout, receive transmissions direct to YOUR questions, and absorb more even than what comes through on the trainings, via the energy we'll create in this collective!
It's very rare for me to know in advance exactly what is coming through day to day.
I certainly don't have the details of each day's content. But I know that these areas have been on my heart to talk about, in particular around belief, around certainty, around living from FAITH.
We know that exactly what is meant to come through for you WILL, and then some. And that if you intend and allow for it to, it will change, most likely before we even begin, due to your energetic commitment, the direction of your LIFE!
Meaning: direct it back to absolute soul alignment.
*** NEVER Seen Before Bonus! ***
As part of this, I've been guided to offer a NEVER before seen bonus … one I feel super vulnerable about sharing!
It's the exact journaling I did to allow the download of THIS offer through. How I allowed the idea to bubble up. You'll see my doubt, uncertainty, annoyance. You'll see what I discarded. How I went through the layers. And how I KNEW, this was the one.
I'll ALSO add in copies (screenshots) of my conversation with my COO Ash, where I was talking through the idea and allowing it to come to life.
I want to show you the exact Idea to Launch process!
This bonus alone is EASILY worth the cost of this program, particularly when you hear the mindset side of it, in terms of STAYING THE COURSE and refusing to back away from my self until the idea showed up!
I refuse not to create!!
AND, when you register for EXPANSION today (and how could you not?!) you'll also receive early access to the Pre-Work. This is ALSO never seen before, and brand new just for you – and it's a guided meditation on remembrance, to help you connect back to deepest self and the most certain truth of your destiny, before we even begin.
Perfect priming, for when we expand RAPIDLY into all that is coming through in this work!
Of course I could now go on and on here, about what I could or should have charged for this, and what it's actually going to be …
Or about all my accomplishments on line and off, with money, with purpose, with passion, with flow …
I think you know all this anyway. Even if you just me! Your soul feels what matters. And that's ALL that matters.
But I will say this:
You've always known it's supposed to be about ALL that is inside of you. That it's meant to COME from a place of purpose, passion, and SUPER super flow. And that if you just.freaking.trusted, and showed up FULLY from that place, you'd be living in a different reality already.
THE ONE INSIDE OF YOU.
If that's true for you right now, then LET'S GO CREATE THAT REALITY.
Right now
Press play for regular, (super fuck yes!!) upfront or payment plan
OR
Press play like a VIP, and receive the full course, plus 10 days direct photos or screenshots of my ACTUAL personal journaling, so you can see how I create and expand my life, PLUS a VIP only follow-on live Hotseat, where you'll receive a personal transmission just for you, if you'd like one! Payment plan also available.
>>> https://thekatrinaruthshow.com/expansion
We start Monday 17 December, US time!