News
How To Harness Natural Energy And Feel Happier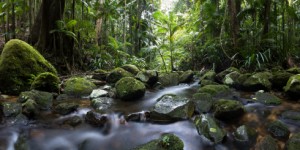 Newsflash: It's possible extremely likely that you spend more time indoors than is good for you. And it never seems more of a hardship than at the begin of each new year when you've just had some time off. Right? Especially if you're living in a land where the sun is now shining. And even more especially when you look at the weather forecast and see 2 gorgeous days coming up smack bang in the middle of the working week.
How 'bout I tell you something you don't know, right?
Well now, let's see. How about this – did you know that all that time spent indoors can rob you of an ideal exposure to negative ions and cause fatigue, poor motivation, aches and pains, poor moods, and an overall sense of being unwell?
Negative Ions – What The?
Ions are small bits of charged matter floating around in the air. Scientists will tell you that some ions are charged negatively, and some are charged positively. Negative ions, according to Louisa Deasey of The Herald Sun Body + Soul, "are basically oxygen ions with an extra electron attached, produced through water molecules, which is why they are in such beautifully abundant supply near fresh, flowing water such as rivers, streams, seas and waterfalls."
"This also explains how refreshing it can be to have a shower, swim or take a bath when we are feeling fatigued"
Negative ions are at their most plentiful in natural, outdoor settings. In fact, scientists have measured the air around natural water settings such as waterfalls and found that each cubic centimeter can contain between 95,000 to 450,000 negative ions. The typical office, on the other hand, tends to contain a few hundred negative ions per cubic centimeter, and sometimes as little as zero. Scary!
How Negatively Ionized Is Your Environment?
Mountains, sea-shores, breezy forest: 50,000 – 100,000
Country pastures: 5,000 – 50,000
Most cities: 100-2,000
Rooms with air-con: 0-20
As if that's not worrying enough, consider this: in a controlled study of seasonal affective disorder (SAD). This study, reported in 1998, found negatively charged fresh air to be an effective treatment and prevention for depression.
It's not just about feeling happy and having balanced moods – negatively charged air can also stop you from getting sick. In fact, many European hospitals and even offices have rules requiring the mandatory ionization of inside air. This may be due to the 1930's work of a Russian professor, who found that negative ionization sterilizes air. Hmmm –
I just knew there was a reason I just have to take time off and hit the beach this week!
Ever Heard Of Chi?
Qi, sometimes written Chi, is the term the Chinese use to describe energy matter. In other words, it's the traditional Chinese term given to ions, both positive and negative. If you've ever attended a Qi Gong class, or Tai Chi, or maybe even a good Yoga or Body Balance class, you may have heard the instructor mention Chi, and talk about balancing it.

Learning how to build balanced Chi, or – put another way – exposing yourself regularly to negative ions, can be an incredibly powerful way to improve your health, your energy, your moods, and your motivation.
Using Negative Ions To Harness Natural Energy And Feel Happier
You don't have to quit your job and live on the land – although a week or so getting back to nature, such as a camping trip, would certainly leave you re-charged and feeling more relaxed than a busy city holiday might do.
10 Simple Ways To Negatively Ionize Your Life
1. Install a water fountain or live plants in your office and home. If you can't afford both, I'd go with wherever you spend the most time. If you have a garden at home than the office might be the priority.
2. Avoid cigarette smoke, particularly indoors.
3. Avoid electrical dryers, both for your clothes and your hair. Drying in fresh air increases negative ions.
4. Minimize your exposure to artificial light and use low-wattage bulbs at home and at work
5. Always turn electrical appliances off at the power-point when in use, especially in the bedroom.
6. Exercise outdoors whenever possible. If you can do so along a river or near running water, even better.
7. Try to get outdoors (in a park or garden as opposed to city pavements) for at least 15 minutes each day. Preferably barefoot.
8. Choose natural fibers such as cotton for linen and clothes.
9. Avoid air-conditioned environments if you can leave the window open.
10. Try to shop at a farmer's market whenever possible and enjoy food that is at its best rather than frozen, stale, or processed.
Oh – and maybe, just maybe, it is okay to take the occasional day off work to hit the beach!
Do you have a certain place you like to go or something that you do to calm your mind and re-energize you? Let's hear it in the comments section!
Life is Now. Press Play.
Kat
Life is Now. Press Play.
Kat x

PS
I want to help you to build a business you LOVE, and that meets your every want and desire, in a real and true way, whilst also resulting in you making a LOT of money, fast, and impacting a lot of people, also fast, in the way you know you were born for!
My most transformative 1:1 intensive EVER … shifting people into EPIC income and success since 2016 is back, for the first time in 2019! I'm so excited to bring this signature transformative work back!
Rich Hot Empire!
Work With Me for 6-Weeks Personally to Grow Your Perfect Cult Tribe, Create and Launch Your Low-High End EMPIRE, and Set Up Multiple Recurring Income Streams to Take You to Multiple 7-Figures and Beyond, Doing What You Love!
This round is even more special as I will be re-recording all original content, with you there live with me and alongside me AND you will also receive all original content; the exact trainings which has made this program my most successful ever, with clients repeatedly saying they achieved more in 6 weeks with me than they had in 2 YEARS beforehand! This work is for entrepreneurs at ANY starting point, as it's about who you are as a person not where you're at. I've had clients anywhere from total start-up, to already doing 500k+ / year go through Rich Hot Empire and all who have done this work have gone to a level of income as well as alignment and FLOW which they couldn't previously even imagine!
6-week personalised intensive high level mastermind
Weekly group training and support; multi-media training: visual + audio
'Done for You' Templates and Step-by-Step Worksheets
Personalised 1:1 coaching included, plus DAILY unlimited 1:1 access
My personal hand on your business success
Weekly group coaching call and hotseat with my other private clients
24/7 mastermind forum, networking and support
Very limited spaces
Results guaranteed
Not for everyone
STARTS THIS MONTH!
I'm so excited to do this work with a small group of badasses who are willing to SHOW UP FOR THEIR SOUL no matter what. To walk away from all that is not serving, not actually working, not FILLING you. And to all yourself to bring your truest desires to life. If that's you, or you've felt the call to work with me at this level, PM me now. Bonuses and fast action-taker investments apply to all successful applicants, but for the first 5 to say yes there is a very special $2000+ bonus specific around Soul Shifts & Money Makin', and which, in and of itself even before we begin RHE will have shit changing for you FAST.
Apply via PM only. I can't wait to speak with you!
PPS
HAVE YOU JOINED PURPOSE PASSION FLOW ACADEMY?
My 'Going Fully Quantum' training will break down ALL of what we've discussed today, and teach you the finer details and finesse of it, as well as exactly what needs to be true for you to APPLY it, not only into the practical actions you need to create THAT money flow and THOSE results, but also in terms of ALL the energetics of it, especially the 'being and non-being' around dropping in to superflow so you can be shown, create, receive, AND of course the being around not being one of those people who just can't seem to choose faith and are ruled by fear. We'll also talk about creating and integrating the exact wording, beliefs, emotions, energies YOU need for all of this to switch effortlessly for you, as you've always known it would.
In other words: EVERYTHING you need to know to go fully quantum, and double your income in 30 days or less, or whatever else you choose!
Where will you find this training?
Why, it's one of the very first training in 'Remembering Who You Always Were', which. is our June intensive for Purpose Passion Flow Academy, my SUPER low-cost monthly membership mastermind!
And this training?
Will change your freaking reality. Well – it will REMEMBER it.
It's all available to you gorgeous.
You know this already.,In the quantum it is DONE. And in Purpose Passion Flow Academy, and especially our June intensive 'Remembering Who You Always Were'? We gon' done do it.