News
How To Tell If You're Addicted To Carbs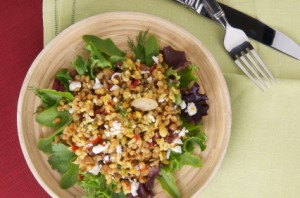 Read time: 3-4 minutes
Last week I spoke about the connection between excessive amounts of cardio exercise and carbohydrate 'addiction', and how these two behaviours more often than not lead to dietary and fat loss failure. As far as generalisations go, this is one that I'm quite happy to put my name to. I base this not only on my own personal exercise and food history, which I'll grant has been more tumultuous than the typical person looking to slim down and tone up, but rather on the experience of many frustrated clients and gym goers who've crossed my path over the years.
So whether you suspect you could be in cardio overload or addicted to carbs – or both (as they tend to go hand in hand), or if you just can't figure out why you don't get results despite all your good efforts, then this article is for you.
Which came first; the cardio or the carbs?
The long and short of it is that it doesn't really matter. As we've discussed previously, if cardio overload is coupled with a diet predominantly high in carbs – even clean ones, such as fruits and wholegrains – and it's at the expense of adequate protein and good fat, then you're going to find it very tough to lose body fat or ever feel your best. More likely than not you live on a roller-coaster of energy ups and downs. And the truth is that I really can't say for sure whether it's hormonally based and all that cardio is jacking up your cortisol and causing you to constantly 'need' carbs as the authors of this book indicate, or if it's more psychological and your frequent scarfing down of starchy grains and bananas by the bunch is guilt-tripping you into upping your weekly cardio requirement. And really, who cares? Let's focus on how to identify if your cardio and carb habits are holding you back from your health goals, rather than how those habits became established in the first place.
Totally addicted to carbs: a checklist
These are my red flags for carb addiction.
You have a very foggy mind and struggle to get going in the morning – until you have something like yogurt, muesli, or fruit. Or sugar with your coffee 🙂
Speaking of which – the idea of coffee without sugar horrifies you
You use sports drinks like gatorade, because you feel you need them to get through your workout or because you get dizzy or nauseous without them
You would rarely eat something like a salad with meat/chicken or soup or indeed anything for lunch without adding some form of grains
You crash mid-afternoon and the only thing that perks you up is fruit, yogurt, or some kind of sweet temptation
Dinner always includes potato, rice, pasta, noodles, or bread – or a big bowl of fruit for dessert. The idea of just green vegetables and protein seems crazy at worst, or just plain unsatisfying at best.
You suffer frequent low blood sugar related attacks like dizziness, black spots, or nausea.
You often feel physically weak and drained, despite having adequate sleep and 'eating well'.
You eat the healthiest diet of nearly anyone you know – according to conventional standards. Yet for some reason you just can't get in shape.
You frequently experience extreme energy highs followed by extreme energy lows
You just never quite feel full or satisfied; you seem to need to eat all the time
Your exercise regime is cardio based with just a small amount of weight training (or none), and you always fuel yourself before and after training with a carb-based meal or snack!
If 6 or more of these apply to you, and – most importantly – if you're struggling to meet your health and fat loss goals, then you could well have a carbohydrate addiction.
Does this sound like you?
My disclaimer
A few points that I think I need to make on this topic:
I most definitely do not think all – or any (real) carbs – are 'evil'.
Whilst I typically eat and advocate a low-carb diet I recognise that there's a time and a place for any food to be used in moderation, and carbs can even be deliberately used to your advantage post weight training (for example)
I know that some people tolerate a carb-based diet very well, and would do poorly without grains, sugary fruits etc. This article is for those people (the majority of people) who do NOT tolerate carbs well.
But mainly it's for those who are stuck in a cycle of following mainstream nutrition and exercise advice and wondering why they never get anywhere
My thoughts and theories are – as ever – based predominantly on my personal and clinical experience. If your experience is different (or the same!) please share.
Now remember –
Life is Now. Press Play.
Kat
PS.
GORGEOUS ONE. WARRIOR WOMAN. LEADER. REVOLUTIONARY. CALLED ONE. YES, YOU.
WARRIOR LEADER begins May 1st. Our PRE-WORK begins this week! (It is personalised to you!)
And?
The initial price has been extended / is still on!
Here is what this comes down to though. Because it's not really whether or not you join in the initial price intake.
This is 6 weeks in which you will be SHARPENED THROUGH FIRE TO BE WHO HE SENT YOU TO BE.
Yes this pertains to business.
It pertains to life.
It pertains to YOU.
This is work unlike anything I've ever led or created before.
And unlike anything you've ever encountered.
It is 100% God revealed. God led. And God ENTRUSTED.
It is,
quite simply,
WHAT IT IS TIME FOR
FOR WHO IT IS TIME FOR
AND NOW
Details
+ your place
+ visions God shared with me for you
www.thekatrinaruthshow.com/warriorleader
WARRIOR LEADER:
For the Woman With a Burning Desire for MORE, Who Is Ready to See Fire Raining From the Heavens in Every FACET of Her Life as She Says Fully Yes to Who God Designed Her to Be.
FOR YOU.