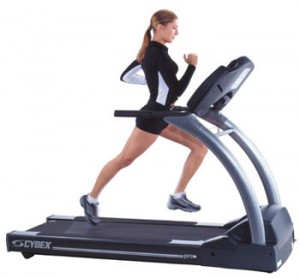 Last week a reader of this blog  made a comment that got to me. I wasn't sure if he was criticizing me, misunderstanding me, or both. The comment was in reference to my 2009 goals, and said 'just remember that life isn't a treadmill'
My interpretation of that was that he thought I was too list-focused, or goal-focused, or maybe just too focused. That it wasn't relevant whether this approach to life makes me feel happy or good about myself. That I was just run, run, running without getting anywh – hang on –
If life were a treadmill, that would imply continual exertion without progression. But that's not what goal-setting is about, is it? At least, I don't think it is for me –  my goals are about reaching new milestones; going places I haven't yet been, both personally and professionally.
If we're applying running metaphors I guess I'd like to think of my goals as more of a race around-the world. There are times when I'll be going flat out, when things may not even be in balance, and other times when I'll be taking it easy and enjoying the benefits of my hard work. Along the way I plan to meet some new people, try some different things, and see a whole lot of the big, bad world. (Actually, that sounds like a pretty nice reality as well as a metaphor!)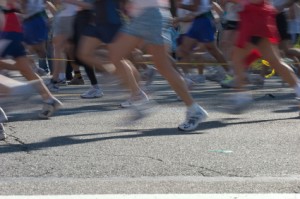 That's my vision for my 2009, but it may not do it for you. Maybe you see life as a sprint to the finish, with a great deal of adrenaline along the way. Or perhaps it's a marathon – constant hard slog. Or maybe you haven't ever thought about it in these sort of terms and you're enjoying life day-by-day, wondering why life has to 'be' anything so pigeon-holed as a run of some kind!
Or maybe you do see life as a treadmill. After all, working hard to stay right where you are doesn't have to be a bad thing.
I guess it depends on whether it's by choice or not. If you're anything like me, you probably have parts of your life that do feel as though they take huge amounts of energy with no progression and other aspects of your life that you're more than happy with. Where regular exertion just to stay in the same place is actually exactly what you want.
Maybe it's saving a certain amount each week for your annual holiday, or hitting the gym regularly in order to maintain your current level of fitness. Maybe it just plain makes you feel good about yourself to keep doing whatever you're doing in these or other areas.
Cher made the following comment in a recent article I read:
"Nothing lifts me out of a bad mood better than a hard workout on my treadmill. It never fails"
Sure, she's talking a real treadmill, and I'm talking metaphors, but you know what I'm saying. My point? Your life cannot be said to be or not be anything. Certainly not by anyone else. In my mind, life is whatever you want it to be. Whatever you make of it. It's not a race, or a game, or a treadmill, or a movie – unless that's what you've chosen. I believe that grasping this concept; the idea that life is what you choose it to be, really is the key to 'winning' at life. Not winning in the sense of beating someone or something, but winning in the sense of feeling proud, excited, passionate, and confident within yourself.
You know my opinion – life is 'now', and I really do think that holds true, but I guess some people would even disagree with that. I've chosen that as my catch-cry because it means something to me and it's a daily reminder to make the most of whatever I'm doing. To always be present, and to never forget that everything will eventually pass.
I use this to get me through the tougher parts of my exercise, to reassure myself when I'm stuck in a situation I'm not enjoying, but also to remind myself to continually think, dream, explore and discover. And to always strive toward my idea of happiness and success – not just for the end goal but for the fun and the learning of the journey.
For me, Life really is Now. And I'm doing my darn best to Pres Play every day. How do you see life – either your current life or the one you're dreaming of? What concepts or catch-phrases do you use to inspire yourself?
Kat
Great Quote – thanks Jo!
PEACE – 'it does not mean to be in a place where there if no noise, trouble or hard work. It means to be in the midst of those things and still be calm in your heart'
Don't forget to leave a comment by clicking on 'leave a comment' just below. It's right under the 'share this' and 'other articles you may enjoy' option. If you haven't yet subscribed to this feed, what are you waiting for? Do it now. You can choose either email or RSS by clicking here. If you enjoyed this article please forward to your friends. Thank-you!
PS
Expansion.
10 Days of Live Soul Transmissions, to Help You Find and Follow the Messages Within
Day 1) Trust
Day 2) Certainty
Day 3) Self-Belief
Day 4) Empire Creation
Day 5) Your Deepest Message
Day 6) Following Soul Guidance in All Areas
Day 7) Faith vs Fear
Day 8) Accessing Flow, and Superflow
Day 9) Expanding Time
Day 10) Expanding Money
Every day will be a LIVE soul led transmission.
This will take place on Facebook video, held at a variety of times in order to account for varying time zones, and scheduled only once we have begun. Our daily soul transmissions will be guided from MY higher self and directed from and for YOURS, to help you find and FOLLOW the messages within. The messages of your spirit, your consciousness, of the who you've always been and yet have managed quite well to cover up a lot of the time.
This is about stripping away –
And getting back to the CORE.
We'll dive day by day into the above mentioned areas –
And you'll receive all content and bonuses to keep for life.
There will be daily spirit prompts which you'll receive after each training.
And plenty of time opportunity connect with me throughout, receive transmissions direct to YOUR questions, and absorb more even than what comes through on the trainings, via the energy we'll create in this collective!
It's very rare for me to know in advance exactly what is coming through day to day.
I certainly don't have the details of each day's content. But I know that these areas have been on my heart to talk about, in particular around belief, around certainty, around living from FAITH.
We know that exactly what is meant to come through for you WILL, and then some. And that if you intend and allow for it to, it will change, most likely before we even begin, due to your energetic commitment, the direction of your LIFE!
Meaning: direct it back to absolute soul alignment.
*** NEVER Seen Before Bonus! ***
As part of this, I've been guided to offer a NEVER before seen bonus … one I feel super vulnerable about sharing!
It's the exact journaling I did to allow the download of THIS offer through. How I allowed the idea to bubble up. You'll see my doubt, uncertainty, annoyance. You'll see what I discarded. How I went through the layers. And how I KNEW, this was the one.
I'll ALSO add in copies (screenshots) of my conversation with my COO Ash, where I was talking through the idea and allowing it to come to life.
I want to show you the exact Idea to Launch process!
This bonus alone is EASILY worth the cost of this program, particularly when you hear the mindset side of it, in terms of STAYING THE COURSE and refusing to back away from my self until the idea showed up!
I refuse not to create!!
AND, when you register for EXPANSION today (and how could you not?!) you'll also receive early access to the Pre-Work. This is ALSO never seen before, and brand new just for you – and it's a guided meditation on remembrance, to help you connect back to deepest self and the most certain truth of your destiny, before we even begin.
Perfect priming, for when we expand RAPIDLY into all that is coming through in this work!
Of course I could now go on and on here, about what I could or should have charged for this, and what it's actually going to be …
Or about all my accomplishments on line and off, with money, with purpose, with passion, with flow …
I think you know all this anyway. Even if you just me! Your soul feels what matters. And that's ALL that matters.
But I will say this:
You've always known it's supposed to be about ALL that is inside of you. That it's meant to COME from a place of purpose, passion, and SUPER super flow. And that if you just.freaking.trusted, and showed up FULLY from that place, you'd be living in a different reality already.
THE ONE INSIDE OF YOU.
If that's true for you right now, then LET'S GO CREATE THAT REALITY.
Right now
Press play for regular, (super fuck yes!!) upfront or payment plan
OR
Press play like a VIP, and receive the full course, plus 10 days direct photos or screenshots of my ACTUAL personal journaling, so you can see how I create and expand my life, PLUS a VIP only follow-on live Hotseat, where you'll receive a personal transmission just for you, if you'd like one! Payment plan also available.
>>> https://thekatrinaruthshow.com/expansion
We start Monday 17 December, US time!