News
Invite Success Into Your Life By Learning To Listen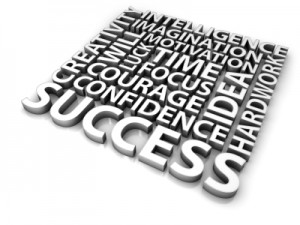 If you've had even the barest semblance of a regular exercise regime this year than you'll know working out effectively is not always as easily done as what you might like. There are days when you might hit the gym feeling as fired up as possible only to deflate at the mere sight of a dumbell. When you struggle to summon up even a hint of energy and strength as you push yourself toward something like the shadow of a 'real' session. And then there's the times when you might be feeling pulled apart by everything else in your life, when you're exhausted and haven't eaten enough, and feel pretty darn awful and yet you somehow pull off one of the most memorable and pumped sessions ever. There's really often no way to predict what's going to happen once you don the runners, is there?
But the most annoying occasions of all are those when you simply meander through some sort of workout middle ground. You're not quite just going through the motions, but you know you're not at your best either. These sessions are the ones that come back to bite, aren't they? They leave you with a little niggle of guilt or frustration, the knowledge that – for whatever reason – you simply couldn't or wouldn't motivate yourself to get the most out of it.
I had such a session a couple of days ago in my Bikram yoga class. It wasn't that I was exhausted, or distracted, or anything really. I just felt – blah. And I couldn't seem to snap out of it. By 20 minutes in I'd pretty much resigned myself to the fact that (super sweat aside) I was wasting my time.
And then I had an epiphany of sorts.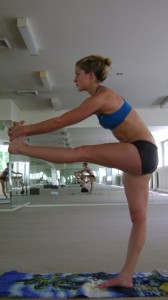 As I robot-ed my way through standing head to knee pose something clicked inside me and I began to really listen to what the teacher was saying. Not that I usually ignore the instruction of course, but it's easy to take just the parts that are easy to do, or that you feel like doing, or to let the words just wash over you as you give it a 'good enough' go. But this time I truly began to focus. To follow every little step, from the positioning of my eye gaze, to the angle of my torso, to the way my weight was distributed through my feet. And as the class continued I forgot all about the notion of wasting time and went into almost a daze as I gave 100% of my attention to what was being taught. It ended up being one of the best classes I've ever done, not just physically, but mentally.
And it made me think. What if we were to employ the same approach to every aspect of life? Or even just to every workout session. When it comes to exercise, to eating well, to positive thinking, to anything that you do or try to do regularly, you've probably had enough detailed instruction or done enough reading over the years that you could teach someone else how to do those things. Which means that whether or not you physically have a teacher or a coach telling you what to do, it takes nothing more than a little deliberate focus to hear that voice inside your head telling you what to do, guiding you through each step.
So if you're serious about changing your body and strengthening your mind then the question is this – are you willing to consciously put aside your day, your to-do list, your constantly jumping thoughts to simply focus on the process of doing something? To truly tune in to your body and to engage in every little detail of your chosen activity? It will probably take some practice but from what I've experienced this past week I'd go so far as to say it could completely revolutionize your training. Maybe even your life. Speaking of which –
Life is Now. Press Play.
Kat
Don't forget –
Life is Now. Press Play.
Kat x
PS
I HAVE SOME BIG NEWS TO SHARE!
As of today, I'm opening up the doors to my Inner Circle, my 12 month private client mastermind.
This is THE most badass high level mastermind in the world for women who want it all – and are prepared to do what it takes to get it! Really what we're talking about is being prepared to be the PERSON.
And that's what I do. I help you remember ALL that you were, and then become it. ALL Of it.
This is my highest level private mentoring circle. The exact place where I have personally mentored dozens of this industry's most elite female entrepreneurs to break income barriers ranging from 10k months to multiple 7 FIGURE months, and everything in between. But more importantly than that – to become who and what they always were.
But know that this is not only (obviously) not just for the masses, this is also not just for someone who can afford to invest in a high level private coach. Being willing to throw money down is something which has absolutely zero correlation to being somebody who has what it takes to TRULY go next level as a leader.
If anything, in this industry, investing in a high level coach such as myself, is a rite of passage which veers just a little too much on the side of 'trend'. It's become something which 'everybody does', almost as a way of proving they play business and life a certain way.
Maybe even of trying to prove it to themselves.
Here is the reality which those who I am truly here to personally mentor and lead KNOW, the reality which my clients and all women like me as well as of course me personally have ALWAYS known:
We are VERY VERY DIFFERENT.
We are simply, smarter, faster, and have more presence. We can do more in our minds before breakfast than what most people can do in a freakin' WEEK, a month, a year.
We are not basic ass coaches trying to heave ho our way up a few extra thou a month.
We are the ones who have ALWAYS known we are 1% within the 1% within the 1% in terms of how we think, create, operate, how and WHAT we are tapped in too.
This is not arrogance, this is fact.
And there has NEVER been any question but that we will go all the way.
My clients are high level badasses who do the work, who have a proven track record BEFORE coming to me, and a BEING-ness which unquestionably separates them from the rest. They don't come to me to save them or lean down and hold my hand out so they can clamber up. They come because they are, quite simply, ready to go to the next level, already absolutely on their WAY there, and see in me something which they recognise because it is in them.
That 'can't stop won't stop' fire, and a level of 'unapologeticness' which, when truly understood and applied, can literally be the difference between 5-figure or low 6-figure and 7 or multi-7-figure entrepreneur.
So if you know who you are and it is THAT –
And you feel certain that you are ALREADY well on your way to to precisely where you're meant to be, but that being in MY energy could help you to drop in and get there even faster, and that with a couple of simple tweaks your current revenue could be doubling, tripling, heck QUADRUPLING and beyond in months, as it has done with numerous of my clients previously, well then –
PM me here http://m.me/katrinaruthofficial and we'll see if it's a fit. I'm excited to talk to you, and maybe – do biz and life with you.