Revolutionary Leader Toolkit
FREE Toolkit for Revolutionary Leaders!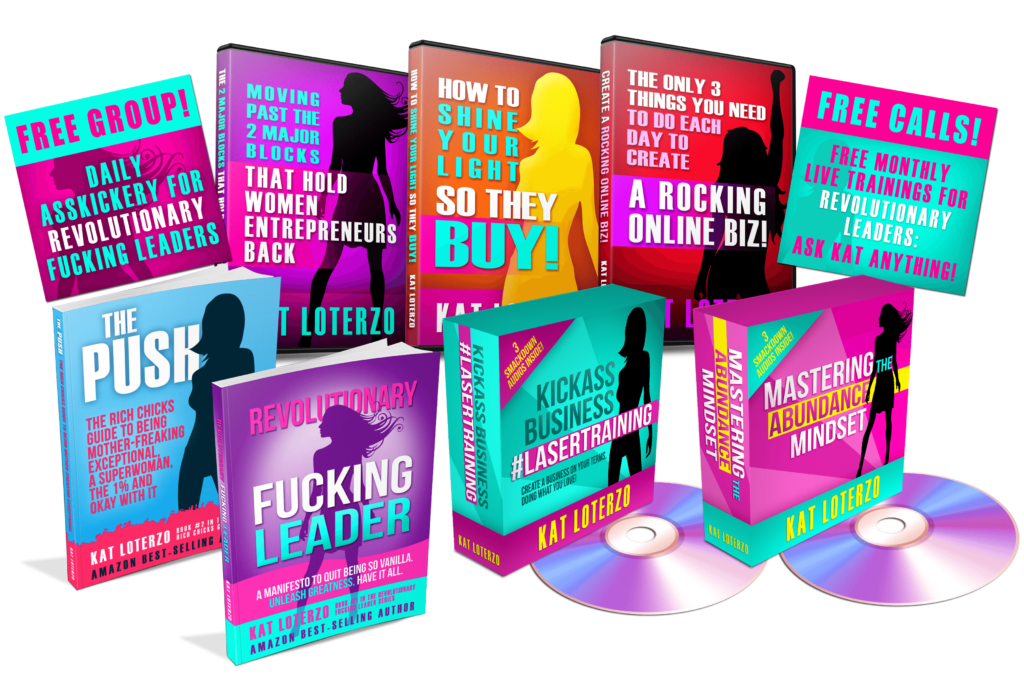 Here's all of your goodies!
TWO of my Amazon Best-Selling Books
The Push
Click the book image to download now!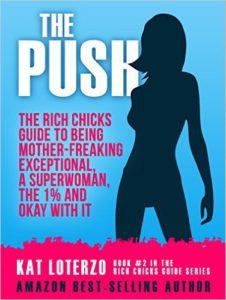 Revolutionary Leader
Click the book image to download now!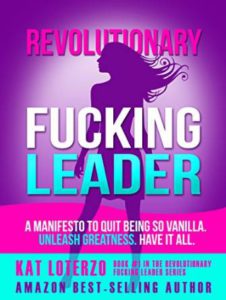 THREE killer audio downloads on Mastering the Abundance Mindset so you can get your head into gear around what has held you BACK and your butt into action on making the money you were born for!
1.  7 Steps to Creating a Healthy, Happy Relationship with Money
2.  Daily Money Success Routine
3.  Quit Sabotaging Your Wealth Potential and Create Prosperity for Life!
Click here to access the Mastering the Abundance Mindset audio series! Password is abundance
In this 3-part series I'm going to teach you the mental, emotional, physical and spiritual steps YOU need to take to master your abundance mindset and finally create the wealth and the life you desire. The audios are short and sweet and they pack a punch. Listen now -it's your time to create true abundance!
THREE quick #laserasskickery audios on creating a KICKASS BUSINESS ONLINE

, and completely on your terms, to get you into mega RAPID and effective actions!
1.  The only daily actions you actually need to explode your business.
Click here to listen to this #laserasskickery podcast smackdown aka a bit of ACCOUNTABILITY AND ACTION for today!
2. Creators gotta create smackdown!
How to be a content machine and why it is ESSENTIAL if you are serious about making the big $$. Click here to listen!
3. Unleashing Brand You
We're talking unleashing brand you: what you need to know, and do, to step up as a leader and have a tribe of would die for you followers who love everything you do. Click here to listen!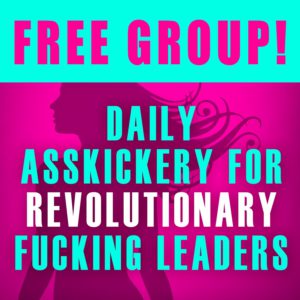 Click here if you haven't already joined my free online "Daily Asskickery" group for Revolutionary Leaders, where I'll get you DOING THE WORK every day and motivating and inspiring you to KNOW THAT YOU CAN, plus you get to connect with other awesome leaders!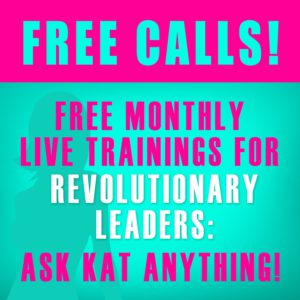 And remember to look out in your inbox for details of the FREE MONTHLY "Ask Kat Anything" live call to jump in and have my PERSONAL and tailored feedback on your business and what you need to do to hit your dreams.
Remember –
Life is Now. Press Play.
Kat x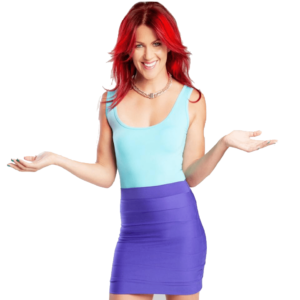 Katrina Ruth is a multiple best-selling Amazon author, a speaker and a multi-passionate 'can not focus on one thing' entrepreneur, as well as a slightly over the top enthusiast of all things caffeine and chocolate related!
Kat writes about pressing play and creating the business and life of your dreams, and she sends out daily 'Messages of Asskickery' via her blog at www.katloterzo.com. Kat is currently living on the Gold Coast, Australia with her 2 small children.
[vertical_spacing height="15″]