The Rich Chick Business Mastermind

Hey gorgeous!
Are you ready to create a killer income online, doing what you love? Then you're in the right place! The Rich Chick Mastermind is the 'net's hottest new hangout for women entrepreneurs who dream big and are ready to make sh*t happen and an absolute must for you if you are ready to make this year your biggest, brightest and most profitable ever!
If you are a woman in business or ready to BE one and you want a system designed to turbo-charge your business success and income this year, you're going to love love LOVE what The Rich Chick Mastermind has in store for you!
This is the program for women entrepreneurs who are serious about creating a killer income online, doing what they love! If you know you could benefit from the daily support, wisdom and specific "how to" as well as "what to do" from a coach who has fought the battles you're about to fight, and who can save you time, money and effort and help you reach your biggest and most badass dream biz goals faster then YES! This is the program for you!
Do you want more money, more time, more freedom? Then what are you waiting for gorgeous?! Join The Rich Chick Mastermind today and receive instant access to the group guaranteed to change your income and – dare I say? – your life!
Pay Only $397 Upfront and Unlock the WHOLE HOME STUDY PROGRAM!

Yes Yes YES! Join us today because you will NOT find a hotter and more POWERFUL place to be as a kickass woman entrepreneur who is ready and willing to MAKE SH*T HAPPEN! And that's a PROMISE!

Become a Rich Chick TODAY and This is What You Get as Part of the Home Study Program!

YES! A library of HOT HOT HOT training to help you grow your biz and income, and reduce your workload and stress! This training will be delivered to you as a mix of video, audio and written content, but more importantly here are some examples of what will be covered, in no particular order! –
How to craft products, programs and services that sell Soul-based selling that WORKS
How to hone my message and brand and market myself to the RIGHT clients
Lead generation and traffic growth
The inner working's of Kat's own business
Keys to creating and launching FAST!
Launching processes
Setting goals that work and EXCITE you
How to become an expert in your industry Kat's "double your income" strategy plan
And so much more – new content will be released at least twice a month and you will have lifetime access to everything! Basically everything you need to know to explode your business success and profit starting NOW!
YES! Behind the scenes access to my business and exactly how I went from making peanuts online after battling my butt off for 3 years, to creating 5, 10, 20, 30 then 50k per month income, doing what I love, and how you can too!
Learn my tips to working less and making more
How I 'broke through' to making any money and then "serious" money
Where I have failed (oh so badly!) and the lessons I've learned along the way
What my smartest and most effective decisions have been
How I work less than 20 hours a week on my biz, juggle a young family, and live my very own "laptop lifestyle" on the beach and all around the world, and how I created that lifestyle and how you can too!
YES! Crazy awesome value when you join now! The cost of my Rich Chick Mastermind Home Study Program is just $397 total!
 No more to pay! 
YES! There simply isn't a hotter place to be on the 'net – if you are a woman entrepreneur who is serious about killing it online you won't receive better value for money or more incredible support and to be honest you'd be kinda crazy not to at least check it out!
For real beautiful!
It's time to turbo-charge your biz & income! Join my Rich Chick Mastermind and get everything you need to make THIS YEAR your biggest, brightest and most profitable ever!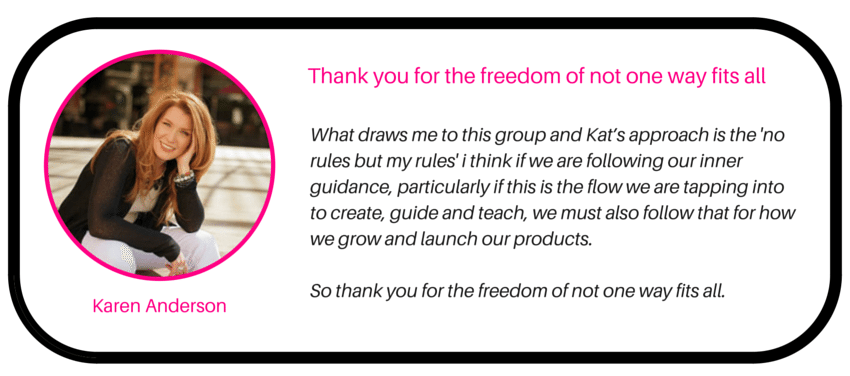 Pay Only $397 Upfront and Unlock the WHOLE HOME STUDY PROGRAM!

So who is Katrina Ruth, anyway?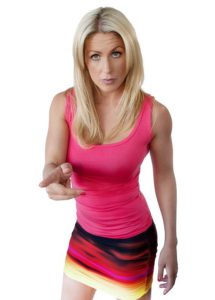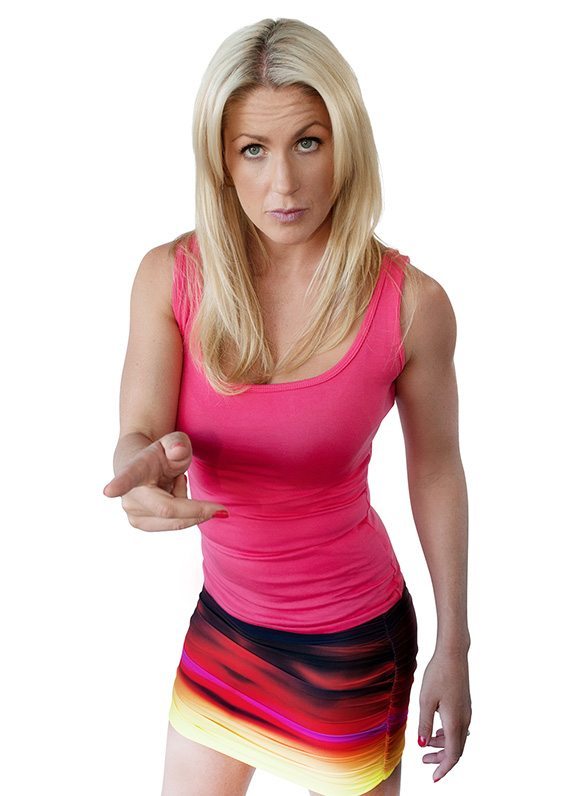 That'd be me 🙂 I'm an author, speaker and entrepreneur, Mum to my beautiful 4 yo daughter and 6 month old son, and I am passionate about helping women just like you to dream bigger than big and make sh*t happen! I spent over 10 years creating success as a Personal Trainer and took my business online in 2007 as a way of trying to cut back my 1:1 hours and escape burnout.
After a few years of 'figuring things out' I started making money online in 2009, and by the end of 2012 my business was grossing over 30k per month, completely online, and with less than 20 hours a week input from me! These days I live all around the world – living the laptop lifestyle and my business now makes over 6-figures a month, so I can do what I love and live the life I love while helping others!
I specialise in helping other kick-ass women to make money online, doing what they love and have up until now only done that via my private coaching, which is priced to reflect how much I value my time. Meaning – not cheap!! Now, for the first time ever, I'm making my strategy and support available in a way that is affordable for every woman wanting to have her biggest, brightest and most profitable year ever, starting now!
If that's you, what you are waiting for?
Come join us!
FAQ's beautiful!
When does it all start? As soon as you join!
When do I receive access? Instantly! Following the payment checkout, you will receive an email with your login details, as well as a welcome email which includes your first training!
Why should I join? Simple: you want to make more money, faster, in a way that suits you and your lifestyle.
What if I don't love it? Well I honestly think you will … I have jam-packed this program with value.
Can I get an idea of the schedule? Here is an example of the initial training you will receive:
Building your list fast
Building your social media base fast
The most effective and low-cost way to get targeted leads for your business
How to market your stuff so it stands out and sells
Simple and soul-based ways to increase your sales overnight
And so so much more – we will also be doing a lot of mindset work to deal with your success blocks and keep you motivated and on track
Why is it such awesome value?! I have a mission to get my message out to over a million woman in the next few years. I'm doing this through a variety of methods, including my best-selling Amazon books. For those amongst that million who are deadly serious about creating massive online success, doing what they love, I wanted to create something that is affordable for everyone and that is The Rich Chick Mastermind!
What's your refund policy? There are no refunds on this program – the value is simply way too high. The Rich Chick Mastermind contain training, motivation, mindset and business strategy systems I've developed over 15+ years and used successfully within my own business. I have put my heart and soul and every bit of my knowledge into ensuring you get the exact strategies, systems and support to guarantee your success. In order to keep the program so affordable for everyone I cannot offer a refund policy.
It really does sound amazing! How do I know it's right for me? You need to try it. I guarantee you that you will receive 10, 20 gosh even 100x the value of what you're paying. As far as how it will work for you I guarantee you that if you do the work you will get results! Heck even just by hanging around in the forum your knowledge and motivation is going to go through the roof, and to be honest I could charge $199 a month just for that and possibly should! But if you add to that the training you'll receive? It really is insanely amazing 🙂
Pay Only $397 Upfront and Unlock the WHOLE HOME STUDY PROGRAM!

What my clients have to say about me
Kat made me realise anything is possible!
"I can't even begin to describe how much working with Kat has changed my life! I can honestly say that no single person in this world has influenced my beliefs and perspective on life and myself in the way that Kat has.
The thing is with Kat, she's is the whole package. Not only does she inspire you to live the life you truly want to live and be the person you were born to be, but she also has the first -hand experience and business knowledge to transition you from dreaming about something to actually implementing it and suddenly you see how possible it really is. And that's the magic of being around Kat, you really start to believe that anything is possible if you are ready to fight for it!
Kat has been a great support to me throughout the last year, from brainstorming the name of my first program to convincing me that I'm not crazy for going after what I want and I really can't thank her enough."
$3500 from our first program!
We just wanted to say a big thank you! It's been a massive 6 months and we are so proud of what we have achieved. It was the most challenging and rewarding work we have ever done and we are still together. haha.
Our 8 week Challenge finished on November 30th with great results. We had 16 people participate, everyone got results and has changed their lives in the best positive way, with 3 Warriors having fat loss of over 10kg's, others with 7, 8 and 9kg fat loss. We brought in $3,500. This is just the beginning and we look forward to a bigger better 2014!
Shelley and Kylie, www.theurbanwarriors.com
Website traffic increased five-fold!
Before I started working with Kat, my business had been stagnant for over a year and I was starting to lose hope that I would ever achieve my goals. The decision to start Kat's program was a really difficult one for me – a little like jumping off a cliff and hoping that the net would appear. Well, Kat is the real deal! My subscribers have tripled and my website traffic has increased five fold in just a short time. Not only has working with Kat given me an unshakeable belief that I WILL achieve my goals for my business and my life, she has shown me exactly how I can do that. Kat's style is no BS but incredibly supportive and her advice is specific, detailed and spot on. Working with Kat has been one of the best decisions I've ever made. Kat is the real deal. Don't hesitate for even a second – if you get the chance to work with Kat, take it! Claire Kerslake, www.clairekerslake.com
Working with Kat was the best thing I ever did!
Just wanted to say that this has been the absolute best experience for me and I'm so glad I did it. Total game changer, dude. Total life saver, actually. What I've learned from you has been priceless!
Alicia Kacar, Fierce Fitness for Women
Thanks for your unique and direct take on what REALLY works in the overwhelming world of online marketing and social media!
I first met Kat through an entrepreneurial women's network called B-School and started loving to read her blogs and learn about her journey that she took to create the freedom and success as a fellow female online entrepreneur.
I was blown away by her results and passion and totally had to book a free consult with her to hear more! And I'm so glad I did! What I really love and admire about Kat is that she has a rare gift of being able to be so totally driven and honest and truthful in her coaching style and call it as it is, as well as having a huge heart and real care for her students. She has a really unique and direct take on what REALLY works in the overwhelming world of online marketing and social media and took us behind the scenes of exactly HOW she creates her results. For me, the biggest thing what I really gained from working with Kat was real clarity for my dream client and how to 'talk' to her, I realised so clearly the direction that my business needs to take! You will learn SO MUCH and I'm in the process of implementing all the steps to launch my first online program in 2014 that my dream clients will love!
Serena Sandstrom, www.serenasandstrom.com
Pay Only $397 Upfront and Unlock the WHOLE HOME STUDY PROGRAM!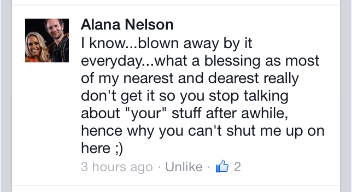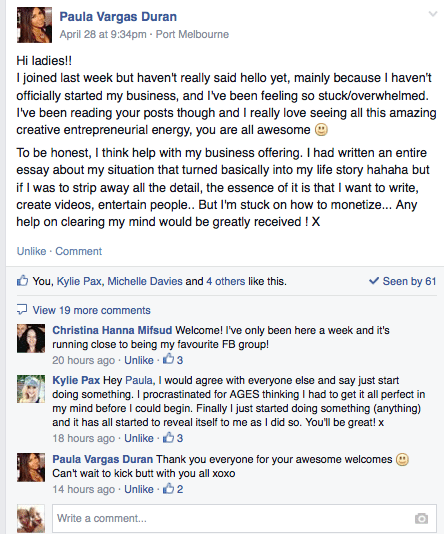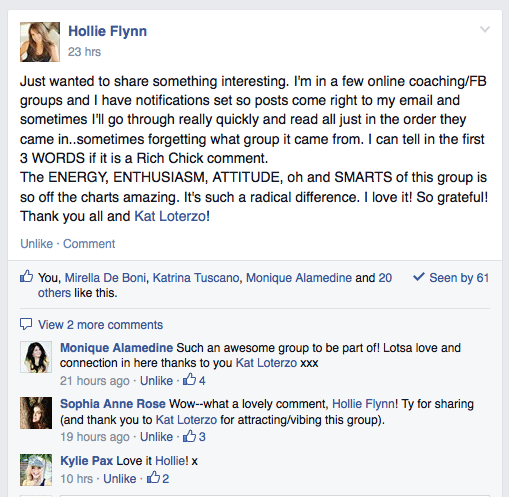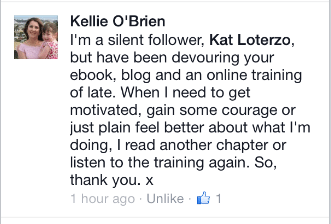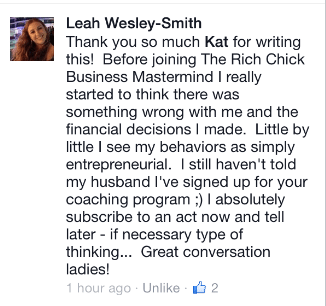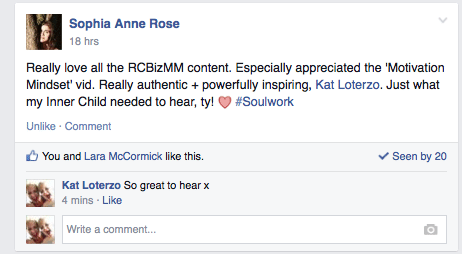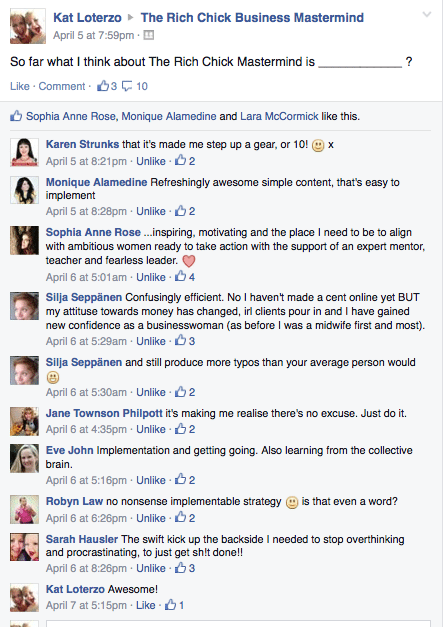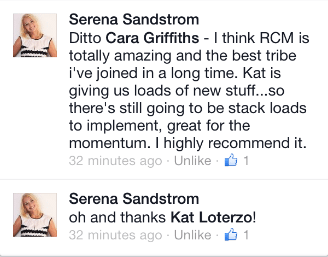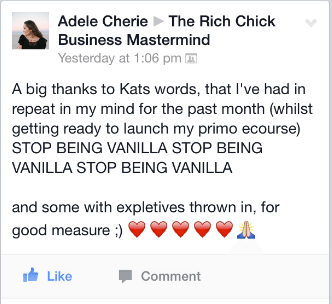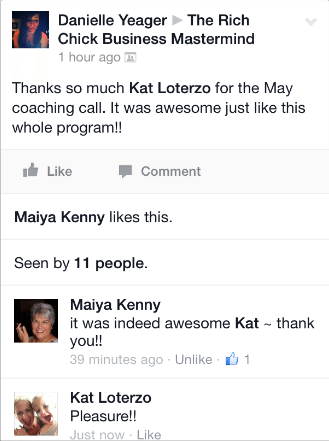 Pay Only $397 Upfront and Unlock the WHOLE HOME STUDY PROGRAM!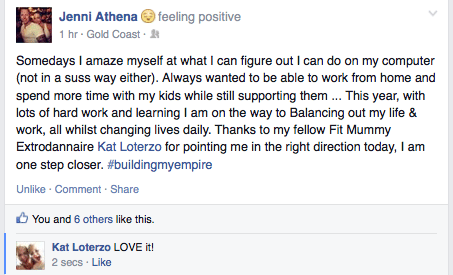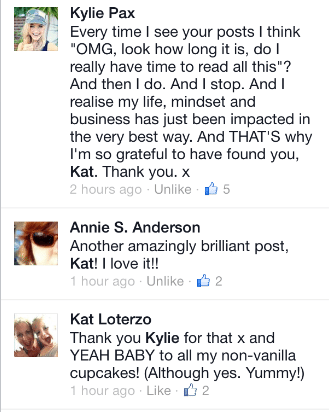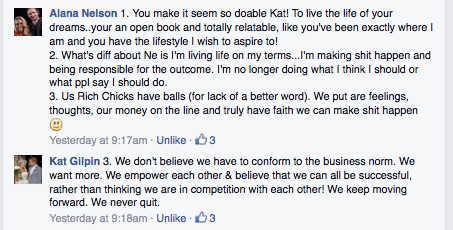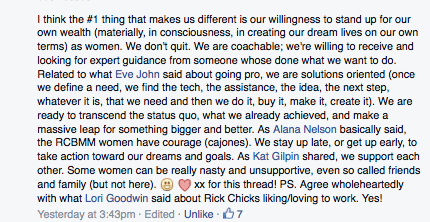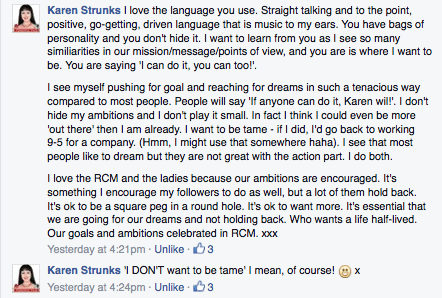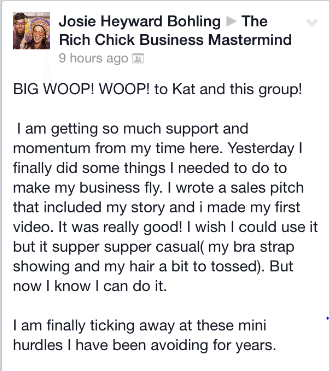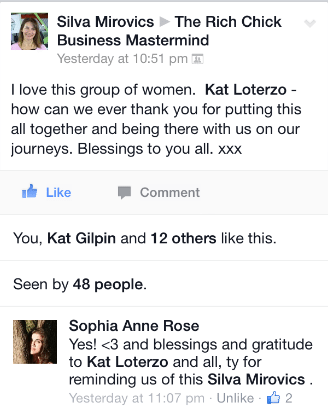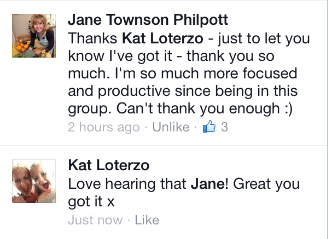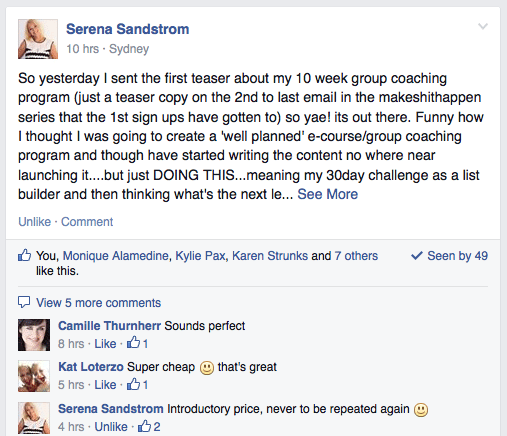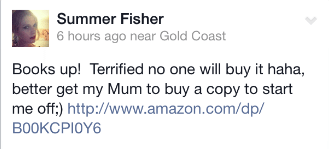 Thank you! Thank you!
I just wanted to tell you, thank you-thank you! Just watched your Rick Chick Mastermind Intro video again and the words about commitment to self and never quitting really hit me in my heart chakra. I got teary. So appreciate your work and attitude and the inspiration. Yes, I'm learning a bit of techy stuff but I joined because you are inspiring and I love your attitude.
<3,
Sophia
A huge THANK YOU to you Kat!
I love the content, I love how you deliver it, I can't get enough of it and I'm implementing and doing things faster than I thought possible. It's all amazingly useful so in terms of tailoring it's hard to think. You seem to deliver what's needed when I need it! Whether that be strategy, tools or motivation. Aside from that…. The RCM and you happened just at the right time. I'd been searching for something, or someone, that 'spoke to me' for many, many months. Some of the ladies I 'had my eye on' were either wayyyyyy out of my league price-wise, or I just knew that they wouldn't be accessible, not to the level I want anyway. Plus, I could see that although their training was good, I felt like it was never the 'full picture', almost like some info was being held back, or perhaps it was just that the delivery was so polished and perfect that it didn't seem quite real. You are real and I know you don't hold back. I'm soaking in every ounce of knowledge/training/motivation up like a sponge! And it's more than that. I was walking down the street in my city the other day with an extra spring in my step and even more confidence, and if anyone had asked me why I was so happy that day I would have replied 'Because I'm a Rich Chick!' before strutting off! Thanks again, Kat! xxx
I LOVE that this stuff is so accessible
You're the best mentor I've had in terms of being involved in the forum with practical advice and support and providing us amazing value with your incredible content. What I love most is your honesty. I can totally relate to where you have been, especially with regard to finances and it truly gives me hope for my own future – more than someone who just details how their business has grown. I LOVE that this stuff is so accessible for the price too. We are so, so lucky. You're a top lady Kat xxx
I've started believing in myself again
I am just blown away by everything I've received thus far. It's the training I've been searching for. I found this once I stopped looking, I thought what I was looking for wasn't out there and resolved to find a way to make things work for me in a way that feels good and right for me. And this is when I stumbled across Kat. What I have found the most helpful thus far is Kat's honesty and transparency in her writing. All I've ever wanted to do was write about what is real and true for me and finally I found someone doing it! I have gotten value from every email (all of them!!! And I think I'm likely on all your lists…), every video, every book and every blog post. A BIG BIG thank you, not just for business training but also your book on emotional eating (and all your books) and mindset and motivation. I've started believing in myself again – in business, as an entrepreneur, and peace around food
You are just so real and I like that!
I wanted your review of Karen's sales page – boy there is a ton of learning in there alone – thank you! I love that you are fit, run a successful business online and have a young family. These for me are the ultimate cornerstones of a success because so often you find biz/marketing mentors who have two out of the three but I want it all! I struggle to learn from people who don't have children because to me it's been the single biggest life changer ever. Don't get me wrong, I love Lorna Jane but she's not had to contend with years of sleepless nights and added pressures on your relationship etc to build her empire. For me, you are just so real and I like that!Thank you for all that you do.
Love your innovation for ideas and delivering them to us, keep it coming! And thank you from the bottom of my heart.
I am loving all the information! I love that you are so transparent on how you run your business and life.
I love the vibe of the group and the positive energy. Thank you!
For some reason I feel like my dream is real and happening. It just feels different with you Kat!
I feel like a kid who can't wait for the next bit of it to implement!
Thanks for being YOU. Inspiring, awesome, you.
Having the ideas from everyone is fantastic!
I am much older than everyone else is and the tech stuff is more of a challenge. But I am getting a handle on it, I have someone helping with some of it, having the ideas from everyone is fantastic!! Thank you, thank you, thank you!!!!
Best program I've been part of!
I don't have any thoughts on improvements because I have been overwhelmed by how much I love being part of this group. It includes everything and much more than I thought.
You are a powerhouse! Love your work!
Thank you so much for putting together the Mastermind! I LOVE it!
Pay Only $397 Upfront and Unlock the WHOLE HOME STUDY PROGRAM!