News
The Reviews On Woman Incredible Are In …. Eeeek!
Just a word of warning before you get stuck into this one: the following post is ridiculously self-gratifying and indulgent. But that aside, I hope, it's a slightly delayed way of me trying to say thankyou for your support, to show you how thrilled and just a tiny bit shocked I am at the response to Woman Incredible, and to introduce you to some of this new community that you're already a part of.
The last 15 days has just been the most incredible rush, and the truth is that right now I'm feeling so many things that I couldn't even list them all. A slight nervous exhaustion definitely prevails, but far more worth mentioning are gratitude and motivation. These are probably my top two emotions right now, and you'll see why in a moment.
I'm also feeling incredible energised and inspired by YOU and every woman who has already made this blog her community. So, if you'll let me, I'd love to share some of the 'post-launch stats and hoo-ha'. I hope you'll feel free to feed off my energy and take some into your own busy life 🙂
so apparently you guys like high-rise butts and craving-busting moves?
The comments, likes and shares on the very first blog post for Woman Incredible were beyond my wildest dreams. Currently it has a whopping 184 likes, and shares – and that's just on Facebook!
The post is also up to 89 comments! Shameless request here, but I have NEVER had a blog post go over 100 comments – I'd love it if you could help me kick that goal!
sometimes the universe just loves 'ya
How amazing is this – my new 'uniform' arrived by courier on the day of the launch! It was designed and put together by a Primary School mate of mine who now runs her own branding business over at Bzirk Marketing. Oh, and those of you who've seen me wearing it have already been asking, and the answer is a resounding YES! You will be able to purchase Woman Incredible gear quite quite soon. It's in the works 🙂
the reviews are in – eeeeek!
Well, in all seriousness there is no 'bad' reason for me to squeak, but I must admit I'm squeaking nonetheless – out of pure and unashamed excitement! Just check out some of these reviews by lovely Woman Incredible readers! I've interspersed them with some of your lovely Facebook and Twitter shares.

Jules from Abberrant Venus – "I really like seeing people's hard work rewarded, and Kat has tirelessly dedicated her time, energy and invested her passion in both Body Incredible and Woman Incredible".

Laura from One April Morning – "Hi Kat! Just wanted to let you know that I mentioned your wonderful new site on my blog recently. I can't wait to read more 🙂 You have inspired me already!" Check out Laura's post over here – and see what it is that she's going to try despite some natural nerves!

Slim Healthy Mama from SlimHealthyMama – "If you've ever been to any personal development courses, you may have heard that your net worth is the average of the people you hang out with on a regular basis – I'm going to use Woman Incredible as my "virtual" group of friends that are all healthy and successful in their various endeavours." Read the full post, entitled 'Are You An Incredible Woman', over at this link.

Kaisa from Optimal Performance Finland – "Australialainen valmentajakollegani Kat Eden avasi eilen ihanan uuden blogin, Woman Incrediblen. Jutut ovat toki englanniksi, mutta kaikkihan enkkua sen verran taitavat että ymmärtävät simppeleitä juttuja, eikö
. Okay, I have no idea what it says either, but I'm trusting that it's good. Plus, how can I resist seeing my blog mentioned in a language I have zero comprehension of?! Kaisa, as you may recall (and Jules above) is one of the Incredible Women from the launch post, and from what I know of her she is one of the most naturally lovely women you'll ever come across." You can check out the full post on Kaisa's blog, and use Google Translator if you're so inclined 🙂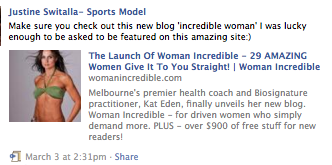 Kisane Slaney from DrKisane – "so if you want to have a great body, get fit and be motivated, this is one blog that you will want to sign up for and get those posts regularly! And don't you just love Kat's slogan: 'Life Is Now. Press Play'?" Kisane is another one of those fabulous Women Incredible, and you can read her full review at her blog.

awwww …. you guys make me feel so good!
Here are a bunch of the wonderful and heartfelt messages I've received from you guys. I know you might whip this stuff off and then not think about it again, but to me it really does mean the world. This is why I blog, and receiving these sort of messages from incredible women all around the world just makes me feel all warm and fuzzy … plus pretty proud. If I didn't already have faith in my decision to step back from my PT business and follow my passion by creating Woman Incredible, then I certainly do now!
"Dear Kat, as a longtime reader (and, admittedly, a non-commenting lurker!) of Body Incredible, I just wanted to congratulate you on the launch of your new venture with Woman Incredible. I have long found your approach to health, fitness, and life in general really inspiring, so thank you very much. I think the new website is so exciting and I'm really looking forward to seeing what's to come."
"Hi Kat, your passion and excitement is leaping out of my computer screen,how could I not be interested in becoming a member? Contact me when you are ready. You go girl!"
"Thanks Kat!! I'm so excited! These amazing gifts (Jessie made it in to the Top100!) come at a really great time for me. I've been reading your blog for about a year. And late last year I finally created room in my life to focus on my health and my body and made a commitment to myself that 2012 was the year that I implemented all of the changes I had been thinking about … I FEEL AMAZING! I have never felt happier with daily life … Here's to Woman Incredible! Can't wait to see what's in store… Thank you, Jessie"
"Hi Kat. I am interested in hearing more about your VIP membership when you finalise details. I have already learnt a lot from your Secrets to Weight Loss book and find your blog a constant source of fantastic information. Look forward to hearing more details soon!"
"Hi Kat – yes pls put me down in your notification list. I really wish you all the best luck with this and good on you for following your dreams :)"
"Hi Kat – really looking forward to the new Woman Incredible!"
"Hi Kat – I'm interested in becoming a VIP member of Woman Incredible. Please put me on your special list :)"
"Hi, Kat! Congrats on the launch! I'm really excited about everything that you've started especially given our chats about what you've set out to achieve, what your goals are. It's really inspiring to see you get out and kick some goals!!"
"Congratulations! I have been looking forward to reading your new blog for a long time. Can't wait to learn more. :)"
"Hi Kat! I just thought I'd send a quick message to tell you I think you're blogs are fantastic 🙂 and I'm looking forward to this new phase of women's only inspirational pieces."
"Hi Kat, I'm super excited about joining your womanincredible blog. Can you please put me on your VIP list? Thanks!"
"Hi Kat – I've just discovered this website….and I'm soooooo excited."
other lovely stuff that i just can't help but share with you!
As you can see, the 'birth' of this blog was a huge success – to be honest, beyond even my wildest dreams. It was such a huge couple of days that I almost felt like it was my birthday or something. I even received these gorgeous flowers on launch day, from a wonderful client of mine who was visiting from Perth (and with whom I was relaxing in a cafe with when the launch accidentally didn't quite happen at 12 last Thursday!)
Here are a few other lovely facts and figures that I just can't help but share with you:
Woman Incredible now has 348 email subscribers – over 250 of whom signed up within the first 24 hours!
The Woman Incredible Facebook page has over 120 fans – if you're not one of them I strongly suggest you head over and 'like' us! Facebook is where I hang out a lot of the time; and you'll find there will be lots of cool extra stuff that won't make it on to the blog. Cool links and articles, contests, insights into what I eat/ how I train, extra tips and tricks just for you … and heaps more!
I have a brand new twitter account, with a small but (I hope!) loyal following of 62 so far. Please help me grow this number! If you're on twitter you can follow me @womanincredible
As if launching my dream blog hasn't kept me busy enough, I'm also in the process of setting up my new (dream!) office. It's in South Melbourne, and I start their next week. My office is actually upstairs above my friend's brand-new gym (he is in his mid-twenties and opening his own gym – talk about creating your dream life!), and the gym is freaking amazing. I am talking a serious playground for any PT or gym junkie out there. RBT (Result Based Training) is what it's called, and it's also going to be the home of all my Melbourne events, including my Lean Living seminar series which kicks off on Monday. You can also grab tickets for April 4 if Monday is too soon.
it's a wrap
Well I think I might have actually run out of things to say (although I am tempted to tell you all about my new office furniture which I had way too much fun choosing). Just one last thing – thankYOU for being part of all of this and driving the current and future success of Woman Incredible!
Let's take this momentum and roll with it – I've heard from so many of you already on exactly what you want and need on this blog, but if you haven't already had your say (or you'd just like to have it again!), then now is your chance – comment below, or just say hi.
Life is Now. Press Play.
Don't forget –
Life is Now. Press Play.
Kat x
PS
Programmed to Upgrade is happening gorgeous, and WHOOOOO MAMA is this the work that works.
25 days, you and me, 1:1, to quantum leap like you've NEVER leapt before.
This will be intense …
And a lil bit scary. But buckle up, because you KNOW you're ready for it.
SO fucking ready 😉
Programmed to UPGRADE!
25 Days, 1:1, with Katrina Ruth, to SCREW the Rules, SCREW the Norm, Go So Damn Extra, So Freaking Hot, So Fully SEEN, and Snap Your Future Into the Now So Damn Fast It'd Make Your Head Spin … even as you nod in certainty that of COURSE, this is what was ALWAYS supposed to be ..
Places are already filling, and we begin next week. If you know it's time to say yes to MAGIC, and creating your reality from the supernatural, and you're SO ready to drop the paradigm of always having to DO (and yet still not be there!) then message me now.
I'll get you the full overview, and talk personally with you about whether or not it's for you.
To the supernatural baby, and beyond …
PPS
I HAVE SOME BIG NEWS TO SHARE!
As of today, I'm opening up the doors to my Inner Circle, my private client mastermind.
This is THE most badass high level mastermind in the world for women who want it all – and are prepared to do what it takes to get it! Really what we're talking about is being prepared to be the PERSON.
And that's what I do. I help you remember ALL that you were, and then become it. ALL Of it.
This is my highest level private mentoring circle. The exact place where I have personally mentored dozens of this industry's most elite female entrepreneurs to break income barriers ranging from 10k months to multiple 7 FIGURE months, and everything in between. But more importantly than that – to become who and what they always were.
But know that this is not only (obviously) not just for the masses, this is also not just for someone who can afford to invest in a high level private coach. Being willing to throw money down is something which has absolutely zero correlation to being somebody who has what it takes to TRULY go next level as a leader.
If anything, in this industry, investing in a high level coach such as myself, is a rite of passage which veers just a little too much on the side of 'trend'. It's become something which 'everybody does', almost as a way of proving they play business and life a certain way.
Maybe even of trying to prove it to themselves.
Here is the reality which those who I am truly here to personally mentor and lead KNOW, the reality which my clients and all women like me as well as of course me personally have ALWAYS known:
We are VERY VERY DIFFERENT.
We are simply, smarter, faster, and have more presence. We can do more in our minds before breakfast than what most people can do in a freakin' WEEK, a month, a year.
We are not basic ass coaches trying to heave ho our way up a few extra thou a month.
We are the ones who have ALWAYS known we are 1% within the 1% within the 1% in terms of how we think, create, operate, how and WHAT we are tapped in too.
This is not arrogance, this is fact.
And there has NEVER been any question but that we will go all the way.
My clients are high level badasses who do the work, who have a proven track record BEFORE coming to me, and a BEING-ness which unquestionably separates them from the rest. They don't come to me to save them or lean down and hold my hand out so they can clamber up. They come because they are, quite simply, ready to go to the next level, already absolutely on their WAY there, and see in me something which they recognise because it is in them.
That 'can't stop won't stop' fire, and a level of 'unapologeticness' which, when truly understood and applied, can literally be the difference between 5-figure or low 6-figure and 7 or multi-7-figure entrepreneur.
So if you know who you are and it is THAT –
And you feel certain that you are ALREADY well on your way to to precisely where you're meant to be, but that being in MY energy could help you to drop in and get there even faster, and that with a couple of simple tweaks your current revenue could be doubling, tripling, heck QUADRUPLING and beyond in months, as it has done with numerous of my clients previously, well then –
PM me here http://m.me/katrinaruthofficial and we'll see if it's a fit. I'm excited to talk to you, and maybe – do biz and life with you.