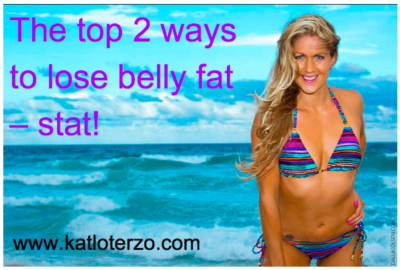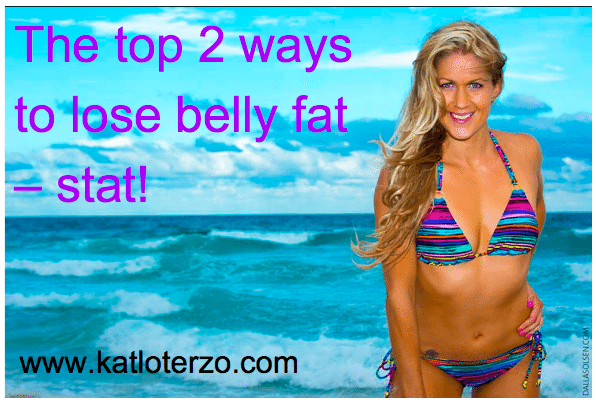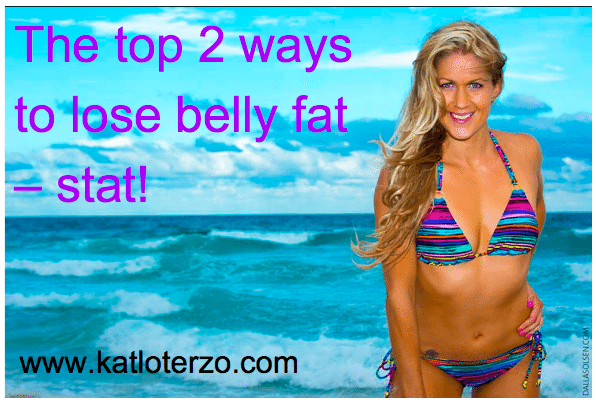 Everybody wants to know – what's the best way to get rid of that ridiculously stubborn stomach fat?
If you've ever felt that way then I can definitely relate. Personally my stomach has always been the hardest area for me to keep in shape. I'm tall with long legs so even when I've been heavier I still carry my lower body okay … but my belly. Ugh. It's been a love hate relationship much of the time. I love it when it does what I want it to, and I hate it when it doesn't. Smart of me, huh?
Anyway, I could definitely write a post on '10 ways' or even '20 ways' to burn belly fat once and for all, but for today I decided to keep it real simple. Sometimes 10 things is just too darn much and all you really want to know is what's the most important thing to do. Right now. Today.*
Here it is – except because I just couldn't bring myself to narrow it down to 1 item it's kind of in 2 parts.
IMPORTANT! Make sure you really read point #2 properly (this is the most important part!) as many girls who eat clean don't get results precisely because they don't do this. Don't be one of them!
How to finally lose belly fat – stat
1. You are what you eat (part 1).
Of course good nutrition is key. That's a given. And possibly you do eat really clean, but you still can't get rid of that last bit of belly fat.
Here's the thing.
I have found that most people lose body fat and keep it by focusing on good quality proteins and fats as key macronutrients, with most of their carbs added in from fresh (non-starch) seasonal vegetables and the occasional fruit. I'm fine with a bit of quality chocolate or wine now and then and I definitely encourage regular treat meals. Other things I'd include in good nutrition are adequate water, and at least some basic supplements like magnesium, a good multi, and so on. (Order all your supps via my online store, just email [email protected])
But. In fact make that BUT. Here is why you might not get rid of your stubborn stomach fat despite doing all of that religiously:
a. Your treat meal consists of 3 chocolate almonds and some sweet potato. Don't be scared to have a blowout meal now and then! If you are eating super clean and low carb every day you will start to slow down your metabolism over time. You need to give it a shock, or kick-start, with a hefty serve of carbs at least once a week. My favourite treat meal is gluten-free french toast with maple syrup and fried banana. I would have at least 4 slices, and then often 2 more with nutella on them. It's a treat meal for heavens sakes. Do it properly if your daily eating habits are really that clean.
b. You're too caught up in dogma. Forget everything I just said about good nutrition for a moment. Think about what you're planning to eat for your next meal. How enticing is it to you, on a scale of 1-10? Unless you're in the clutches of a full-blown sugar or junk food addiction then healthy food should be really enticing to you. If you feel uninspired by your food, or that it's bland, or that it's not digesting well – change it. My only really unshakeable rule for nutrition is to eat real food; i.e. not processed and full of chemicals or trans fats. Everything else should be tested. By you.
c. You need a break. Last week I ate like a vegetarian all day up until dinner. Lots of vegetables, some fruit, and a LOT of fat. Then normal dinner. Why? I could tell I was starting to not digest my protein very well. For several weeks I'd been truly hating eggs and red meat. Weird? Or is it my body telling me I'm too mired in my routine? I was craving vegetables like there was no tomorrow. Now I did supplement during my vegetarian meals with BCAAs and glutamine, so I still had adequate protein albeit a lot less than normal. The result? When I did eat my dinner protein I could 'feel' my metabolism smashing it instantly. This is how we should feel with all our meals. I also dropped 2kg of fat (and no muscle) and slept deeper.
Would I keep going with this forever? No! It's not the magic answer! Nothing is – the point is that we need variety.
As soon as you get caught up in 'having' to do anything nutritionally or 'not being allowed' to eat something, you are doomed to at some point stagnate.
Learn to listen to your body and think about what would truly make you feel good inside and out. This takes some experience and practice, and I don't think it works until you've been eating clean for at least a year. Before the 12 month mark I would definitely focus on structure – i.e. 6 small protein-based meals per day. After that – to an extent, you make the rules. Just be honest about what's working and not working.
The other thing I love about a more flexible approach is that you avoid becoming obsessive over 'having to' eat a certain way. For me, I've always been in the best shape and stayed that way when I go with the flow and stop over-thinking everything I'm going to eat.
d. You just need more carbs. Maybe you just need to start including healthy starchy carbs into your diet. Maybe some quinoa porridge for breaky wouldn't be the end of the world! (I'd still have protein with it hehe). Or some starch after training; perhaps even with dinner God forbid. Low carb works for a lot of people, but a lot is not everyone. And again – your dietary needs change over time. You need to learn to go with the flow. I talk about this (how to know if you need more carbs) in more detail in my Eat Clean Get Lean Plan.

2. You are what you eat (part 2).
Okay this one is going to be a lot shorter, but it is actually more important than obsessively worrying about what you should or could be eating. In fact, NOT doing what I'm about to tell you is one of the top reasons that women aren't able to get rid of the last layer or two of fat, especially on the stomach.
It's about what you feed your 'whole' you. You need to detox and nourish each and every one of your bodies daily if you really want to succeed physically, or indeed succeed in any area. Your four bodies are:
The physical you

The emotional you

The mental you

The spiritual you
Think about this.
If you're feeding your mind with junk food (junk TV, the news, useless reading), isn't that going to have a carry-on effect on every part of you? It is. You won't feel passionate or on purpose, which will result in you feeling more stressed and anxious. Two emotions that elevate cortisol, which increases stomach fat. Furthermore, a mental junk food diet often goes hand in hand with wanting to eat junk food.
How about the way you talk to yourself? Do you build yourself up, or tear yourself down? Whatever you believe about yourself to be true, will be true. So if you're feeding your emotions with negativity and self-doubt you will not get the physical results you long for.
And then there's spirituality. This doesn't have to mean being religious. It could just mean acknowledging that there is more to life than just you and your problems. How often do you take time out to be still and just listen? To meditate or pray?
The 'you' you see in the mirror is just the reflection of the real you. We all know that it's what's inside that counts. If you want the outside to look and feel fabulous, you have to feed every part of the inside with good stuff. Please don't imagine for a second that properly nourishing only the physical you will get you the results you want. The fittest, healthiest and happiest people – the ones you might look at and want to emulate – take care of all of this stuff. They know that each of their four bodies affects the others. No, they don't have it all together all the time. Yes, they still slip up in each area or skip days.
But they're thinking about it; often without even realising it.
You can think about this stuff a lot, get very caught up in it even. I tend to do that 🙂
The top 2 ways to burn belly fat – cheat notes version 🙂
But to go back to the original intent of this post, which was to keep it simple (!), here's the cheat notes summary of the top two ways to lose belly fat:
You are what you eat (part 1): eat clean, minimally processed food. High protein and fat works often, but not always. Either way, break your normal routine now and then. Do something completely different. Learn to listen to your body. And don't forget to have the occasional blowout!
You are what you eat (part 2): you won't get results if you're feeding your mind, emotions and spirit junk. Or if you're starving them! Failing to take care of the 'whole' you will result in feelings like dissatisfaction, lack of purpose, fear, anxiety, overwhelm. All of these are not only no fun to live with, but they cause a stress response! Primarily of cortisol, which is the belly fat storing hormone. Take care of every part of you as if it were a small child whom you love deeply. Learn to love and accept and nourish yourself from the inside out, and things you previously found impossible to achieve will start to come to you almost magically.
Comment below – do you believe that the emotions, spirit and mind are linked to fat loss? Or do you think it's just about finding the perfect diet for you?
Life is Now. Press Play.

*Okay, so it didn't end up quite as simple as I promised, but technically that's still 2 ways. And definitely, you can still start on them today.
PS Want to know how you can eat clean for life and finally get the body you want? That's why I wrote my ebook Eat Clean, Get Lean. Healthy eating made delicious – and doable!
PS
Expansion.
10 Days of Live Soul Transmissions, to Help You Find and Follow the Messages Within
Day 1) Trust
Day 2) Certainty
Day 3) Self-Belief
Day 4) Empire Creation
Day 5) Your Deepest Message
Day 6) Following Soul Guidance in All Areas
Day 7) Faith vs Fear
Day 8) Accessing Flow, and Superflow
Day 9) Expanding Time
Day 10) Expanding Money
Every day will be a LIVE soul led transmission.
This will take place on Facebook video, held at a variety of times in order to account for varying time zones, and scheduled only once we have begun. Our daily soul transmissions will be guided from MY higher self and directed from and for YOURS, to help you find and FOLLOW the messages within. The messages of your spirit, your consciousness, of the who you've always been and yet have managed quite well to cover up a lot of the time.
This is about stripping away –
And getting back to the CORE.
We'll dive day by day into the above mentioned areas –
And you'll receive all content and bonuses to keep for life.
There will be daily spirit prompts which you'll receive after each training.
And plenty of time opportunity connect with me throughout, receive transmissions direct to YOUR questions, and absorb more even than what comes through on the trainings, via the energy we'll create in this collective!
It's very rare for me to know in advance exactly what is coming through day to day.
I certainly don't have the details of each day's content. But I know that these areas have been on my heart to talk about, in particular around belief, around certainty, around living from FAITH.
We know that exactly what is meant to come through for you WILL, and then some. And that if you intend and allow for it to, it will change, most likely before we even begin, due to your energetic commitment, the direction of your LIFE!
Meaning: direct it back to absolute soul alignment.
*** NEVER Seen Before Bonus! ***
As part of this, I've been guided to offer a NEVER before seen bonus … one I feel super vulnerable about sharing!
It's the exact journaling I did to allow the download of THIS offer through. How I allowed the idea to bubble up. You'll see my doubt, uncertainty, annoyance. You'll see what I discarded. How I went through the layers. And how I KNEW, this was the one.
I'll ALSO add in copies (screenshots) of my conversation with my COO Ash, where I was talking through the idea and allowing it to come to life.
I want to show you the exact Idea to Launch process!
This bonus alone is EASILY worth the cost of this program, particularly when you hear the mindset side of it, in terms of STAYING THE COURSE and refusing to back away from my self until the idea showed up!
I refuse not to create!!
AND, when you register for EXPANSION today (and how could you not?!) you'll also receive early access to the Pre-Work. This is ALSO never seen before, and brand new just for you – and it's a guided meditation on remembrance, to help you connect back to deepest self and the most certain truth of your destiny, before we even begin.
Perfect priming, for when we expand RAPIDLY into all that is coming through in this work!
Of course I could now go on and on here, about what I could or should have charged for this, and what it's actually going to be …
Or about all my accomplishments on line and off, with money, with purpose, with passion, with flow …
I think you know all this anyway. Even if you just me! Your soul feels what matters. And that's ALL that matters.
But I will say this:
You've always known it's supposed to be about ALL that is inside of you. That it's meant to COME from a place of purpose, passion, and SUPER super flow. And that if you just.freaking.trusted, and showed up FULLY from that place, you'd be living in a different reality already.
THE ONE INSIDE OF YOU.
If that's true for you right now, then LET'S GO CREATE THAT REALITY.
Right now
Press play for regular, (super fuck yes!!) upfront or payment plan
OR
Press play like a VIP, and receive the full course, plus 10 days direct photos or screenshots of my ACTUAL personal journaling, so you can see how I create and expand my life, PLUS a VIP only follow-on live Hotseat, where you'll receive a personal transmission just for you, if you'd like one! Payment plan also available.
>>> https://thekatrinaruthshow.com/expansion
We start Monday 17 December, US time!