News
This Morning's Circuit – And Why You Should AVOID Organic Eggs
Read time: 3 minutes. Workout time: 25-40 minutes.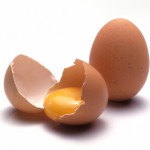 If you've left your options open as to what sort of training you'll be doing today – or (gasp!) are thinking you might even have a day off from the gym – then this circuit just might hit the spot. It's nothing fancy but it will work every muscle in your body, get you sweating and pumped for the rest of the day, and the best part is it will only take you 25 minutes so long as you don't faff around socialising or day-dreaming in between sets. I know, I know, not that you'd ever do that. Just saying.
Part One
DB flat bench press – elbows angled 45 degrees down. 12-15 x 4-second reps. Be sure to keep your belly button drawn toward your spine – don't be lazy just because you're on a bench!
DB one arm bent-over row, split stance. Keep it simple by using the same weights as exercise one, and just use the dumbell rack in front of your bench to lean on, same side foot as lifting arm forward. 12-15 x 4-second reps on each arm.
Shoulder-height cable wood chops. I used a rope today, just for variety. 10-12 reps each side, 3 seconds per rep.
Repeat x 4, 10-30 seconds rest between rounds.
Part Two
Barbell dead lifts, underhand grip (for variety). 10-12 x 5 second reps.
Overhand wide-grip lat pulldowns. Retract with your shoulder-blades first. 10-12 x 4 second reps.
45 degree leg press. 10-12 x 4 second reps.
Swissball jacknifes, feet only on ball. 10 x 3 second reps.
Repeat x 4, 10-30 seconds rest between rounds.
If you still have time to spare, grab that swiss ball again and do 3 sets of hamstring curls, 10 reps only, but only 10 seconds rest between sets.
Part Three
Leave the gym with a spring in your step and the smug knowledge that you did more work in less than 30 minutes than many social gym-goers manage in a week.
Today's read: Why You Should Avoid Organic Eggs
Full article read time: 7-10 minutes
This article blew me away. I've never even considered the idea that organic store-bought eggs could be tainted by chlorine baths and the absorption of other toxic chemicals as part of the cleaning process, but apparently it's standard practice. You don't even really need to read the full article to know that this is definitely not a good thing.
So what to do?
Pretty simple. This sort of unacceptable food-handling is just another reason to support local produce and shop only with a reputable online delivery service, or at your local farmer's market where you can personally inquire as to the handling of your food (or see for yourself that your eggs don't look overly clean on the outside!)
If you have any inside knowledge on food handling/treatment please comment below. I can't believe I never thought of something like this and often use to use the supermarket as an organic food fall-back, but definitely no longer!
DON'T FORGET –
Life is Now. Press Play.
Kat
PS. The Own Your Value + Worth free 10-day challenge is OFFICIALLY UNDERWAY!

> Live training has just begun
> 10 days with me to become the you it's time to be. Choose your true choices. Say yes to all of you. And watch your life change, now!
> Mindset + inner game focus AND practical application to impact your business, money flow, and life right away
> Feel the FUN and joy of tapping in to all of you and understanding fully that your enoughness is not up for negotiation
> My first free live challenge in years so do.not.miss!
I love you. Yay!