News
This Morning's Circuit – And Why You Should AVOID Organic Eggs
Read time: 3 minutes. Workout time: 25-40 minutes.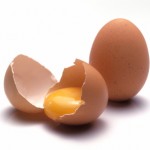 If you've left your options open as to what sort of training you'll be doing today – or (gasp!) are thinking you might even have a day off from the gym – then this circuit just might hit the spot. It's nothing fancy but it will work every muscle in your body, get you sweating and pumped for the rest of the day, and the best part is it will only take you 25 minutes so long as you don't faff around socialising or day-dreaming in between sets. I know, I know, not that you'd ever do that. Just saying.
Part One
DB flat bench press – elbows angled 45 degrees down. 12-15 x 4-second reps. Be sure to keep your belly button drawn toward your spine – don't be lazy just because you're on a bench!
DB one arm bent-over row, split stance. Keep it simple by using the same weights as exercise one, and just use the dumbell rack in front of your bench to lean on, same side foot as lifting arm forward. 12-15 x 4-second reps on each arm.
Shoulder-height cable wood chops. I used a rope today, just for variety. 10-12 reps each side, 3 seconds per rep.
Repeat x 4, 10-30 seconds rest between rounds.
Part Two
Barbell dead lifts, underhand grip (for variety). 10-12 x 5 second reps.
Overhand wide-grip lat pulldowns. Retract with your shoulder-blades first. 10-12 x 4 second reps.
45 degree leg press. 10-12 x 4 second reps.
Swissball jacknifes, feet only on ball. 10 x 3 second reps.
Repeat x 4, 10-30 seconds rest between rounds.
If you still have time to spare, grab that swiss ball again and do 3 sets of hamstring curls, 10 reps only, but only 10 seconds rest between sets.
Part Three
Leave the gym with a spring in your step and the smug knowledge that you did more work in less than 30 minutes than many social gym-goers manage in a week.
Today's read: Why You Should Avoid Organic Eggs
Full article read time: 7-10 minutes
This article blew me away. I've never even considered the idea that organic store-bought eggs could be tainted by chlorine baths and the absorption of other toxic chemicals as part of the cleaning process, but apparently it's standard practice. You don't even really need to read the full article to know that this is definitely not a good thing.
So what to do?
Pretty simple. This sort of unacceptable food-handling is just another reason to support local produce and shop only with a reputable online delivery service, or at your local farmer's market where you can personally inquire as to the handling of your food (or see for yourself that your eggs don't look overly clean on the outside!)
If you have any inside knowledge on food handling/treatment please comment below. I can't believe I never thought of something like this and often use to use the supermarket as an organic food fall-back, but definitely no longer!
Life is Now. Press Play.
Kat x

PS
I want to help you to build a business you LOVE, and that meets your every want and desire, in a real and true way, whilst also resulting in you making a LOT of money, fast, and impacting a lot of people, also fast, in the way you know you were born for!
My most transformative 1:1 intensive EVER … shifting people into EPIC income and success since 2016 is back, for the first time in 2019! I'm so excited to bring this signature transformative work back!
Rich Hot Empire!
Work With Me for 6-Weeks Personally to Grow Your Perfect Cult Tribe, Create and Launch Your Low-High End EMPIRE, and Set Up Multiple Recurring Income Streams to Take You to Multiple 7-Figures and Beyond, Doing What You Love!
This round is even more special as I will be re-recording all original content, with you there live with me and alongside me AND you will also receive all original content; the exact trainings which has made this program my most successful ever, with clients repeatedly saying they achieved more in 6 weeks with me than they had in 2 YEARS beforehand! This work is for entrepreneurs at ANY starting point, as it's about who you are as a person not where you're at. I've had clients anywhere from total start-up, to already doing 500k+ / year go through Rich Hot Empire and all who have done this work have gone to a level of income as well as alignment and FLOW which they couldn't previously even imagine!
6-week personalised intensive high level mastermind
Weekly group training and support; multi-media training: visual + audio
'Done for You' Templates and Step-by-Step Worksheets
Personalised 1:1 coaching included, plus DAILY unlimited 1:1 access
My personal hand on your business success
Weekly group coaching call and hotseat with my other private clients
24/7 mastermind forum, networking and support
Very limited spaces
Results guaranteed
Not for everyone
STARTS THIS MONTH!
I'm so excited to do this work with a small group of badasses who are willing to SHOW UP FOR THEIR SOUL no matter what. To walk away from all that is not serving, not actually working, not FILLING you. And to all yourself to bring your truest desires to life. If that's you, or you've felt the call to work with me at this level, PM me now. Bonuses and fast action-taker investments apply to all successful applicants, but for the first 5 to say yes there is a very special $2000+ bonus specific around Soul Shifts & Money Makin', and which, in and of itself even before we begin RHE will have shit changing for you FAST.
Apply via PM only. I can't wait to speak with you!
PPS
HAVE YOU JOINED PURPOSE PASSION FLOW ACADEMY?
My 'Going Fully Quantum' training will break down ALL of what we've discussed today, and teach you the finer details and finesse of it, as well as exactly what needs to be true for you to APPLY it, not only into the practical actions you need to create THAT money flow and THOSE results, but also in terms of ALL the energetics of it, especially the 'being and non-being' around dropping in to superflow so you can be shown, create, receive, AND of course the being around not being one of those people who just can't seem to choose faith and are ruled by fear. We'll also talk about creating and integrating the exact wording, beliefs, emotions, energies YOU need for all of this to switch effortlessly for you, as you've always known it would.
In other words: EVERYTHING you need to know to go fully quantum, and double your income in 30 days or less, or whatever else you choose!
Where will you find this training?
Why, it's one of the very first training in 'Remembering Who You Always Were', which. is our June intensive for Purpose Passion Flow Academy, my SUPER low-cost monthly membership mastermind!
And this training?
Will change your freaking reality. Well – it will REMEMBER it.
It's all available to you gorgeous.
You know this already.,In the quantum it is DONE. And in Purpose Passion Flow Academy, and especially our June intensive 'Remembering Who You Always Were'? We gon' done do it.