News
This Morning's Circuit – And Why You Should AVOID Organic Eggs
Read time: 3 minutes. Workout time: 25-40 minutes.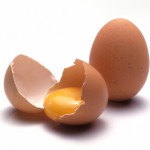 If you've left your options open as to what sort of training you'll be doing today – or (gasp!) are thinking you might even have a day off from the gym – then this circuit just might hit the spot. It's nothing fancy but it will work every muscle in your body, get you sweating and pumped for the rest of the day, and the best part is it will only take you 25 minutes so long as you don't faff around socialising or day-dreaming in between sets. I know, I know, not that you'd ever do that. Just saying.
Part One
DB flat bench press – elbows angled 45 degrees down. 12-15 x 4-second reps. Be sure to keep your belly button drawn toward your spine – don't be lazy just because you're on a bench!
DB one arm bent-over row, split stance. Keep it simple by using the same weights as exercise one, and just use the dumbell rack in front of your bench to lean on, same side foot as lifting arm forward. 12-15 x 4-second reps on each arm.
Shoulder-height cable wood chops. I used a rope today, just for variety. 10-12 reps each side, 3 seconds per rep.
Repeat x 4, 10-30 seconds rest between rounds.
Part Two
Barbell dead lifts, underhand grip (for variety). 10-12 x 5 second reps.
Overhand wide-grip lat pulldowns. Retract with your shoulder-blades first. 10-12 x 4 second reps.
45 degree leg press. 10-12 x 4 second reps.
Swissball jacknifes, feet only on ball. 10 x 3 second reps.
Repeat x 4, 10-30 seconds rest between rounds.
If you still have time to spare, grab that swiss ball again and do 3 sets of hamstring curls, 10 reps only, but only 10 seconds rest between sets.
Part Three
Leave the gym with a spring in your step and the smug knowledge that you did more work in less than 30 minutes than many social gym-goers manage in a week.
Today's read: Why You Should Avoid Organic Eggs
Full article read time: 7-10 minutes
This article blew me away. I've never even considered the idea that organic store-bought eggs could be tainted by chlorine baths and the absorption of other toxic chemicals as part of the cleaning process, but apparently it's standard practice. You don't even really need to read the full article to know that this is definitely not a good thing.
So what to do?
Pretty simple. This sort of unacceptable food-handling is just another reason to support local produce and shop only with a reputable online delivery service, or at your local farmer's market where you can personally inquire as to the handling of your food (or see for yourself that your eggs don't look overly clean on the outside!)
If you have any inside knowledge on food handling/treatment please comment below. I can't believe I never thought of something like this and often use to use the supermarket as an organic food fall-back, but definitely no longer!
PS
Expansion.
10 Days of Live Soul Transmissions, to Help You Find and Follow the Messages Within
Day 1) Trust
Day 2) Certainty
Day 3) Self-Belief
Day 4) Empire Creation
Day 5) Your Deepest Message
Day 6) Following Soul Guidance in All Areas
Day 7) Faith vs Fear
Day 8) Accessing Flow, and Superflow
Day 9) Expanding Time
Day 10) Expanding Money
Every day will be a LIVE soul led transmission.
This will take place on Facebook video, held at a variety of times in order to account for varying time zones, and scheduled only once we have begun. Our daily soul transmissions will be guided from MY higher self and directed from and for YOURS, to help you find and FOLLOW the messages within. The messages of your spirit, your consciousness, of the who you've always been and yet have managed quite well to cover up a lot of the time.
This is about stripping away –
And getting back to the CORE.
We'll dive day by day into the above mentioned areas –
And you'll receive all content and bonuses to keep for life.
There will be daily spirit prompts which you'll receive after each training.
And plenty of time opportunity connect with me throughout, receive transmissions direct to YOUR questions, and absorb more even than what comes through on the trainings, via the energy we'll create in this collective!
It's very rare for me to know in advance exactly what is coming through day to day.
I certainly don't have the details of each day's content. But I know that these areas have been on my heart to talk about, in particular around belief, around certainty, around living from FAITH.
We know that exactly what is meant to come through for you WILL, and then some. And that if you intend and allow for it to, it will change, most likely before we even begin, due to your energetic commitment, the direction of your LIFE!
Meaning: direct it back to absolute soul alignment.
*** NEVER Seen Before Bonus! ***
As part of this, I've been guided to offer a NEVER before seen bonus … one I feel super vulnerable about sharing!
It's the exact journaling I did to allow the download of THIS offer through. How I allowed the idea to bubble up. You'll see my doubt, uncertainty, annoyance. You'll see what I discarded. How I went through the layers. And how I KNEW, this was the one.
I'll ALSO add in copies (screenshots) of my conversation with my COO Ash, where I was talking through the idea and allowing it to come to life.
I want to show you the exact Idea to Launch process!
This bonus alone is EASILY worth the cost of this program, particularly when you hear the mindset side of it, in terms of STAYING THE COURSE and refusing to back away from my self until the idea showed up!
I refuse not to create!!
AND, when you register for EXPANSION today (and how could you not?!) you'll also receive early access to the Pre-Work. This is ALSO never seen before, and brand new just for you – and it's a guided meditation on remembrance, to help you connect back to deepest self and the most certain truth of your destiny, before we even begin.
Perfect priming, for when we expand RAPIDLY into all that is coming through in this work!
Of course I could now go on and on here, about what I could or should have charged for this, and what it's actually going to be …
Or about all my accomplishments on line and off, with money, with purpose, with passion, with flow …
I think you know all this anyway. Even if you just me! Your soul feels what matters. And that's ALL that matters.
But I will say this:
You've always known it's supposed to be about ALL that is inside of you. That it's meant to COME from a place of purpose, passion, and SUPER super flow. And that if you just.freaking.trusted, and showed up FULLY from that place, you'd be living in a different reality already.
THE ONE INSIDE OF YOU.
If that's true for you right now, then LET'S GO CREATE THAT REALITY.
Right now
Press play for regular, (super fuck yes!!) upfront or payment plan
OR
Press play like a VIP, and receive the full course, plus 10 days direct photos or screenshots of my ACTUAL personal journaling, so you can see how I create and expand my life, PLUS a VIP only follow-on live Hotseat, where you'll receive a personal transmission just for you, if you'd like one! Payment plan also available.
>>> https://thekatrinaruthshow.com/expansion
We start Monday 17 December, US time!