The Intuition-Led Wealthy Soulpreneur Christmas Bundle!
6 Programs. 100 + Trainings. 94% Holiday Discount! 36 Hours Only!

The single greatest decision I made along my business journey, which led to the greatest money breakthrough I've ever experienced, AND simultaneously allowed me to finally go to sleep each night knowing I was doing what I was born to do, was to draw the damn line in the sand and move on from the ONLY push approach.
Only push?? I know you know what I'm talking about! When it's allllll just endless.fucking.grind! And sure, you do like what you're doing – a lot! – maybe even love it, and sure, you DO get into flow, and sure, you DO feel great about the work you're doing in the world, but really?
You're just SO over the endlessness of it all.
The relentlessness.
And the steps! The way you continually have to THINK about the God damn steps! What to do next and how to do it and what if you don't do it as well as you could?! When deep down you KNOW there's another way, you've always known this, and you've always known that sooner or later it just has to be TIME.
Time to say yes to soul.
Time to say yes to following flow.
Time to say yes to making it up as you go, actually, as crazy as that sounds except NOT REALLY, and to being that intuition-led wealthy soulpreneur you know you're meant to be!
Deep down you have zero doubt that if you were to just let go – leap naked into the void! – that EVERYTHING you need and have dreamt of would unfold beneath you.
And the thing is, even though it's scary, and you wonder what on earth you'd actually DO each day if you were just following what's inside, you're pretty damn sick of working SO hard to cap out at a point that you know is nowhere near YOU are supposed to be.
I felt this way too, and I HAD to finally draw that line in the sand! I decided to go all in on being me, to give it 3 months of TOTAL 'fuck the rules' following intuition and soul flow, and if it didn't work I knew I could always make money back in my old career of personal training!
Guess what?
IT WORKED.
I drew on the extensive knowledge I already had around effective online marketing, and monetisation of message, and I combined it with SAYING YES TO WHAT WAS INSIDE OF ME, and I had the breakthrough which my previously half-assed self had wondered if would EVER come.
I haven't looked back since.
Sure, I've had my ups and downs, obviously. But since that day nearly a decade ago, which I can remember like it was yesterday, I've gone on to create an ONLY intuition and soul-led online empire which consistently for YEARS now has produced millions of dollars in revenue.
And all I do each day is make it up as I go!
Well – it FEELS that way for sure, and for the very large part it IS. But sure, at the same time, after all these years, I've certainly learned a thing or two about what to DO to access that soul guidance, and create and sell from that place.
Now, for the first time ever, and for just 36 hours, I want to share with you not one, not two, but SIX of my incredible and money and life TRANSFORMING home-study courses which teach and guide and support you to access what is in YOU, and monetize the fuck outta it, from soul. The way it damn well should be, and to BEYOND the next level!
The Intuition-Led Wealthy Soulpreneur Christmas Bundle!
6 Programs. 100 + Trainings. 94% Holiday Discount. 36 Hours Only!
I'm so excited to share this with you as my pre-Christmas offer to give you EVERYTHING you need to explode as the wealthy soul-led you in 2020 and beyond! And I'm so excited I get to do it at this price point too; so fun!
>> Included in your

Intuition-Led Wealthy Soulpreneur Christmas Bundle:
Program 1: Explode Your Biz in a Day

What we'll cover:
The mindset of being a leader and at the top of your niche NOW: I do NOT believe in moving my way to the next level one step at a time, and I don't believe YOU should have to do that either! When I became 'famous' online, it happened in a matter of weeks because I DECIDED for it to. I want to share with you exactly how I did that, how I stepped into it, how I LIVED it and created the results I have now!
Locking your ONE DAY vision in NOW – this is NOT just about knowing your vision, this is about being able to create it NOW, and know that there is nothing except YOU stopping you from doing that! Let me show you how!
CONTENT – what do you need to be doing, how much, when, where, what works, what will people listen to and what will make 'em BUY? We'll cover ALL of that!
Leveraging and re-purposing! Look, I create a LOT of content, no question. And I will SHOW you how to do that fast. But also? We re-use EVERYTHING. We have systems within our systems, and I'd love to share with you how simple it can be to be EVERYWHERE, all the time, and then some. It's critical!
Social media – where to be, how to be there, how to get people to LISTEN – you can't just show up! You gotta show up with purpose, and a plan. Let's get you one!
Email marketing – I'm not gonna lie, I'm pretty freaking good at that shit 🙂 and I'm going to map it down to the T for you!
FAST funnel magic – my funnels just KEEP kicking more butt, and the best part is? We keep 'em pretty simple. I'm constantly evolving and learning what works on this as in ALL areas, and I can't wait to show you the latest and how I have conversions over triple the norm, right from the day somebody opts in!
Authentic sales & marketing – ESSENTIAL gorgeous. And it has to be tailored to you! The cool thing is? When you let yourself DO it authentically, it FLOWS with ease. But in order to do that you need to be tapped in to your message AND your market, and you do need to understand sales. We're going to go into this in DETAIL.
Day to day productivity and hustle – let's break down exactly what you gotta do each day to get all of this HAPPENING, including the mindset side as well as ALL the work. Balance may be a myth, but that doesn't mean you can't get all your shit DONE. And you will.
Getting the right team around you. Support is critical. Obviously. I'll share with you how I call in exactly the right people on repeat, and how you can do the same as well as when to take support ON.
Keeping your head in the game and showing UP. 'Nuff said!
Program 2: Journal Your Way to Rich, Successful, FREE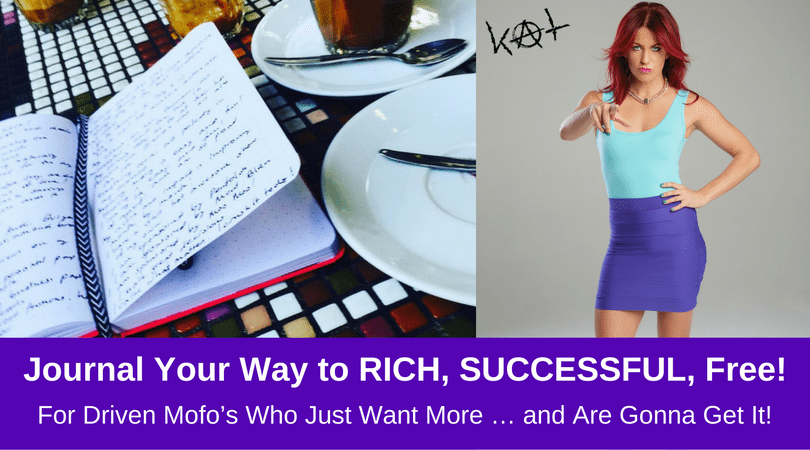 We'll be looking at:
What journaling really is, what it does, how it works and how TO work it rather than just write shit in a book

Intention setting and creating your day in advance, how freaking real that is and EXACTLY how to roll it out

ACHIEVING to FULL completion in your mind so that the practical actions you then have to take afterwards are just a follow on of WHAT YOU ALREADY MANIFESTED

Why this shit hasn't worked for you before despite you KNOWING and BELIEVING. (Reality check!)

How to create a consistent and automated mindset, intention setting and journaling practice no matter HOW freaking busy you are

How to CREATE time through your journaling practice

The RIGHT way to do money work through journaling

How to CALL IN the exact amount of money you want to make, and receive it on REPEAT, but also how to call in ANYTHING you want (hot body … soulmate clients .. more energy … VIFP goodies and fun … you NAME it and it's DONE!)

The fastest and most EFFECTIVE way to deal with limiting beliefs, overwhelm, fear, resistance, being STUCK … did you know that just writing about this shit is NOT the way to deal with it? I'll show you what is!
Program 3: Money Makin' Artist Unleashed
Here's the deal:
5 weeks of trainings and feedback from me to you, we're going to rip the fucking bandaid, STAT, and get you into IMMEDIATE and ALIGNED action to get you actually.seeing.results, but better still?
KNOWING you're on fucking path.
Week 1: Purpose, Passion, Calling, Locked and LOADED

Week 2: Monetising YOU

Week 3: The Truth About Making Money From Your Art

Week 4: Build a Cult Tribe and Get 'Em Screaming Yes

Week 5: Business, Brand, EMPIRE
Program 4: Money Making Machine Online Bootcamp

Here is what we're covering:
Complete clarity around what your big picture (3-5) year biz vision is, what you want to be and for what kind of people, in what way; how you want both your biz AND life/lifestyle to look, feel, be
High-level money strategy: creating LEVERAGED income based around the type of programs/products/offerings you most want to be doing, so you can do exactly the kind of creation and communication you'd love to do day to day, and have an automated income coming in alongside that
Funnel mapping as part of this: we will lay out a simple and elegant funnel that you can get underway with right away and that connects to obviously creating the above leveraged income
Immediate tribe growth and $$ growth plan: we'll look at what needs to happen now to get your community growing and engaging in a way you love, and to funnel people through the immediate steps you want them to take / invest in
AND we'll get into:

Program / offer planning and creation

Branding / marketing / lead gen

Tribe building / cult creation and how to create incredible engagement

Automated email sequences

Ideal sales processes for you (we'll identify 1 or 2 key processes that suit your style and feel amazing, and then essentially create a template of sales that can be used in all offers moving forward

We'll also put together an immediate cashflow offer if that's needed
Program 5: The Multiple 7-Figure Mindset Formula

The lowdown!
We'll be diving deep into reprogramming your sub-conscious mind, and we'll be looking at how to start SEEING yourself as already BEING where you want to be. When you can FULLY see it, you WILL create it!
Here are just a few of the topics we'll be covering as part of all of this!
How To Make Up Your Mind Once and For All!

Seeing Yourself as Being THAT Person.

Being Non-Fucking-Negotiable About Success, and Not Just Saying It!

The Daily Process of Doing the Fucking Work

Relentless. Motherfucking. Determination!

Daily MINDSET Processes

Daily HABIT Creation Processes

Daily MONEY WORK Processes

Knowing What to Put First!

Motivation, Discipline, Becoming Someone Who WANTS to Do the Work!

STRETCHING Past Your Boundaries and Upper Limits!

Saying a Big Fuck You to Fear, Once and For All!

AUTOMATION, Baby, From the Inside Out!
Program 6: Superwoman Unchained – The Revolution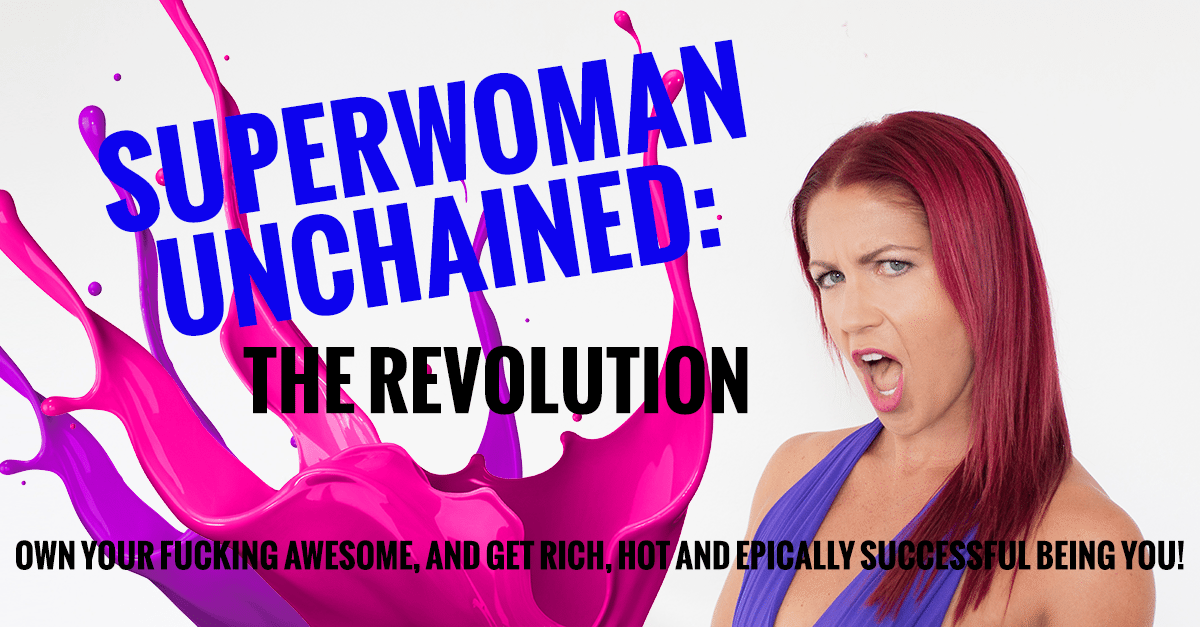 You + Me + 5 Weeks of Hustle!
Week 1: Get Fucking Aligned to Success
Week 2: Eliminate the Bullshit That's Stopping You!
Week 3: Absolute Alignment PLUS Action = MONEY BABY!
Week 4: The Practical Fucking Action Side of Things
Week 5: BEING Superwoman and Having it All!
The Intuition-Led Wealthy Soulpreneur Christmas Bundle!
6 Programs. 100 + Trainings. 94% Holiday Discount. 36 Hours Only!
*** Get your Christmas Bundle NOW!

Click the HELL YES button now and select upfront (best price) or take my payment plan option!

***

I know what it's like to wonder if you'll ever break free of the push, the joining of dots, the doing what 'they' say, and yet still hitting not even 5% of the income and impact you know you should be!
I know what it's like to blow that shit out of the water like a motherfucker. Make the monies. Have the impact. Do your damn TRUE art. And do it all FULLY AS YOU.
Let's get that happening for you gorgeous.
Get your copy of my Intuition-Led Wealthy Soulpreneur Christmas Bundle today. This is everything I wish I knew sooner, and am so honoured to get to share with you. I promise you that if you implement even half of ONE program in here you will get 10X value back on the cost of this incredible bundle! But I know you're going to dive into all of it 🙂
Start today. This offer expires soon!
Don't forget  –
Life is Now. Press Play!
Kat x

P.S.
Get your programs before they're gone – 36 hours only gorgeous!! Ends midnight 20th December 2019 EST!!
*** Get your Christmas Bundle NOW!

Click the HELL YES button now and select upfront (best price) or take my payment plan option!

***