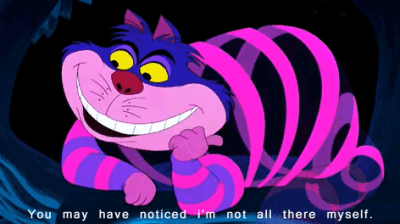 I have zero interest in trying to be professional with my clients, my business partners in my various endeavours, my staff, my social media community, the people I'm wanting to connect with or perhaps make friends with, anybody.
I don't want to teach you a way to advance your following, your income, your impact, by posing properly and prettily, holding your head just right, your hair just so, a perfect smile on your face as you pose pose pose for the world.
This isn't a fitness competion or a beauty pageant, you're not being judged on your decorum or your admirable aspirations and ways of wanting to better the world, and I don't give a fuck how you look, what you wear, whether you say or do the things that prove you as being more conscious, more evolved, more wise, more like the OTHERS at the top, whoever they may be.
If those things are the things you aspire to, that's fine and all the best to you, but I'm gonna let you know –
This tribe? My tribe? The crazy ones? We're not for you.
See the thing with US is, and you'd know this of course already if you were one of us, is we're all mad here.
What we care about is letting ALL of us fly.
We may well look, at times, from the outside looking in, as though we do fit the pretty and perfect mold. After all, we ARE hot as fuck 😉
But when you get close –
Even just a little –
You'll notice the slightly deranged look in our eyes.
The not-so-beneath-the-surface naughtiness –
The WILD spirit inside –
And the steely resolve which tells you that if you try to tame us, box us in, or expect us even a LITTLE bit to show up like the grown-up oh-so-pretty DO it right-preneurs we ARE gonna stir some sort of shit up, and fast, and probably purely for the SAKE of it, too.
Because who we ARE, and not 'cause we think it's cool but just because it kinda HAPPENS, is we are the ones who will rail against the system. Rage against your machine. Fall into MUTINY when we think we're in any way being commanded on how to show up and what to do. And lose our shit at the idea of conforming to ANYTHING just because everybody else thinks it's cool –
Popular –
Important –
Or even transformational.
If this is you, come on down.
If that glint in your eyes isn't gonna be going anywhere, come on down.
If you find yourself feeling drained as FUCK at how you THINK you need to show up and / or act around most everybody out there, even the ones you THOUGHT you wanna be like, come on down.
If you're so.freaking.SICK of how same same everybody is out there, COME ON DOWN.
If this is you and you are clearly ONE of us (mad! crazy! chaotic! dishevelled! all the things!) then I don't have to tell you – at least I think I don't! – that part of being this person is also accepting the fact you sometimes you might take it too far –
The whole HATE THE SYSTEM thing.
Sometimes you – we! – may well DEFAULT to being against what everbody else is doing purely because we, well – hate fucking being like everybody else! I coined a name for this, long ago –
"Harry Potter Syndrome" –
In which you automatically hate the thing because everybody else is doing or loving or talking about the thing.
Sounds familiar, no? 
🙂
And occasionally, sure, when you finally and with GREAT scepticism dive INTO the thing or, well, watch the damn movie, or whatever it is, you realise –
Hmmm. Maybe there's a REASON everybody loves it. But, you know what? THAT possibility is sure as fuck no reason to go marching along neatly and automatically with the rest of 'em 'just in case' their lemming-life is actually what you need after all.
It's a trust thing. If you trusted that you know the path for you, you'd know that there is literally NEVER call to worry a single bit about what a single other person is up to.
What do YOU want to do?
Who ARE you?
What's the path you LONG to follow, or even the next or 'right now' step on it?
And where are you avoiding BEING you, because you've bought into the lie that in order to be SUCCESSFUL you gotta smile smile smile like a doll on a stage, have your hair side-parted like all the OTHER pretty-preneurs, speak and walk and talk and even nod your fucking HEAD like them?
I want you to know that that world? The world of CONTINUALLY worrying about doing it right? It's not the only world.
There is a world – it's mostly inside of you! – where you can FULLY LET THE MADNESS OUT.
You can be ALL of you.
WE WON'T JUDGE YOU FOR HOW FREAKIN' BIZARRE YOU ARE.
I mean, sure – we'll probably do a SKIT about it or something or hilariously re-tell it WITH you over #paleoespressomartinis, but no point in time in THIS world afre you ever going to feel like you're too much, too odd, too fucked up, too MUTINOUS.
We WANT you to rage against the machine.
We WANT to see your crazy.
We want to FEED off it! And you off ours, too.
And here is what else, a final thought, whether or not THIS world is the world for you –
The thing that's gonna get you to rich, to where you also really CAN make the income and the impact you KNOW you came here to make?
Is the exact same fucking thing you've been trying so damn hard to hide.
STOP HIDING THE MAD AF DEVIL INSIDE.
She's who the world needs and HELL yeah also WANTS.
Rip the fucking bandaid baby. Tear off the mask. Tear down the WALLS. Stir shit UP. COME JOIN THE CRAZY ONES.
And remember –
Life is Now. Press Play.
Kat
Life is Now. Press Play.
Kat x

PS
I want to help you to build a business you LOVE, and that meets your every want and desire, in a real and true way, whilst also resulting in you making a LOT of money, fast, and impacting a lot of people, also fast, in the way you know you were born for!
My most transformative 1:1 intensive EVER … shifting people into EPIC income and success since 2016 is back, for the first time in 2019! I'm so excited to bring this signature transformative work back!
Rich Hot Empire!
Work With Me for 6-Weeks Personally to Grow Your Perfect Cult Tribe, Create and Launch Your Low-High End EMPIRE, and Set Up Multiple Recurring Income Streams to Take You to Multiple 7-Figures and Beyond, Doing What You Love!
This round is even more special as I will be re-recording all original content, with you there live with me and alongside me AND you will also receive all original content; the exact trainings which has made this program my most successful ever, with clients repeatedly saying they achieved more in 6 weeks with me than they had in 2 YEARS beforehand! This work is for entrepreneurs at ANY starting point, as it's about who you are as a person not where you're at. I've had clients anywhere from total start-up, to already doing 500k+ / year go through Rich Hot Empire and all who have done this work have gone to a level of income as well as alignment and FLOW which they couldn't previously even imagine!
6-week personalised intensive high level mastermind
Weekly group training and support; multi-media training: visual + audio
'Done for You' Templates and Step-by-Step Worksheets
Personalised 1:1 coaching included, plus DAILY unlimited 1:1 access
My personal hand on your business success
Weekly group coaching call and hotseat with my other private clients
24/7 mastermind forum, networking and support
Very limited spaces
Results guaranteed
Not for everyone
STARTS THIS MONTH!
I'm so excited to do this work with a small group of badasses who are willing to SHOW UP FOR THEIR SOUL no matter what. To walk away from all that is not serving, not actually working, not FILLING you. And to all yourself to bring your truest desires to life. If that's you, or you've felt the call to work with me at this level, PM me now. Bonuses and fast action-taker investments apply to all successful applicants, but for the first 5 to say yes there is a very special $2000+ bonus specific around Soul Shifts & Money Makin', and which, in and of itself even before we begin RHE will have shit changing for you FAST.
Apply via PM only. I can't wait to speak with you!
PPS
HAVE YOU JOINED PURPOSE PASSION FLOW ACADEMY?
My 'Going Fully Quantum' training will break down ALL of what we've discussed today, and teach you the finer details and finesse of it, as well as exactly what needs to be true for you to APPLY it, not only into the practical actions you need to create THAT money flow and THOSE results, but also in terms of ALL the energetics of it, especially the 'being and non-being' around dropping in to superflow so you can be shown, create, receive, AND of course the being around not being one of those people who just can't seem to choose faith and are ruled by fear. We'll also talk about creating and integrating the exact wording, beliefs, emotions, energies YOU need for all of this to switch effortlessly for you, as you've always known it would.
In other words: EVERYTHING you need to know to go fully quantum, and double your income in 30 days or less, or whatever else you choose!
Where will you find this training?
Why, it's one of the very first training in 'Remembering Who You Always Were', which. is our June intensive for Purpose Passion Flow Academy, my SUPER low-cost monthly membership mastermind!
And this training?
Will change your freaking reality. Well – it will REMEMBER it.
It's all available to you gorgeous.
You know this already.,In the quantum it is DONE. And in Purpose Passion Flow Academy, and especially our June intensive 'Remembering Who You Always Were'? We gon' done do it.