News
What I'm Currently Doing To Get Lean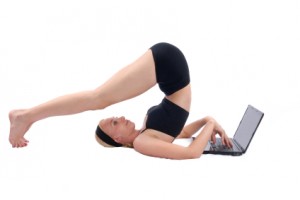 In case you haven't noticed, I write about a lot of different approaches to nutrition and fat loss. Make that a LOT. You'd be forgiven for occasionally wanting to bury your head in the and (or your laptop/iPad/iPhone) and wishing all the how-tos and should-dos would just go back to wherever they came from.
That being said, I do honestly make an effort to layer my advice in such a way that much of what I suggest reinforces a previous message possibly forgotten, or adds new information. Occasionally new information conflicts old – for example, there was a time when I suggested we should all get off caffeine, and now I don't agree with that. The rules on cardio is something else I've changed over the past few years.
So what I'm saying is that while I can't guarantee never to contradict myself as my education continually progresses, (although I'll always admit it, and explain why), I can promise complete transparency when it comes to my beliefs and my personal as well as professional experience.
The truth is that even though I've maintained a lean body for 5+ years now (pregnancy was a longer-than-I-liked blip), I've constantly changed what I'm doing. My beliefs and recommendations are always based on real facts and science which I learn from people I respect, as well as from a host of research-based sources. I don't really write about the scienc-y stuff because I don't enjoy doing so, but trust me; it's there. Oh – and some of my changing beliefs are just based on logic as I see it!
So basically these changes are always based in reason, and they can sometimes be for the better, sometimes for the worse, and often not better or worse but just more effective. I assume that you want me to share this stuff with you, even if it gets a little confusing from time to time?!
Recently I had an email suggesting I should hold back free content on my blog in order to then be able to reveal the 'missing links' or extra content at my paid events or (I guess) in 1:1s. Well obviously if you see me for a 1:1 I'll be speaking directly to you as an individual, in a way I can't do on the blog, but the idea of deliberately holding back my knowledge and experience here, just so my paid events can offer something noticeably magical and new? It doesn't sit well with me. When you come to one of my events you'll learn a LOT that I've spoken about previously, but you'll learn it in a structured manner that inspires you to take massive action. And sure, one or two new tidbits will always sneak in, because I'm always learning.
I'd be interested to know what your thoughts are on this.
But in the meantime, in the interests of full disclosure, here is a little about what I'm doing now to get (even) leaner. I have a particular focus in that I'll be in Rhode Island in 2 weeks for another Biosignature update, and I always like to show up to class feeling proud of my physical fitness!
Eating protein within 30 minutes of waking
Meeting my protein goal daily (my bodyweight in pounds x 1.2 is what I'm working with as I'm trying to gain lean muscle. For fat burning I'd suggest similar)
Lifting very VERY heavy weights with slow (and even super-slow tempos)
Minimal cardio. 1-2 max 20 minutes sprint sessions; separately to weights
Protein shake and post-workout supplements before I even leave the gym
Lots of BCAAs in and around training
No snacking after dinner. If I'm hungry; some more protein!
Peppermint tea at night (most nights ;)) instead of wine
A treat MEAL that is gluten-free once per week
Focusing on the positive things I am doing for my body rather than all the coulds and shoulds!
How about you – what are you doing at the moment to meet your health goals? Comment below!
Don't forget –
Life is Now. Press Play.
Kat x

PS
Rich Hot Empire is open for January intake gorgeous! Oh my GOD, I am excited!
This is my most transformative 1:1 work EVER … changing the business, lives, and money flow of revolutionary leaders like you since 2016!
20 places.
6 weeks.
1:1 with me.
ALL in to grow your perfect cult tribe
Create and launch your NEXT level low-high end empire
and set up multiple recurring income streams to take you too to multiple 7-figures and beyond, doing what I love!
6-week personalised intensive high level mastermind
Weekly group training and support; multi-media training: visual + audio
'Done for You' Templates and Step-by-Step Worksheets
Personalised 1:1 coaching included, plus DAILY unlimited 1:1 access
My personal hand on your business success
Weekly group coaching call and hotseat with my other private clients
24/7 mastermind forum, networking and support
Very limited spaces
Results guaranteed
Not for everyone 😉
We gonna get more moving and RECEIVED for you in 6 weeks than what you have in the past 1 or 2 years, and that is FACTS. Don't be scared; you know you want it!
How to know if this is for you, working with me at this level, and going ALL in to kick the ass of 2020 before it's even started??
Your soul already told ya 😉
Rich Hot Empire:
Work With Me for 6-Weeks Personally to Grow Your Perfect Cult Tribe, Create and Launch Your Low-High End EMPIRE, and Set Up Multiple Recurring Income Streams to Take You to Multiple 7-Figures and Beyond, Doing What You Love!
20 places (first few sign ups nab extra cool bonuses, don't wait to message me!)
Starts late January.
Application open now via PM.
Not for the faint-hearted.
100-fucking-percent for those who were born for more –
and are ready to get in and do the damn work to create it.
It's time