Purpose
YOU DON'T NEED TO FEEL IT TO STEP OVER THE LINE …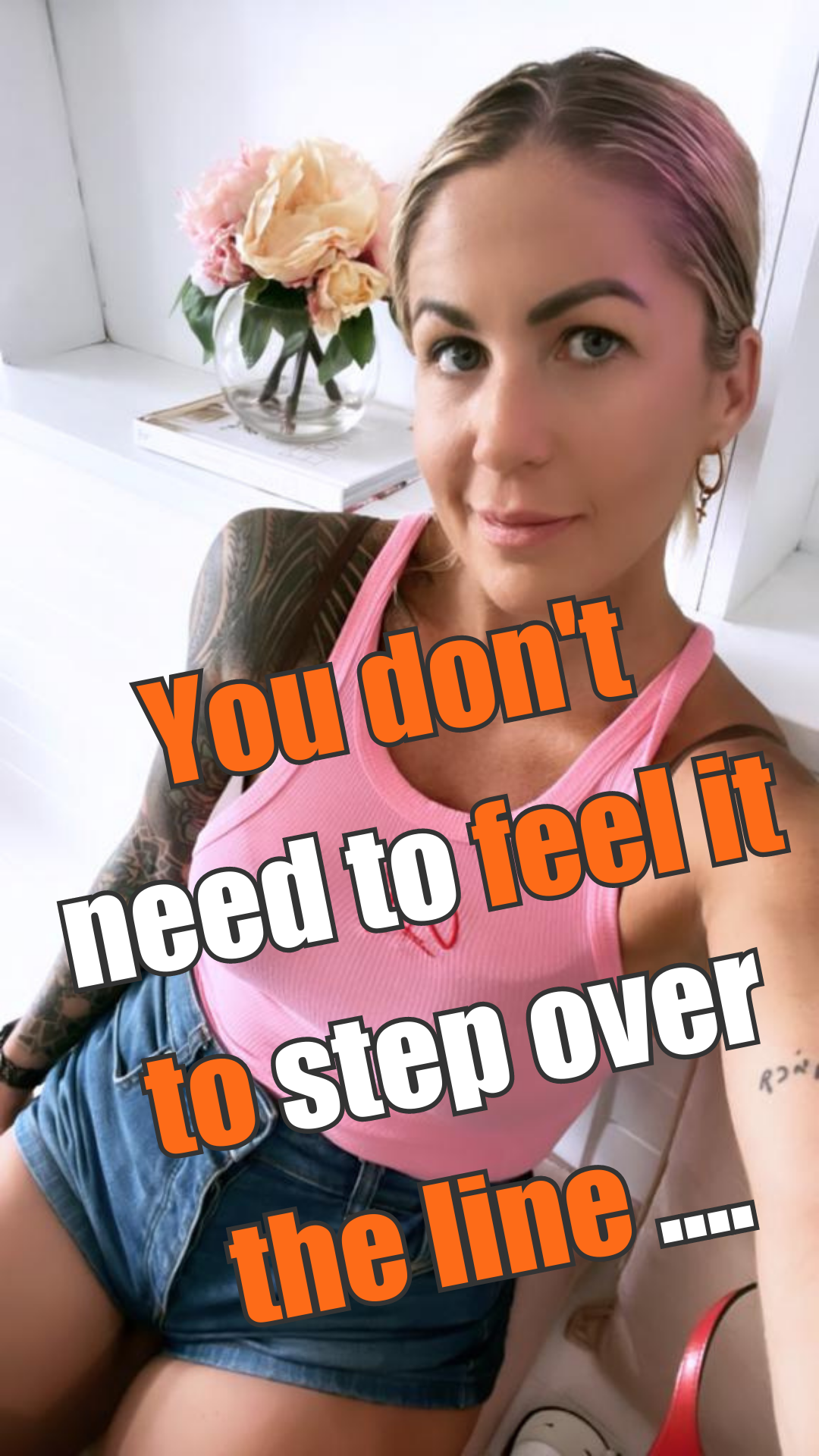 You don't need to feel certain, ready, able, or in any state of fully or necessarily even partially revealed discernment in order to step over the line and CHOOSE.
Or, choose and then step over the line, as the case may be 😉
It is a myth, a lie, and of seriously detrimental consequence to your business, your money, your BEING, and indeed every part of life, for you to think that in order to GO –
You do not need to know ANY sort of thing except –
is this what I'm being shown?
is this where I am being led?
is this where I am DRAWN, PULLED, or being firmly kicked up the behind about in my SPIRIT?
"Oh, but I don't really know if that IS what I'm being shown …!"
"Oh, but I'm probably just making it up!"
"Oh, but I've NO IDEA WHY I WOULD EVEN CHOOSE THAT, IT MAKES NO SENSE!"
"Oh, but it's SCARY or CONFRONTING or too VULNERABLE or I JUST DON'T KNOW IF I'M PREPARED TO DO THAT!?"
And the funniest one of all, if you think about it –
"Oh,
but I just don't know how I'm going to be able to do that right?"
Do what right?! Choose? Or MAINTAIN AND LIVE IN THE CHOICE?
Um …
sister.
Girlfriend.
WARRIOR QUEEN AND LEADER YOU.
>>> YOU ARE NOT THE ONE WHO NEEDS TO KNOW HOW TO MAINTAIN OR LIVE OR MOVE FORWARD WITH ANY OF IT! <<<
– Nor does it need to make sense
– Nor does it need to be something your emotions mind or will have any sort of handle on, OR agreement with
– Nor does it actually need ANYTHING, because a nudge a pull a call a yearn a GO in your spirit?
Is not conditional on a single.
teensy.
thing.
Except?
YOU
JUST
SAID
YES
So …
where is it time to let go today?
to throw your hands up and say NO today?
"NO. I will no longer wait to press play on the life I am HERE for, and the supernatural activation flow truth wisdom discernment and EMPOWERMENT available to me, because I am living in a LIE that I need to know ANYTHING".
And then?
YOU JUST DID.
Now remember –
Life is Now. Press Play.
Kat
PS.
GORGEOUS ONE. WARRIOR WOMAN. LEADER. REVOLUTIONARY. CALLED ONE. YES, YOU.
WARRIOR LEADER begins May 1st. Our PRE-WORK begins this week! (It is personalised to you!)
And?
The initial price has been extended / is still on!
Here is what this comes down to though. Because it's not really whether or not you join in the initial price intake.
This is 6 weeks in which you will be SHARPENED THROUGH FIRE TO BE WHO HE SENT YOU TO BE.
Yes this pertains to business.
It pertains to life.
It pertains to YOU.
This is work unlike anything I've ever led or created before.
And unlike anything you've ever encountered.
It is 100% God revealed. God led. And God ENTRUSTED.
It is,
quite simply,
WHAT IT IS TIME FOR
FOR WHO IT IS TIME FOR
AND NOW
Details
+ your place
+ visions God shared with me for you
www.thekatrinaruthshow.com/warriorleader
WARRIOR LEADER:
For the Woman With a Burning Desire for MORE, Who Is Ready to See Fire Raining From the Heavens in Every FACET of Her Life as She Says Fully Yes to Who God Designed Her to Be.
FOR YOU.