Success Mindset
The Real Reason People Buy From You – And The Thing You Actually Want To Sell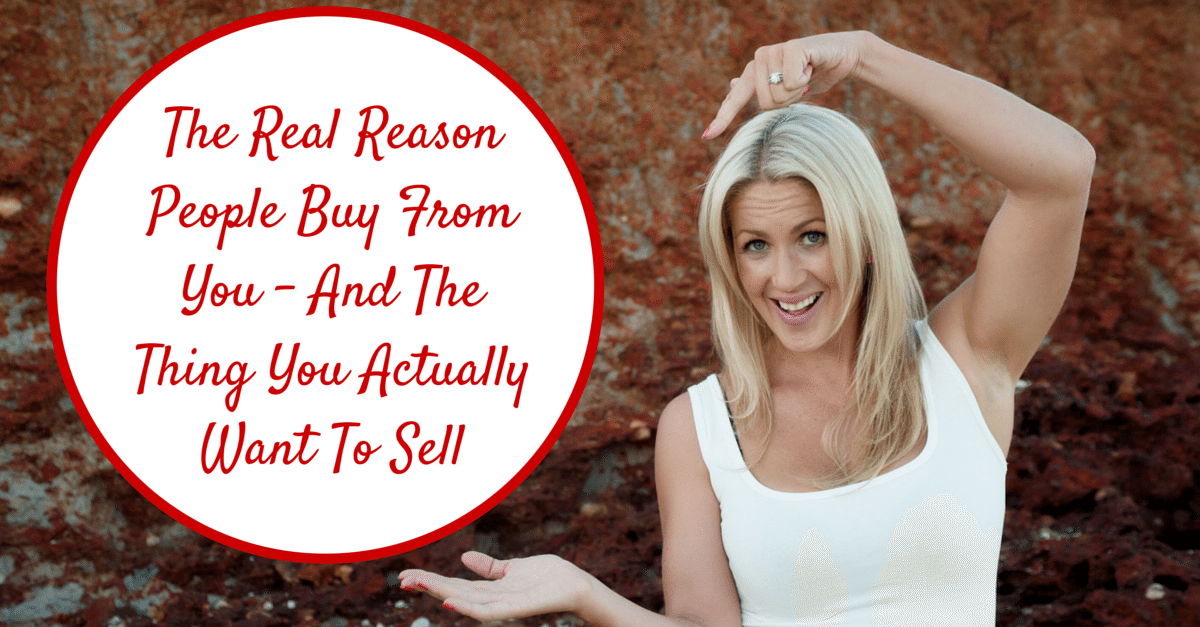 I found myself thinking this week, after I finished running my Bali retreat for my inner circle clients, about what it is I really do and also why running this 'event' just felt so EASY and fun.
And I realised that the real thing I give people, is self-belief.
If you take away all of the strategy and how to and what to do and what if, my real message is a message about believing in yourself, that you CAN create the business and life you want now, and I couple that with a hefty dose of butt-kicking motivation to actually DO it now.
In other words my message? Life is now and it's time to press play and you CAN.
When you strip it all away, that exact message is what my clients are actually buying from me. They may come to me for strategy or how to or what to do, but it's not what they're actually seeking, it's generally not the REAL reason they invest in the first place and it's DEFINITELY not the reason they stick around.
What are your clients really buying from you?
And what do you actually WANT to be selling?
Base your message on truth, and not only will you become THE celebrity authority in your field and renowned for the work you do, but it'll be the simplest, easiest and most fulfilling thing you ever do.
And you get to do it every day.
Business is pretty damn awesome when it flows from alignment, and life? Well it just gets sweeter.
Don't forget –
Life is Now. Press Play.
Kat x

PS
Rich Hot Empire is open for January intake gorgeous! Oh my GOD, I am excited!
This is my most transformative 1:1 work EVER … changing the business, lives, and money flow of revolutionary leaders like you since 2016!
20 places.
6 weeks.
1:1 with me.
ALL in to grow your perfect cult tribe
Create and launch your NEXT level low-high end empire
and set up multiple recurring income streams to take you too to multiple 7-figures and beyond, doing what I love!
6-week personalised intensive high level mastermind
Weekly group training and support; multi-media training: visual + audio
'Done for You' Templates and Step-by-Step Worksheets
Personalised 1:1 coaching included, plus DAILY unlimited 1:1 access
My personal hand on your business success
Weekly group coaching call and hotseat with my other private clients
24/7 mastermind forum, networking and support
Very limited spaces
Results guaranteed
Not for everyone 😉
We gonna get more moving and RECEIVED for you in 6 weeks than what you have in the past 1 or 2 years, and that is FACTS. Don't be scared; you know you want it!
How to know if this is for you, working with me at this level, and going ALL in to kick the ass of 2020 before it's even started??
Your soul already told ya 😉
Rich Hot Empire:
Work With Me for 6-Weeks Personally to Grow Your Perfect Cult Tribe, Create and Launch Your Low-High End EMPIRE, and Set Up Multiple Recurring Income Streams to Take You to Multiple 7-Figures and Beyond, Doing What You Love!
20 places (first few sign ups nab extra cool bonuses, don't wait to message me!)
Starts late January.
Application open now via PM.
Not for the faint-hearted.
100-fucking-percent for those who were born for more –
and are ready to get in and do the damn work to create it.
It's time