News
My Book Reviewed! Plus Last Chance To Purchase At Discount Price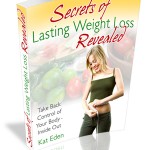 If you've been thinking of checking out my new book but haven't had the chance, you've just a few days left to grab it at the early adopter price of US$27. As of this Saturday, June 5th, at 5pm Melbourne time, Secrets of Lasting Weight Loss Revealed will increase to the standard price of US$37.
If you're not really sure what it's all about or if it's for you click here to read my summary of the book, or check out this copy of blogger Ali Hale's review.
Ali says –
"This isn't the sort of ebook I'd normally pick up. I've read a few dieting books in my time, and I'm used to faddy methods, fluff and celebrity names splashed all over the place. In the online world, anything promising Secrets of Lasting Weight Loss Revealed instantly sets my scam-alarm off.
But Kat Eden is a friend, and a health, fitness and diet writer who I've known for a while. She's been a personal trainer for the past decade, and really knows her stuff. When she sent me this ebook, I was blown away by how much she's packed in – there's several hours solid reading here, and lots to think about. There are also no fad diets, weird supplements or celeb-endorsed products in sight.
Overview
Secrets of Lasting Weight Loss Revealed is a 246 page ebook by Kat Eden. It has plenty of advice on nutrition, but also covers lifestyle topics like stress, sleep, habits and motivation.
The Price
$37 normally – but check the sales page for a $10 discount code (only for a limited time)
What's included
This is a seriously in-depth ebook, with:
A health questionnaire which you can fill out to get a good picture of your current health and pinpoint the key areas to work on
Eight key chapters:
Food and Diet: Lots of information on carbs, protein, fats, sugar, and water, and the role which they all play in your weight loss (or weight gain).
Stress and Energy: Explaining types of stress and how they affect your weight.
Sleep: The best hours to sleep, why sleep is so important to successfully losing weight.
Digestion, Stomach Upsets and Bloating: Factors affecting your digestion, lots of tips.
Motivation and Self Belief: Goals, vision and getting your head in the right place for weight loss.
Patterns of Behaviour: Tackling good and bad eating habits.
Lifestyle and Other Factors: Covering everything from period pain to television to meditation.
Plus:
A food diary template which you can print and fill in each day
A list of resources
Good stuff
There's a huge amount of value in this ebook, but I'll bring out a couple of points in particular:
Incredibly in-depth
This ebook took Kat a couple of years to write. Having read it, I can see why! It's the longest ebook I've ever bought, and it covers a wide range of topics in detail. I was expecting the book to mostly be tips about what to eat – but Kat (rightly) goes into all the other aspects which make or break a weight loss journey, like lifestyle, habits and motivation.
You can really feel Kat's expertise and experience while reading: she brings up examples from her coaching clients where relevant, and cites clinical studies. She's not afraid to question the "common knowledge" which we often think we have.
Conversational tone
I have to admit, a 246 page ebook looks a bit daunting. Kat has a very conversational, chatty writing style, though, and takes the time to explain the more scientific or technical aspects in everyday language. This is an easy and engaging read – there's a lot to make you think and to challenge you, but the text itself is no barrier whatsoever!
Bad stuff
This may not be a bad point for you…!
Assumes Health/Diet/Body as a Priority
I'm simply not in a stage where I'm looking for lasting weight loss. I am trying to lose a few pounds at the moment, but I'm already at a healthy weight and broadly happy with my figure.
If you're going to get the most out of this ebook, you need to be making your fitness and diet a real priority. Now, I'm definitely keen to stay healthy. I'm all in favour of sensible eating and exercise. But getting the perfect body is pretty far down my list of goals.
In fairness, Kat can hardly be blamed for this!
I'm just not her target audience.
Verdict
For $37, Secrets of Lasting Weight Loss Revealed (purchase button at page bottom) is an impressive ebook with a ton of content to make you think – and to get you taking action. At the moment, Kat's offering a $10 discount code (check the sales page for details), and she's also offering a 60-day refund – plenty of time to try out her tips and see whether you get results.
Ali blogs over at Aliventures on getting more out of life, and is also regularly making appearances around the blogosphere. She's recently launched a new blog with Thursday Bram – Constructively Productive is all about productivity and perspective, and challenges the status quo in both areas.
Click here to purchase Secrets of Lasting Weight Loss Revealed. The purchase button is at the bottom of the page.
PS
Expansion.
10 Days of Live Soul Transmissions, to Help You Find and Follow the Messages Within
Day 1) Trust
Day 2) Certainty
Day 3) Self-Belief
Day 4) Empire Creation
Day 5) Your Deepest Message
Day 6) Following Soul Guidance in All Areas
Day 7) Faith vs Fear
Day 8) Accessing Flow, and Superflow
Day 9) Expanding Time
Day 10) Expanding Money
Every day will be a LIVE soul led transmission.
This will take place on Facebook video, held at a variety of times in order to account for varying time zones, and scheduled only once we have begun. Our daily soul transmissions will be guided from MY higher self and directed from and for YOURS, to help you find and FOLLOW the messages within. The messages of your spirit, your consciousness, of the who you've always been and yet have managed quite well to cover up a lot of the time.
This is about stripping away –
And getting back to the CORE.
We'll dive day by day into the above mentioned areas –
And you'll receive all content and bonuses to keep for life.
There will be daily spirit prompts which you'll receive after each training.
And plenty of time opportunity connect with me throughout, receive transmissions direct to YOUR questions, and absorb more even than what comes through on the trainings, via the energy we'll create in this collective!
It's very rare for me to know in advance exactly what is coming through day to day.
I certainly don't have the details of each day's content. But I know that these areas have been on my heart to talk about, in particular around belief, around certainty, around living from FAITH.
We know that exactly what is meant to come through for you WILL, and then some. And that if you intend and allow for it to, it will change, most likely before we even begin, due to your energetic commitment, the direction of your LIFE!
Meaning: direct it back to absolute soul alignment.
*** NEVER Seen Before Bonus! ***
As part of this, I've been guided to offer a NEVER before seen bonus … one I feel super vulnerable about sharing!
It's the exact journaling I did to allow the download of THIS offer through. How I allowed the idea to bubble up. You'll see my doubt, uncertainty, annoyance. You'll see what I discarded. How I went through the layers. And how I KNEW, this was the one.
I'll ALSO add in copies (screenshots) of my conversation with my COO Ash, where I was talking through the idea and allowing it to come to life.
I want to show you the exact Idea to Launch process!
This bonus alone is EASILY worth the cost of this program, particularly when you hear the mindset side of it, in terms of STAYING THE COURSE and refusing to back away from my self until the idea showed up!
I refuse not to create!!
AND, when you register for EXPANSION today (and how could you not?!) you'll also receive early access to the Pre-Work. This is ALSO never seen before, and brand new just for you – and it's a guided meditation on remembrance, to help you connect back to deepest self and the most certain truth of your destiny, before we even begin.
Perfect priming, for when we expand RAPIDLY into all that is coming through in this work!
Of course I could now go on and on here, about what I could or should have charged for this, and what it's actually going to be …
Or about all my accomplishments on line and off, with money, with purpose, with passion, with flow …
I think you know all this anyway. Even if you just me! Your soul feels what matters. And that's ALL that matters.
But I will say this:
You've always known it's supposed to be about ALL that is inside of you. That it's meant to COME from a place of purpose, passion, and SUPER super flow. And that if you just.freaking.trusted, and showed up FULLY from that place, you'd be living in a different reality already.
THE ONE INSIDE OF YOU.
If that's true for you right now, then LET'S GO CREATE THAT REALITY.
Right now
Press play for regular, (super fuck yes!!) upfront or payment plan
OR
Press play like a VIP, and receive the full course, plus 10 days direct photos or screenshots of my ACTUAL personal journaling, so you can see how I create and expand my life, PLUS a VIP only follow-on live Hotseat, where you'll receive a personal transmission just for you, if you'd like one! Payment plan also available.
>>> https://thekatrinaruthshow.com/expansion
We start Monday 17 December, US time!