News
My Book Reviewed! Plus Last Chance To Purchase At Discount Price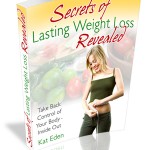 If you've been thinking of checking out my new book but haven't had the chance, you've just a few days left to grab it at the early adopter price of US$27. As of this Saturday, June 5th, at 5pm Melbourne time, Secrets of Lasting Weight Loss Revealed will increase to the standard price of US$37.
If you're not really sure what it's all about or if it's for you click here to read my summary of the book, or check out this copy of blogger Ali Hale's review.
Ali says –
"This isn't the sort of ebook I'd normally pick up. I've read a few dieting books in my time, and I'm used to faddy methods, fluff and celebrity names splashed all over the place. In the online world, anything promising Secrets of Lasting Weight Loss Revealed instantly sets my scam-alarm off.
But Kat Eden is a friend, and a health, fitness and diet writer who I've known for a while. She's been a personal trainer for the past decade, and really knows her stuff. When she sent me this ebook, I was blown away by how much she's packed in – there's several hours solid reading here, and lots to think about. There are also no fad diets, weird supplements or celeb-endorsed products in sight.
Overview
Secrets of Lasting Weight Loss Revealed is a 246 page ebook by Kat Eden. It has plenty of advice on nutrition, but also covers lifestyle topics like stress, sleep, habits and motivation.
The Price
$37 normally – but check the sales page for a $10 discount code (only for a limited time)
What's included
This is a seriously in-depth ebook, with:
A health questionnaire which you can fill out to get a good picture of your current health and pinpoint the key areas to work on
Eight key chapters:
Food and Diet: Lots of information on carbs, protein, fats, sugar, and water, and the role which they all play in your weight loss (or weight gain).
Stress and Energy: Explaining types of stress and how they affect your weight.
Sleep: The best hours to sleep, why sleep is so important to successfully losing weight.
Digestion, Stomach Upsets and Bloating: Factors affecting your digestion, lots of tips.
Motivation and Self Belief: Goals, vision and getting your head in the right place for weight loss.
Patterns of Behaviour: Tackling good and bad eating habits.
Lifestyle and Other Factors: Covering everything from period pain to television to meditation.
Plus:
A food diary template which you can print and fill in each day
A list of resources
Good stuff
There's a huge amount of value in this ebook, but I'll bring out a couple of points in particular:
Incredibly in-depth
This ebook took Kat a couple of years to write. Having read it, I can see why! It's the longest ebook I've ever bought, and it covers a wide range of topics in detail. I was expecting the book to mostly be tips about what to eat – but Kat (rightly) goes into all the other aspects which make or break a weight loss journey, like lifestyle, habits and motivation.
You can really feel Kat's expertise and experience while reading: she brings up examples from her coaching clients where relevant, and cites clinical studies. She's not afraid to question the "common knowledge" which we often think we have.
Conversational tone
I have to admit, a 246 page ebook looks a bit daunting. Kat has a very conversational, chatty writing style, though, and takes the time to explain the more scientific or technical aspects in everyday language. This is an easy and engaging read – there's a lot to make you think and to challenge you, but the text itself is no barrier whatsoever!
Bad stuff
This may not be a bad point for you…!
Assumes Health/Diet/Body as a Priority
I'm simply not in a stage where I'm looking for lasting weight loss. I am trying to lose a few pounds at the moment, but I'm already at a healthy weight and broadly happy with my figure.
If you're going to get the most out of this ebook, you need to be making your fitness and diet a real priority. Now, I'm definitely keen to stay healthy. I'm all in favour of sensible eating and exercise. But getting the perfect body is pretty far down my list of goals.
In fairness, Kat can hardly be blamed for this!
I'm just not her target audience.
Verdict
For $37, Secrets of Lasting Weight Loss Revealed (purchase button at page bottom) is an impressive ebook with a ton of content to make you think – and to get you taking action. At the moment, Kat's offering a $10 discount code (check the sales page for details), and she's also offering a 60-day refund – plenty of time to try out her tips and see whether you get results.
Ali blogs over at Aliventures on getting more out of life, and is also regularly making appearances around the blogosphere. She's recently launched a new blog with Thursday Bram – Constructively Productive is all about productivity and perspective, and challenges the status quo in both areas.
Click here to purchase Secrets of Lasting Weight Loss Revealed. The purchase button is at the bottom of the page.
PS
I'm calling in my next intake of driven badass LEADER women who want to work with me 1:1 to FOLLOW SOUL and achieve ALIGNED AF fame, income growth, more.
Yeahhhhhh … this is about unapologetically claiming your place as one who is MEANT to be seen and heard by everyone!!
Next Level Empire baby!
Multi 7-Figure Empire Expansion For Unapologetically Badass & Driven Women Who Are Ready to Be Seen By the WHOLE Damn World
6 weeks.
1:1
You and me
This is for the women who already have a message, an audience, and are making money online and who are now ready to put some damn WHEELS on the thing.
We will be going deeper into message clarity
We WILL be nailing down what you're selling, and how you're selling it, for maximum conversion and flow
We WILL be getting you fully connected to the badass leader within who KNOWS she is meant to run the damn thing
But these things are just the warm-up, because let's face it –
You already message
You already show up
You already sell
You're already ROCKING what you're doing right now
So what you're here for, and what I'm here for with you?
Is to blow the damn thing up.
MAXIMUM reach.
RAPID growth of audience
MASS visibility
MEDIA TAKEOVER
NEXT level leadership status, and being the one who is KNOWN as the Queen
And sales EXPLOSION
I'm taking what I'm doing in my business to CONTINUALLY claim my place at the top, and to take my message to the masses whilst also RAPIDLY growing following and income,
And showing it all to you
Exactly how we do it
What precisely is in place
What we had to have in place for it to work
What we do day to day to elevate fame, income, purpose, ALL of it
And then I'm going to work with you personally to roll it out
Next Level Empire baby:
For the women who were born for more,
And who are done with circling repeatedly around the same damn pond and kidding themselves they're gonna find it there.
Ready, and know it's time? It just might be 😉
PM me now for the full overview. x