Podcasts
Podcast Episode 8: Start Your Revolution
There's a revolution out there! What are you doing in here?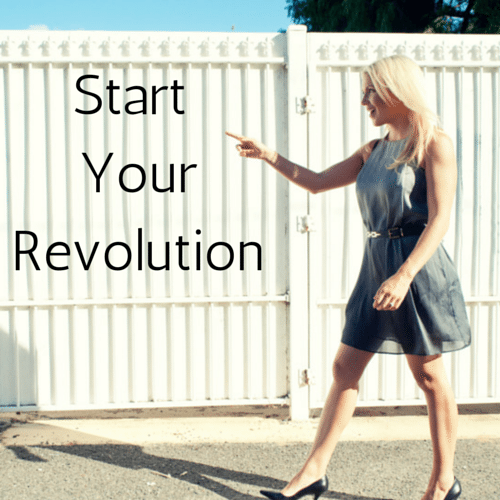 You know you were born for something big. You are here to make a difference in the world. What is holding you back?  In this episode, Kat brings a dose of reality to get you out in front of your fears so you can get out there and live the life you were made for.
You are a leader. Own it! Own who you are as a game changer. Own who you are as someone born to make a difference. Are you going to settle for having a website, making a few bucks, and impacting a few people? Is that the life you dream of? You have an awesome message inside you and you are here to bring that message to the world in a big way. It's time to get it out there!
Right. What about needing a system, a strategy, the right program. How will you launch it and how do get leads – then convert them to paying customers? Kat recognizes these valid questions and answers them this way. If you are going to succeed in a big way, be known, and make a big difference, you have to look far beyond the strategy. This comes down to focus. Focus on who you need to be, the leader, the game changer, the you, you need to be – not on what you need to know. The what-to-do will take care of itself.
Starting a business will not change the world. Building a business is not what you're here for. You are here to change the world in a big way and that means starting a revolution. You dream big and achieve more than anyone else but still it's not enough for you. Call it contented discontent, but it's an ambition that will not quit because you know your mission is still unfulfilled.
Your revolution is seeing yourself on a platform impacting the lives of hundreds of thousands – maybe millions of people. It's more than making money, more than wanting to help people, more than sharing what you've learned in your life. It's something you can't escape from because it's part of your very soul.
The world needs leaders who are not afraid to lead. The world needs leaders like you who are not afraid to face uncertainty, fear, confrontation and who are willing to do the work that most people won't even contemplate.  We need leaders to create a difference and make the money that will impact and transform the lives of others. If you do that, Leader, you will get your message out there in a big way.
Leaders of today and leaders of the past all did something outrageous, something bold and something courageous. They failed time after time, but they persisted until they succeeded. They were mocked for standing up for something they believed in and laid themselves on the line for. Leaders are willing to live or die for their dream. Die for my dream or the difference I want to create? Really?
Enough is enough! Think about it. You're already dying right now for whatever you're giving your life for and investing your time and energy into. So why not invest in something that counts? Is it fear of putting yourself out there? Most of the fear is full of unnecessary what ifs and concerns. What if you fail? What about it? Accept it. Falling down is part of the way. You are going to fail and that's a legitimate fear, but do not let that stop you from living your dreams.
You need to take action on the things that count. If you believe you have the power to create your own reality, then you know the choices you make now produce the future outcome.  In fact the life you have right now is the life you've created by your choices. Why not make choices now that will result in becoming the person you want to be and have the life you were born to have? It's really up to you now.
But you delay. Why is that? It's not time yet. You need to learn more. You haven't got the steps figured out. True – but there will always be more to learn, more to do. Learning never stops, you are never ready. You are never done. The life you want will never magically come together.
Your wake-up call! Are you called to impact a lot of people? It is your responsibility to live it. It's selfish to withhold your gifts from the world. To be content, you need to live your life impacting the people you were meant to impact. The need to be who you were meant to be will gnaw at you until you do what you were intended to do.
Get crystal clear on what you want.  You can trust in yourself. You do make good decisions. You know what's right for you. This is it. You can act intuitively and you can change the world. Take this leap of faith! If it's going to happen it is up to you.
Here's your challenge! Wake up leader, it's time to Press Play.
Outline of this inspirational episode
Get your inside message outside
What is a revolution?
What are you dying for?
Enough is enough
It's up to you
Take the challenge
Now remember –
Life is Now. Press Play.
Kat
PS.
GORGEOUS ONE. WARRIOR WOMAN. LEADER. REVOLUTIONARY. CALLED ONE. YES, YOU.
WARRIOR LEADER begins May 1st. Our PRE-WORK begins this week! (It is personalised to you!)
And?
The initial price has been extended / is still on!
Here is what this comes down to though. Because it's not really whether or not you join in the initial price intake.
This is 6 weeks in which you will be SHARPENED THROUGH FIRE TO BE WHO HE SENT YOU TO BE.
Yes this pertains to business.
It pertains to life.
It pertains to YOU.
This is work unlike anything I've ever led or created before.
And unlike anything you've ever encountered.
It is 100% God revealed. God led. And God ENTRUSTED.
It is,
quite simply,
WHAT IT IS TIME FOR
FOR WHO IT IS TIME FOR
AND NOW
Details
+ your place
+ visions God shared with me for you
www.thekatrinaruthshow.com/warriorleader
WARRIOR LEADER:
For the Woman With a Burning Desire for MORE, Who Is Ready to See Fire Raining From the Heavens in Every FACET of Her Life as She Says Fully Yes to Who God Designed Her to Be.
FOR YOU.