Podcasts
Podcast Episode 8: Start Your Revolution
There's a revolution out there! What are you doing in here?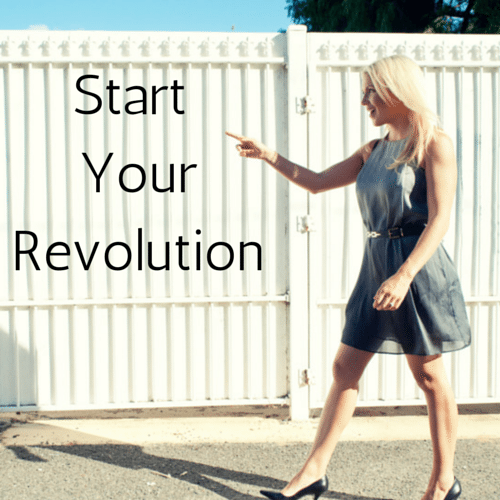 You know you were born for something big. You are here to make a difference in the world. What is holding you back?  In this episode, Kat brings a dose of reality to get you out in front of your fears so you can get out there and live the life you were made for.
You are a leader. Own it! Own who you are as a game changer. Own who you are as someone born to make a difference. Are you going to settle for having a website, making a few bucks, and impacting a few people? Is that the life you dream of? You have an awesome message inside you and you are here to bring that message to the world in a big way. It's time to get it out there!
Right. What about needing a system, a strategy, the right program. How will you launch it and how do get leads – then convert them to paying customers? Kat recognizes these valid questions and answers them this way. If you are going to succeed in a big way, be known, and make a big difference, you have to look far beyond the strategy. This comes down to focus. Focus on who you need to be, the leader, the game changer, the you, you need to be – not on what you need to know. The what-to-do will take care of itself.
Starting a business will not change the world. Building a business is not what you're here for. You are here to change the world in a big way and that means starting a revolution. You dream big and achieve more than anyone else but still it's not enough for you. Call it contented discontent, but it's an ambition that will not quit because you know your mission is still unfulfilled.
Your revolution is seeing yourself on a platform impacting the lives of hundreds of thousands – maybe millions of people. It's more than making money, more than wanting to help people, more than sharing what you've learned in your life. It's something you can't escape from because it's part of your very soul.
The world needs leaders who are not afraid to lead. The world needs leaders like you who are not afraid to face uncertainty, fear, confrontation and who are willing to do the work that most people won't even contemplate.  We need leaders to create a difference and make the money that will impact and transform the lives of others. If you do that, Leader, you will get your message out there in a big way.
Leaders of today and leaders of the past all did something outrageous, something bold and something courageous. They failed time after time, but they persisted until they succeeded. They were mocked for standing up for something they believed in and laid themselves on the line for. Leaders are willing to live or die for their dream. Die for my dream or the difference I want to create? Really?
Enough is enough! Think about it. You're already dying right now for whatever you're giving your life for and investing your time and energy into. So why not invest in something that counts? Is it fear of putting yourself out there? Most of the fear is full of unnecessary what ifs and concerns. What if you fail? What about it? Accept it. Falling down is part of the way. You are going to fail and that's a legitimate fear, but do not let that stop you from living your dreams.
You need to take action on the things that count. If you believe you have the power to create your own reality, then you know the choices you make now produce the future outcome.  In fact the life you have right now is the life you've created by your choices. Why not make choices now that will result in becoming the person you want to be and have the life you were born to have? It's really up to you now.
But you delay. Why is that? It's not time yet. You need to learn more. You haven't got the steps figured out. True – but there will always be more to learn, more to do. Learning never stops, you are never ready. You are never done. The life you want will never magically come together.
Your wake-up call! Are you called to impact a lot of people? It is your responsibility to live it. It's selfish to withhold your gifts from the world. To be content, you need to live your life impacting the people you were meant to impact. The need to be who you were meant to be will gnaw at you until you do what you were intended to do.
Get crystal clear on what you want.  You can trust in yourself. You do make good decisions. You know what's right for you. This is it. You can act intuitively and you can change the world. Take this leap of faith! If it's going to happen it is up to you.
Here's your challenge! Wake up leader, it's time to Press Play.
Outline of this inspirational episode
Get your inside message outside
What is a revolution?
What are you dying for?
Enough is enough
It's up to you
Take the challenge
Don't forget –
Life is Now. Press Play.
Kat x

PS
1:1 INTAKE IS OFFICIALLY OPEN!

🔥
Next Level Empire is officially open for late November intake! 💜
I'm calling in my next intake of driven badass LEADER women who want to work with me 1:1 to FOLLOW SOUL and achieve ALIGNED AF fame, income growth, more.
Yeahhhhhh … this is about unapologetically claiming your place as one who is MEANT to be seen and heard by everyone!!
Next Level Empire baby!
Multi 7-Figure Empire Expansion For Unapologetically Badass & Driven Women Who Are Ready to Be Seen By the WHOLE Damn World
6 weeks.
1:1
You and me
This is for the women who already have a message, an audience, and are making money online and who are now ready to put some damn WHEELS on the thing.
We will be going deeper into message clarity
We WILL be nailing down what you're selling, and how you're selling it, for maximum conversion and flow
We WILL be getting you fully connected to the badass leader within who KNOWS she is meant to run the damn thing
But these things are just the warm-up, because let's face it –
You already message
You already show up
You already sell
You're already ROCKING what you're doing right now
So what you're here for, and what I'm here for with you?
Is to blow the damn thing up.
MAXIMUM reach.
RAPID growth of audience
MASS visibility
MEDIA TAKEOVER
NEXT level leadership status, and being the one who is KNOWN as the Queen
And sales EXPLOSION
I'm taking what I'm doing in my business to CONTINUALLY claim my place at the top, and to take my message to the masses whilst also RAPIDLY growing following and income,
And showing it all to you
Exactly how we do it
What precisely is in place
What we had to have in place for it to work
What we do day to day to elevate fame, income, purpose, ALL of it
And then I'm going to work with you personally to roll it out
Next Level Empire baby:
For the women who were born for more,
And who are done with circling repeatedly around the same damn pond and kidding themselves they're gonna find it there.
Ready, and know it's time? It just might be 

😉

💜
PM me now

for the full overview, and to know if it's for you. x