News
Why You Should Forget Calorie Counting And Portion Control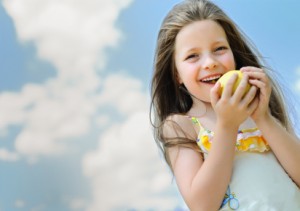 Read time: 3-4 minutes
Allow me to introduce Aussie journalist and blogger Sarah Wilson for today's guest post. Sarah blogs over at here about how to make life bigger, more meaningful, nicer, smarter, heartier. Her blog is one of my personal favourites.
Now here's a thought: what if all those folk who take photos of their every meal and post them on their blog/Twitter/Facebook were actually onto something? I'm sure you've seen them about. I was at lunch recently and watched a table of six whip out their iPhones as their food arrived, repositioning the Maldon salt pot artfully and angling the lighting all Petrina Tinsley-like. In a flurry of thumbs they then tweeted the images on to their cyber followers replete, no doubt, with foodie-ese captions ("River Café-inspired mascarpone-stuffed chook with intriguing heirloom tomato smear"; "Well, if those toffee shards don't take me straight back to 1992!").
I've previously found such faddish behaviour bewildering. But this week I discerned a point to it all. Fastidiously honouring your food in this way is mindfulness in action. Pausing to reflect on what's about to go down your gullet, appreciating the brininess of the bisque or the appropriateness of the enoki garnish, can create a respectful awareness. And is evidence of a new way of eating that's – hallelujah! – blowing diets off the menu.
Forget Portion Control and Calorie Counting
After all the misery of portion control, and the grim failure of calorie counting, there's mindfulness. Mindfulness is the Buddhist practice of being aware, moment-to-moment. It's sitting with yourself, instead of reaching for an external stimulus or fix. Mindful eating, then, is eating this Tupperware container of leftover beetroot risotto and being wholly conscious of doing so. It's being aware of every texture ("I am now biting into a slippery beet chunk") and every flavour burst ("Hello, salty goats cheese topping!"), while not typing this column at the same time. When you're mindful, you don't overeat, you take care to eat good food prepared with care and you're satiated – emotionally and otherwise. You don't have to try, you just be mindful.
Bizarrely, a recovering anorexic got me onto mindful eating. Back when I hosted a small show called MasterChef, one of the Top 50 contestants, Sarah, told me about a Eating Disorders Victoria program that taught her to eat with 100 per cent awareness. Over time it helped her appreciate food again. The reason most of the Western world has disordered eating and more than one billion people are obese is we've lost the ability to listen to our bodies. From a young age we defer to external cues – eating at set hours, eating set amounts. Then we're bombarded with competing messages for several decades. Before finally trying to remedy things handing our appetites over to the Jenny's and the Aitkins to control.
Mindful eating does the opposite. It brings control home to us.
Me, I can be a shockingly mindless eater. Mostly I eat well. But I'm also an emotional over-eater. When I get anxious I shove food down my gob as a way of squashing and silencing the fluttery self-doubt in my gut. I also love food. I cry, sometimes, when I eat something really good. That's how much I love food. So I get rather threatened by the idea of having to change my ways.
But on Thursday I got bold and tried out EDV's program. This involved a number of gentle rituals that bring me into my body. Before eating, I take five deep breaths and acknowledge what I'm about to eat. I say it out loud, like old-school grace. I then look at the food. Name it. Note the colour, the texture. In my mouth, I note whether it's salty or sweet. I chew slowly. I put down my fork between mouthfuls.
Mindful eating is on the up and up. Experts are emerging with fresh tricks and techniques. One advises learning from young kids, who are naturally mindful: when you think you've had enough, push your plate away (that is, take it to the sink; this creates "closure"). Another suggests lighting a candle and using lovely crockery as a way to access awareness. My favourite Buddhist teacher Thich Nhat Hanh publishes his book Savor early next year. He advises eating in silence for the first half of the meal, then talking only about food after that.
To be frank, this week I found this mindful eating caper bloody annoying. Mostly because I'm not good at it. But the EDV counselor I spoke to put it nicely: "You can't do mindfulness well or not well."
Indeed, that's the beauty of mindfulness. Once you're aware of it, it kind of infiltrates. And soon enough you're saying grace and sending photos of your oxtail risotto to your fans.
C'mon – fess up? Do you photo your food, 'plate up' every time you cook, and love to admire food as art? Or do you prefer to just scarf it down and move straight to dessert?!
A note from Kat
Until the end of October, whilst I'm living it up on my holiday, I'll be introducing a series of posts from fellow Personal Trainers, BioSignature coaches, and wellness gurus. These are some of the most inspiring and useful people I know both on and offline, and I trust you'll enjoy what they have to say. I'll still be dropping by once a week with my own post and will be in touch via comments and email, so don't be shy! For more inspiration and thought-food by Sarah visit www.sarahwilson.com.au

Don't forget –
Life is Now. Press Play.
Kat x
PS
Did you see?!
Fuck Being a Good Girl: Introducing LEADER!
LEADER.
IS.
HERE.
Whoop!! 💃💃💃
ARE YOU READY!?
Ready to drop the bullshit –
Quit trying to climb the damn mountain, hand over fist, one painful and endless move at a time –
And claim your rightful place, now?
It's time to stop questioning.
It's time to stop 'one daying'.
And it's DEFINITELY time to stop asking HOW.
Thereisnohowfuckthehowfuckitgoodfuckitrightintheass.
(Doesn't sound like something I would say 
)
The way you're going to get there is the same way you were ALWAYS going to get there is the only way that ANYBODY ever gets there is by claiming.your place.now.
Planting your damn flag on top of the mountain and saying what is UP, bitches, what's been happening, here I now am and so the show can BEGIN!
Introducing LEADER! 

🙌

🙌
Fuck Being a Good Girl, Fuck Following the Rules, Fuck Working Your Way There Hand Over Fist. You Were Born to Run the Damn Show and Baby? It's Time.
10 Days.
10 Modules.
10 gajillionty uplevels, in fact, nah, scratch that – ONE freakin' uplevel, in which we take you straight to where you were ALWAYS MEANT TO BE.
It's time to quit fucking around here, and claim your rightful place.
Here's the 10 Modules I will be BURNING INTO YOUR PRETTY LITTLE LEADER SOUL during our time together!
(A Module a day keeps the peasant energy away)
✨

Module 1: Leader Energy
Owning it, being it, living it, no excuses, just dropping in to NOW being the unquestionable next level leader who EVERYBODY looks to and who runs the damn thing. I don't have to tell ya –
We could pretty much just do this module and you'd be done.
✨

 Module 2: Multi-Millionaire Leader BELIEFS
Wealthy people have certain beliefs which broke ass peeps do not. It is what it is and that's all it is. Guess what? PURPOSE driven wealthy peeps are another level altogether.
Change your beliefs >
Change your life.
It's THAT freaking simple.
✨

 Module 3: Leader Sales Hustle and Monetization
Leaders sell how leaders sell and they monetize with NO shame, ALL soul, and all RESULTS.
This is a mindset AND it's about gettin' real with what works.
So that's what we're gonna do!
✨

 Module 4: Leader Content Creation
Look, nobody needs or gives a fuck about any more lame ass low-vibe please look at me teaching and preaching.
The Internet IS full. Boring does NOT sell. Too many folks are out there just trying to re-churn what everybody else is doing.
BUT THERE IS ALWAYS SPACE FOR THE NEXT MAGNETIC AF LEADER TO TAKE CHARGE.
I'll show you how to pull that out of you. And explode it to the world.
✨

 Module 5: Leader Social Media OWNING
Let's get you big.
Engaged.
Listened to.
EVERY WORD HUNG OFF.
And consistently fucking paid.
Social media is a VERY easy tool to make work for you and nope I'm not talking about analytics or algorithms. I'm talking about being everywhere, all the time, in a way they can't ignore, and also with minimum effort for maximum result.
✨

 Module 6: Leader Squad
Leaders don't do shit that leaders don't do or leaders ain't leaders. We are gonna sort out your support system and streamline your LIFE. With or without 'team'. I started with this with NO staff or team, NO money, and yet I still knew how to keep my energy and time to what mattered and let other people pick up my slack.
Leaders are supported and lifted up, PERIOD. Let's get this happening for you.
✨

 Module 7: Leader Daily Disciplines, Practices, Routines, Must Dos and Absolutely-Fucking-Will-Not-Dos!
THIS IS MY FAVOURITE.
Also probably the real thing (energy aside!) that gets you paid big.
✨

 Module 8: Leader ABUNDANCE Creation
ALL the calling-in-of-money shiz-niz you need to know about and EVERY damn thing I have done over the years to dial it up from broke to abundant and rich-from-soul AF.
✨

Module 9: Leader Lit-Up-Ed-Ness and Joie de Vivre
People ain't gonna be interested if you're not interesting girlfriend.
We are going to recapture your fucking FIRE, and I'll show you exactly how.
✨

 Module 10: Leader MAGNETISM
Being the most 'they can't look away' person out there, where no matter what you do or how random it is PEOPLE HAVE TO HAVE IT 'CAUSE IT'S YOU.
Yep, that is an INTENSIVE learning schedule but we did already agree it's time to quit fucking around. Besides which, this is not about learning. This is about remembering, remembering, remembering, and motherfucking BEING –
All that you were always meant to damn well be.
BELLS AND 6-INCH STILETTOS OR WHATEVER THE FUCK IT IS YOU WANT TO PUT ON, ONNNNNN.
Literally every possible thing you possibly need to know to NOW run the damn thing is what we're covering here.
Modules will be delivered directly into the group each day and include LIVE as well as listen / watch / learn at home content. A lot of content! But only exactly what you need!
And baby?
It is going to kick your butt GOOD.
Listen –
I know you have this burning inside of you which is NOT going to go away.
You know and have always known that you are different, not just from the other PEOPLE, but from the other entrepreneurs.
The thing is gorgeous –
At some point you're going to need to say yes to that.
Let me show you how.
Join LEADER today!
And watch your life blow straight the fuck up to where it's always meant to have been.
Oh and there's THIS!!
——>> Top 20 Action Takers ONLY Bonus! 

🔥

🔥

🔥
Be in the first 20 to say yes to LEADER, and I am gifting you a $997 home-study course of mine!! I know!
Superwoman Unchained: The Revolution!
A 5-Week online program for creators, artists, leaders and revolutionaries who were born to change the world.
* Believe you're capable of more than you ever imagined.
* No more asking "will I or won't I" because as soon as you have an idea that you know you need to act on, it'll be game fucking on!
This incredible course is STILL spoken about amongst those who initially took it live with me, and it is the PERFECT rev you up accompaniment to LEADER.
Not to mention it's a $997 gift!!
But this is for the Top 20 ONLY, so get in now!
It's time baby!
LEADER 

🙌

🙌

🙌
A brand new live course with self-made multi-millionaire Katrina Ruth!
Fuck Being a Good Girl, Fuck Following the Rules, Fuck Working Your Way There Hand Over Fist. You Were Born to Run the Damn Show and Baby? It's Time.
10 Days.
10 Modules.
10 gajillionty uplevels, in fact, nah, scratch that – ONE freakin' uplevel, in which we take you straight to where you were ALWAYS MEANT TO BE.