News
7 Days To A Flat Stomach; Part 2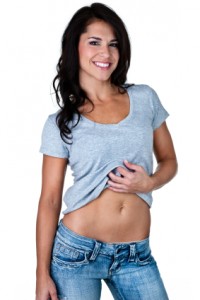 Today's post is Part 2 of last week's guest post by T.J. of Result Based Training Australia (RBT). If you've been following my Woman Incredible blog and Facebook page then you'll know that RBT is not only Melbourne's premier fitness company and where I am even personally trained, but is also the home of my new office and the venue for all of my events, including my Woman Incredible Transformation Day!
Okay, guys, so as you will remember last week we covered days 1-4 of what it REALLY takes to get that flat stomach we all dream about. Here's a recap:
Day 1: Metabolism busting circuits

Day 2: Understanding your hormones
Day 3: Supplements for fat loss

Day 4: Could you have Syndrome X?
This week we will be covering nutrition imbalance, secret spices for fat loss, meal timings, and anaerobic cardio for optimal fat MELTING! Let's get stuck into it.
flat stomach day 5: the adverse effects of nutrition imbalance
Bad nutrition can affect you both mentally and physically. A bad diet could lead to serious complications starting with bad cholesterol and plaques in the arteries leading to heart diseases, kidney malfunctioning, stomach ulcers, osteoporosis, high blood pressure, obesity, diabetes and even cancer. Poor nutrition combined with a inactive life is what really makes these health issues prevalent in people.
The very real dangers are mostly a result fast food, processed food and acidosis (excess acid in the body's fluids).
Whether you eat less or more would be inconsequential if you eat fast food full of carbohydrates, saturated fats, sugar and cholesterol in levels way above what is recommended. Processed foods bring about a lot of diseases because of the preservatives, chemicals and additives that they contain and they also contain more processed sugar causing diabetes and a large amount of trans and saturated fat, which in excess can cause obesity. You need to concentrate on fresh food, vegetables rather than fruits and the intake of processed food.
The Truth About Fruit And Fructose
The carbohydrates that we eat are made up of chains of glucose, when glucose enters our bodies; insulin is released to regulate the glucose in bloodstream. Most fruits contain fructose, which is a sugar that is processed in our liver, when we eat too much fructose – including too much fruit – the liver fails to process the excess sugars.
The excess sugars then get converted into triglycerides in the bloodstream which is a big no-no for our hearts and our waistlines!
Above and beyond all of that, appetite-regulating hormones aren't initiated because fructose bypasses the body signal systems AND insulin resistance is facilitated. Insulin spikes or hyper insulinemia, which leads to weight gain, is also caused when there are very high levels of blood glucose in the body
It is also to be remembered that those who don't have an active life or don't exercise are more vulnerable to the high fructose intake.
flat stomach day 6: spices in your food and food timings
Eating the same bland food day in and day out is one of the things that let most people down.  If you are just eating the same boring meals over and over you are going to go crazy and start to eat your way through Big Macs, ice-cream and junk food….and we can't have that.
By adding some spices to the meal plan ranging from chilli, curry powder, cajun and tumeric (which is my personal favourite), you won't only make the food taste better but these spices (tumeric especially) helps with those nasty insulin levels too.
Be wary of the spices with high sugar quantities and try to get the spice in a more natural state rather than the liquid goop they now sell. Spices such as chillies have also been scientifically proven to raise the metabolism and boost the fat burning process.
Skipping Meals
Skipping meals means you are far more likely to experience low blood sugar symptoms and the inevitable carbohydrate cravings that go with it, and we all know by now what these carbohydrates will do to us.
Even if you are not at all concerned with building muscle, protein should be of primary importance and I have found that eating some protein (the amount is hugely dependent upon your activity levels, specific goals, and current muscle mass) every 2-3 hours makes an enormous difference to losing body FAT as opposed to just body-weight.
flat stomach day 7: anaerobic cardio
Here is one of my favourite studies of all time which I always give to those people who try and argue with me about how they must be doing long bouts of cardio to drop fat. Read below and simply see the scientific facts behind short Tabata style interval work and fat loss.
This Japanese study compares a High Intensity Tabata Group to a 70% of VO2 max moderate intensity group. The moderate intensity group did increase their VO2 max by about 10% without a concurrent improvement in anaerobic capacity. The high intensity group improved their VO2 max by 14% and their anaerobic capacity by 28%.
The high intensity group actually improved both anaerobic and aerobic capacity at the same time. The most alarming of factors is that the moderate intensity group had to train for 5 hours a week for 6 weeks to get their results where as the high intensity group experienced better results over the same 6 week period by working for only 20 minutes a week. Five sessions a week for just 4 minutes at a time that has to make you think about how much time you're wasting on the treadmill?
So there you have it folks; 7 days to a flat belly! Here's your recap, just to make sure you don't have any excuses about forgetting the first 4 days:
Day 1: Metabolism busting circuits

Day 2: Understanding your hormones
Day 3: Supplements for fat loss

Day 4: Could you have Syndrome X?
Day 5: The adverse effects of nutrition imbalance
Day 6: Spices for fat loss, and meal timings
Day 7: Anaerobic cardio
Remember –
Life is Now. Press Play.
Kat

Don't forget –
Life is Now. Press Play.
Kat x
PS
Programmed to Upgrade is happening gorgeous, and WHOOOOO MAMA is this the work that works.
25 days, you and me, 1:1, to quantum leap like you've NEVER leapt before.
This will be intense …
And a lil bit scary. But buckle up, because you KNOW you're ready for it.
SO fucking ready 😉
Programmed to UPGRADE!
25 Days, 1:1, with Katrina Ruth, to SCREW the Rules, SCREW the Norm, Go So Damn Extra, So Freaking Hot, So Fully SEEN, and Snap Your Future Into the Now So Damn Fast It'd Make Your Head Spin … even as you nod in certainty that of COURSE, this is what was ALWAYS supposed to be ..
Places are already filling, and we begin next week. If you know it's time to say yes to MAGIC, and creating your reality from the supernatural, and you're SO ready to drop the paradigm of always having to DO (and yet still not be there!) then message me now.
I'll get you the full overview, and talk personally with you about whether or not it's for you.
To the supernatural baby, and beyond …
PPS
I HAVE SOME BIG NEWS TO SHARE!
As of today, I'm opening up the doors to my Inner Circle, my private client mastermind.
This is THE most badass high level mastermind in the world for women who want it all – and are prepared to do what it takes to get it! Really what we're talking about is being prepared to be the PERSON.
And that's what I do. I help you remember ALL that you were, and then become it. ALL Of it.
This is my highest level private mentoring circle. The exact place where I have personally mentored dozens of this industry's most elite female entrepreneurs to break income barriers ranging from 10k months to multiple 7 FIGURE months, and everything in between. But more importantly than that – to become who and what they always were.
But know that this is not only (obviously) not just for the masses, this is also not just for someone who can afford to invest in a high level private coach. Being willing to throw money down is something which has absolutely zero correlation to being somebody who has what it takes to TRULY go next level as a leader.
If anything, in this industry, investing in a high level coach such as myself, is a rite of passage which veers just a little too much on the side of 'trend'. It's become something which 'everybody does', almost as a way of proving they play business and life a certain way.
Maybe even of trying to prove it to themselves.
Here is the reality which those who I am truly here to personally mentor and lead KNOW, the reality which my clients and all women like me as well as of course me personally have ALWAYS known:
We are VERY VERY DIFFERENT.
We are simply, smarter, faster, and have more presence. We can do more in our minds before breakfast than what most people can do in a freakin' WEEK, a month, a year.
We are not basic ass coaches trying to heave ho our way up a few extra thou a month.
We are the ones who have ALWAYS known we are 1% within the 1% within the 1% in terms of how we think, create, operate, how and WHAT we are tapped in too.
This is not arrogance, this is fact.
And there has NEVER been any question but that we will go all the way.
My clients are high level badasses who do the work, who have a proven track record BEFORE coming to me, and a BEING-ness which unquestionably separates them from the rest. They don't come to me to save them or lean down and hold my hand out so they can clamber up. They come because they are, quite simply, ready to go to the next level, already absolutely on their WAY there, and see in me something which they recognise because it is in them.
That 'can't stop won't stop' fire, and a level of 'unapologeticness' which, when truly understood and applied, can literally be the difference between 5-figure or low 6-figure and 7 or multi-7-figure entrepreneur.
So if you know who you are and it is THAT –
And you feel certain that you are ALREADY well on your way to to precisely where you're meant to be, but that being in MY energy could help you to drop in and get there even faster, and that with a couple of simple tweaks your current revenue could be doubling, tripling, heck QUADRUPLING and beyond in months, as it has done with numerous of my clients previously, well then –
PM me here http://m.me/katrinaruthofficial and we'll see if it's a fit. I'm excited to talk to you, and maybe – do biz and life with you.