News
Are You Letting Your Experiences Dictate Your Beliefs?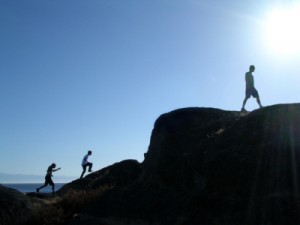 I nearly threw the towel in on a big writing project last week. It's something I've been slaving over for close to a year, and although the bulk of it is done, I was just about ready to give up. Press delete. Forget that I had a reason – I'll go so far as to say I had a dream – for starting the darn thing in the first place.
It wasn't as though I was going to give up over nothing. I'm not that much of a quitter. But it really was the final straw. You see, when it comes to writing and publishing online, the content side of things is really just the beginning. It's not enough to know you've got great material, you've got to understand online marketing. SEO. Social media. Adwords. How to generate links. And, what's worse, you've not only got to understand all that technological hoo-ha, you need to know how to apply it.
And I'd had enough. 6 hours trying to make an 'order here' button appear on my site was what did it. It. Just. Wasn't. Working. And I don't just mean the order now button, I mean the whole thing. It seemed every week I was faced with another internet drama, or the concept of some vital element of online publishing that I hadn't realized.
Maybe it would be better if I stopped stressing myself about it. After all, if it was meant to be, it would have happened by now, right? I mean, I'd like to think I'm a smart girl – so maybe I need to be smart enough to know when enough is enough?
Do you ever feel the same way when it comes to reaching for your goals? Wonder if it's ever going to happen? Ever look back on long-past or painfully recent failures and tell yourself it's obviously not meant to be?
Thomas Eddison failed in his quest to perfect electrical light over 1,000 times before he met with success. He actually went mad, lost his eyesight, and had his wife leave him in the process. But he met his goal. Now that's commitment.
And you know what? It's easy to imagine that when the streets of New York first lit up at night he wasn't even thinking about the failures. His eventual success had made it all worthwhile.
You know some people say that failure is just an opportunity, and I think that's a great one. But recently I heard something even more compelling, and that was this –
Don't let your past experiences dictate your beliefs.
Have you ever been guilty of doing this? I know I have. It's painfully easy to make up your mind that you've got no chance. That you're just not destined to look a certain way, perform a certain way, achieve a certain thing, or even attain the car/house/holiday of your dreams.
That you have bad genes, or your work is too demanding, or you've got too many other people to worry about before yourself, or that you just don't have enough energy.
It's normal to encounter these sort of thoughts from time to time. It's fine to have days when you feel completely hopeless. I mean, how would you ever enjoy the 'up' days if there were no contrast?
But if negativity and self-defeat has become a matter of course in your mind, you need to stop and look around.

The reality is that there are people out there who've built themselves up from nothing by sheer determination. Look at Anthony Robbins.
There are athletes out there who've battled against every unforeseeable odd and never given in; even come out a true winner. Look at Lance Armstrong. Look at any para-athlete.
There are those who've been ridiculed as fat or ugly by there peers and gone on to transform themselves into the proverbial swan. Pick up any copy of Men's or Women's Health and check out the latest 12-week challenge winner.
And you know what?
None of these type of people met success immediately. By contrast, they seem to have tale after tale of failed attempt behind them. Where they stand out, where their determination shines through, where they make themselves winners, is that they never ever ever give up. The do not let their past experiences dictate their beliefs about what they can and will still achieve.
If anything it drives them forward.
You might wonder what makes a person think like this? You might think that you're mind or body just doesn't work this way. But the truth is that there's no magic answer.
You have the choice. Your future truly is in your hands. You can decide right now whether to give up on something that's important to you, or you can decide that you will find a way. That failure is unacceptable. That there is nothing that can hinder you and that unforeseen circumstance will only fuel you forward.
What do you want to do?
How do you want to live?
Your success is waiting for you.
And remember –
Life is Now. Press Play.
Kat
PS – I'm back on track with my project, although I've now been smart enough to start outsourcing some of the nastier and tougher tasks. Btw, if this post spoke to you but you truly don't know if you can motivate yourself day after day, then use this as a starting point only. Come back and read it again if it helps. Or do what I did – immerse yourself in self-development books and maybe even a mentoring program. This stuff really does work. Here's to you!
Don't forget to leave a comment on this post by clicking on 'leave a comment' just below. If you're reading from RSS or email you'll have to enter the blog to do this. You can do that by clicking on the title of this piece. 'Leave a comment' is at the article end, right under the 'share this' and 'other articles you may enjoy' option.
If you haven't yet subscribed to this feed, what are you waiting for? Do it now. You can choose either email or RSS by clicking here. If you enjoyed this article please forward to your friends. Thank-you!
PS
Expansion.
10 Days of Live Soul Transmissions, to Help You Find and Follow the Messages Within
Day 1) Trust
Day 2) Certainty
Day 3) Self-Belief
Day 4) Empire Creation
Day 5) Your Deepest Message
Day 6) Following Soul Guidance in All Areas
Day 7) Faith vs Fear
Day 8) Accessing Flow, and Superflow
Day 9) Expanding Time
Day 10) Expanding Money
Every day will be a LIVE soul led transmission.
This will take place on Facebook video, held at a variety of times in order to account for varying time zones, and scheduled only once we have begun. Our daily soul transmissions will be guided from MY higher self and directed from and for YOURS, to help you find and FOLLOW the messages within. The messages of your spirit, your consciousness, of the who you've always been and yet have managed quite well to cover up a lot of the time.
This is about stripping away –
And getting back to the CORE.
We'll dive day by day into the above mentioned areas –
And you'll receive all content and bonuses to keep for life.
There will be daily spirit prompts which you'll receive after each training.
And plenty of time opportunity connect with me throughout, receive transmissions direct to YOUR questions, and absorb more even than what comes through on the trainings, via the energy we'll create in this collective!
It's very rare for me to know in advance exactly what is coming through day to day.
I certainly don't have the details of each day's content. But I know that these areas have been on my heart to talk about, in particular around belief, around certainty, around living from FAITH.
We know that exactly what is meant to come through for you WILL, and then some. And that if you intend and allow for it to, it will change, most likely before we even begin, due to your energetic commitment, the direction of your LIFE!
Meaning: direct it back to absolute soul alignment.
*** NEVER Seen Before Bonus! ***
As part of this, I've been guided to offer a NEVER before seen bonus … one I feel super vulnerable about sharing!
It's the exact journaling I did to allow the download of THIS offer through. How I allowed the idea to bubble up. You'll see my doubt, uncertainty, annoyance. You'll see what I discarded. How I went through the layers. And how I KNEW, this was the one.
I'll ALSO add in copies (screenshots) of my conversation with my COO Ash, where I was talking through the idea and allowing it to come to life.
I want to show you the exact Idea to Launch process!
This bonus alone is EASILY worth the cost of this program, particularly when you hear the mindset side of it, in terms of STAYING THE COURSE and refusing to back away from my self until the idea showed up!
I refuse not to create!!
AND, when you register for EXPANSION today (and how could you not?!) you'll also receive early access to the Pre-Work. This is ALSO never seen before, and brand new just for you – and it's a guided meditation on remembrance, to help you connect back to deepest self and the most certain truth of your destiny, before we even begin.
Perfect priming, for when we expand RAPIDLY into all that is coming through in this work!
Of course I could now go on and on here, about what I could or should have charged for this, and what it's actually going to be …
Or about all my accomplishments on line and off, with money, with purpose, with passion, with flow …
I think you know all this anyway. Even if you just me! Your soul feels what matters. And that's ALL that matters.
But I will say this:
You've always known it's supposed to be about ALL that is inside of you. That it's meant to COME from a place of purpose, passion, and SUPER super flow. And that if you just.freaking.trusted, and showed up FULLY from that place, you'd be living in a different reality already.
THE ONE INSIDE OF YOU.
If that's true for you right now, then LET'S GO CREATE THAT REALITY.
Right now
Press play for regular, (super fuck yes!!) upfront or payment plan
OR
Press play like a VIP, and receive the full course, plus 10 days direct photos or screenshots of my ACTUAL personal journaling, so you can see how I create and expand my life, PLUS a VIP only follow-on live Hotseat, where you'll receive a personal transmission just for you, if you'd like one! Payment plan also available.
>>> https://thekatrinaruthshow.com/expansion
We start Monday 17 December, US time!