News
Do You Have Lazy Butt Syndrome? How To Lift Those Gluts Quick-Smart
I don't do a whole lot of blogging on corrective exercise. As much as I love correct training and functional exercise, most of what I write is nutrition, lifestyle and mind-set based – these areas are my passion.
But occasionally there's an exercise related topic which I simply MUST write about, because it's just that important.
And today what I want to talk about, what I'd love to get a grip on, is your booty. Metaphorically speaking, of course.
Did you know –
The gluteus maximus (that's your main butt muscle) is the largest muscle in your body?
It is used in both standing and walking but is most important as a powerful mover of your hip when you are straightening up from a bent-over position or from sitting down?
Your butt is considered by many experts to be one of the most important parts of your core?
Even if you regularly perform lower-body exercise (such as squats and lunges) you may not be working your butt?
How To Tighten, Tone And Perk Up Your Biggest Asset
Your butt, by nature, is a lazy animal. No, I haven't been spying on you, and I'm not referring to that night last week when you sat on the couch for hours watching rubbish and eating worse. The truth is that your gluts love to work and they love being perky, but they need a little coaxing. But unless you are lucky enough to be genetically perfect or have never engaged in sit-down work, incorrect exercise technique, poor eating habits, or the occasional case of the i-can't-be-bothered's, well then it's more than likely that you've got a case of lazy-ass on your hands.
Your bum should be the driver of many of your most important movements, not an unwelcome passenger on your Body Incredible journey. Here's how to get that butt of yours not only working at 100% plus, but looking tip-top from the top-down and the bottom-up:
Squeeze it. Sounds simple, almost stupid, but unless you actively 'engage' (squeeze) your booty than you haven't really got much of a chance. Whenever you climb up stairs, run, bend and lift, squat, lunge, heck whenever you get out of your chair, squeeze your butt! The simplest solutions are often the most effective. I like to tell my clients to imagine they've a hundred dollar bill between their butt-cheeks. You drop it, you lose it!
Complete your squats and lunges. I've watched thousands of people workout, and there's one common theme. Most people are lazy. Don't be one of them. Whenever you perform a lower body exercise, complete the movement. This means that you need to come to a full standing position between each rep. As you stand up from your squat or lunge, be sure to push your hip forward and – you guessed it – squeeze your butt.
Be specific. If you have a lazy butt then you might need to be a little strict with it. While squats and lunges are two of the best booty-toning exercises, you may need to do a little groundwork in order to get your gluts 'firing'. What do I mean by this? If your butt (or any muscle) has become lazy then it needs to be re-trained. Here is one of the best corrective movements to re-activate your gluts (this exercise also works your core, your back, and your arms!)
Step One: I'm holding a lightly weighted cable in my right hand.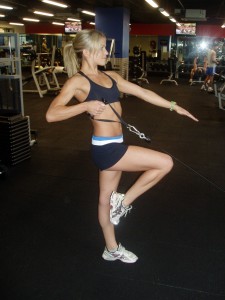 Step Two: As I pull the weight back my same side leg comes up.
To activate my left glute I lock out that leg, engage the thigh muscles, push my hip forward and squeeze my butt. Perform 2-3 groups of 12 repetitions on each side. Be sure to maintain upright posture and keep your tummy muscles lightly pulled in. This movement can be done without weight, or with a very small dumbell. Believe me – you WILL feel this, and after several weeks of performing glute specific exercise you'll notice your butt working in other movements where previously you may have only felt your knees or leg muscles.
Massage and release work: muscles that are facilitated (overly tight, holding knots, toxins or other tension) cannot and will not work properly. If you suffer from tight or sore hips, a tight lower back or hamstrings, or just don't 'feel' your butt working, then you probably have a large percentage of unused butt muscle. A good sports masseuse, osteopath or myofascial specialist can release knots in your muscles and allow them to work to their full capacity again.
Sounds like a lot of attention all paid to one muscle, doesn't it? On the other hand, do you really want to let your butt become softer, saggier and less sexy with each passing year when a little attention of the right kind could have it not only supporting your hips, back and core effectively, but looking hot and perky?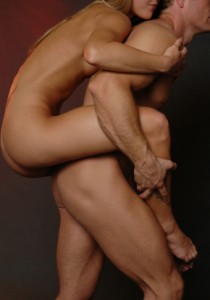 Duh, right. What are you waiting for – get squeezing!
Life is Now. Press Play.
Kat x
Life is Now. Press Play.
Kat x

PS
I want to help you to build a business you LOVE, and that meets your every want and desire, in a real and true way, whilst also resulting in you making a LOT of money, fast, and impacting a lot of people, also fast, in the way you know you were born for!
My most transformative 1:1 intensive EVER … shifting people into EPIC income and success since 2016 is back, for the first time in 2019! I'm so excited to bring this signature transformative work back!
Rich Hot Empire!
Work With Me for 6-Weeks Personally to Grow Your Perfect Cult Tribe, Create and Launch Your Low-High End EMPIRE, and Set Up Multiple Recurring Income Streams to Take You to Multiple 7-Figures and Beyond, Doing What You Love!
This round is even more special as I will be re-recording all original content, with you there live with me and alongside me AND you will also receive all original content; the exact trainings which has made this program my most successful ever, with clients repeatedly saying they achieved more in 6 weeks with me than they had in 2 YEARS beforehand! This work is for entrepreneurs at ANY starting point, as it's about who you are as a person not where you're at. I've had clients anywhere from total start-up, to already doing 500k+ / year go through Rich Hot Empire and all who have done this work have gone to a level of income as well as alignment and FLOW which they couldn't previously even imagine!
6-week personalised intensive high level mastermind
Weekly group training and support; multi-media training: visual + audio
'Done for You' Templates and Step-by-Step Worksheets
Personalised 1:1 coaching included, plus DAILY unlimited 1:1 access
My personal hand on your business success
Weekly group coaching call and hotseat with my other private clients
24/7 mastermind forum, networking and support
Very limited spaces
Results guaranteed
Not for everyone
STARTS THIS MONTH!
I'm so excited to do this work with a small group of badasses who are willing to SHOW UP FOR THEIR SOUL no matter what. To walk away from all that is not serving, not actually working, not FILLING you. And to all yourself to bring your truest desires to life. If that's you, or you've felt the call to work with me at this level, PM me now. Bonuses and fast action-taker investments apply to all successful applicants, but for the first 5 to say yes there is a very special $2000+ bonus specific around Soul Shifts & Money Makin', and which, in and of itself even before we begin RHE will have shit changing for you FAST.
Apply via PM only. I can't wait to speak with you!
PPS
HAVE YOU JOINED PURPOSE PASSION FLOW ACADEMY?
My 'Going Fully Quantum' training will break down ALL of what we've discussed today, and teach you the finer details and finesse of it, as well as exactly what needs to be true for you to APPLY it, not only into the practical actions you need to create THAT money flow and THOSE results, but also in terms of ALL the energetics of it, especially the 'being and non-being' around dropping in to superflow so you can be shown, create, receive, AND of course the being around not being one of those people who just can't seem to choose faith and are ruled by fear. We'll also talk about creating and integrating the exact wording, beliefs, emotions, energies YOU need for all of this to switch effortlessly for you, as you've always known it would.
In other words: EVERYTHING you need to know to go fully quantum, and double your income in 30 days or less, or whatever else you choose!
Where will you find this training?
Why, it's one of the very first training in 'Remembering Who You Always Were', which. is our June intensive for Purpose Passion Flow Academy, my SUPER low-cost monthly membership mastermind!
And this training?
Will change your freaking reality. Well – it will REMEMBER it.
It's all available to you gorgeous.
You know this already.,In the quantum it is DONE. And in Purpose Passion Flow Academy, and especially our June intensive 'Remembering Who You Always Were'? We gon' done do it.