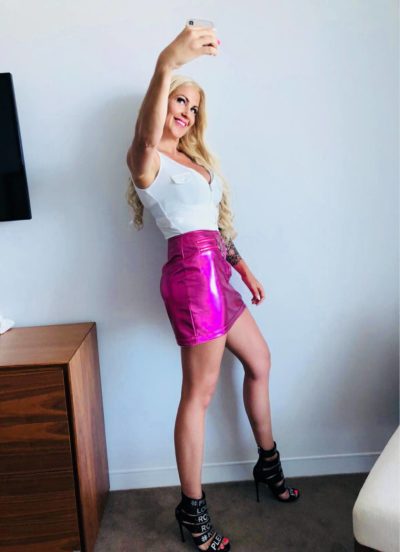 One of the greatest misconceptions about 'going hard', going all IN, doing the REAL work to achieve the standard of YES-ness which you know you get to have in business, fitness, life, is the idea that the harder you actually go AT it – or, let's say, the faster – the more you'll create killer results.
This kind of mindset believes that 'so long as I do the most intense or obviously outcome-generating bit of the work, I'm good.
This?
Is incorrect.
Example: you decide you want to produce a consistent daily piece of valuable messaging for your peeps. Could be a blog, a livestream, a story, a rant, whatever. All of it rolled into one, perhaps!
So, you figure that if you allow 30-40 minutes for this, you're could, you can just 'go at it' like a bat out of hell and you ticked that shit OFF, then you can get back to the hustle and bustle of your day.
'Nother example: you want to 'smash out' a great workout every day, and you figure you can squeeze that in in between this, and that, and the other thing, and that 30 minutes of HARDCORE intense training will get the job DONE.
So you rush in, throw some heavy shit around or jump around or hop around or bounce up and down, sweat sweat sweat, heart rate up up up, go, go, go, DONE!
On with your busy day.
Day in and day out you rush from this, to that, to the other thing, you're like a speed demon getting SO MUCH DONE!
But yet somehow –
Infuriatingly!
And you just can't really figure it out!
Day after day after week after week after month after month passes, and you really don't seem to be ROCKING biz | body | life the way you're meant to, or really feel you should be, after so much effort!
Can I tell you something?
I used to feel the same way. I have OFTEN felt that way. I am a GENIUS at doing a million things any given day, and I always have been.
There's been times where it's absolutely CRUSHED for me (which I'll explain the 'how' of in a moment).
And there's been times where it just, well, starts to feel as though I'm never actually fully IN something.
I'm just whirling and whirring and twirling and swinging from one activity to the next, always doing something, but never really getting anything DONE, certainly not to the point where I actually feel like I have the damn RESULTS I want, y'know?
I decided a while back, to stop living that way, and to MAKE SPACE FOR EASING INTO FLOW.
Now, before you get all excited about the idea of me talking out against the hustle (never!), or alternatively you start feeling worried because you don't have TIME for easing into SHIT, let me explain something to you:
I am absolutely still, and always will be, one of the fastest moving peeps out there.
I create content and LIFE at the speed of light.
I DO whirr and whirl and twirl and practically just time-hop, from one activity to the next.
Sometimes when I wake up I'm not sure if it's even a new day, my mind is INSTANTLY switched on, ding! And I just pick up where I left off. Sometimes I feel like I'm running so fast through my life I can barely breathe! ACTUALLY, that is one of my favourite states to be in – when it comes from flow, when it's CONNECTED, when I am present.
What I do NOT care for, is that feeling of FRENZIED and DISCONNECTED energy, the rush rush rushing that comes more from a place of not being good enough, never feeling you've done enough, living in constant fear of having to DO more in order to somehow BE enough.
There's a very big difference between doin' all the DO because you're THRIVING on it and it's SUPER-CHARGING you, and doing all the do 'cause you feel like you HAVE to or else, or else, or else – who knows? Bad things will ensue!
Not super good for the nervous system, your sleep, your stress, your digestion, either!
So let's talk about EASING INTO FLOW, why it matters SO much, and also how how HOW to have that be part of your life without needing endless amounts of time that you just don't HAVE, and without ending up as one of those slow and BORING as FUCK peeps. As if you could be anyway 
Firstly.
When you try and 'jump straight in' to the 'get shit done' bit, without having WHAT YOU NEED IN PLACE FIRST, it's virtually impossible to connect. There's an energy to YOU that says 'I have to hurry, I have to rush, or else!'.
Hormonally, there's a slew of reactions which follow on from this, basically putting you into some kind of anxiety or panic state which STOPS you from accessing soul.
I know you feel this 
So, on the surface of it it may appear that you're getting a lot done, but REALLY what's happening is you're just busy being busy, and never really coming from that deep place where the magic flows out of.
Your nervous system is in flight or fight, basically SCREAMING at you that you need to get moving to the next thing already or else you will DIE.
What do you need to have in place first then?
Freakin' CONNECTION, baby!
You know those times when you have ALL the time in the world – 
And you have NOWHERE to rush to or get to – 
And you're ALSO not putting silly pressure on yourself to go INSTANTLY from 0 to 100, but instead you're allowing yourself to slowly but surely drop into it, connect to it, connect to the pulse of what you're DOING, the rhythm of the movement or art, the beat of the day – 
And all of a sudden – 
Kind of from nowhere – !
You just drop – 
Slip –
Into flow
Superflow
NEXT level energy and soul guidance ON
You're flying, you're floating, you can't stop moving, you're on FIRE, and it's SO.DAMN.GOOD!
THOSE times, I don't have to tell you, do NOT FUCKING COME ABOUT FROM TRYING TO JAM EVERYTHING IN SO YOU CAN JUST GET TO THE NEXT THING!
THOSE times, I also want to remind you, are the times when the REAL life-changing magic occurs.
The content which CHANGES things comes out of you
The message which leaves people BREATHLESS pours forth
The workout which drops you back into YOU, FULLY, just flies and floats and IS, and you can't even BELIEVE how good it is!
It's like a slow slow build up to ABSOLUTE PERFECT FUCKING, rather than a quick fix against the wall.
Mind you –
Both certainly have their place! In all areas, this is true!
But if all you're EVER getting or making time for, in your love life, in your business, with your fitness, and by GOD, with your ART, is that quick fix / let me get it DONE nonsense –
Then it's no surprise at all that you're firstly not ever getting the RESULTS you want and crave, but secondly you just never seem to really FEEL, well –
Happy.
Connected.
In flow.
CERTAIN.
And most of all –
YOU.
Let's get real here –
You may well be the busiest person in the WORLD, and you want to have it all, at once, now, fit it all IN, too, and still have time for kids and play and sleep even! The nerve!
But nonetheless –
If you want a life of FLOW, and the results that come with this –
You ARE going to have to make space to ease INTO that shit, okay? Okay.
Do you want to know how I do it, and how it just works?
It's very simple –
1) Get out of the FEAR MINDSET of living that says you've never done enough. Start to PRACTICE believing that you've already done enough and ARE enough and also HAVE enough now. I know this is hard to do, especially when you want to shriek at me that it's not true! But, you still have the choice to practice it. Yes? Yes.
2) Start to pay attention to the times when the magic happens for you. For me, this often REQUIRES me to turn away from everything and every person, to not even LOOK at (for example) messages, notifications, emails, my own task list, and instead to ALLOW THE TIME AND SPACE to do first things first.
The things which 'move the needle' most for me, and which I KNOW that, if I just do them day in and day out, will result in motherfucking RESULTS. For me these things are – my inner work / journaling, my messaging (blogging as top priority, but also livestreaming), sales activity (tack a PS on the end of my blog; email all that shit OUT!), and my fitness / gym or yoga.
I am DISCIPLINED at ignoring EVERYTHING until these things are done, but even more than that – I have learned to allow the space for the art to come up, or to ease in and warm up into the workout 'til the 'click' happens and the beast comes out! So to speak 
This is a PRACTICE, to, rather than telling yourself you have to rush, go straight into it, get to the end goal, to let what needs to happen, happen! For example – my blog posts are POWER PUNCHES when I journal FIRST, and wait for the message to be shown to me, as opposed to just try and push some writing out to 'get it done', or just for the sake of content.
What works for you? What do you KNOW you need to be making time and space for? Pay attention, and IMPLEMENT!
3) Flow flow flow! Here's where I manage to get SO MUCH FUCKING DONE, every day, 365 a year, across all areas of my life, and still have INSANE amounts of time left over!
I STACK my habits based on what works, and I allow the flow to build up through this. For example, journaling leads into blogging, which opens up the trance-like other-worldly power state I like to be in for working out, and so I do these things in this order.
Listening to client Voxers often sparks ideas for a livestream, and so I do it in THAT order.
Getting my CONTENT out, and creating creating creating heavily in the morning (as well as working out), leads me to being mid-afternoon or so in a place where the LAST thing I want to do is be online, which is perfect, as that's when I'm usually picking the kids up from school and such, and so it is exactly what I feel like doing to goof off with them, or do arts and crafts or whatever.
In the evenings, doing a live training in a group at 9pm after the kids go to bed is often the last thing I feel like doing, but yet I kick my ass on that (ass whuppin' is definitely a required inclusion for maximum life flow!), and then after the training I FEEL like staying online and being in the vibe of getting all my niggly tasks and admin and emails which I ignored all day done.
Do you see?
YES, you do need to make space, you do need to be PATIENT, you do need to consciously DROP the fear mindset in order to take the time for art, flow, RESULT BASED ACTION to come out.
But, you can also give magic a helping hand. And why wouldn't you? You got one life going' on and it's this one right here!
Flat out, if you don't have it all?
It's on you, it's a CHOICE, and it's really quite ridiculous.
I guess what I'm trying to say is simple:
Your excuses are no longer valid.
It's time to admit where you need to change, and uplevel the fucking work. Not necessarily by doing more work! But by being willing, and disciplined, to give the work what it needs to work FOR you, the way it's meant to be.
Do this, and you will realise just how EASY it is to be in superflow, and feel like the whole universe is conspiring FOR you.
Fail to? And you may well continue to 'make things happen', but it will continue to be slow-going, and #struggleasfuck.
The great news?
It's up to you, always.
Don't forget – !
Life is Now. Press Play.
Kat
Life is Now. Press Play.
Kat x

PS
I want to help you to build a business you LOVE, and that meets your every want and desire, in a real and true way, whilst also resulting in you making a LOT of money, fast, and impacting a lot of people, also fast, in the way you know you were born for!
My most transformative 1:1 intensive EVER … shifting people into EPIC income and success since 2016 is back, for the first time in 2019! I'm so excited to bring this signature transformative work back!
Rich Hot Empire!
Work With Me for 6-Weeks Personally to Grow Your Perfect Cult Tribe, Create and Launch Your Low-High End EMPIRE, and Set Up Multiple Recurring Income Streams to Take You to Multiple 7-Figures and Beyond, Doing What You Love!
This round is even more special as I will be re-recording all original content, with you there live with me and alongside me AND you will also receive all original content; the exact trainings which has made this program my most successful ever, with clients repeatedly saying they achieved more in 6 weeks with me than they had in 2 YEARS beforehand! This work is for entrepreneurs at ANY starting point, as it's about who you are as a person not where you're at. I've had clients anywhere from total start-up, to already doing 500k+ / year go through Rich Hot Empire and all who have done this work have gone to a level of income as well as alignment and FLOW which they couldn't previously even imagine!
6-week personalised intensive high level mastermind
Weekly group training and support; multi-media training: visual + audio
'Done for You' Templates and Step-by-Step Worksheets
Personalised 1:1 coaching included, plus DAILY unlimited 1:1 access
My personal hand on your business success
Weekly group coaching call and hotseat with my other private clients
24/7 mastermind forum, networking and support
Very limited spaces
Results guaranteed
Not for everyone
STARTS THIS MONTH!
I'm so excited to do this work with a small group of badasses who are willing to SHOW UP FOR THEIR SOUL no matter what. To walk away from all that is not serving, not actually working, not FILLING you. And to all yourself to bring your truest desires to life. If that's you, or you've felt the call to work with me at this level, PM me now. Bonuses and fast action-taker investments apply to all successful applicants, but for the first 5 to say yes there is a very special $2000+ bonus specific around Soul Shifts & Money Makin', and which, in and of itself even before we begin RHE will have shit changing for you FAST.
Apply via PM only. I can't wait to speak with you!
PPS
HAVE YOU JOINED PURPOSE PASSION FLOW ACADEMY?
My 'Going Fully Quantum' training will break down ALL of what we've discussed today, and teach you the finer details and finesse of it, as well as exactly what needs to be true for you to APPLY it, not only into the practical actions you need to create THAT money flow and THOSE results, but also in terms of ALL the energetics of it, especially the 'being and non-being' around dropping in to superflow so you can be shown, create, receive, AND of course the being around not being one of those people who just can't seem to choose faith and are ruled by fear. We'll also talk about creating and integrating the exact wording, beliefs, emotions, energies YOU need for all of this to switch effortlessly for you, as you've always known it would.
In other words: EVERYTHING you need to know to go fully quantum, and double your income in 30 days or less, or whatever else you choose!
Where will you find this training?
Why, it's one of the very first training in 'Remembering Who You Always Were', which. is our June intensive for Purpose Passion Flow Academy, my SUPER low-cost monthly membership mastermind!
And this training?
Will change your freaking reality. Well – it will REMEMBER it.
It's all available to you gorgeous.
You know this already.,In the quantum it is DONE. And in Purpose Passion Flow Academy, and especially our June intensive 'Remembering Who You Always Were'? We gon' done do it.