News
Is Emotional Eating Ruining Your Shape-Up Success?
This is a guest post by Kitty Holman, who writes on the topic of nursing colleges.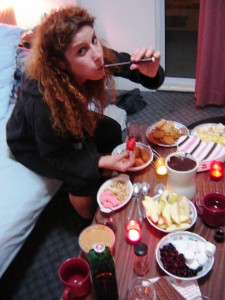 No matter if you attend the gym on a regular basis, if you are an emotional eater chances are you'll never truly reach your weight-loss or fitness goals. If you are uncertain what emotional eating is, it is simply the act of eating when you are not hungry—meaning, you more or less eat just because it's there.  Emotional eating is triggered by an array of different factors, including boredom, stress, fear, heartache and anger. And while it's better than reaching out to other vices such as drugs and alcohol to help cope, emotional eating is equally as unhealthy and destructive—it can affect you both physically and emotionally, especially for those who get upset once they realize their body  has "transformed," but not into the toned, statuesque figure that they wanted. To learn how you can avoid emotional eating and stay on track with your fitness goals, continue reading.
Listen to Your Body
The first way to avoid emotional eating is to learn how to pick up on body cues. Wait until your body tells you that you're hungry before you start to snack. The obvious body cue will be a rumbling or growling noise. You might even experience a slight headache. But if you know that you ate just a few hours ago, instead of grabbing a bite to eat drink some water instead. Sometimes our bodies trick us into thinking we are hungry when in reality we are thirsty. So wait a while to see if the cravings or hunger surpasses before you attempt to head to the fridge. Regardless, it's important to keep yourself hydrated by drinking the standard 6 to 8 glasses of water a day.
Remove Temptation
This applies to both food and removing yourself from the location that may trigger your emotional eating. The first thing you need to do is get rid of all of the foods that you typically turn to whenever you experience heightened levels of stress or sadness. The only way to learn some self-control is to not have those items available to you in the first place. This is not to say that you have to go cold turkey and deprive yourself immediately. In fact, going cold turkey may backfire and cause you to binge eat even more. But you can replace your comfort foods with a low fat, low calorie alternative. You also want to make sure that if you find yourself cooped up in the house and you are bored, find something to keep yourself active rather than stuffing your face. This would be a good time to go to the gym, take a walk, go visit a friend or watch a movie.
Keep Track of Habits
It's equally important to try to keep track of your eating habits. For instance, write them down on a piece of paper, in a journal, or use some computer software to document what you eat, how much you eat, and most importantly the way that you felt that day. In time you will most likely see a connection between particular moods and your love of food. By understanding the connection between your moods and eating habits, you might be able to learn what triggers this kind of eating behavior and learn how to control it on your own will-power. But before you learn the real connection, it's best to avoid grocery stores and restaurants whenever you are particularly moody or emotional.
This guest post is contributed by Kitty Holman, who writes on the topics of nursing colleges.  She welcomes your comments below, as well as any questions you may have!
Don't forget –
Life is Now. Press Play.
Kat x
PS
I HAVE SOME BIG NEWS TO SHARE!
As of today, I'm opening up the doors to my Inner Circle, my 12 month private client mastermind.
This is THE most badass high level mastermind in the world for women who want it all – and are prepared to do what it takes to get it! Really what we're talking about is being prepared to be the PERSON.
And that's what I do. I help you remember ALL that you were, and then become it. ALL Of it.
This is my highest level private mentoring circle. The exact place where I have personally mentored dozens of this industry's most elite female entrepreneurs to break income barriers ranging from 10k months to multiple 7 FIGURE months, and everything in between. But more importantly than that – to become who and what they always were.
But know that this is not only (obviously) not just for the masses, this is also not just for someone who can afford to invest in a high level private coach. Being willing to throw money down is something which has absolutely zero correlation to being somebody who has what it takes to TRULY go next level as a leader.
If anything, in this industry, investing in a high level coach such as myself, is a rite of passage which veers just a little too much on the side of 'trend'. It's become something which 'everybody does', almost as a way of proving they play business and life a certain way.
Maybe even of trying to prove it to themselves.
Here is the reality which those who I am truly here to personally mentor and lead KNOW, the reality which my clients and all women like me as well as of course me personally have ALWAYS known:
We are VERY VERY DIFFERENT.
We are simply, smarter, faster, and have more presence. We can do more in our minds before breakfast than what most people can do in a freakin' WEEK, a month, a year.
We are not basic ass coaches trying to heave ho our way up a few extra thou a month.
We are the ones who have ALWAYS known we are 1% within the 1% within the 1% in terms of how we think, create, operate, how and WHAT we are tapped in too.
This is not arrogance, this is fact.
And there has NEVER been any question but that we will go all the way.
My clients are high level badasses who do the work, who have a proven track record BEFORE coming to me, and a BEING-ness which unquestionably separates them from the rest. They don't come to me to save them or lean down and hold my hand out so they can clamber up. They come because they are, quite simply, ready to go to the next level, already absolutely on their WAY there, and see in me something which they recognise because it is in them.
That 'can't stop won't stop' fire, and a level of 'unapologeticness' which, when truly understood and applied, can literally be the difference between 5-figure or low 6-figure and 7 or multi-7-figure entrepreneur.
So if you know who you are and it is THAT –
And you feel certain that you are ALREADY well on your way to to precisely where you're meant to be, but that being in MY energy could help you to drop in and get there even faster, and that with a couple of simple tweaks your current revenue could be doubling, tripling, heck QUADRUPLING and beyond in months, as it has done with numerous of my clients previously, well then –
PM me here http://m.me/katrinaruthofficial and we'll see if it's a fit. I'm excited to talk to you, and maybe – do biz and life with you.