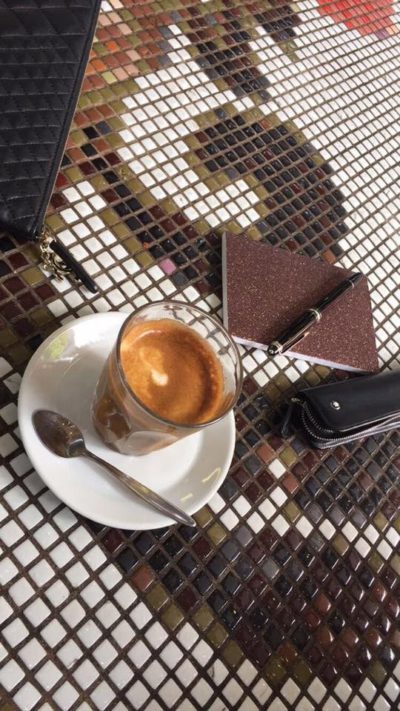 When I first started running online programs, nearly 10 years ago, around 98% of the people who signed up for them were from Australia. It was always really exciting to have someone from the US or elsewhere. They stood out from the rest of the group purely for being so exotic, and I remember feeling proud of the fact that even people from overseas had found me!

I also remember having the assumption that, over time, I would keep having more and more outside of Aus people find me, follow me, buy from me, be in my groups. It just seemed obvious – I knew I was going to keep putting more and more content out and of COURSE my message was going to continue to spread, even across the entire world!

I don't know why this whole thought process popped into my head this morning as I got petrol, maybe because I was thinking about how diverse the mix of people in my current online program are. But that's normal now – in fact, over 50% of my audience from the US and the Aussie portion represents usually about 20-25%, with the rest from loads of different countries.

The question is – did my message spread far and wide and bring in thousands of people from all around the world, make me the money it makes me now, because my message is worthy of that and because I kept putting it out there, or because I ASSUMED it would and so therefore it happened?
I believe that you ALWAYS get what you assume. Just think about it – how often in life are you ever genuinely shocked or surprised at an outcome? Even things that happen to us which are out of the ordinary, whether a big win or a big letdown there's always that part of us which, with smug satisfaction, thinks – "I knew it!".

Of course you fucking knew it.
Because your outcomes can ONLY ever reflect your expectations, which in turn reflect your beliefs and feelings, and which automatically, with or without conscious attention, DIRECT your actions.

Check this handy little flow-chart out which I just thought up for you:

Thoughts / feelings / beliefs = assumptions of what will happen.

Assumptions —> actions taken.

Assumptions + actions taken —> further thoughts / feelings / beliefs —> greater certainty of what will happen (elevated or more 'locked in' assumption.

Elevated assumption = elevated action = elevated level of belief and certainty as well as elevated emotion either good or bad = elevated assumption = elevated action – belief – certainty – assumption – action –

OUTCOME!

If you think about it, all this 'create your reality' and manifestation stuff is really just simple math 🙂

This also means that whatever you CURRENTLY assume will happen ABSOLUTELY WILL.

It's just MATH, you're already on a roll with your thoughts, your beliefs, your emotions, leading to your actions, assumptions, etc!

It's a done fucking deal. So much so, that if you want to know your future just take a page in your journal and write out HONESTLY what you expect to happen in all the different areas of your life.

Pretty confronting, right?! In fact, I'd bet you can't even quite bring yourself to acknowledge your TRUE assumptions about a lot of stuff because when you really face into it you'll find that what you EXPECT?

More struggle.
Two steps forward and one back.
For things to not quite work.
To continue to play out the patterns / sabotages etc you've always had.
And so on!

TYPICALLY we always expect what we've previously experienced, and that's exactly why most people just keep on getting the same results in all areas of life, and even carry on the results of their parents! There's probably some areas of your life where this is a GOOD thing, and I'd say there's a ton of areas where you really REALLY really wish you had different beliefs and expectations already, 'cause clearly you're current ones aren't exactly making everything awesome!

If that's the case, then here's where this gets really interesting:

What if you DID have different beliefs and expectations?
What if you could CHANGE what you ASSUME and therefore GUARANTEE a changed outcome?
What if, instead of focusing on how to GET to a goal, you could simply pick and choose and lock in beliefs, thoughts and emotions which would AUTOMATICALLY get you there?

If you just look at your assumptions, and try to force yourself to think more positively and not expect the worst, or TO expect what it is you actually want, it's impossible.

There's too much programming inside of you which will just shriek LIAR! You can state all the fucking "I am" and "it's done" affirmations in the world and it WILL.NOT.WORK.

So instead?

Just reverse engineer the whole thing.

I did this in my journaling this morning and it is a MEGA empowering exercise to do. Instead of simply writing out my goals and intentions, I wrote down all the things I WANT to assume are true.

Money stuff.
Body and energy stuff.
Love stuff.
You name it! About 3 pages of stuff, actually!

In each of these areas, I ALREADY have set assumptions. I assume there is no freaking WAY my income could drop under 200k per month, for example, and it hasn't for ages, plus is usually way higher. I assume I will NEVER go above an Aussie size 8, and I haven't in years except for pregnancy. In fact, each time I've pushed at the upper limits of that I quickly re-set back to where I EXPECT to be.

Whether or not you're conscious of it, you currently have a set point in EVERY area of your life.

Now if you ASSUME, as I've often done so over the years, that with time you will GRADUALLY improve upon that set point or 'default level', then that's exactly what will happen.

If you assume that you'll gradually improve but it will come with struggle or great sacrifice, or cause you to not be able to attend properly to other areas, then THAT is what will happen.

See what I'm getting at?

What if you assumed that your income would triple this year? Or 10x? What if you assumed it would happen with ease and flow and joy and FUN? What if you assumed you OBVIOUSLY wake up each day feeling awesome and raring to go? What if you assumed you could have soulmate FIERY awesome hot love? What if you assumed that of COURSE even your biggest goals and desires were gonna come true?

WHAT DO YOU THINK WOULD HAPPEN IF YOU GENUINELY ASSUMED YOUR MOST WANTED SHIT WAS GONNA HAPPEN?

It would freaking happen!!

Change your assumptions.
Change your life.

And here's how:

Instead of trying to mantra or FORCE your way into believing your next level outcomes are DONE, when deep down you just DON'T actually expect or believe it, simply identify, for each outcome:

– Exactly what it will look like WHEN done
– What you would need to NOW think, believe and feel in order to ALREADY truly assume it
– What would you already be DOING each day (practical actions) if you fully DID believe and assume it
– What would be going on all around you (environment) if you fully believed and assumed it?
– And – my favourite way of hacking my own beliefs! – what would you need to START believing now, in order to believe you can change your beliefs in order to change your assumptions and then your life?

Do you know where you might like to start?

If all of this feels so God damn true but yet so God damn vast?

What if you simply started to believe –

That it's possible to change what you believe?

All success ever is beautiful, is a small additional move in the right direction each day.

Take fucking ownership.

And remember:

Life is NOW. Press Play.

Kat
P.S What if you could LIVE your PASSION? Believe it or not, I do. Every. Single. Day.
And so do my clients, simply because we woke up one day and decided to.
And so can you!
I would love to share with you my FREE video training on the exact steps I take to get rich and famous – whilst being me – Unapologetically me!
Want to know how you too can Get Rich and Famous By Being You?
Follow the link gorgeous: https://katloterzo.com/howtogetrichandfamous
PS
Expansion.
10 Days of Live Soul Transmissions, to Help You Find and Follow the Messages Within
Day 1) Trust
Day 2) Certainty
Day 3) Self-Belief
Day 4) Empire Creation
Day 5) Your Deepest Message
Day 6) Following Soul Guidance in All Areas
Day 7) Faith vs Fear
Day 8) Accessing Flow, and Superflow
Day 9) Expanding Time
Day 10) Expanding Money
Every day will be a LIVE soul led transmission.
This will take place on Facebook video, held at a variety of times in order to account for varying time zones, and scheduled only once we have begun. Our daily soul transmissions will be guided from MY higher self and directed from and for YOURS, to help you find and FOLLOW the messages within. The messages of your spirit, your consciousness, of the who you've always been and yet have managed quite well to cover up a lot of the time.
This is about stripping away –
And getting back to the CORE.
We'll dive day by day into the above mentioned areas –
And you'll receive all content and bonuses to keep for life.
There will be daily spirit prompts which you'll receive after each training.
And plenty of time opportunity connect with me throughout, receive transmissions direct to YOUR questions, and absorb more even than what comes through on the trainings, via the energy we'll create in this collective!
It's very rare for me to know in advance exactly what is coming through day to day.
I certainly don't have the details of each day's content. But I know that these areas have been on my heart to talk about, in particular around belief, around certainty, around living from FAITH.
We know that exactly what is meant to come through for you WILL, and then some. And that if you intend and allow for it to, it will change, most likely before we even begin, due to your energetic commitment, the direction of your LIFE!
Meaning: direct it back to absolute soul alignment.
*** NEVER Seen Before Bonus! ***
As part of this, I've been guided to offer a NEVER before seen bonus … one I feel super vulnerable about sharing!
It's the exact journaling I did to allow the download of THIS offer through. How I allowed the idea to bubble up. You'll see my doubt, uncertainty, annoyance. You'll see what I discarded. How I went through the layers. And how I KNEW, this was the one.
I'll ALSO add in copies (screenshots) of my conversation with my COO Ash, where I was talking through the idea and allowing it to come to life.
I want to show you the exact Idea to Launch process!
This bonus alone is EASILY worth the cost of this program, particularly when you hear the mindset side of it, in terms of STAYING THE COURSE and refusing to back away from my self until the idea showed up!
I refuse not to create!!
AND, when you register for EXPANSION today (and how could you not?!) you'll also receive early access to the Pre-Work. This is ALSO never seen before, and brand new just for you – and it's a guided meditation on remembrance, to help you connect back to deepest self and the most certain truth of your destiny, before we even begin.
Perfect priming, for when we expand RAPIDLY into all that is coming through in this work!
Of course I could now go on and on here, about what I could or should have charged for this, and what it's actually going to be …
Or about all my accomplishments on line and off, with money, with purpose, with passion, with flow …
I think you know all this anyway. Even if you just me! Your soul feels what matters. And that's ALL that matters.
But I will say this:
You've always known it's supposed to be about ALL that is inside of you. That it's meant to COME from a place of purpose, passion, and SUPER super flow. And that if you just.freaking.trusted, and showed up FULLY from that place, you'd be living in a different reality already.
THE ONE INSIDE OF YOU.
If that's true for you right now, then LET'S GO CREATE THAT REALITY.
Right now
Press play for regular, (super fuck yes!!) upfront or payment plan
OR
Press play like a VIP, and receive the full course, plus 10 days direct photos or screenshots of my ACTUAL personal journaling, so you can see how I create and expand my life, PLUS a VIP only follow-on live Hotseat, where you'll receive a personal transmission just for you, if you'd like one! Payment plan also available.
>>> https://thekatrinaruthshow.com/expansion
We start Monday 17 December, US time!