News
A Powerful But Little-Known Benefit Of Shopping Organic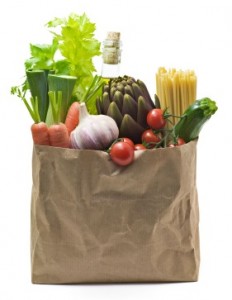 If you're suffering from the Easter guilts (as I certainly was this morning!) then I think I just may have the answer. And no, it doesn't entail swearing off chocolate until next Easter. Although I did briefly consider that this morning. Until I realised that the idea of writing a book entitled "My Year Without Chocolate" really wasn't ample motivation for such a crazy endeavour.
Anyway.
I'm feeling more than a little smug and nearly 100% guilt-free after a simple trip to my local organic store. Nicci and Paul from my favorite online organic delivery service had justifiedly given themselves the Easter break off, and so I found myself stranded without produce for a few days.
The problem was easily if slightly less conveniently fixed and I dragged my chocolate-filled belly up the street to do a little shopping. It wasn't until I walked out that I realised one of the most powerful yet little-known benefits of organic shopping, and that is this.
Just the simple act of buying the stuff makes you feel fantastic. Have you ever noticed that? And that's before you even consider eating it! There's something about that brown paper bag goodness of fresh organic produce that puts a spring in my step. Particularly when I walk out and see so many people on the street smoking, eating rubbish or just generally looking p*&%ed off at life. I have to admit I was feeling pretty smug on my walk home, and in fact that I'm always more than a little impressed with myself when I place my organic food orders.
If up to 56% more nutrients, added flavor, and a definite boost to the environment doesn't cut it for you when it comes to buying organic, then maybe plain old feeling good will do it.
What are some of the things you like to do to make you feel good about yourself? Let me know in the comments section below!
And remember –
Life is Now. Press Play.
Kat
Don't forget –
Life is Now. Press Play.
Kat x

PS
1:1 INTAKE IS OFFICIALLY OPEN!

🔥
Next Level Empire is officially open for late November intake! 💜
I'm calling in my next intake of driven badass LEADER women who want to work with me 1:1 to FOLLOW SOUL and achieve ALIGNED AF fame, income growth, more.
Yeahhhhhh … this is about unapologetically claiming your place as one who is MEANT to be seen and heard by everyone!!
Next Level Empire baby!
Multi 7-Figure Empire Expansion For Unapologetically Badass & Driven Women Who Are Ready to Be Seen By the WHOLE Damn World
6 weeks.
1:1
You and me
This is for the women who already have a message, an audience, and are making money online and who are now ready to put some damn WHEELS on the thing.
We will be going deeper into message clarity
We WILL be nailing down what you're selling, and how you're selling it, for maximum conversion and flow
We WILL be getting you fully connected to the badass leader within who KNOWS she is meant to run the damn thing
But these things are just the warm-up, because let's face it –
You already message
You already show up
You already sell
You're already ROCKING what you're doing right now
So what you're here for, and what I'm here for with you?
Is to blow the damn thing up.
MAXIMUM reach.
RAPID growth of audience
MASS visibility
MEDIA TAKEOVER
NEXT level leadership status, and being the one who is KNOWN as the Queen
And sales EXPLOSION
I'm taking what I'm doing in my business to CONTINUALLY claim my place at the top, and to take my message to the masses whilst also RAPIDLY growing following and income,
And showing it all to you
Exactly how we do it
What precisely is in place
What we had to have in place for it to work
What we do day to day to elevate fame, income, purpose, ALL of it
And then I'm going to work with you personally to roll it out
Next Level Empire baby:
For the women who were born for more,
And who are done with circling repeatedly around the same damn pond and kidding themselves they're gonna find it there.
Ready, and know it's time? It just might be 

😉

💜
PM me now

for the full overview, and to know if it's for you. x