News
A Powerful But Little-Known Benefit Of Shopping Organic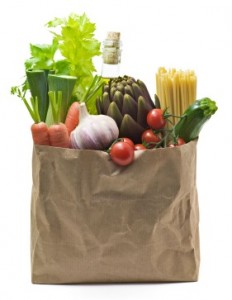 If you're suffering from the Easter guilts (as I certainly was this morning!) then I think I just may have the answer. And no, it doesn't entail swearing off chocolate until next Easter. Although I did briefly consider that this morning. Until I realised that the idea of writing a book entitled "My Year Without Chocolate" really wasn't ample motivation for such a crazy endeavour.
Anyway.
I'm feeling more than a little smug and nearly 100% guilt-free after a simple trip to my local organic store. Nicci and Paul from my favorite online organic delivery service had justifiedly given themselves the Easter break off, and so I found myself stranded without produce for a few days.
The problem was easily if slightly less conveniently fixed and I dragged my chocolate-filled belly up the street to do a little shopping. It wasn't until I walked out that I realised one of the most powerful yet little-known benefits of organic shopping, and that is this.
Just the simple act of buying the stuff makes you feel fantastic. Have you ever noticed that? And that's before you even consider eating it! There's something about that brown paper bag goodness of fresh organic produce that puts a spring in my step. Particularly when I walk out and see so many people on the street smoking, eating rubbish or just generally looking p*&%ed off at life. I have to admit I was feeling pretty smug on my walk home, and in fact that I'm always more than a little impressed with myself when I place my organic food orders.
If up to 56% more nutrients, added flavor, and a definite boost to the environment doesn't cut it for you when it comes to buying organic, then maybe plain old feeling good will do it.
What are some of the things you like to do to make you feel good about yourself? Let me know in the comments section below!