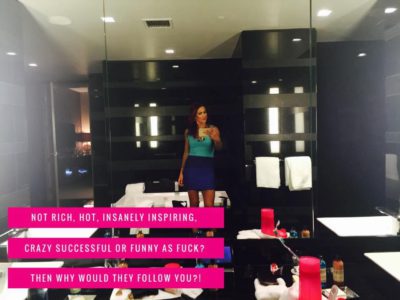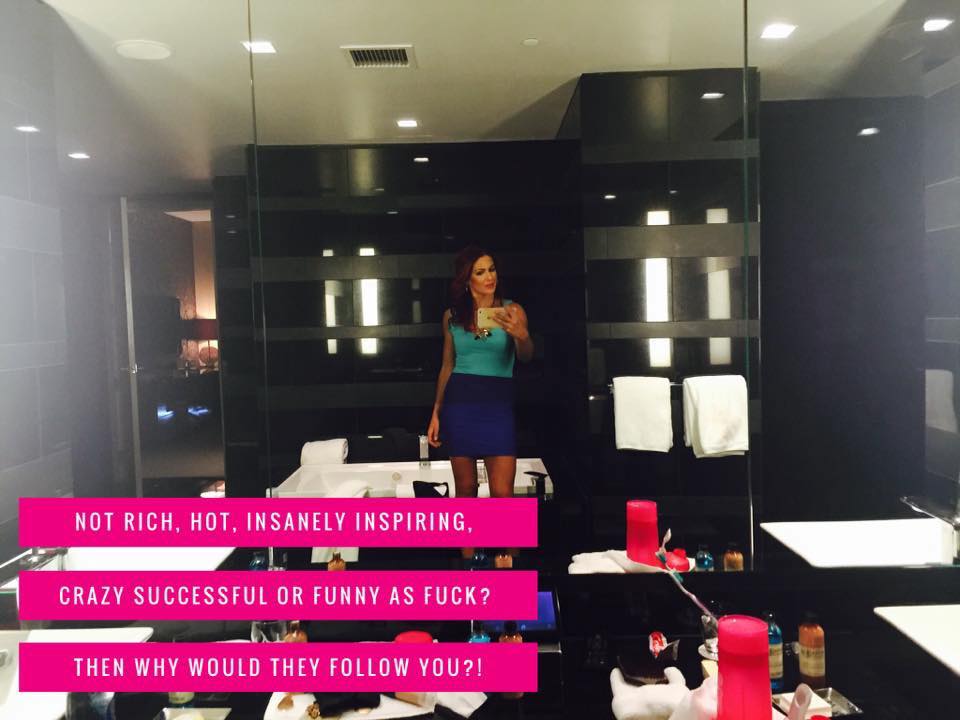 Let's get real here, just for a second or two –
If you're not getting people following and BUYING – all day long, every day long, and on repeat – then one of three things is going one:
1. Your shit is boring.
2. You are boring.
3. The value of what you THINK you have to deliver is boring.
4. The way you're trying to sell it is boring.
5. The way you're delivering it is boring.
6. The whole damn THING is boring and it wouldn't surprise me if it's SO boring that you're bored with it all right now as well, as much as you're probably also DESPERATE TO HAVE THEM FOLLOW AND BUY.
Boredom + desperation: good plan!!
Side note: by 3 things I mean as many things as needed to be said, which apparently was more than 3!
By which I mean, just to be sure we're clear here and you don't accuse me of being COY –
Baby you're boring.
Sorry.
Well, NOT sorry, because morning bitchslap aside I actually want you to fucking succeed. IF you are the 1% within the 1%, IF you are that leader | entrepreneur | artist | performer | celebrity | revofuckingLUTIONARY and you know you were born for more, to make millions, impact millions, change the world and dance on TOP of it and all before you finished your first COFFEE then you need to hear this shit.
And you know it.
And there's a good chance nobody else is telling it to you.
And let's be honest?
You LIKE it.
So. You ready? Buckle up, 'cause I have 18 minutes to write this post and I'm already 6 minutes in so shit is gonna get FAST here, and maybe just a little bit ouchy. I think you can take it, but also I don't care – you're GONNA take it.
1. STOP BEING SO FUCKING SLOW-PACED

Slow-paced energy is BLAH it is SOFT it is WEAK it is the OPPOSITE of commanding and while you were so slowly busy getting shit done so you could launch something say something sell something your ideal tribe moved on to someone else who actually looked like they're awake.
Get some coffee in you, slap yourself awake, pour a bucket of iced water on your head if need be but wake the fuck UP and show up like you actually care.
REALITY: successful leaders and performers have high energy and are almost maniacal about it and that is one reason their true followers can't take their eyes off them! Get on that shit – now!!!
2. TELL YOUR TRUE FOLLOWERS WHO THEY ARE
How do you find your ideal tribe? You tell them who they are and that they're yours!! How many times do you hear me reel off who my clients are? I bet YOU could do my 1% within the 1% thing!! And guess what? They are. Because I CALLED THEM IN by repeatedly stating – firmly! – that this is who my clients are.
I didn't worry about HOW I was going to find said clients I just stated it over and over and over again and I CHOSE to do that with absolute belief and confidence. Now my private clients are THE leaders of the female entrepreneur and leadership world, as well as performers, artists, celebrities, 1% ers in all areas! I have people who make millions of dollars … with millions of followers … whose work leaves my jaw hanging … asking for my advice, paying me for it and acting on it every day.
Little secret: when you take on your IDEAL actual clients and refuse to work with anyone who is not and actually be clear about that your clients get epic fucking results. Because they are actually THAT PERSON.
3. Be The Performer You Wish You Could Be
People follow for one of 4 reasons:
* You're teaching them something
* You're inspiring or empowering them with something
* You're being entertaining
* You tell them to
You'd be crazy to choose just one of those reasons and not all 4, and if you ARE choosing just one you better be DAMN good at it.
Instead what is happening is most people online – maybe YOU! – are either just trying to TEACH or they're just trying to inspire.
Let me remind you of a FACT. Even if you're teaching the secret to finding gold if then way you're teaching it is boring and bland and YOU are boring and bland, ain't nobody gonna listen.
Let me remind you of ANOTHER fact, on trying to just be that inspiring person: what would be even more inspiring is if you also have something to TEACH about SUCCESS (just posting stuff that sounds inspiring is not actually inspiring, so you know – it's boring and you look lame as where are your RESULTS and ACCOMPLISHMENTS) and it would be even MORE inspiring if you made a half-assed attempt to be interesting while you said it.
4. BE HOT, RICH, FUNNY AS FUCK OR MAD-CRAZY-BITCH SUCCESSFUL
The cold hard TRUTH is that you need to be of interest for people to follow you, aspire to be like you or in some way have what you have, and then buy from you.
Wake up and pay attention! The leaders of the entrepreneur world, the leadership world, the entertainment world are either HOT, or they're RICH, or they're funny or talented as FUCK, or they're so.damn.FASCINATINGLY successful we can't take our eyes off them.
By the way: your special flower gifts do not qualify for saying 'but I am talented as fuck!'. Every person on this planet is talented and has a calling. Are you the BEST IN THE FUCKING WORLD AT WHAT YOU DO, AND taking care of all those other areas, AND delivering it as per point #3 above?
If not then shut up and figure out your shit or you will NOT make MONEY honey.
Also by the way: the simple answer is to be ALL of the above things, to your audience.
5. Successful People PERFORM Baby!!
Get over your BULLSHIT BLANDNESS about worrying about how you show up, what people think, whether it's appropriate, etc!
If it's not INAPPROPRIATE by a long shot to some people, if you're not TERRIFIED to publish it, if you're not making a FOOL of yourself by fully doing you then it ain't gonna work.
GO ALL IN.
GO ALL IN.
GO ALL IN.
Whoever you are at your CORE, whoever you'd be in your mind's eye if you could fully let loose and GIVE US WHAT YOU HAVE – be that person.
Or we'll just go watch someone else.
6. Expect and DEMAND Attention
A true diva, a true performer, one who was born to LEAD AND RULE knows it, commands it, demands it and RECEIVES it.
Long story short if you're not doing that?
You ain't getting it.
Look, I could go on and on here ALL.FUCKING.DAY and believe me I DO with my clients and that is why they get such fast RESULTS. They already ARE that 1% within the 1% person or I wouldn't take them on, but believe you me once I DO take you on:
Shit is gonna get real and you BETTER wake up and say what needs to be said or our relationship is over. I set initiation's for my clients if they insist on trying to hide for more than a few days and if you don't do it you're OUT.
THAT is how committed I am to results, because the cold hard reality is that just KNOWING some shit ain't gonna get you anywhere.
You need to perform.
You need to LEAD.
You need to be freaking MAGFUCKINGNETIC baby.
I believe you ARE, but I also know that plain and simply if they're not following and BUYING from you, on repeat, then you're listening to a whole bunch of BS inside your head and you're NOT being and doing everything I just said.
Well, you want what you say you want, then you better get your sweet ass over it and give your would be FANS what they want and need.
Otherwise?
You're just another purpose-driven sweet little hobbypreneneur who's never going to make it.
You were born to make it honey.
Start acting it, fully, or give up now.
Remember –
Life is Now. Press Play.
Kat
PS Rich Hot Empire June round is about to CLOSE for registrations. You and me, baby, working together privately and fully for 6 weeks of IMMERSIVE asskickery.
We're going to be looking at every single element of who you need to BE and what you need to DO in order to build a multiple 7-figure empire being you.
ALL the strategy and access to every part of how I get my results.
Me on tap 24/7.
And you can bet your sweet ass I'll be KICKING it, daily.
PM me for the full lowdown, including a short video where I talk you through how we'll work together!
All you need to do is already BE the 1% within the 1% person and commit to actually going all in. Message me here on Facebook to talk, today! It's time to BE who you were born to be and get them to follow and BUY!
PS
Expansion.
10 Days of Live Soul Transmissions, to Help You Find and Follow the Messages Within
Day 1) Trust
Day 2) Certainty
Day 3) Self-Belief
Day 4) Empire Creation
Day 5) Your Deepest Message
Day 6) Following Soul Guidance in All Areas
Day 7) Faith vs Fear
Day 8) Accessing Flow, and Superflow
Day 9) Expanding Time
Day 10) Expanding Money
Every day will be a LIVE soul led transmission.
This will take place on Facebook video, held at a variety of times in order to account for varying time zones, and scheduled only once we have begun. Our daily soul transmissions will be guided from MY higher self and directed from and for YOURS, to help you find and FOLLOW the messages within. The messages of your spirit, your consciousness, of the who you've always been and yet have managed quite well to cover up a lot of the time.
This is about stripping away –
And getting back to the CORE.
We'll dive day by day into the above mentioned areas –
And you'll receive all content and bonuses to keep for life.
There will be daily spirit prompts which you'll receive after each training.
And plenty of time opportunity connect with me throughout, receive transmissions direct to YOUR questions, and absorb more even than what comes through on the trainings, via the energy we'll create in this collective!
It's very rare for me to know in advance exactly what is coming through day to day.
I certainly don't have the details of each day's content. But I know that these areas have been on my heart to talk about, in particular around belief, around certainty, around living from FAITH.
We know that exactly what is meant to come through for you WILL, and then some. And that if you intend and allow for it to, it will change, most likely before we even begin, due to your energetic commitment, the direction of your LIFE!
Meaning: direct it back to absolute soul alignment.
*** NEVER Seen Before Bonus! ***
As part of this, I've been guided to offer a NEVER before seen bonus … one I feel super vulnerable about sharing!
It's the exact journaling I did to allow the download of THIS offer through. How I allowed the idea to bubble up. You'll see my doubt, uncertainty, annoyance. You'll see what I discarded. How I went through the layers. And how I KNEW, this was the one.
I'll ALSO add in copies (screenshots) of my conversation with my COO Ash, where I was talking through the idea and allowing it to come to life.
I want to show you the exact Idea to Launch process!
This bonus alone is EASILY worth the cost of this program, particularly when you hear the mindset side of it, in terms of STAYING THE COURSE and refusing to back away from my self until the idea showed up!
I refuse not to create!!
AND, when you register for EXPANSION today (and how could you not?!) you'll also receive early access to the Pre-Work. This is ALSO never seen before, and brand new just for you – and it's a guided meditation on remembrance, to help you connect back to deepest self and the most certain truth of your destiny, before we even begin.
Perfect priming, for when we expand RAPIDLY into all that is coming through in this work!
Of course I could now go on and on here, about what I could or should have charged for this, and what it's actually going to be …
Or about all my accomplishments on line and off, with money, with purpose, with passion, with flow …
I think you know all this anyway. Even if you just me! Your soul feels what matters. And that's ALL that matters.
But I will say this:
You've always known it's supposed to be about ALL that is inside of you. That it's meant to COME from a place of purpose, passion, and SUPER super flow. And that if you just.freaking.trusted, and showed up FULLY from that place, you'd be living in a different reality already.
THE ONE INSIDE OF YOU.
If that's true for you right now, then LET'S GO CREATE THAT REALITY.
Right now
Press play for regular, (super fuck yes!!) upfront or payment plan
OR
Press play like a VIP, and receive the full course, plus 10 days direct photos or screenshots of my ACTUAL personal journaling, so you can see how I create and expand my life, PLUS a VIP only follow-on live Hotseat, where you'll receive a personal transmission just for you, if you'd like one! Payment plan also available.
>>> https://thekatrinaruthshow.com/expansion
We start Monday 17 December, US time!