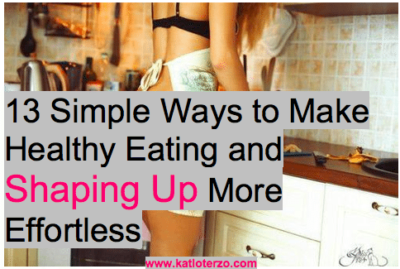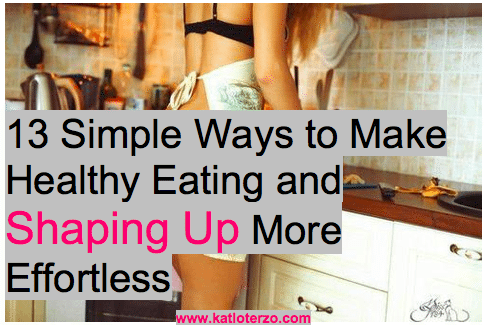 Health and Fitness
13 Simple Ways to Make Eating Healthy and Getting in Shape More Effortless

1. Batch cook your meals
I am definitely not someone who has the time or inclination to cook each evening! I actually only cook about 2-3 nights each week, yet we eat healthy foods 90% of the time. The way this works is that I have 2-3 'batch cooking' sessions per week. Often 1 is on the weekend – I'll prepare at least 4 recipes at once, and store them in the fridge or freezer. It takes about 2 hours but is well worth it and saves a lot of time and hassle for lunches and dinners during the week.
2. Always make extra, and freeze leftovers
This is a simple rule. Even if not batch cooking – always make extra when you do cook. Store leftovers in the fridge for lunches, or freeze for those times you really can't be bothered, or will be home late.
3. Pre-chop your vegetables
This is my favourite 'make life easier' tip. Take 5 minutes before you leave in the morning to chop your veg or salad for that night. It creates the perception that the work is already done, and you're less likely to 'not bother' making a healthy dinner.
4. Prepare your breakfast the night before
You don't have to actually go so far as to pre-cook your eggs, but you can get ready for breakfast the night before. This could be as simple as laying out crockery and cutlery as a reminder to make the effort. If you're having a smoothie or something you can pre-prepare, do so. Do it right after dinner so it doesn't feel like an extra task.
5. Lay out your healthy 'after dinner snack' to reduce temptation
After you finishing cleaning up dinner, be honest – you're going to want to snack, aren't you?! Rather than ending up giving in to temptation, lay out your chosen snack or guilt-free sweet treat in advance. Decide in advance on portion as well.
6. Keep snacks in your purse, car, desk and/or briefcase
Things like nuts and seeds, fruit (obviously replaced/eaten every couple of days), small individually wrapped pieces of cheese or even packaged up homemade snacks from this book should be on hand whenever you're out and about. This is not a licence to eat all day, it's simply being smart about not putting yourself in a position when you will end up having to buy junk. Protein shakes are also perfect to take with you as an on the go snack.
7. Mentally go over what you will eat the next day each day or evening
Sometimes – or often – the mental battle is the biggest hurdle to overcome. Each evening as you wash the dinner dishes, mentally go over what you will eat the next day. Remind yourself of why you're making this effort, and give yourself a mental pat on the back for being so committed.
8. After each meal, remind yourself what your next meal is
This is just a 'mini' version of the above tip, and the perfect way to keep yourself motivated and accountable through the day.
9. Consider shopping online to save time
One reason many busy people don't eat as well as they'd like is simply that they don't have the foods they need to cook! Why not shop online to save yourself time as well as this excuse? For a small fee most supermarkets will now deliver to your home or office.
10. Use a slow cooker in colder months
For a small investment you can purchase a slow cooker to use during the long cold days of winter. These make life so easy – all you do is roughly chop meat and veg in the morning, top up with water/stock, add a few herbs, press some buttons, and then happily head out for a big day knowing that when you arrive home your delicious meal will be waiting for you! A huge benefit of using a slow cooker is not just a pre-made dinner and a beautiful smelling home, but also that the slow cooking process will render even the toughest and cheapest cuts of meats super soft and tender. Slow cookers are also perfect for cooking large portions and having leftovers.
11. Plan your recipes and shopping list in advance
If you think about it, one of the reasons that eating healthy often feels like hard work is the effort of having to work out what you'll have, and whether you need to go shopping. Get around this by at least loosely planning your week in advance. Sunday afternoon is a perfect time to do this. Sit down with your Eat Clean Get Lean eating plan and decide which meals you will be making, and what you'll be eating each evening. Decide when to do your batch cooking, and check which ingredients you need to buy or stock up on. Write a shopping list and then hop to it! Yes, there are other things you might do on a Sunday afternoon. Yes it might feel easier to just leave it until you 'have' to go shopping. But eating well and being in shape is about recognising the value of investing a little time and effort now in order to make sticking to your plan effortless later. And you're totally worth that.
12. Reward your efforts!
Finally – and possibly the most important point on this list – reward your efforts! You don't have to be perfect every day in order to get great results. Give yourself permission to enjoy not only some 'guilt-free' sweet treats and desserts but also to have nights that are completely off, in which you get to just go out and order whatever you like, or have a take-out on the couch night. If you can follow the plan and eat well 80% of the time or a little more, you will see fantastic changes and you'll stay sane. It's really important to your long-term success that you don't expect yourself to follow anything 100% to the letter. In fact, trying to be 100% perfect would mean you're not following my advice to the letter, as I definitely recommend you follow an '80-90%' perfect rule, not 100!
13. The Best Way to Make Eating Healthy and Getting in Shape More Effortless!
The absolute best way to make eating healthy and getting in shape more effortless is to get advice and a plan from someone who has been there before you, figured out what works from what doesn't, and can show you a step-by-step and proven system to finally getting the body you want.
If you want to know how to eat, what to eat, when to eat, if you want simple and delicious recipes, meal plans, and a complete rundown of the ideal eating plan, then my Eat Clean Get Lean Plan is for you.
Included:
A full list of the foods I recommend and approve to eat on a day-to-day basis
Including which foods are optimum for you to achieve improved body composition, energy and health
Additional tips on quality, making the best choices for your body, and when the best time(s) might be to eat certain foods
5 each of my favourite breakfast, lunch, dinner, snack and 'other' recipe ideas
Some snazzy ways to make your Woman Incredible protein shake more useful and interesting
And, of course, to make sure you most definitely know what to do with all those recommended foods I have put together some sample meal plan ideas, including the best top 5 options for each meal of your day
I also talk to you about carbs: when to have 'em and which ones
And I cover the top supplements for women (as well as a bonus extra in which I go into more detail!)


Happy healthy eating!
Don't forget –
Life is Now. Press Play.
Kat x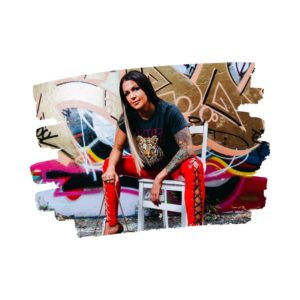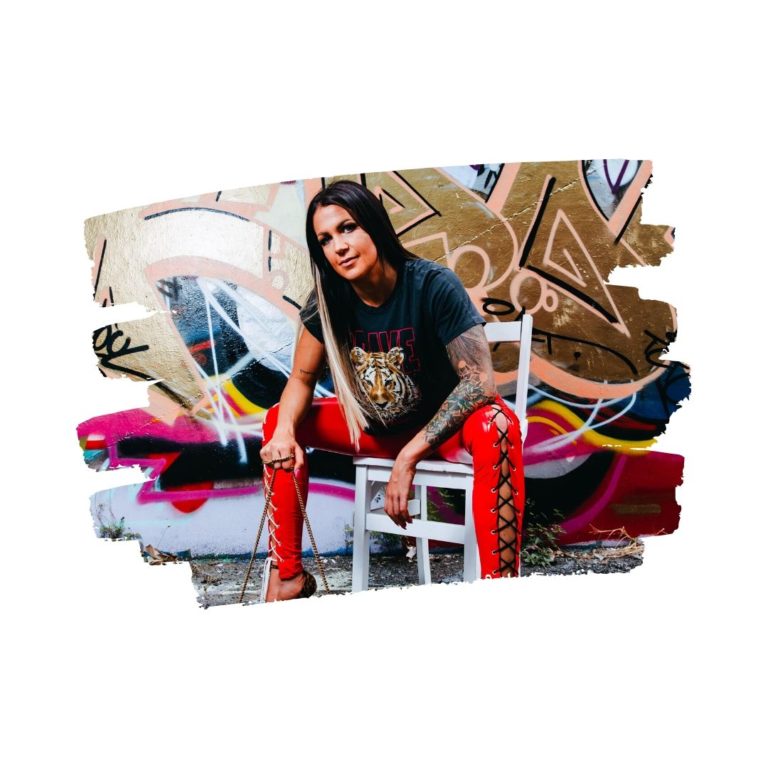 P.S.
Million Dollar Soul Team is here!
An absolute MUST for any entrepreneur who is ready to NOW start saying yes to the one day vision of where they're meant to be!
The Point by Point & Definitive Program on Finding, Building, Training, Empowering, and Flowing With Your Ultimate 'One Day' Soulmate Team, But Now!
https://thekatrinaruthshow.com/milliondollarsoulteam/
Learn exactly, and every step along the way, how I went from solo entrepreneur, to one and then two VAs even up to multiple 7-figures per year, to now being surrounded by the MOST incredible dream team on the planet! Everything you need to know for EVERY step on your journey in this area, plus the ongoing day to day and BTS of all of it! Taught by me AND the #KatNinjas, and includes access to our Standard Operating Procedures, Templates, Systems, and more, that you can use right away in your own biz, even if the entire team right now is, like it once was for me, YOU!
This 4 week program is about SO much more than simply the 'how' of finding, building, training, empowering, and flowing with your ultimate soul team. What it's really about? Getting TF outta your own way, whatever that looks like, to say yes to the business and life you actually came here for.
Come see what I made you, here: https://thekatrinaruthshow.com/milliondollarsoulteam/
P.P.S.
I'm re-opening Rich Hot Empire, today!
This is my 6 week 1:1 intensive, #KatrinaRuthFamous since 2016! It is THE way to work with me if you know you're meant to work with me 😉
During our 6 weeks together I take you through EVERYTHING there is to know around building your low end right through to high end multi 7-figure and BEYOND soul aligned empire, doing only what you love.
This isn't about where you are right now in business, this isn't about how much money you're making right now it's about who you are as a person.
Rich Hot Empire is about flicking the damn switch on who you're meant to be NOW!
Here's the thing –
The difference between you and the woman you see who is crushing it online, who's doing such an amazing job, who is so inspiring just through the ESSENCE of who they are –
Honestly, the difference isn't the systems and the structures..
The difference is she just has a HIGHER LEVEL OF BELIEF than you.
The belief in her God given right to have things work in a certain way
The belief to have business work in a certain way
The belief to have life treat her in a certain way
The belief to have the right ideas come through
The belief to have things just work out
She just believes and expects it!
What is your level of belief?
It's time to back yourself, but FULLY.
Its time to dig your damn heels in and DO the darn thing now!
This?
This is what Rich Hot Empire, and the work I do with you as a private client in this 6 week time together, is all about.
It's a time to really get into the structure and strategy in a DIFFERENT kind of way. To go behind the scenes of how I've done it, to build a multiple 7-fig per year biz which breaks all the rules, lets me be me, and yet is also highly structured … without at all feeling that way!
It's a pretty cool thing, to realise you figured out how to unleash ALL your madness, but fully, and NEVER compromise on what feels fuck yes and fly for you, and yet know you got your biz shiz sorted!
Guess what??
You get to have that too.
We dig ALL the way in to your belief stuff, mindset stuff, energetic alignment and ability to receive, everything INTERNAL that is stopping you from already being where you know you should and could, and what to do about it.
Rich Hot Empire gets such incredible results for people because it marries these two areas together. Full alignment to that next level identity you KNOW is waiting for you –
And full asskickery to do what you know you gotta do, with me right there by your side showing you how to do that, how to find the exact way that feels good and works for YOU.
Ready to go all in on you and truly BELIEVE you can have it all?!
Message me for the full overview: http://m.me/katrinaruthofficial
>>>Rich Hot Empire! 6-Weeks Personally to Grow Your Perfect Cult Tribe, Create and Launch Your Low-High End EMPIRE, and Set Up Multiple Recurring Income Streams to Take You to 7-Figures and Beyond, Doing What You Love! <<<
6-week personalised intensive high level mastermind
Weekly group training and support; multi-media training: visual + audio
'Done for You' Templates and Step-by-Step Worksheets
Personalised 1:1 coaching included, plus DAILY unlimited 1:1 access
My personal hand on your business success
Weekly group coaching call and hotseat with my other private clients
24/7 mastermind forum, networking and support
Very limited spaces
Results guaranteed
Not for everyone
I'm so excited to do this work with a small group of badasses who are willing to SHOW UP FOR THEIR SOUL no matter what. To walk away from all that is not serving, not actually working, not FILLING you. And to all yourself to bring your truest desires to life.
If that's you, or you've felt the call to work with me at this level, PM me now.
Apply via PM only http://m.me/katrinaruthofficial. I can't wait to speak with you!