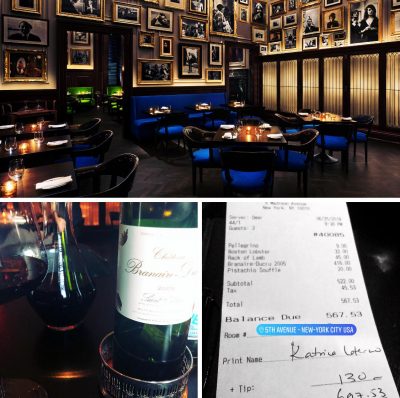 Money Mindset
CALLING IN ABUNDANCE, AND NOT GIVING A FUCK. A LESSON ON RECEIVING
I just spent $567.53 USD on dinner, for one, plus tip, and I OVER tip as a rule. So – $697.53, actually, since I just signed the check midway through writing this blog, and have now amended this first paragraph.
STOP READING NOW IF PEOPLE TALKING ABOUT SPENDING MONEY … INFINITE MONEY … INFINITE ABUNDANCE OF ALL FORMS … TRIGGERS YOU!
$416 wine. BORDEAUX, of course, what were you thinking?
Rest rest, food, whatever it was, it was amazing.
I have to admit, I'm kinda embarrassed to post about this … it feels pretentious, or audacious, or reckless, or just like, the kind of thing you 'shouldn't' talk about … but then again, I've always been a sucker for talking about things one should not speak of 
There are certain places in the world, where I seem to go out of my way to make some kind of a POINT, about spending money.
Certain places?
Those places are called A-M-E-R-I-C-A, largely 
Okay, especially New York. And especially LA. And definitely also London as well, when I'm there (dw, I'll get back there soon enough!)
Okay, okay, basically any amazing city, especially when I'm alone. Or especially when I'm with clients. Or especially when I'm feeling high vibe as fuck! Or EXTRA especially when I am alone, and yes I know I already said that. It's double true.
O-KAY then. Most place, most of the time. Haha.
The truth is, actually, if you want it, that I AM proving a point. Since I never wrote about this before, and I've been wining and dining myself this way (amongst other fancy things!) for years, I'd say largely to ME. But now let me make it to you –
There was a time when I not only was categorically not buying $416 bottles of wine just for a quiet working dinner for one, but I couldn't even buy COFFEE.
I KNOW.
The horror. It was as awful as it sounds, and then some. I don't know what was worse actually – worrying about paying my wifi bills, or worrying about paying for coffee. Fuck food, I was failing at the grocery store checkout all the TIME. I used to go in there like I was playing the lottery – bizarrely I would choose NOT to login first and freakin' CHECK my bank balance, I would get about $30 of food and just pray.
Sometimes it worked.
Sometimes it did not.
At least 2 or 3 times a week it DID NOT, and I would fumble some excuse, or just abandon my stuff at the self-serve checkout, and leave.
It never occurred to me that given the frequency with which this shit occurred, it might have been observed by staff … #doh
Anyway.
I learned to live on the knife edge of the knife edge, as so many entrepreneurs do, and maybe you are right now.
Coffee, wifi, food, those were my daily struggles.
But, I also sold my house. My car. My pitiful share portfolio. My husbands motorbike. Even my (not great!) purses on eBay. It ALL just disappeared.
Travel, when we did it, was budget as FUCK. EVERYTHING was budget as fuck. Except for growth. lol. Somehow I also made THAT work!
I stayed there, on the knife edge, for YEARS.
Never QUITE drowning.
But always gasping for air, going under, and wondering if I'd come back up again.
Somehow I always managed to break the surface at the final moment, shocked expression on my face as I realised just how close I'd been to COMPLETELY bottoming out.
And to make matters worse (or funnier, depending on your perspective!) the one time I cried out to God and asked 'how much longer; I can't TAKE it, He answered –
"You're going ALL THE WAY DOWN before you come back up again"
lololololNOT!
Actually, it was a huge blessing in disguise, to hear that. In fact, it wasn't even so disguised.
I'd been fighting SO HARD to stay afloat. Resisting like a MOTHERFUCKER. And refusing to 'be' where I was.
In that moment, something inside of me snapped.
"Well, BRING IT ON THEN GOD!", I shouted, and I FLUNG my arms out in the air, quite literally.
"IF I'M GONNA GO DOWN, THEN LET'S JUST FUCKING DO IT, AND FAST!"
YEP, I cursed at God.
Sad face.
I meant it though. I had this vision come through me, in that incredible moment, in which I heard (I swear!) the AUDIBLE voice of God tell me I was going to GO TO ROCK BOTTOM.
And the vision was me on a rollercoaster.
Holding on oh so tight.
REFUSING to let momentum take its course, on the scary downward slope.
I saw quite clearly, that if I didn't LET GO AND SURRENDER, I was going to get to the bottom and have NO MOMENTUM TO GET BACK UP AGAIN.
In that second, I let go.
BRING IT ON THEN GOD!
I surrendered, FULLY.
I let go, FULLY.
I decided to not GIVE a fuck, FULLY.
And in that SECOND, my life was changed, because all of a sudden I was NO LONGER BOUND BY FEAR.
What good had it served me ANYWAY? None! So why not just OWN and EMBRACE where I was.
And so I did.
Fast forward 4 weeks from SURRENDERING, and I had made an extra 40k 'from nowhere', a new idea which just WORKED.
6 months after that I was going 50k a month.
8 months after that 80k.
And 10 months after that, November of 2014, I had my first 100k month, and right away wrote one of my 50+ Amazon best-selling books, 'The 100k a Month Formula'. This is a MINDSET book, duh.
So what has all of this got to do with spending what most people would consider a foolhardy amount on dinner and wine even once, never mind on repeat?
Well, I'll tell you.
Part of what I REALISED in that moment of crying out to God, having Him respond, seeing the accompanying vision, and making the choice to LET GO, was that I was talking a decent game on abundance at the time, but I was not BACKING myself.
Maybe sometimes …
But I certainly didn't 'always do what my soul desires and requires', like I do now!
NOW I know (and live by, and speak of, often!) that WHEN I SAY YES TO MY SOUL, LIFE SAYS YES TO ME.
It's a rule.
Try it.
It works.
Only if you fucking FOLLOW it, always though, not just when it feels convenient or logical or not scary!
I realised –
That if I really believed ABUNDANCE WAS INFINITE, then I would ALWAYS be saying yes to what I, well, felt like!!
It sounds reckless, doesn't it?
How could you trust yourself?
What if your soul feels like REPEATEDLY GETTING INTO DEBT FOR MENTORS AND COOL SHIT, AND OTHER SHIT?
Well, what if?
I dunno … I dunno what YOUR aligned path is at all, and I would certainly never tell you to get into debt 'or else', in fact I wouldn't tell you to do ANYTHING, except for whatever YOUR soul says!
But for me? Honestly? A big part of MY journey WAS getting into (at my 'worst', let's say BEST!) over 145k of total debt!
I am GLAD I did that.
I learned so much.
And I NEVER said no when I knew I had to work with someone | travel somewhere | buy a thing | do a thing.
Somehow, I always made it work … just. Head above water, gasping for air, barely, just in time.
It was exhausting.
It was relentless.
It was terrifying.
It was my fucking PATH, and I wouldn't change a SECOND of it.
Now.
Now.
NOW.
Sometimes –
I sit in very fancy restaurants by myself (or with friends, but these deep moments tend to happen mainly alone)
I might be in one of the highest rated Michelin star restaurants in New York City, as I am right now.
Or, anywhere, really.
And there's this moment.
This moment when I look back –
And I remember the girl, the girl who since 11 years old, KNEW she was born for more. Who read Tony and Brian and Zig and Harry at that age and said YES –
That's what I'm going to do.
Not – 'I want to do that, or I'll try'.
But, that is what I WILL do.
The girl who, then, had no idea HOW to do it, and so initially sought to embark upon a normal 'successful' career, become a lawyer. Got the grades for it. Went to University for … a week? Stopped going. Started selling random shit instead. Freaked the fuck out over what she was doing with her life. Became a personal trainer, basically as a way to prove she was finally one of the COOL kids. Got married at 25. Divorced at 26, messily and with much trauma. Had a 'quarter life crisis' at 27, and suddenly realised – fuck! All of that stuff she dreamed of wasn't gonna happen if she didn't MAKE it happen. Started a blog. Had no idea what she was doing. Heard about 'ebooks'. Wrote one. Made $407 with her first online launched. Realised instantly, in her kitchen, as she looked at the sales, that if she could make $407 she could make ALL THE MONEY IN THE WORLD AND SHE WAS UNSTOPPABLE. Started to listen more to what people said, needed, wanted. Made info products. Then more. Lost her way. Found it again. Got married again. Had kids. Left a marriage again, EVEN more messily. Kept going, somehow, through it all. Eye on the prize, KNOWING she was born for it, KNOWING that if she just.kept.going she would GET there.
I remember that girl.
And I remember how somewhere, deep within, she ALWAYS fucking knew –
That what she felt inside of her was real.
That ABUNDANCE was real.
That it was INFINITE.
And that whatever she asked for IN FAITH and held true to and refused to sway from, took SOUL ALIGNED action towards, would HAVE to come true.
I remember that girl, so fondly, and I see her, now finally, with true love and acceptance when I look at her.
And I guess all I'm saying is, well –
Sometimes I like to raise a rather fine glass to her, and to all she became, and will still become, and all she knows, and has always known.
And sometimes?
I just wanna fucking prove the point that every dollar I spend is returned to me tenfold, and then some.
Because?
And either you believe fully –
And act accordingly –
Or you don't at all.
Either way –
You already chose.
Your actions show it.
And your life?
Is created by it.
I love you.
I honour you.
I believe in you.
AND YOU?
Remember –
Life is Now. Press Play.
Kat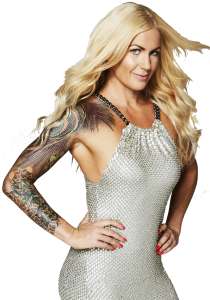 PS
EMPRESS HAS BEGUN! We officially kicked off TODAY!
It's NOT too late to join … say yes to your soul NOW, and you'll receive the Week 1 initial training right away, get on my calendar for our first 1:1 call, join the Facebook group BADASSERY with my other Empress Private Clients and a good bunch of my Inner Circle crew also, AND you'll be in time for our very first live hotseat which is in 2 days!
Whooop!
Message me for details now – only if you believe in ABUNDANCE BEING INFINITE … which, let's face it, it kinda sorta can't NOT be! 
EMPRESS: Claim Your Rightful Place, NOW.
4 Weeks 1:1 With Katrina Ruth, For Women Unapologetically Born for More.
This is what is missing:
You –
You're a Queen, a leader, a badass, we KNOW this, you were born for it and it shines out of every pore of you, but more than that, you're a motherfucking EMPRESS, gorgeous, you've ALWAYS known this, and let's get real now:
(it might sting a little)
This whole LITTLE game you're playing, of "I'm a COACH, and I teach this, or that, or the other thing, join my program, sign up for my stuff, I'll teach you HOW, and show you the process and how I can HELP you?"
Well –
It was never going to cut it, WAS it now?
Nope!
THIS IS NOT NEW INFORMATION FOR YOU.
You look around –
At all the things –
You tell yourself you have to do each day –
The way you think you gotta show up, sell, prove your worth, get people to want to LEARN from you, and therefore pay you, and what you don't SEE is that the reason you were always meant to be PAID –
Damn highly, I might add!
– is for people to be in your presence.
To soak up the ENERGY and the ESSENCE of you.
To be lifted up and elevated to where THEY need to be, and into the action which automatically just goes with it, because of the way that YOU show up and shine.
This has nothing to do with what you teach.
It's NOT a fucking strategy.
And you can break down the components of it all you like, but REALLY it's a vibration thang.
You've either got it.
Or you don't.
And you, well you have always HAD it, haven't you? You've always been that person who shines so.fucking.bright, who sees the world in a particular way in which others do NOT, who has lived their LIFE in a certain way in which others do not, who has quite literally TRAINED for this shit.
Since you were a young girl –
Since as far back as you can remember –
No need to pretend otherwise – !
You KNEW you were born for more.
You looked around …
As though in a daze …
Not quite understanding what everybody else was ON about, or why they cared so much …
And just kinda sorta ALWAYS fucking realising –
Well.
This is not where I am going to be ANYWAY.
These are not my people …
This is not my path …
This is not the world I will OPERATE in!
It's as though your soul knew, since before time even began, that you came from different stock.
You were born into the wrong world, you had to spend time there for perhaps learning, or growth, or just the gathering of PATIENCE, but it was always clear that one day?
just as with an orphan –
who dreams she is really born of royalty –
Your real life would come for you.
What you didn't realise, what you were perhaps never told (and why would you be, because who would TELL you back then, or even KNOW?), what you must now take OWNERSHIP of, is that the life you've been waiting for this whole time, and the you who you've always known you must step into, it was NEVER GOING TO COME FOR YOU AT ALL.
It was always that YOU had to step up for IT.
And now here we are –
You show up online –
Every day 'doing the do'
Valiantly seeking to demonstrate why YOU are better coach, or even, the best – !
When actually you are NOT A FUCKING COACH AT ALL, and quite frankly the whole thing faintly SICKENS you, because when all is said and done and IF you dare to admit it –
You're just so much more than that.
That's all.
It's always been the way.
That's all.
You just didn't know you had to own it.
Is all.
And now, well NOW –
You wonder why you struggle to break that next income level
You wonder why so many of the things you set out to do exhaust you, and you either don't DO them (and continually beat up on yourself for it), or you do them and you RESENT EVERY FUCKING SECOND OF IT
You wonder what is WRONG with you
Why you can't just get your shit DONE
Why you don't seem to think or FEEL like the other coaches
And why it doesn't feel like FLOW yet when wasn't the whole damn POINT supposed to that you just get to wake up each day – 
Follow your heart – 
Create your art – 
Do what you can't NOT?!
And you know –
Yes actually.
IT MOTHERFUCKING WAS.
So why does it feel so NOT that yet, why is it that even when you're CLAIMING flow and ease the truth is there's this constant fucking NIGGLE there, this missing piece, this emptiness, this frustration, this WON'T YOU ALL JUST FUCK OFF AND LEAVE ME ALONE energy?!
Isn't it obvious?
Don't you see?
Haven't you ALWAYS FUCKING KNOWN?
You're not a coach.
You're not an 'online business owner'.
You're not even ACTUALLY an entrepreneur, not if there's a full stop after it, anyhow.
You can do all these things.
Be all these things.
And indeed always WILL, howEVER –
What you are, who you are, how it's always BEEN, and why the whole damn thing is NOT in fact flowing as you know it should and COULD, is because you?
Are an EMPRESS baby.
Born for more.
Born for exceptional.
Born for EXTRAORDINARY.
And not of this world.
And you tell yourself –
How outrageous it is, to think so HIGHLY of you, to expect so much, to feel that REALLY if the world were at rights with itself YOU WOULD BE IN CHARGE, to know that you know that you know that people REALLY need to shut the fuck up and LISTEN to you, and that actually you should ALWAYS and ONLY get to do what you want –
Have what you want –
With the click of your fingers, and the blink of your eyes, and TOTALLY as you imagined it, and that while we're on it people SHOULD pay just to be in your presence –
You tell yourself it's TOO MUCH AND CRAZY –
But in actual fact
you know
and you've always known
she says –
with a shrug of her shoulders, and a 'what do you want me to do about it' look –
this is just how it IS …
Which I suppose begs the question –
When in actual fact do you imagine you might like to start owning the fact that THIS IS JUST HOW IT IS?
Question:
How about right fucking now?
EMPRESS
Claim Your Rightful Place, NOW.
4 Weeks 1:1 with Katrina Ruth, for Women UNAPOLOGETICALLY Born for More
Empress ENERGY AND VIBRATION
Empress EXPECTATIONS AND DEMANDS
Empress ENVIRONMENT, EVERY BIT OF IT
Empress EMPIRE, THE WHOLE SHEBANG
Empress MOTHERFUCKING EVERYTHING – THE WAY IT WAS ALWAYS SUPPOSED TO BE
It's time to stop playing so coy –
Pretending you want for so little –
And telling yourself a STORY –
That you're here to build a business online, make some money, be one of the fucking PACK, when the only truth is ALWAYS –
You were born to run the world.
EMPRESS initiation has begun –
Your rightful place is waiting –
This is 1:1 with me the likes of which has NEVER been done before, or even, heard of
It will take your breath away
It will shake you to your core
It will cause you to question EVERYTHING you're doing right now
And it will show you
UNAPOLOGETICALLY
Why you feel SO DAMN EMPTY INSIDE
When you're supposedly DOING everything you're meant to be doing
How can you feel
what you're mean to feel
and what it was always supposed to BE about
when you haven't even actually begun
on the life you really came here to build
There is a reason you feel like so much is missing, and here is what it is –
The thing you've been missing?
Is being the real fucking you.
EMPRESS gorgeous.
Me and you.
CLAIMING your rightful place, and everything which goes with it.
When?
Well –
If your soul is saying yes
Then YOU say yes
And message me now for cost deets + the full lowdown x
ABUNDANCE.
It actually IS your birthright.
You know this