News
Exhausted, Angry, Frustrated … And Exuberant? How To Control Your Energy State.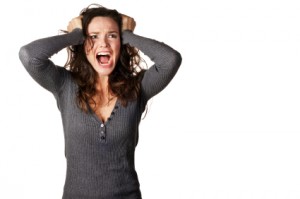 Have you ever been somewhere that you know is good for you; somewhere that perhaps you even paid a lot of money to be and which ties in directly to your big dreams, and yet you just can't stop finding reasons why it's all too hard? And maybe you even come up with a good enough excuse that you actually leave or decide that 'now is just not the right time for me', or 'but they don't understand. I'd love to do this, except for …. insert random excuse of choice'?
Have you ever walked away from a dream because taking the steps to get there made you feel uncomfortable?
I nearly did. Over the weekend I attended a 3-day conference on being a better presenter. It's long been a dream of mine to become a famous motivational speaker … I'm actually one of those few people (apparently) who do fear death more than public speaking 🙂
The days were long. Including travel, well over 12 hours. There was a lot of sitting, super-snappy break times, and catered food options that would have done any sugar addict proud (check out the Woman Incredible Facebook page for what I don't eat :))
There was also incredibly good content. I can say with absolute certainty that 99% if not 100% of what was taught was crucial and worth hearing, and specifically relevant to me and my personal and business dreams. Matter of fact, the weekend has pretty much transformed what I'm going to be doing with my business and personal development moving forward.
it's normal to resist transformation
But if you think I sat there gripping the edges of my seat the whole time, you can think again.
On day one I just got more and more frustrated as the hours passed. I couldn't stop thinking about how much I hate sitting, about how exhausted I felt after an insomnia night the night before, about all the emails no doubt mounting up, about writing and a LOT about how guilty I felt at being away from my daughter for 3 days straight and how resentful I felt (at myself!) for missing my normal weekend routine with her.
While one part of me was excitedly taking in the techniques and making copious notes, the other side was thinking "just get me out of here!"
It was tempting to listen to all the perfectly valid reasons excuses born out of a doubting mind as to why I needed to leave and reclaim my weekend. I could taste the freedom of getting my time back; of leisurely walks and coffee and playing at the park with my bubba.
I stuck it out, but on day two?
Same thing.
I remember sitting there in the early afternoon honestly thinking "I don't think I can do this". Thinking "I honestly don't think I can keep my eyes open". At one stage I was even privately crying. I think it was something Dr Joanna Martin (the presenter) said about babies and it reminded me about being away from mine, and the emotions came out.
The next moment, I was laughing and feeling that massive rush of energy you feel when the world just aligns for a moment and everything seems … right. All because of a silly little exercise that Joanna had us do with our neighbour. You know the kind of slightly uncomfortable stuff you're forced to do at conferences? I can't remember what it was, but it doesn't matter.
change your energy state; change your life
Joanna taught us that when you're presenting you need to change the energy state of the audience approximately every 7 minutes. If you don't, you risk losing them. Not because you are boring or not relevant, but because their emotions may well take over. The anger, frustration or exhaustion might just carry them up and away. Which would be a massive disservice, considering as how they chose to come and listen to you!
As the hours passed, and then the days passed, it got me thinking. Over the course of the weekend I'd felt just about every emotion possible. Sure, some of it had been me reacting to instruction or to the structure of the day, but most of it was just me reacting to the thoughts in my head.
Which presents an interesting consideration –
are you acting out your dreams, or reacting to circumstance?
Truth is, you have the power to control your energy state. You can choose how you feel about or react to anything that happens in your day to day life, and even to the big stuff.
Just ask yourself this –
Would you rather live your life in reaction or in action? The truth is that most people live their entire life just reacting and never truly living. To work, to other people, to distractions like social media or email, to what's going on in the world around them, to deep-set beliefs that may or may not be true … just reacting. Which, by it's very definition, means they are not acting. They are not choosing to live out their dreams.
I know which I'd prefer.
Something changed in me this weekend. I made a stand in my own head. I've wanted to 'really' be a speaker for years now, and I have the skills that I could have achieved a lot more in this area than what I have done. Well it's time to stop reacting and start making clear choices about how I do this. I'm determined, and I have the support (I have joined a mentoring program).
So how about you? And be honest now. Do you find yourself constantly reacting, or have you made a choice to take control and choose the path your life will take; even if it is the road less traveled?
Life is Now. Press Play.
Kat

Don't forget –
Life is Now. Press Play.
Kat x
PS
Programmed to Upgrade is happening gorgeous, and WHOOOOO MAMA is this the work that works.
25 days, you and me, 1:1, to quantum leap like you've NEVER leapt before.
This will be intense …
And a lil bit scary. But buckle up, because you KNOW you're ready for it.
SO fucking ready 😉
Programmed to UPGRADE!
25 Days, 1:1, with Katrina Ruth, to SCREW the Rules, SCREW the Norm, Go So Damn Extra, So Freaking Hot, So Fully SEEN, and Snap Your Future Into the Now So Damn Fast It'd Make Your Head Spin … even as you nod in certainty that of COURSE, this is what was ALWAYS supposed to be ..
Places are already filling, and we begin next week. If you know it's time to say yes to MAGIC, and creating your reality from the supernatural, and you're SO ready to drop the paradigm of always having to DO (and yet still not be there!) then message me now.
I'll get you the full overview, and talk personally with you about whether or not it's for you.
To the supernatural baby, and beyond …
PPS
I HAVE SOME BIG NEWS TO SHARE!
As of today, I'm opening up the doors to my Inner Circle, my private client mastermind.
This is THE most badass high level mastermind in the world for women who want it all – and are prepared to do what it takes to get it! Really what we're talking about is being prepared to be the PERSON.
And that's what I do. I help you remember ALL that you were, and then become it. ALL Of it.
This is my highest level private mentoring circle. The exact place where I have personally mentored dozens of this industry's most elite female entrepreneurs to break income barriers ranging from 10k months to multiple 7 FIGURE months, and everything in between. But more importantly than that – to become who and what they always were.
But know that this is not only (obviously) not just for the masses, this is also not just for someone who can afford to invest in a high level private coach. Being willing to throw money down is something which has absolutely zero correlation to being somebody who has what it takes to TRULY go next level as a leader.
If anything, in this industry, investing in a high level coach such as myself, is a rite of passage which veers just a little too much on the side of 'trend'. It's become something which 'everybody does', almost as a way of proving they play business and life a certain way.
Maybe even of trying to prove it to themselves.
Here is the reality which those who I am truly here to personally mentor and lead KNOW, the reality which my clients and all women like me as well as of course me personally have ALWAYS known:
We are VERY VERY DIFFERENT.
We are simply, smarter, faster, and have more presence. We can do more in our minds before breakfast than what most people can do in a freakin' WEEK, a month, a year.
We are not basic ass coaches trying to heave ho our way up a few extra thou a month.
We are the ones who have ALWAYS known we are 1% within the 1% within the 1% in terms of how we think, create, operate, how and WHAT we are tapped in too.
This is not arrogance, this is fact.
And there has NEVER been any question but that we will go all the way.
My clients are high level badasses who do the work, who have a proven track record BEFORE coming to me, and a BEING-ness which unquestionably separates them from the rest. They don't come to me to save them or lean down and hold my hand out so they can clamber up. They come because they are, quite simply, ready to go to the next level, already absolutely on their WAY there, and see in me something which they recognise because it is in them.
That 'can't stop won't stop' fire, and a level of 'unapologeticness' which, when truly understood and applied, can literally be the difference between 5-figure or low 6-figure and 7 or multi-7-figure entrepreneur.
So if you know who you are and it is THAT –
And you feel certain that you are ALREADY well on your way to to precisely where you're meant to be, but that being in MY energy could help you to drop in and get there even faster, and that with a couple of simple tweaks your current revenue could be doubling, tripling, heck QUADRUPLING and beyond in months, as it has done with numerous of my clients previously, well then –
PM me here http://m.me/katrinaruthofficial and we'll see if it's a fit. I'm excited to talk to you, and maybe – do biz and life with you.