News
Exhausted, Angry, Frustrated … And Exuberant? How To Control Your Energy State.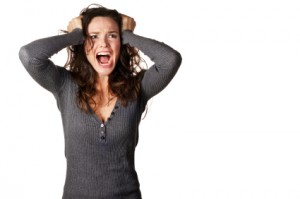 Have you ever been somewhere that you know is good for you; somewhere that perhaps you even paid a lot of money to be and which ties in directly to your big dreams, and yet you just can't stop finding reasons why it's all too hard? And maybe you even come up with a good enough excuse that you actually leave or decide that 'now is just not the right time for me', or 'but they don't understand. I'd love to do this, except for …. insert random excuse of choice'?
Have you ever walked away from a dream because taking the steps to get there made you feel uncomfortable?
I nearly did. Over the weekend I attended a 3-day conference on being a better presenter. It's long been a dream of mine to become a famous motivational speaker … I'm actually one of those few people (apparently) who do fear death more than public speaking 🙂
The days were long. Including travel, well over 12 hours. There was a lot of sitting, super-snappy break times, and catered food options that would have done any sugar addict proud (check out the Woman Incredible Facebook page for what I don't eat :))
There was also incredibly good content. I can say with absolute certainty that 99% if not 100% of what was taught was crucial and worth hearing, and specifically relevant to me and my personal and business dreams. Matter of fact, the weekend has pretty much transformed what I'm going to be doing with my business and personal development moving forward.
it's normal to resist transformation
But if you think I sat there gripping the edges of my seat the whole time, you can think again.
On day one I just got more and more frustrated as the hours passed. I couldn't stop thinking about how much I hate sitting, about how exhausted I felt after an insomnia night the night before, about all the emails no doubt mounting up, about writing and a LOT about how guilty I felt at being away from my daughter for 3 days straight and how resentful I felt (at myself!) for missing my normal weekend routine with her.
While one part of me was excitedly taking in the techniques and making copious notes, the other side was thinking "just get me out of here!"
It was tempting to listen to all the perfectly valid reasons excuses born out of a doubting mind as to why I needed to leave and reclaim my weekend. I could taste the freedom of getting my time back; of leisurely walks and coffee and playing at the park with my bubba.
I stuck it out, but on day two?
Same thing.
I remember sitting there in the early afternoon honestly thinking "I don't think I can do this". Thinking "I honestly don't think I can keep my eyes open". At one stage I was even privately crying. I think it was something Dr Joanna Martin (the presenter) said about babies and it reminded me about being away from mine, and the emotions came out.
The next moment, I was laughing and feeling that massive rush of energy you feel when the world just aligns for a moment and everything seems … right. All because of a silly little exercise that Joanna had us do with our neighbour. You know the kind of slightly uncomfortable stuff you're forced to do at conferences? I can't remember what it was, but it doesn't matter.
change your energy state; change your life
Joanna taught us that when you're presenting you need to change the energy state of the audience approximately every 7 minutes. If you don't, you risk losing them. Not because you are boring or not relevant, but because their emotions may well take over. The anger, frustration or exhaustion might just carry them up and away. Which would be a massive disservice, considering as how they chose to come and listen to you!
As the hours passed, and then the days passed, it got me thinking. Over the course of the weekend I'd felt just about every emotion possible. Sure, some of it had been me reacting to instruction or to the structure of the day, but most of it was just me reacting to the thoughts in my head.
Which presents an interesting consideration –
are you acting out your dreams, or reacting to circumstance?
Truth is, you have the power to control your energy state. You can choose how you feel about or react to anything that happens in your day to day life, and even to the big stuff.
Just ask yourself this –
Would you rather live your life in reaction or in action? The truth is that most people live their entire life just reacting and never truly living. To work, to other people, to distractions like social media or email, to what's going on in the world around them, to deep-set beliefs that may or may not be true … just reacting. Which, by it's very definition, means they are not acting. They are not choosing to live out their dreams.
I know which I'd prefer.
Something changed in me this weekend. I made a stand in my own head. I've wanted to 'really' be a speaker for years now, and I have the skills that I could have achieved a lot more in this area than what I have done. Well it's time to stop reacting and start making clear choices about how I do this. I'm determined, and I have the support (I have joined a mentoring program).
So how about you? And be honest now. Do you find yourself constantly reacting, or have you made a choice to take control and choose the path your life will take; even if it is the road less traveled?
Life is Now. Press Play.
Kat

PS
Expansion.
10 Days of Live Soul Transmissions, to Help You Find and Follow the Messages Within
Day 1) Trust
Day 2) Certainty
Day 3) Self-Belief
Day 4) Empire Creation
Day 5) Your Deepest Message
Day 6) Following Soul Guidance in All Areas
Day 7) Faith vs Fear
Day 8) Accessing Flow, and Superflow
Day 9) Expanding Time
Day 10) Expanding Money
Every day will be a LIVE soul led transmission.
This will take place on Facebook video, held at a variety of times in order to account for varying time zones, and scheduled only once we have begun. Our daily soul transmissions will be guided from MY higher self and directed from and for YOURS, to help you find and FOLLOW the messages within. The messages of your spirit, your consciousness, of the who you've always been and yet have managed quite well to cover up a lot of the time.
This is about stripping away –
And getting back to the CORE.
We'll dive day by day into the above mentioned areas –
And you'll receive all content and bonuses to keep for life.
There will be daily spirit prompts which you'll receive after each training.
And plenty of time opportunity connect with me throughout, receive transmissions direct to YOUR questions, and absorb more even than what comes through on the trainings, via the energy we'll create in this collective!
It's very rare for me to know in advance exactly what is coming through day to day.
I certainly don't have the details of each day's content. But I know that these areas have been on my heart to talk about, in particular around belief, around certainty, around living from FAITH.
We know that exactly what is meant to come through for you WILL, and then some. And that if you intend and allow for it to, it will change, most likely before we even begin, due to your energetic commitment, the direction of your LIFE!
Meaning: direct it back to absolute soul alignment.
*** NEVER Seen Before Bonus! ***
As part of this, I've been guided to offer a NEVER before seen bonus … one I feel super vulnerable about sharing!
It's the exact journaling I did to allow the download of THIS offer through. How I allowed the idea to bubble up. You'll see my doubt, uncertainty, annoyance. You'll see what I discarded. How I went through the layers. And how I KNEW, this was the one.
I'll ALSO add in copies (screenshots) of my conversation with my COO Ash, where I was talking through the idea and allowing it to come to life.
I want to show you the exact Idea to Launch process!
This bonus alone is EASILY worth the cost of this program, particularly when you hear the mindset side of it, in terms of STAYING THE COURSE and refusing to back away from my self until the idea showed up!
I refuse not to create!!
AND, when you register for EXPANSION today (and how could you not?!) you'll also receive early access to the Pre-Work. This is ALSO never seen before, and brand new just for you – and it's a guided meditation on remembrance, to help you connect back to deepest self and the most certain truth of your destiny, before we even begin.
Perfect priming, for when we expand RAPIDLY into all that is coming through in this work!
Of course I could now go on and on here, about what I could or should have charged for this, and what it's actually going to be …
Or about all my accomplishments on line and off, with money, with purpose, with passion, with flow …
I think you know all this anyway. Even if you just me! Your soul feels what matters. And that's ALL that matters.
But I will say this:
You've always known it's supposed to be about ALL that is inside of you. That it's meant to COME from a place of purpose, passion, and SUPER super flow. And that if you just.freaking.trusted, and showed up FULLY from that place, you'd be living in a different reality already.
THE ONE INSIDE OF YOU.
If that's true for you right now, then LET'S GO CREATE THAT REALITY.
Right now
Press play for regular, (super fuck yes!!) upfront or payment plan
OR
Press play like a VIP, and receive the full course, plus 10 days direct photos or screenshots of my ACTUAL personal journaling, so you can see how I create and expand my life, PLUS a VIP only follow-on live Hotseat, where you'll receive a personal transmission just for you, if you'd like one! Payment plan also available.
>>> https://thekatrinaruthshow.com/expansion
We start Monday 17 December, US time!