News
Could This Innocent Household Item Be Making Your Butt Bigger Plus Increasing Cancer Risk?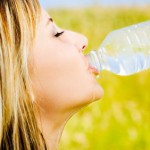 I'm guessing you've heard all the recent scares about plastics in our water and food supplies. In the light of recent current affairs attention, BPA (Bisphenol-A) and other xenoestrogens are the 'toxins du jour' and companies such as Heinz are falling over backwards to rid their packaged foods (such as baby food) of these harmful chemicals.
And well they should. According to naturopath Lisa Guy, a recent study from the Yale School of Medicine, published in The Endocrine Society journal, Hormones and Cancer, found that exposure to chemicals such as BPA in the womb can increase a person's risk of breast cancer later in life. If health risks don't scare you then you may be interested to know that increased exposure to xenoestrogens goes hand in hand with increased lower body fat storage. Yup. Those pear shaped hips might be genetic in part, but the reality is that your lifestyle says a lot more about your body shape than what your genes do. Through the Biosignature, we know that an excess of synthetic estrogen can result not just in higher risk of breast, prostate, and other cancers, but also plays havoc with a host of other hormonal functions such as fertility and libido. Oh – and while estrogen can increase lower body fat in females (particularly), it also does a swift one on the guys, going hand in hand with aromatisation of testosterone (your body converting testosterone to estrogen), and female-like characteristics such as man boobs. An estrogen imbalance can also make it very tough for you to build lean muscle.
The reason xenoestrogens affect your health so much is that molecularly they are so similar to human estrogen that your body cannot tell the difference. The more 'fake' estrogens you are exposed to, the more of an estrogen imbalance you can unwittingly create hormonally.
but they're everywhere!
Xenoestrogens are rife not only in plastics and other household items, but also in pesticides, herbicides, and fungicides (which is just one reason I always advocate organic food).
And let's face it. Environmental chemicals such as pesticides are everywhere. Here in Australia, planes are sprayed externally with pesticides as soon as they land on the tarmac. "Welcome to Australia, and please accept this nice gift of synthetic estrogen while you're here. Sorry, no refusals". The truth is that you can never fully control your environment, which makes it all the more important, of course, that you do take charge where possible.
Offender number one: the humble water bottle
In the spotlight at the moment is the humble water bottle. While many doctors will tend to take the more PC approach ("the evidence is not clear either way so let's just wait and see … kinda like we did with lead. And asbestos. Oh well; I'm sure it will all be fine!") alternative health practitioners the world over have long warned clients and family of the dangers of too much plastics exposure.
BPA (which hardens plastic) is found most commonly in water bottles, but also baby bottles (and baby toys, hence the brilliant book Slow Death By Rubber Duck), most plastic kitchenware, and is also used to line cans of tinned food as well as many milk and juice containers. And whilst it's true that heat combined with plastic causes the most toxic damage, the truth is that anything housed in plastic will be absorb xenoestrogens in some amount. In fact – and this one freaked me out big time –  if you're thinking that drinking bottled water is not so bad as long as you don't let the water heat up, think again. According to a client of mine who works for Coca-Cola, all bottled water (and, I'm guessing, all bottled beverages) is hot poured. They do this to kill bacteria. Awesome.
so what's a health conscious small-booty-lovin' person to do?
Well, like many aspects of healthy living, it's going to take a little change and effort. But really? Nothing that difficult considering the outstanding difference it may make to your health.
Use Pyrex containers for your food, or BPA free plastic.
Use BPA free water bottles with filtered water from home, or stainless steel.
If you can't find 'BPA free', know that you should avoid the recycling number 7, or the letters "PC". The labels 1, 2, and 4 are safe.
For babies and small children use ONLY BPA free bottles, dummies, teething rings, and even toys. Especially bath toys as they are heated up.
Many chemicals used in skincare and bathing products are xenoestrogen based and may disrupt your endocrine system. To find out what you're really slathering all over your body visit this useful website.
The contraceptive pill is one of the most common ways to increase estrogen. You may like to discuss with your doctor the possibility of going to a lower dose pill. I've heard it said that many of the fitness models use Yasmin or Yas due to it's minimal effect on estrogen and increased body fat.
Avoid chicken because of the hormones? Wrong! I'm happy to say that hormones have not been used in Australia in poultry farming since the 1960's. This is a myth. If you want to be sure though (and to avoid the effects of a poor diet and pesticides), choose free-range organic poultry only.
final thoughts: big butts and big(ger) boobs
Now I don't know how you feel about big boobs. Personally, I'm rapt to have my pregnancy-estrogen-boosted chest finally back to its normal flat(ish) self as it's far more practical for training. Funnily enough, my partner doesn't really agree with me. Anyway, fortunately or unfortunately as the case may be, it would appear that environmental and nutritional estrogens are causing a significant increase in the average bust size. According to Monash University women's health specialist Professor Susan Davis the levels of estrogen in women's bodies is affected by our environment, and those levels are making themselves known in curves everywhere.
Sunday Life magazine journalist Erika Woods writes that "in 1960 the average women's breast size was 10B in Australia. 10 years ago, it was 12B, (while) today it's 14C". And apparently bra manufacturers such as Triumph are trialing sizes as large as a J cup. Yikes! If you're thinking that this is just because women are bigger overall, you'd be partially correct. A 2005 National Health Survey found that 39% of Aussie women are overweight, and certainly we all know that the average size (now a 14) is far higher than it was a generation or two back. Yet FHM editor Guy Mosel comments that "even women with skinny bodies seem to have over-developed breasts now, which isn't a shape that used to exist at all"
Could plastics be playing a part? Can we really blame our environment and innocuous household items such as plastic water bottles for our changing body shape and increased health concerns? Or are we just trying to avoid responsibility for poor nutrition and the effects of modern stressful living? I say it's up to you to decide. But I know where I'm putting my money, and it's no longer the water bottle vending machine.
Your thoughts?
Life is Now. Press Play.
Kat x
PS
I want to help you to build a business you LOVE, and that meets your every want and desire, in a real and true way, whilst also resulting in you making a LOT of money, fast, and impacting a lot of people, also fast, in the way you know you were born for!
My most transformative 1:1 intensive EVER … shifting people into EPIC income and success since 2016 is back, for the first time in 2019! I'm so excited to bring this signature transformative work back!
Rich Hot Empire!
Work With Me for 6-Weeks Personally to Grow Your Perfect Cult Tribe, Create and Launch Your Low-High End EMPIRE, and Set Up Multiple Recurring Income Streams to Take You to Multiple 7-Figures and Beyond, Doing What You Love!
This round is even more special as I will be re-recording all original content, with you there live with me and alongside me AND you will also receive all original content; the exact trainings which has made this program my most successful ever, with clients repeatedly saying they achieved more in 6 weeks with me than they had in 2 YEARS beforehand! This work is for entrepreneurs at ANY starting point, as it's about who you are as a person not where you're at. I've had clients anywhere from total start-up, to already doing 500k+ / year go through Rich Hot Empire and all who have done this work have gone to a level of income as well as alignment and FLOW which they couldn't previously even imagine!
6-week personalised intensive high level mastermind
Weekly group training and support; multi-media training: visual + audio
'Done for You' Templates and Step-by-Step Worksheets
Personalised 1:1 coaching included, plus DAILY unlimited 1:1 access
My personal hand on your business success
Weekly group coaching call and hotseat with my other private clients
24/7 mastermind forum, networking and support
Very limited spaces
Results guaranteed
Not for everyone
STARTS THIS MONTH!
I'm so excited to do this work with a small group of badasses who are willing to SHOW UP FOR THEIR SOUL no matter what. To walk away from all that is not serving, not actually working, not FILLING you. And to all yourself to bring your truest desires to life. If that's you, or you've felt the call to work with me at this level, PM me now. Bonuses and fast action-taker investments apply to all successful applicants, but for the first 5 to say yes there is a very special $2000+ bonus specific around Soul Shifts & Money Makin', and which, in and of itself even before we begin RHE will have shit changing for you FAST.
Apply via PM only. I can't wait to speak with you!
PPS
HAVE YOU JOINED PURPOSE PASSION FLOW ACADEMY?
My 'Going Fully Quantum' training will break down ALL of what we've discussed today, and teach you the finer details and finesse of it, as well as exactly what needs to be true for you to APPLY it, not only into the practical actions you need to create THAT money flow and THOSE results, but also in terms of ALL the energetics of it, especially the 'being and non-being' around dropping in to superflow so you can be shown, create, receive, AND of course the being around not being one of those people who just can't seem to choose faith and are ruled by fear. We'll also talk about creating and integrating the exact wording, beliefs, emotions, energies YOU need for all of this to switch effortlessly for you, as you've always known it would.
In other words: EVERYTHING you need to know to go fully quantum, and double your income in 30 days or less, or whatever else you choose!
Where will you find this training?
Why, it's one of the very first training in 'Remembering Who You Always Were', which. is our June intensive for Purpose Passion Flow Academy, my SUPER low-cost monthly membership mastermind!
And this training?
Will change your freaking reality. Well – it will REMEMBER it.
It's all available to you gorgeous.
You know this already.,In the quantum it is DONE. And in Purpose Passion Flow Academy, and especially our June intensive 'Remembering Who You Always Were'? We gon' done do it.