News
Female Fat Loss, Estrogen & Stubborn Lower Body Fat
Today's post is written by London Personal Trainer Rich Phillips. You can read the article in its original format at this link.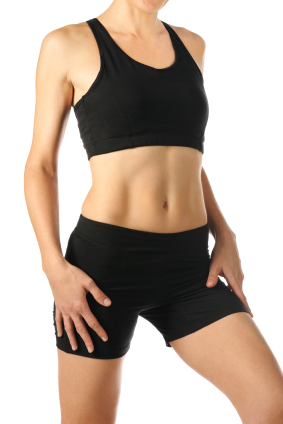 Female fat loss can be a frustrating business.  You've been attending the gym regularly, maybe even working with a personal trainer (Editor's note – warning, not all personal trainers are created equally!) sticking to a strict fat loss meal plan and avoiding those nights out with the girls. Your tummy feels tighter, clothes feel looser but there is one problem, you're not losing lower body fat.
If this sounds all too familiar then don't fear as there is an explanation for the vagaries of female fat loss and several ways to tackle this problem often referred to as estrogen dominance.
How is Estrogen related to lower body fat?
The legs, mainly the thighs, have a large number of estrogen receptors which bind with high affinity to estrogens. When too many poor food and lifestyle choices occur over a period of time there is an increase in the fat storing form of Estrogen known as Estradiol. This hormonal imbalance can create a large amount of fat storage around the thighs, hips and bum.  The best way to really determine whether you have this issue and to then ascertain the ideal ways to shift your hormonal profile away from an estrogen dominance would be to visit an experienced and high level BioSignature Modulation practitioner.
Following are five top tips to help budge estrogen induced stubborn lower body fat:
1.    Refined carbohydrates/sugar – although this should be the first steps in any fat loss diet plan, it is especially important when it comes to losing lower body fat, as sugars increase the aromatase enzyme which role is to convert testosterone (yes ladies you do have some) into estradiol (the fat storing estrogen) thereby increasing lower body fat. As well as allowing you to balance your blood sugar levels and control cravings, refined carbohydrates must be the first thing you eliminate if fat loss is your priority.
2.    Digestive support – before I continue with the nutritional support required, it's imperative that optimal digestion is present in order to ensure nutrients in the diet are allowed to be absorbed properly and perform their various functions. 95% of people we test show very low levels of Hydrochloric acid (HCL) which in short, means the greatest organic foods and fancy supplements are going to be almost pointless, as the main role of HCL is to breakdown and prepare foods to be assimilated in to the body.
3.    Methylation – This is a process which affects nearly every metabolic process in the body from DNA expression, protein regulation, liver detoxification, estrogen metabolism and so on. In order for the methylation cycle to function optimally various nutrients such as B6, B12, Trimethlyglycine, Folic acid, Magnesium and Zinc are just a few of the nutrients needed. Now for the twist…it's estimated that nearly 40% of the population have a genetic fault in one of the pathways of the methylation cycle called Methyltetrahydrofolate (MTHFR). This is a very complex process to explain and beyond the scope of this article, but extremely important to be aware of in order for optimal estrogen metabolism to occur. So how do I know if I have it? This is the easy part…include some Asparagus in your next meal and the next time you go to pee… your know it! I'm sure many of you will already be aware of the smell that takes place after eating asparagus, well now you know why. One of the simplest ways to manage this is by supplementing with some of the nutrients mentioned above. A high quality B complex, zinc, magnesium and a diet high in cruciferous vegetables is the way forward. For those of you that don't have this gene, these nutrients are still going to be of benefit to support proper methylation.  Methylation may sound complicated but if you remember that you need a full spectrum of B vitamins to properly metabolise the estrogen that causes you to store a preponderance of your fat in your lower body then you won't go too far wrong.
4.    Cruciferous Vegetables – without doubt these have the greatest potential to help rid the body of bad estrogens. Examples would be Broccoli, spinach, cabbage, kale, Brussels sprouts, and cauliflower. Broccoli especially contains compounds known as indoles which have very potent anti (breast) cancer fighting properties as well as improving the liver's estrogen detoxification abilities.  So eat your greens for better and faster female fat loss.
5.    Dim – Diidolymethane (Dim) is the active form of indole 3 carbinol found in cruciferous vegetables…Ok so I can hear the supplement sceptics already… well can't I just eat vegetables then? In the ideal world the answer would be yes, but in today's society how many of you have the time or inclination to sit through 4-5 feedings of green vegetables a day. Also our foods our so nutritionally depleted from poor soil and chemicals, not to mention the fact that they've sat around for at least 5 days from the time they were pulled out the ground to the time you purchased them, it would be wise to supplement to ensure adequate levels of this potent nutrient are consumed. Dim also helps to prevent aromatase (conversion of testosterone to fat storing estrogens) and helps to improve E2 (anti cancer) to E16 (cancer promoting) ratios.
So those are some things that will hopefully help you to break through those estrogen specific lower body fat loss plateaus that have been bothering you for so long. Below are a few other things for you to consider if you're determined to lose fat from typical female problem areas:
Avoid Spin classes (increase intra cellular fat stores in the thighs)
Omega 3 Fish oils (increase E2 decrease E16)
Avoid tap water (Britain's water supply contains large amounts of estrogen, and no that Brita filter just won't cut it I'm afraid)
Avoid birth control pills (increase estrogen levels)
Go organic (most nonorganic meats contain hormones you don't want in your diet)
Drink green tea!
By Rich Phillipps – Rich is a Level 2 BioSignature Modulation Practitioner and one of Ultimate Performance's key personal training experts in helping female clients lose body fat from all the right places!
For more great articles and tips on fat loss visit www.nickmitchellblog.com
Don't forget –
Life is Now. Press Play.
Kat x

PS
Rich Hot Empire starts next week, January 29!
>>> Work With Me for 6-Weeks Personally to Grow Your Perfect Cult Tribe, Create and Launch Your Low-High End EMPIRE, and Set Up Multiple Recurring Income Streams to Take You to 7-Figures and Beyond, Doing What You Love! <<<
I so deeply believe and know that women (and men!) like us – we just CAN'T do it in the normal way. We're never going to fit in the Internet Marketer box. We don't want to fit in the box! And even if we could fit in the damn box we'd blow that shit up! It'd be messy AF … and often IS.
It's just not going to get us the results we want, because for those who are so soul-led, like you, like me, and have that whole crrrrrraazzzzzy creator thang going on (with a hefty dose of chaos!) –
We gotta do it a different way.
BUT.
Being that person, the crazy creator soul-led one, can all too commonly result in work, yep, the actual ASSKICKIN' work that needs to be done for YOUR empire to be created to, well –
Not get done.
The crazy ones have a tendency, from time to time, to get so caught up in 'I gotta FEEL it', that they don't necessarily ground, plant, DECIDE, and make shit happen.
You may have noticed 😉
Maybe because there's fear there of having to conform! And knowing from experience or just 'cause you KNOW, that you're not going to, you won't follow their rules, and so why even try.
Yet at the same time you know:
I have to lay myself on the line.
It's time to back myself, but FULLY.
I gotta dig my damn heels in and DO the darn thing now!
This? This is what Rich Hot Empire, and the work I do with you as a private client in this 6 week time together, is all about. It's a time to really get into the structure and strategy in a DIFFERENT kind of way. To go behind the scenes of how I've done it, to build a multiple 7-fig per year biz which breaks all the rules, lets me be me, and yet is also highly structured … without at all feeling that way!
It's a pretty cool thing, to realise you figured out how to unleash ALL your madness, but fully, and NEVER compromise on what feels fuck yes and fly for you, and yet know you got your biz shiz sorted!
Guess what??
You get to have that too.
In Rich Hot Empire I take you fully behind the scenes of how I do this thing, and I help you to craft and also implement and FULLY action all the ins and outs YOU need to grow your soulmate tribe, and activate low right through to high end income streams, so you too can create the empire you dream of, FULLY ON YOUR TERMS.
You do this in a mastermind with my other private 1:1 clients, and you get to keep all content, all BTS of my biz, all templates, 'how we dos' (all based on being the crazy creator type), you name it, it's all right there for you for life, showing you exactly what to set up, and how! I'll give you a detailed rundown of that 6 weeks when you message me.
AND! Alongside the mastermind you're simultaneously doing 6 weeks 1:1 with me. All in. You and me. Completely tailored. Daily conversation flow. Alignment and asskickery to infinity, baby.
We dig ALL the way in to your belief stuff, mindset stuff, energetic alignment and ability to receive, everything INTERNAL that is stopping you from already being where you know you should and could, and what to do about it.
Rich Hot Empire gets such incredible results for people because it marries these two areas together. Full alignment to that next level identity you KNOW is waiting for you –
And full asskickery to do what you know you gotta do, with me right there by your side showing you how to do that, how to find the exact way that feels good and works for YOU.
Ready to dig those damn heels in sister, but for real this time??
Message me for the full overview. Do it now. You don't need another fucking person who will NEVER think like you telling you how to do shit you'd rather fork your own eyeballs than do. Even if it's your own fear mind haha. You need someone who has done it for real from crazy. From madness. From flow. From SOUL. And can show you how to go all in on yours.
It's motherfreakin' time.