Podcasts
Podcast Episode 2: How To Have Faith
Today's episode gives a little insight into my background, my story, and how choosing to have faith against strategy has helped me become successful.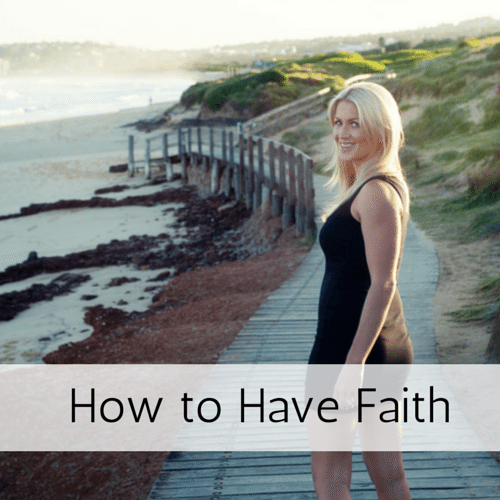 Having faith is one of the most relevant and underrated topics in living a lifestyle you want and creating a successful business. I've been online blogging, writing, and personal training and I chose to believe that it could lead to a life of making money. I knew I wanted to live a "laptop lifestyle," working from anywhere in the world and spending time with my family. I had the beliefs that motivated me to get there. I learned to live a life on my own terms and believe that it was possible. The first step was to take action.
So many people have ideas, dreams, and visions but nobody ever takes that first step over the threshold to get there. Not bringing those steps to life make you wonder: Is it a belief or just an idea? The truth is, if you believe it, you can achieve it. It's not possible to envision something that you can't actually create. If you desire it, then it's possible. I choose the beliefs that support the reality I want to create, know that the first step is to take action.
Operate from Passion
If you don't have a passion for what you're doing you won't be operating from a place of alignment. The purpose won't be there and nothing will flow. If you go after goals you are passionate about and beliefs that support them, things become easier. "Easy" doesn't mean not to continue to work your butt off and give it your all, however things are aligned and you wake up and go to work feeling yourself.  Always know why you're doing something. If you don't know the why then things become mundane and that's when you aren't operating for YOU. We may know all the strategy and processes but those don't matter. The one thing that ultimately dictates where you end up is faith or lack of faith.
Faith – Belief in Anything 
It's not always easy to have faith when something isn't yet working. There were times in my life when money wasn't coming in at all, even times when I had 89 cents left in my account. Faith kept me going and my beliefs that things were going to turn around. Faith even seems laughable at times, like how can I believe when things are this bad. However, there is a true distinction between those who choose to believe and the results they see, and the people who choose not to believe. Having faith is completely believing something that you can't necessarily understand or explain.
Sometimes you can't explain the things you feel which causes you to veer away from what your intuition is saying and back towards the practical. The process way just seems easy and maybe you do make money and achieve that way, but that's only surface level. You're cheating yourself and even your clients because you are not being the leader you can be. You have to allow yourself to believe that you can achieve.
Don't do business based on how you think the world wants you to do it. Make the breakthrough and realize it's not just a battle of the practical. Faith is not something you get, attain, earn, or chase after – faith is something you choose, so choose it right now. There's no magic process or strategy that guarantees anything. Faith is the guarantee that says your belief is enough and holds strong regardless of what might happen.
Steps to Success
Choose Faith – choose it now, wherever you are, whatever you're doing
Define what you desire – don't hold back and be specific
Allow yourself to Receive it – don't always keep your goal in the future, let it happen now
Episode Outline:
Do you have faith in yourself to achieve your goals and the life you really want?
Faith is belief in absolutely anything; it doesn't have to make sense or being logical
Sometimes the hardest part is taking the first step, so take action and go from there
We all have a purpose in life and a message to send so live your life passionately
Allow yourself to receive when you start reaching your goals
Tweets for you:
[tweetthis]Don't let your beliefs remain in the future! Even if you BELIEVE, allow yourself to RECEIVE![/tweetthis]
[tweetthis]Anyone can choose to have faith. Wherever you are, whatever you're doing, regardless of circumstances, faith is a CHOICE.[/tweetthis]
[tweetthis]3 Steps to Success: Choose Faith – Define What You Desire – Believe and receive it![/tweetthis]
[tweetthis]Most people choose to place it safe, we all are here for a purpose. Find your passion and live your purpose.[/tweetthis]
[tweetthis]If you want something new – choose new beliefs. The old you isn't going to bring the new you![/tweetthis]
PS
Expansion.
10 Days of Live Soul Transmissions, to Help You Find and Follow the Messages Within
Day 1) Trust
Day 2) Certainty
Day 3) Self-Belief
Day 4) Empire Creation
Day 5) Your Deepest Message
Day 6) Following Soul Guidance in All Areas
Day 7) Faith vs Fear
Day 8) Accessing Flow, and Superflow
Day 9) Expanding Time
Day 10) Expanding Money
Every day will be a LIVE soul led transmission.
This will take place on Facebook video, held at a variety of times in order to account for varying time zones, and scheduled only once we have begun. Our daily soul transmissions will be guided from MY higher self and directed from and for YOURS, to help you find and FOLLOW the messages within. The messages of your spirit, your consciousness, of the who you've always been and yet have managed quite well to cover up a lot of the time.
This is about stripping away –
And getting back to the CORE.
We'll dive day by day into the above mentioned areas –
And you'll receive all content and bonuses to keep for life.
There will be daily spirit prompts which you'll receive after each training.
And plenty of time opportunity connect with me throughout, receive transmissions direct to YOUR questions, and absorb more even than what comes through on the trainings, via the energy we'll create in this collective!
It's very rare for me to know in advance exactly what is coming through day to day.
I certainly don't have the details of each day's content. But I know that these areas have been on my heart to talk about, in particular around belief, around certainty, around living from FAITH.
We know that exactly what is meant to come through for you WILL, and then some. And that if you intend and allow for it to, it will change, most likely before we even begin, due to your energetic commitment, the direction of your LIFE!
Meaning: direct it back to absolute soul alignment.
*** NEVER Seen Before Bonus! ***
As part of this, I've been guided to offer a NEVER before seen bonus … one I feel super vulnerable about sharing!
It's the exact journaling I did to allow the download of THIS offer through. How I allowed the idea to bubble up. You'll see my doubt, uncertainty, annoyance. You'll see what I discarded. How I went through the layers. And how I KNEW, this was the one.
I'll ALSO add in copies (screenshots) of my conversation with my COO Ash, where I was talking through the idea and allowing it to come to life.
I want to show you the exact Idea to Launch process!
This bonus alone is EASILY worth the cost of this program, particularly when you hear the mindset side of it, in terms of STAYING THE COURSE and refusing to back away from my self until the idea showed up!
I refuse not to create!!
AND, when you register for EXPANSION today (and how could you not?!) you'll also receive early access to the Pre-Work. This is ALSO never seen before, and brand new just for you – and it's a guided meditation on remembrance, to help you connect back to deepest self and the most certain truth of your destiny, before we even begin.
Perfect priming, for when we expand RAPIDLY into all that is coming through in this work!
Of course I could now go on and on here, about what I could or should have charged for this, and what it's actually going to be …
Or about all my accomplishments on line and off, with money, with purpose, with passion, with flow …
I think you know all this anyway. Even if you just me! Your soul feels what matters. And that's ALL that matters.
But I will say this:
You've always known it's supposed to be about ALL that is inside of you. That it's meant to COME from a place of purpose, passion, and SUPER super flow. And that if you just.freaking.trusted, and showed up FULLY from that place, you'd be living in a different reality already.
THE ONE INSIDE OF YOU.
If that's true for you right now, then LET'S GO CREATE THAT REALITY.
Right now
Press play for regular, (super fuck yes!!) upfront or payment plan
OR
Press play like a VIP, and receive the full course, plus 10 days direct photos or screenshots of my ACTUAL personal journaling, so you can see how I create and expand my life, PLUS a VIP only follow-on live Hotseat, where you'll receive a personal transmission just for you, if you'd like one! Payment plan also available.
>>> https://thekatrinaruthshow.com/expansion
We start Monday 17 December, US time!