Health and Fitness
Finding It Tough To Exercise Often? Here's A Workout You Can Do Anywhere, Anytime!
Continuing our series of guest posts, I'd like to introduce Amanda Brown. Amanda is a fitness blogger and a senior personal trainer at Fitness First QV Platinum, and is also an Advanced Metabolic Typing Practitioner.
Read time: 5-6 minutes. Workout time: 20-30 minutes!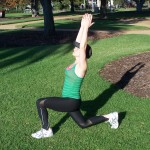 Let's face it, sometimes work, family or life just gets in the way of training. The mind is willing but the schedule is not. Hopefully you already have a perfect workout plan, where your aim is to  train 3-5 times per week. This includes 2-3 resistance training sessions to strengthen and lean down, intervals in between to melt excess fat and then possibly  yoga or Pilates to reduce cortisol and increase flexibility.
But things don't always run according to plan. The moment you go to leave for the gym an unexpected meeting is called, you get an urgent phone call or possibly just the general demands of your day has left you exhausted and wondering where time went?  So I have designed for you a Fitness Blitz that can be done just about anywhere, heck it can be done behind your desk if you so desire??
Exercise Blitz For Even The Busiest Schedule!
1. Chi Squat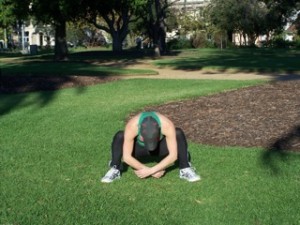 Start with a wide comfortable stance with your toes turned out. Inhale and then exhale as you lower into a squat, close your arms and body down into a ball and go as low as your flexibility will allow. Drive through your heels to open your arms as wide as possible to stretch out your chest, inhale as you do this.
Tempo 1-0-1-0, meaning down for 1, no hold at the bottom, up for 1 rest for 0 at the top. Sets: 2-3; reps: 20; rest 30 sec between sets.
2. Reverse Alternating Lunge
This exercise is pictured at the top of this post. Starting with your feet together, inhale then and step backwards to 6 o'clock position and reach your arms back and exhale as you drop down into your lunge. You front shin should be straight and perpendicular to the floor, back knee should just touch the floor. Return to the starting position and repeat on the other leg. Use a 1-1-10 tempo, performing 2-3 sets for 20 reps, and with 30 seconds rest.
3. Down Dog into a Push Up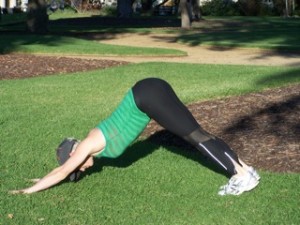 Start in a plank position with your belly button drawn in. Inhale and push back through the heel of your hand raise your hips keeping your legs straight and flatten out through the middle of your back. Exhale and return to plank position and lower into a push up. Be sure to keep your body in perfect alignment. If you are unable to do push up on your toes drop to a kneeling position to perform the push up. Use a 1-2-2-0 tempo, 2-3 sets of 10, with 45 seconds rest.
4. Overhead Squat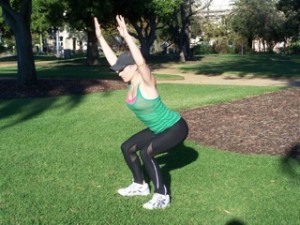 Starting position is the same as your Chi Squat, but keep your arms above your head for the whole set. Inhale drawn your belly button inward then exhale as you drop down into your squat keeping your arms straight, upper body and postural muscle strong and in alignment with your hips. Use a 2-1-1-0 tempo, 2-3 sets of 10 reps, and with 45 seconds rest.
5. Prone Cobra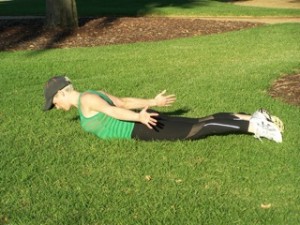 Lie face down with your arms by your side and palms face down. As you inhale lift your chest off the floor and rotate your palms outwards so that they face away from your with your thumbs pointing at the ceiling. You should feel this working between your should blades, you shouldn't feel tension in your neck.
Keep you head and spine in neutral and toes stay in contact with the floor. If you feel pressure through your lower back squeeze your butt tighter. Hold until you need to take a breath in exhale and lower. Each rep should roughly take 5-10 sec. Perform 2-3 sets of 10-20 reps.
6. Scorpion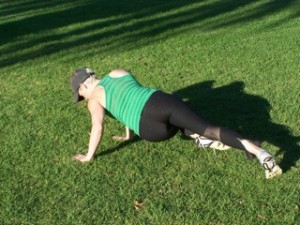 Starting in a push up position with your hands a little wider than shoulder width and your chest positioned between your hands. Inhale draw your belly button towards your spine and bend one leg forward to 90 degrees.
Exhale keep  twist your knee through to the opposite side but still keep your chest between your hands. Then rotate to the starting position and continue your leg rotation to hook behind you, keep squeezing your shoulder blades together. Repeat on the other side and keep alternating. Tempo is 1-1-1-1, 2-3 sets of 10-12 reps.
Stretch – The Perfect Way To Wind Things Down
Leave your static stretches until you have completed all of your workout sets.
1. 90/90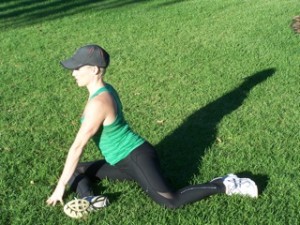 Sit on the floor with front and back legs bent at 90 degrees. With one hand in front and the other at your hip, sit up tall and then try and increase the curve in your lower back by pushing your belly button forward.
You will feel a stretch in your butt, possibly your thigh hold for 5 secs, relax and then push forward for another 5 sec trying to get a little further each time. Repeat this 5 times.
2. Hip Flexor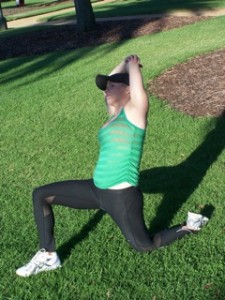 Go into a lunge position and rest your weight on the ground. Draw your belly button inwards and squeeze your butt to tuck your hips under. The stretch will be at the front of your hip. Go further into the stretch by reaching your arm and bending your trunk to the opposite side. Hold for 20-30 seconds and repeat 3 times.
3. Hamstrings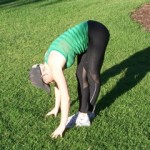 Crossing one leg behind the other tip forward until you feel a comfortable stretch in the back of your back leg. Hold for 20-30 seconds, then swap legs. Repeat 2 times on each leg.
If you have discomfort in your lower back change the position so that your spine stays neutral, meaning more of a flat back.
So there you have it, a great all over workout that will leave you feeling great and energised! Let me know how you go – and also please share with us any of your own tips for fitting exercise into a busy schedule or whilst on the go.
A note from Kat
Until the end of October, whilst I'm living it up on my holiday, I'll be introducing a series of posts from fellow Personal Trainers, BioSignature coaches, and wellness gurus. These are some of the most inspiring and useful people I know both on and offline, and I trust you'll enjoy what they have to say. I'll still be dropping by once a week with my own post and will be in touch via comments and email, so don't be shy! Connect with Amanda over at her blog Promotion Fitness. If you love MY blog but kinda wish I'd write about exercise more, then you definitely want to subscribe to Amanda's!
Now remember –
Life is Now. Press Play.
Kat
PS.
GORGEOUS ONE. WARRIOR WOMAN. LEADER. REVOLUTIONARY. CALLED ONE. YES, YOU.
WARRIOR LEADER begins May 1st. Our PRE-WORK begins this week! (It is personalised to you!)
And?
The initial price has been extended / is still on!
Here is what this comes down to though. Because it's not really whether or not you join in the initial price intake.
This is 6 weeks in which you will be SHARPENED THROUGH FIRE TO BE WHO HE SENT YOU TO BE.
Yes this pertains to business.
It pertains to life.
It pertains to YOU.
This is work unlike anything I've ever led or created before.
And unlike anything you've ever encountered.
It is 100% God revealed. God led. And God ENTRUSTED.
It is,
quite simply,
WHAT IT IS TIME FOR
FOR WHO IT IS TIME FOR
AND NOW
Details
+ your place
+ visions God shared with me for you
www.thekatrinaruthshow.com/warriorleader
WARRIOR LEADER:
For the Woman With a Burning Desire for MORE, Who Is Ready to See Fire Raining From the Heavens in Every FACET of Her Life as She Says Fully Yes to Who God Designed Her to Be.
FOR YOU.