News
Fitness On A Budget: How To Make It Work For You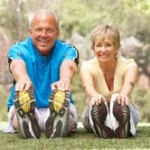 Today I'd like to introduce Timothy Ng. Timothy is a Sydney based personal finance writer with a passion for fitness!

Even though diet and exercise have turned into a multi-billion dollar industry, there is no need for you to get sucked into the trap. You do not have to spend all of your disposable income on getting fit. In most cases you can do it for free, or at least very cheaply. You have the right to get fit without draining your pockets at the same time.
Staying fit on a budget
Let's face it, a lot of the exercises today do require a minimal amount of equipment. Even walking requires shoes. If you already have some of the basic equipment, however, you're ready to go. You don't need a membership to the newest and fanciest gym that has opened in your town. Who really wants to go smell the sweat of other people for an hour anyway when you can get out into the fresh air for the same amount of time, get a great workout and it's all for free?
Play sports!
If you have a special sport that you love this is usually one of the best frugal ways to get fit. If you'd don't already own the equipment you can pick up some cheap used equipment on Internet classified ad sites like Craigslist. The reason why playing sports is one of the best ways to stay in shape is you are not thinking about exercising and getting fit. A lot of people stop exercising because they make it into hard work. When you are playing a sport that you honestly enjoy time will speed by too quickly and you will look forward to the next time you can play. You have taken the hard work of exercise and turned it into an enjoyable game.
Find free public facilities!
There are a lot of community facilities that are open to the public for free in most towns and cities. Keep your eyes open for public tennis courts, swimming pools, soccer fields, hiking trails and other resources. Don't forget about your own neighbourhood. Try taking some walks around your area on a daily basis. You'll probably meet up with some neighbours that also enjoy a casual stroll and you will have an instant walking buddy or two.
Sometimes it takes a trip back to nature to remember our roots and to get away from all the hustle and bustle of society and the need for a gym. Find some nature trails and start hiking to get fit and to get back in touch with yourself. There is a world of beauty out there that is completely separate to any gym atmosphere. Hiking can be very inspirational and you will find yourself looking forward to the special times where you can connect back to your roots.
Isn't that what exercise should be all about anyway? Looking forward to a special time where you not only get fit but you enjoy it as well?
But I don't have time!
If you are the type of person that really doesn't have an hour to spare here and there during the week then you should look at budgeting your time as well as your money as far as exercise goes. The best and cheapest thing you can possibly do is purchase a skipping rope that will cost you less than five dollars and start jumping rope every day. Following a 10 minute routine of jump rope is the same as taking a walk for about half an hour. It can be done inside or outside, and is an effective way to get fit fast.
Make productive use of your time
Why spend money going to the gym while your cleaning person is handling your housework? Save the money you would have put towards going to a gym, do your own housework and pocket the money you would have given to your cleaning person. Vacuuming, mowing the lawn, carrying piles of laundry up and down the stairs can be very physically challenging. Take the money you save and put it towards a new wardrobe once you have trimmed up a bit, or use it to buy some cheap equipment like a used bicycle or roller blades.
Strength training exercises
If you preferred the strength training type of exercises you can pick up a cheap set of weights in a local classified ads section. People are always updating their weight sets and selling their used ones dirt cheap, in many cases, just to get them out of the house quickly. You may even find some ads that offer them for free. Instead of going to a gym twice a week invite a few friends over for a workout. You probably have friends that would love to save money by not having to purchase a gym membership. You'll have as much fun in your basement as you would at the gym anyway.
Regular exercise is vital to your health. Staying fit will give you a better lifestyle and probably a longer life as well. Once you acquire the habit of exercise it is something that you can rely on for the rest of your life. It's hard to break the habit once it has started.
You will find that your whole attitude on life changes once exercise becomes a part of it. Your mind will be less cluttered and you'll be able to focus. Your eating habits will improve because you will need to eat better to stay strong. Junk food will only delete your energy and you will start to notice how true this really is once your exercise routine becomes regular.
Incorporating exercise into your lifestyle
Other things you can do include choosing the staircase instead of the elevator, running to the store instead of walking, and singing and dancing while you are cooking. There is an endless amount of combinations to make more productive use of your time by incorporating the things you're already doing with some extra exercise.
The best thing you can do is really analyse your lifestyle and see what you can fit in. Look for things you like to do, things that don't cost an arm and a leg, and something that may be productive. Exercise routines that work for your friends may not work for you. Trying to copy other people's exercise habits may leave you feeling frustrated and broke at the same time.
Getting fit and staying fit can be done cheaply and effectively if you know how to do it. All you really need to do now is make some decisions on how you can make exercise an enjoyable part of your lifestyle that you can afford.
What do you do to keep fit without blowing your budget? Join the conversation below!
A note from Kat
Until the end of October, whilst I'm living it up on my holiday, I'll be introducing a series of posts from fellow Personal Trainers, BioSignature coaches, and wellness gurus. These are some of the most inspiring and useful people I know both on and offline, and I trust you'll enjoy what they have to say. I'll still be dropping by once a week with my own post and will be in touch via comments and email, so don't be shy! This article was written by personal finance writer Timothy Ng from Sydney, Australia. He is genuinely passionate about helping people compare credit cards and helping them through researching to find the best credit cards – and he's passionate about frugal fitness!
PS
Expansion.
10 Days of Live Soul Transmissions, to Help You Find and Follow the Messages Within
Day 1) Trust
Day 2) Certainty
Day 3) Self-Belief
Day 4) Empire Creation
Day 5) Your Deepest Message
Day 6) Following Soul Guidance in All Areas
Day 7) Faith vs Fear
Day 8) Accessing Flow, and Superflow
Day 9) Expanding Time
Day 10) Expanding Money
Every day will be a LIVE soul led transmission.
This will take place on Facebook video, held at a variety of times in order to account for varying time zones, and scheduled only once we have begun. Our daily soul transmissions will be guided from MY higher self and directed from and for YOURS, to help you find and FOLLOW the messages within. The messages of your spirit, your consciousness, of the who you've always been and yet have managed quite well to cover up a lot of the time.
This is about stripping away –
And getting back to the CORE.
We'll dive day by day into the above mentioned areas –
And you'll receive all content and bonuses to keep for life.
There will be daily spirit prompts which you'll receive after each training.
And plenty of time opportunity connect with me throughout, receive transmissions direct to YOUR questions, and absorb more even than what comes through on the trainings, via the energy we'll create in this collective!
It's very rare for me to know in advance exactly what is coming through day to day.
I certainly don't have the details of each day's content. But I know that these areas have been on my heart to talk about, in particular around belief, around certainty, around living from FAITH.
We know that exactly what is meant to come through for you WILL, and then some. And that if you intend and allow for it to, it will change, most likely before we even begin, due to your energetic commitment, the direction of your LIFE!
Meaning: direct it back to absolute soul alignment.
*** NEVER Seen Before Bonus! ***
As part of this, I've been guided to offer a NEVER before seen bonus … one I feel super vulnerable about sharing!
It's the exact journaling I did to allow the download of THIS offer through. How I allowed the idea to bubble up. You'll see my doubt, uncertainty, annoyance. You'll see what I discarded. How I went through the layers. And how I KNEW, this was the one.
I'll ALSO add in copies (screenshots) of my conversation with my COO Ash, where I was talking through the idea and allowing it to come to life.
I want to show you the exact Idea to Launch process!
This bonus alone is EASILY worth the cost of this program, particularly when you hear the mindset side of it, in terms of STAYING THE COURSE and refusing to back away from my self until the idea showed up!
I refuse not to create!!
AND, when you register for EXPANSION today (and how could you not?!) you'll also receive early access to the Pre-Work. This is ALSO never seen before, and brand new just for you – and it's a guided meditation on remembrance, to help you connect back to deepest self and the most certain truth of your destiny, before we even begin.
Perfect priming, for when we expand RAPIDLY into all that is coming through in this work!
Of course I could now go on and on here, about what I could or should have charged for this, and what it's actually going to be …
Or about all my accomplishments on line and off, with money, with purpose, with passion, with flow …
I think you know all this anyway. Even if you just me! Your soul feels what matters. And that's ALL that matters.
But I will say this:
You've always known it's supposed to be about ALL that is inside of you. That it's meant to COME from a place of purpose, passion, and SUPER super flow. And that if you just.freaking.trusted, and showed up FULLY from that place, you'd be living in a different reality already.
THE ONE INSIDE OF YOU.
If that's true for you right now, then LET'S GO CREATE THAT REALITY.
Right now
Press play for regular, (super fuck yes!!) upfront or payment plan
OR
Press play like a VIP, and receive the full course, plus 10 days direct photos or screenshots of my ACTUAL personal journaling, so you can see how I create and expand my life, PLUS a VIP only follow-on live Hotseat, where you'll receive a personal transmission just for you, if you'd like one! Payment plan also available.
>>> https://thekatrinaruthshow.com/expansion
We start Monday 17 December, US time!