News
My Interviews With Mark Of "Eat Your Way To Abs" – Body Transformations, Nutrition & Training Myths, And More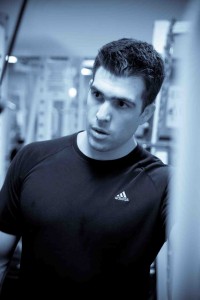 Today I had the absolute pleasure of interviewing my fellow Biosignature Level 2 coach, "Maximus" Mark Ottobre. You can download the audio below, for a very small investment.
Mark is the author of Eat Your Way To Abs, The Truth About Supplements Series (reviewed on Body Incredible here), a fellow PICP coach, and a Biosignature and NLP Master practitioner. Mark specialises in creating head turning body transformations – the kind that lead most people to get into modeling or competing, even if that wasn't something they'd ever previously considered! In fact, Mark has trained many competitors including a two-time Mr and Ms Australia as well as a Ms Olympia.
I first met Mark a couple of years back at a Biosignature course. Truth be told, I didn't really get to know him until much later than that – Mark's the kind of guy who keeps pretty quiet in class, and to be honest I had my head so full of new information that I didn't really take the time to chat with many people I didn't already know!
Later on though, back in Melbourne, I connected with Mark on Facebook and then spent some time looking through his work online. I realised that this guy was not just a 'quiet guy' but someone who seriously knows his stuff! You should see the before and after shots on his website. I've really enjoyed reading Mark's work and getting to know him in subsequent classes, and am delighted to (re)introduce him here on Body Incredible, as today's guest interviewee.
want to get leaner, stronger, hotter?
The following audio is 41 minutes of absolutely jam-packed material. Here's a snapshot of what we cover:
Common myths on training and nutrition for 'getting lean' as well as for competing
The biggest mistake that people make when it comes to food for fat loss
How Mark transformed his own body from 'chubby kid' to 85kg of lean muscle
A typical day's eating for Mark and his transformation clients (hint: Mark had 42kg of grass-fed beef delivered to his home yesterday; so if vegetarian is your thing then click away now!)
The truth about calorie counting – and the somewhat history of this outdated method
As an aside, you may also like to check out Mark's interview with me. Mark interviewed me on the very tricky topic of female fat loss – everything from my own personal beliefs, to my top 5 supplement recommendation for gals, to common myths and mistakes on female fat loss – the works! The interview with me is also $9, or you can grab both for just $13.50. Same rules as above 🙂
kat interviews mark
mark interviews kat
To grab both interviews for $13.50 total, simply purchase one and use the discount code contained in your download 'thankyou' email to buy the second interview for $4.50. Simple!
For more from Mark, visit www.maximusmark.com – and don't forget to grab his free "Eat Your Way to Abs" program!
mark's personal transformation
Mark has the know-how and determination to have transformed himself into a lean and healthy machine – trust me when I say that this guy is worth listening to. Check out these photos of him 'before' and 'after' as proof.