News
Kat's Chicken, Vegetable, And Coconut Soup – Delicious!
If you read Monday's post on why eating more veggies is crucial to your health and fat loss journey (and is even one of the main 'keys' to detoxification!), then you'll remember I promised you my absolute favourite 'get-all-your-veggies-in-one-yummy-hit' recipe. Soups, casseroles and stir-frys are all really easy ways to increase your veggie intake!
Here it is – it's so simple I'm just going to show you it as posted in my FB status!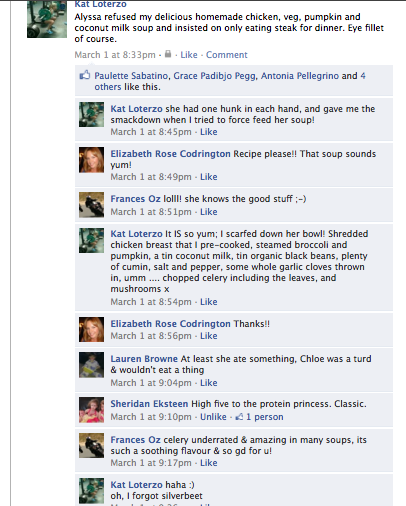 I also forgot to mention water in the above list! And you could certainly add some other spices for variety, but why mess with a good thing?! Yummy stuff, even if my precious and somewhat precocious daughter did not agree! Oh – this tastes just as good cold, just so you know – kind of like a yummy gazpacho.
PS: She did end up stealing most of the black beans from my serve the next day!
PPS: Who is Katrina Ruth?

PS
Woman Empowered: Hot.Fierce.FREE, is HERE, and we start this coming Monday gurrrrlllll!
5 Weeks 1:1 with Katrina Ruth to Light You on Fire, Shift Your Body, Life & Self-Worth Shit Once and For All, Connect You Back to EXCELLENCE and FUN In All Areas, and Get You Finally Pressing Play As You BE Your Best, LIVE Your Best, and DEMAND the Best, Period, The End!
>>> PM me now for the lowdown, AND the smackdown (when you listen to the audio overview I created for you!)
It's to admit that you've not being going all in on YOU –
Putting yourself on the back-burner for so long now –
HANDCUFFING your growth and the spreading of your own wings –
So intent on 'growing business and money' that you've not even noticed it was long ago time to cast aside the identity of yesterday and become the QUEEN AS FUCK WOMAN EMPOWERED who owns EVERY part of who she is and also takes care of it?
You ain't gonna see jack SHIT working in your life if you're not following the pathway from within, and in ALL ways being who you know you're meant to be, and creating from THAT place.
Yeah?
Yeahhhhhh.
So let's get you connected.
Tapped back in.
Saying yes first and foremost to YOU, and doing so FOR you, not for ANY freakin' outcomes.
And watch as the whole world opens up before you 
Woman, Empowered: Hot.Fierce.FREE, starts THIS coming Monday! Places strictly limited, and filling fast now!
5 weeks 1:1.
You and me.
ALL in.
To light you on fire.
Shift your body, life and self-worth shit once and for all.
Connect you back to excellence and fun in all areas.
And get you finally pressing full play as you BE your best, LIVE your best, and DEMAND the best, period, The End!
PM for deets. x